Agent Jane Blonde Returns Slots
Agent Jane Blonde Returns Slots is a 15 payline, 5 reel, Agent-themed slots powered by Microgaming Slot Software. With a max win of £60,000 and an RTP of 96.50%, Agent Jane Blonde Returns Slots players can be ensured for a fun time on this fantastic slot released on the 26th March 2019!
Join this Agent Spy on her mission to grab you huge prizes.
You'll be thrilled by this adventurous slot game from its storyline and graphics to its bonus features.
Enjoy the five-reel game that comes complete with 15 paylines, bonus features and lots of wild symbols.
After seeing the graphics and hearing about the cult following that it's receiving, we decided to carry out our very own Agent Jane Blonde Returns Slots Review.
Our team of experts were utterly shocked by some of the findings in the review, we uncovered the RTP and the bonus features. Read on for everything that you need to know before you play the Agent Jane Blonde Returns Slot.
Use our help and reviews to pick out the best slot sites in September 2023.
Best Agent Jane Blonde Returns Slot Sites
From our research, we have created a list of the best Agent Jane Blonde Returns Slot Sites:
Agent Jane Blonde Returns Slots Graphics Design
The September 2023 graphical overhauls offered by the Returns version of the game are significant, making her much closer to the style and classiness of a certain famous Hollywood spy. Everything is much smoother and more realistic, changing the original cartoonish style for something much more artistic and visually appealing.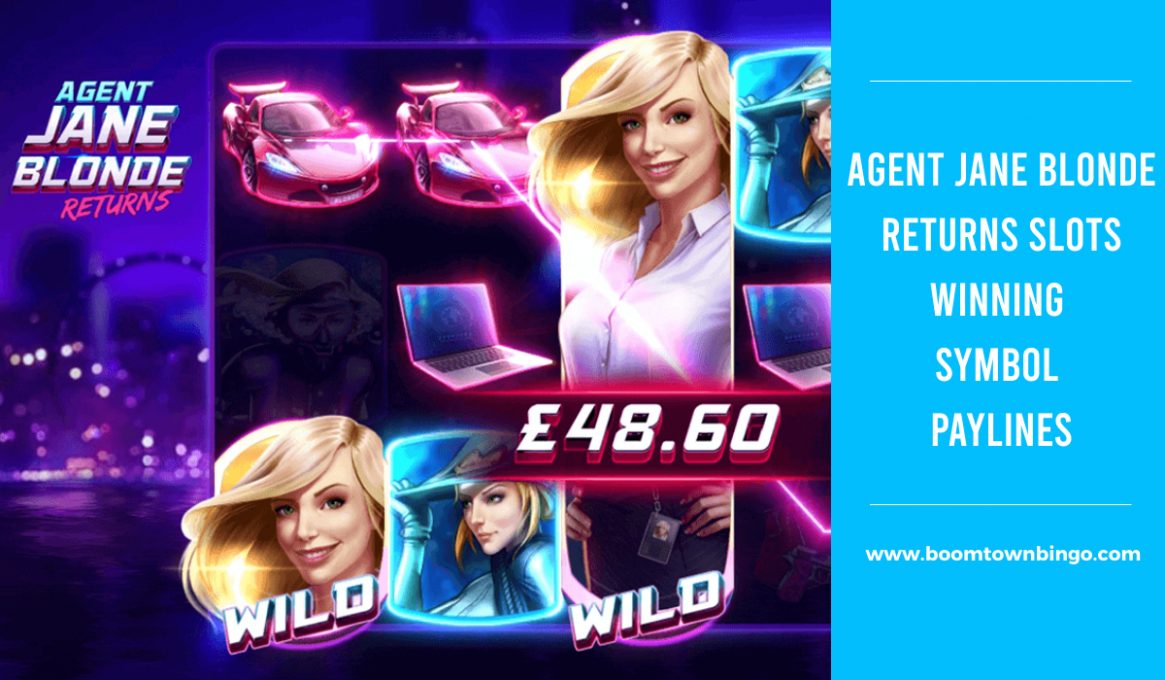 You'll adore the latest version of Agent Jane Blonde Returns for a number of reasons that we expand on in this slot review.
This makes the game much easier to look at for longer periods of time, since everything is clearer and more straightforward.
Even the logo has gotten some love, to the point where it doesn't even look similar to the original game's. Everything has been completely redone, and the upgrade was worth it.
How to Play Agent Jane Blonde Returns Slots
Agent Jane Blonde Returns is a 5-reel game comes with 15 paylines and is easy to play. Set the stake and spin the reels.
The game offers fifteen different paylines, with options to set how many you want to actually play on. That's not the only part that you can adjust, though – you'll also have the option of adjusting your bet-per-pay line to be anywhere between 5p and £400.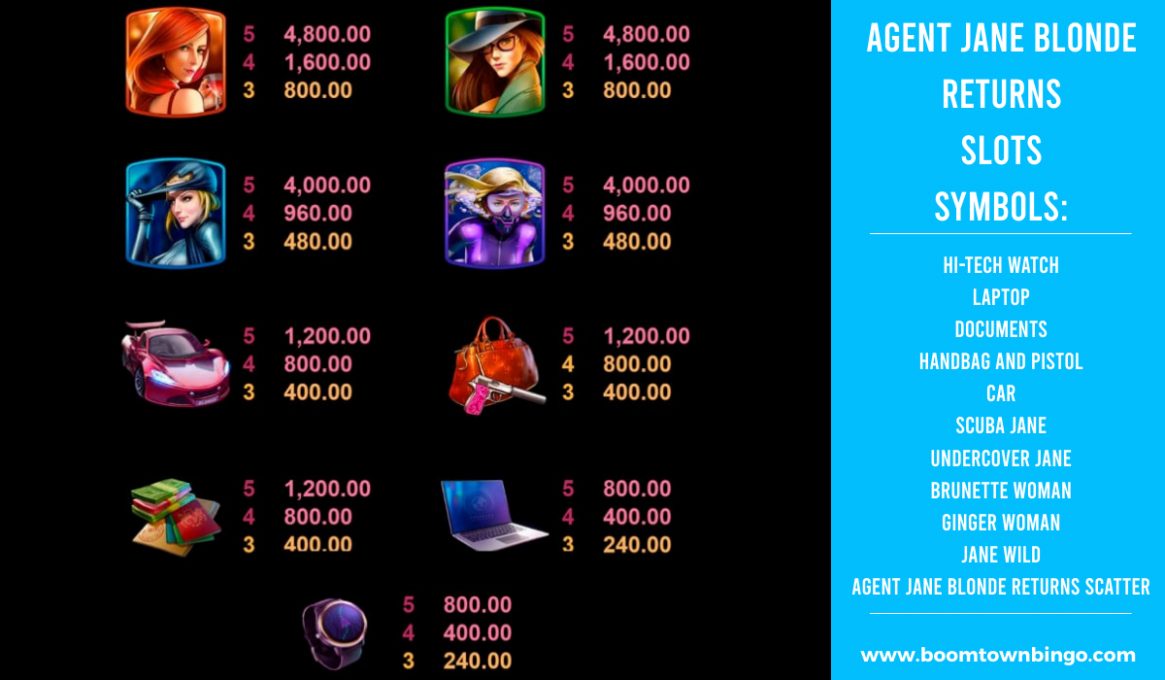 Adjusting this is as simple as using the built-in controls under the Coin Stack button, and it only takes a second or two. Once you're ready, you can go ahead and spin the reels to see what you win.
You also have a few other buttons you can use to adjusting things in other ways. The Double-Arrow symbol acts as an Auto Play feature, letting you set up multiple automatic spins without having to keep activating the reels. The Lightning Bolt speeds up the reels so that you don't have to wait as long before starting the next spin.
What Symbol Triggers Agent Jane Blonde Returns Slot Bonus Free Spins?
Play for free spins with Agent Jane Blonde. Land three scatter symbols and activate 15 free spins. You can also enjoy the multiplier of this free spin bonus round. It triples every win that you make during this bonus feature.
Interactive Features
As with the previous Agent Jane Blonde game, Agent Jane Blonde Returns had a range of bonus features and other special games that you can activate during certain reel spins. The first one is the Scatter symbols – get two or more of those, and you'll trigger the Respin feature.
This gives you free spins and turns places certain Wilds on the boards of Agent Jane Blonde Returns Slot.
Each time you spin, more Wilds will be added, and the existing ones will be kept too. This feature continues either until no Wilds appear or the entire board is filled with Wild symbols, at which point it ends automatically. Note that you can't re-activate this feature while it's already active.
Each Wild symbol is able to act as a stand-in for all other symbols (except the Scatter), meaning that they can make a losing combination into a winning one if you're lucky. Other than that, there are no other consistent bonuses to worry about, but certain sites or apps might offer promotions for particular games.
If you're extremely lucky, you might be able to get a maximum bonus of x300 your original stake. Combine this with a maximum stake of £400, and that can result in some huge amounts of winnings, even if you're not choosing to go all-in and risk everything you have.
There's a lot to love about this game, join the mission and sneak around with Agent Jane Blonde- as you look to unravel a wild symbols, scatter symbols and bonus features.
Agent Jane Blonde Returns Slots Software
Agent Jane Blonde Returns is powered by Microgaming software.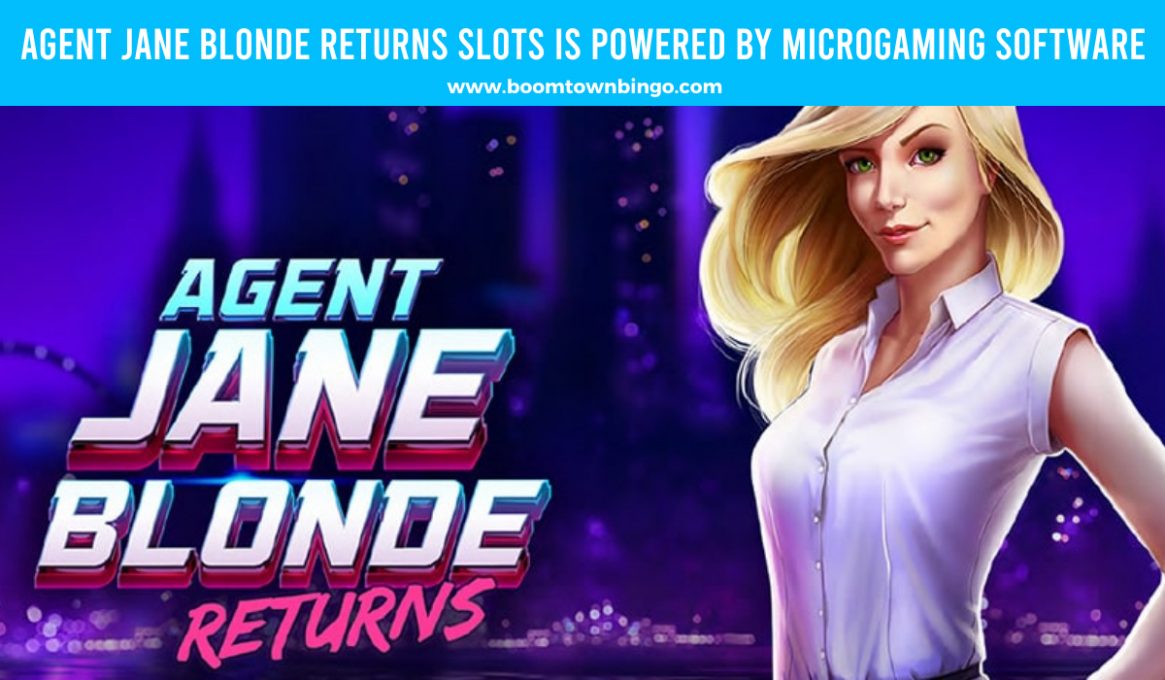 Microgaming slots are known for high-quality, so you can expect this to be another example of a game with plenty of frequent updates, fixes and safety measures. Since it runs on Microgaming's well-reviewed software platform, you'll also get the same security updates that they roll out to all of their other games, too.
Slot Info
| Agent Jane Blonde Returns Slots | Attributes |
| --- | --- |
| Casino Game: | Agent Jane Blonde Returns Slot Game |
| Paylines: | |
| Reels: | |
| Software: | |
| Minimum Bet: | £0.05 |
| Max Bet: | £400 |
| Variance: | |
| RTP: | 96.50% |
| Slot Theme:  | Agent |
| Bonus Features: | Agent Jane Blonde Wilds, Scatter Symbols, Re-spins |
| Max Win: | £60,000 |
| Re-spins: | Yes |
| Release Date: | 26th March 2019 |
Agent Jane Blonde Returns Slot on Mobile Phone
Agent Jane Blonde Returns is a mobile video slot. You can play from your phone, tablet or computer.
There's no need to download an app, instead access this game from your browser and play for real money.
As with most of Microgaming's September 2023 slot games, they're available on mobile and desktop platforms, as well as tablets. There shouldn't be any noticeable differences between the versions, other than some small changes to the interface or the layout of certain features.
Agent Jane Blonde Returns Slots RTP Review
Agent Jane Blonde Returns Slot game has an RTP 96.45%.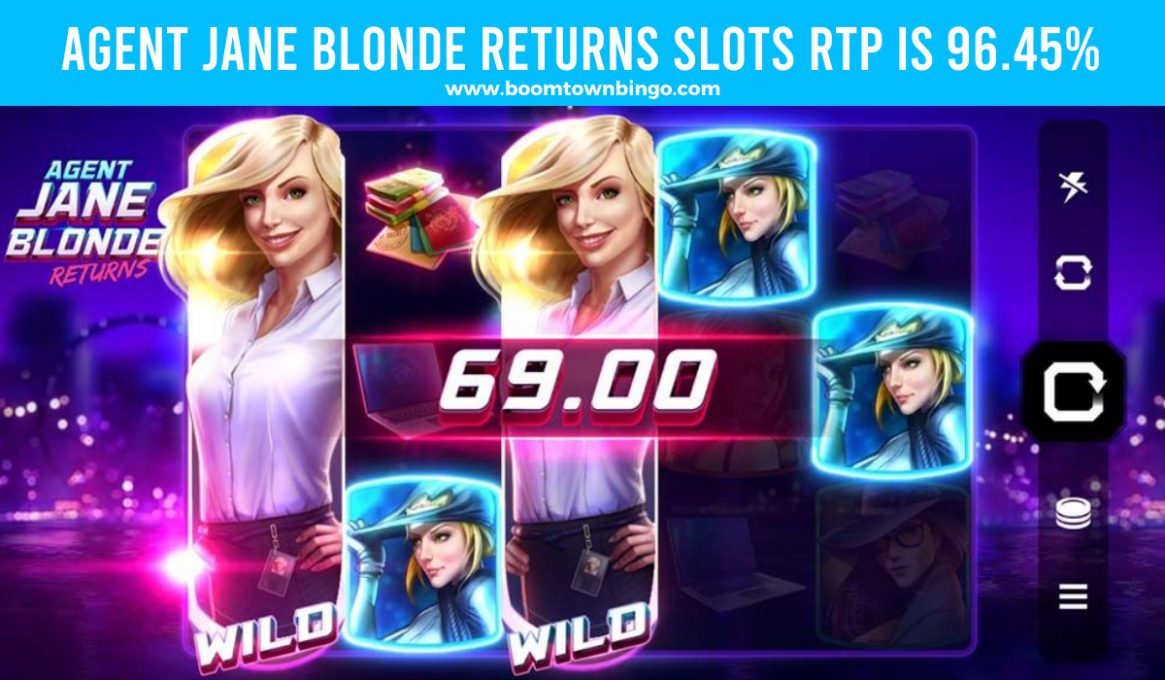 This is higher than most other games with similar amounts of paylines and bonuses in September 2023, so you might notice a higher win rate depending on what you're used to playing.
Slot Volatility
Agent Jane Blonde Returns video slot has a low variance.
This intriguing, because there's a huge RTP and combined with this, means that you're likely to enjoy lots of real money wins throughout the gameplay.
It pays at small amounts often and gives you more chance of winning.
Related Microgaming Pages
Check out more from Microgaming below to see other offers in September 2023.
This is a shortlist of the most popular games available from Microgaming and does not mean the best in the online gamers reviews.