Partner up with Jane Blonde and become a spy, as you take on a mission for money.
Agent Jane Blonde Slots is a 9 paylines, 5 reels, Agent-themed slot powered by Microgaming Slot Software. Agent Jane Blonde Slots allows for a max bet of £45, which in return can lead to the max win of £450,000. With free spins and a medium variance, Agent Jane Blonde Slots is a lot of fun!
This exciting Agent Jane Blonde slot game emulates a casino classic and the theme is reminiscent of a certain famous agent spy that we have all heard of.
This video slot comes packed with bonus round features, a spins bonus and wild symbols. It has 5 reels, 3 rows, 10 paylines and huge win potential.
Once the game caught our eyes, we decided to do a full Agent Jane Blonde Slots Review and we were astounded with what we discovered about the gameplay. Read on to discover more about the game's software, RTP, paylines, bonus features and more in March 2023.
Best Agent Jane Blonde Slot Sites
From our research, we have created a list of the best Agent Jane Blonde Slot Sites:
How to Play Agent Jane Blonde Slots
Ultimately, all you need to do is set the stake and spin the reels, before matching symbols. Use this complete guide and slot review for the full breakdown.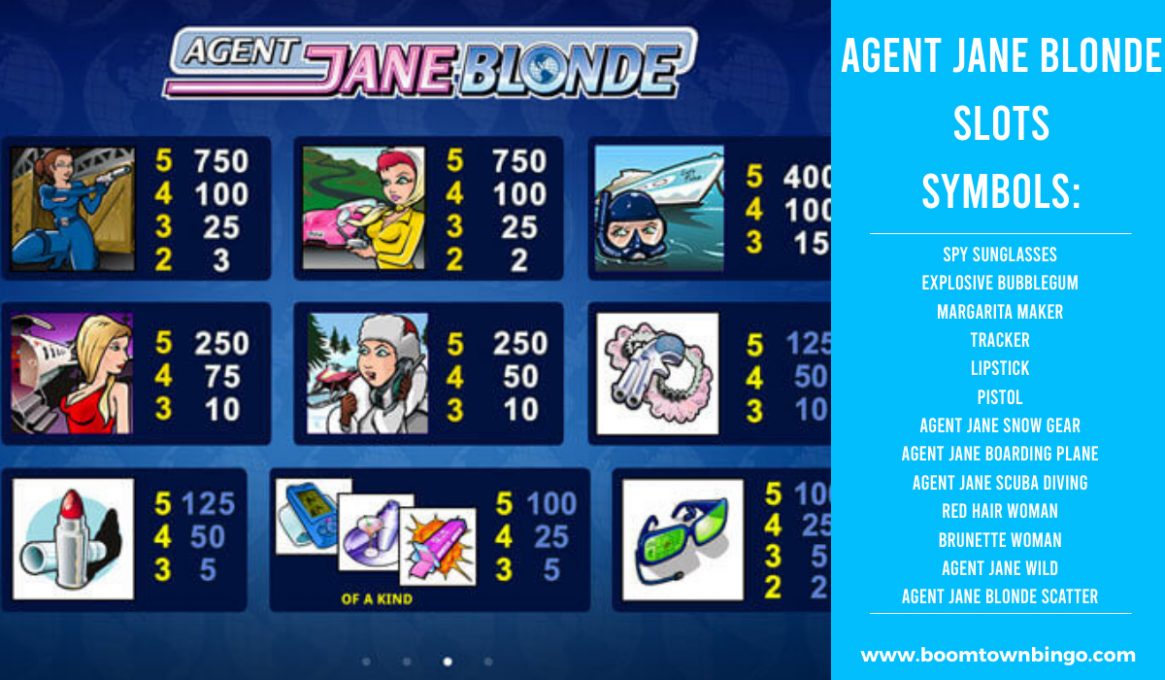 Agent Jane Blonde is a nine-payline shot game that runs on some of Microgaming's most well-known software, using many of the same systems and bonuses as a variety of their other games. To play, you'll want to understand the interface first, since there are a few more options than your classic "Bet, Spin and Win"-style slot game designs.
First of all, you'll want to actually set the bet. You do this by changing the coin values from anywhere between 0.01 and 2, which is altered using the plus and minus signs below it. Once you've chosen the value of a bet, you'll want to choose how many paylines you're actually betting on.
You can change this with the "Select Lines" option, and can choose anywhere from one to nine. This can be changed at any time after a spin, so you aren't forced to use the same settings each time.
Once you're ready, hit "Spin" to start spinning the reels. Alternatively, you can use the "Bet Max" option to automatically choose the maximum bet for all reels, which gives you the highest possible winnings as a result.
If you enter the "Expert" menu and then use "Auto Play", you can also set the reels to spin multiple times in a row with the same settings unless you interrupt them, without having to keep using the "Spin" button over and over again.
Slot Info
| Agent Jane Blonde Slots | Attributes |
| --- | --- |
| Casino Game: | Agent Jane Blonde Slot Game |
| Paylines: | |
| Reels: | |
| Software: | |
| Minimum Bet: | £0.09 |
| Max Bet: | £45 |
| Variance: | |
| RTP: | 96.45% |
| Slot Theme:  | Agent |
| Bonus Features: | Agent Jane Blonde Wild Symbol, Free Spins, Multiplier, Stacked Symbols |
| Max Win: | £450,000 |
| Free Spins: | Yes |
| Release Date: | 3rd November 2005 |
Interactive Features
There's a lot to love about Agent Jane Blonde Slot game, not only does it come with a bonus round, spins bonus, free spins and a wild bonus but it also has other little additions.
After a winning spin, you'll be able to use the "Gamble" option to put your new winnings on the line for a chance to earn even more.
You'll get shown a face-down card and asked to guess which color it might be. If you get the color correct, your winnings are instantly doubled – but get it wrong, and they're lost completely.
If you click the button, but decide that you don't want to risk it, you can cancel the feature instead and just keep your winnings as they are.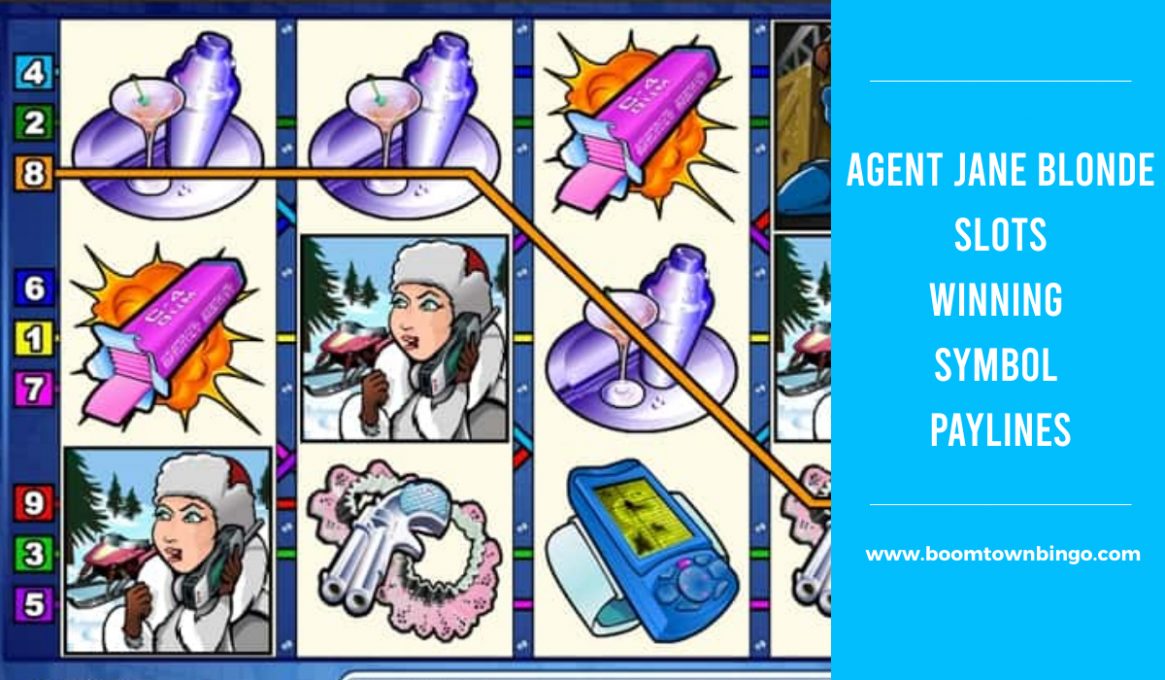 If you manage to get three or more scatter symbols, you'll activate the Free Spins feature. This not only gives you a total of 15 free spins to use, but those spins also triple any wins you get automatically, regardless of how much they actually add up to. Even better, you can re-trigger the free spins feature a second time if you're really lucky.
There's a second bonus you can earn if you manage to land 5 Jane Blonde symbols at once – you'll get a jackpot win of up to 10,000 coins, plus anything else you earn on any of the other paylines. Keep in mind that these symbol features need to be activated on paylines you're actually betting on. Otherwise, they won't activate at all.
Ghostbusters Slot Graphics Design
The March 2023 spy-themed design of Agent Jane Blonde (both the character and the game shares her name) calls back to classic spy fiction, with each symbol being something distinct – special lipstick, explosive chewing gum, private jets, and scuba gear.
There's plenty of colors, but not so much that it becomes blinding and difficult to tell what's going on. All of the interface buttons are clearly visible, too, so you shouldn't have any trouble adjusting and placing a bet.
You'll be immersed into the story line of Agent Jane Blonde and the graphics plays a huge part in that.
Agent Jane Blonde Slot on Mobile Phone
Agent Jane Blonde Slots can be played from your mobile. You are not required to download a mobile phone app, instead take to your web browser and play from your phone, tablet or computer.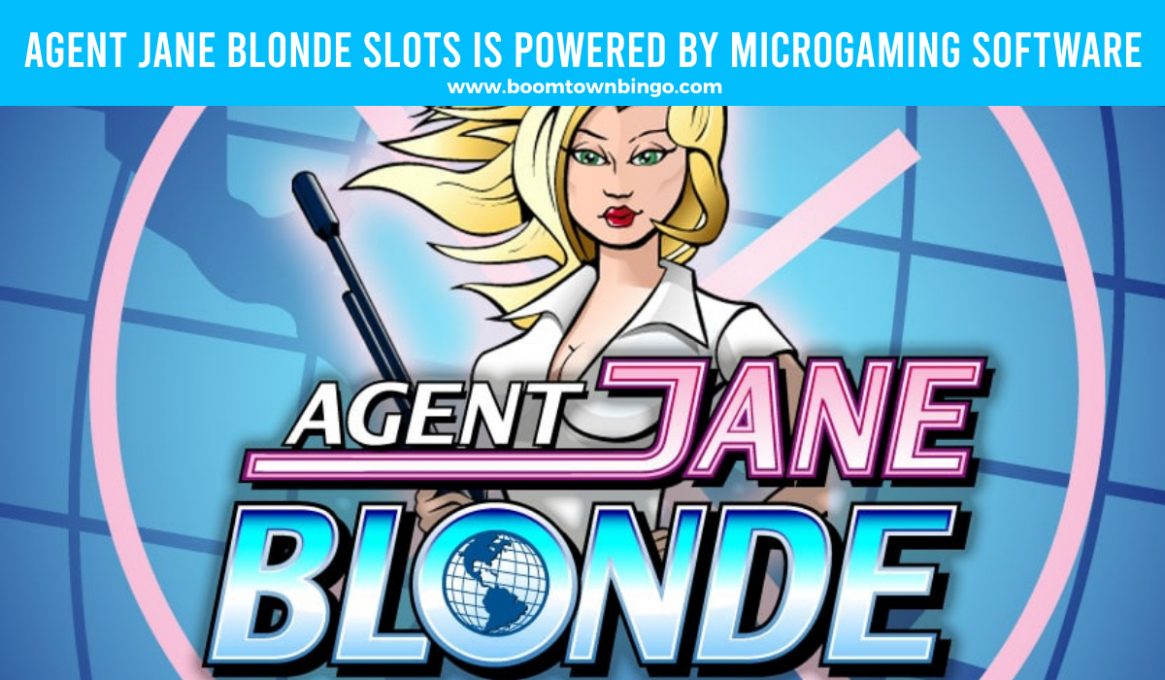 On mobile devices, Agent Jane Blonde works in almost the exact same way as the desktop version. There are no unique bonuses that you can only get on certain platforms, so feel free to play Agent Jane Blonde Slot wherever you feel comfortable.
Remember that some casinos might need you to install their apps to play games on mobile, though, so your experience could differ depending on where you're playing it.
Agent Jane Blonde Free Spins
You can get free spins on Agent Jane Blonde video slots but you it isn't a conventional spins bonus. This option allows you to land scatter symbols and re-spin the 5 reels.
Agent Jane Blonde RTP Review
The RTP of Agent Jane Blonde slots March 2023 is around 96.1%, which is slightly higher than many other games.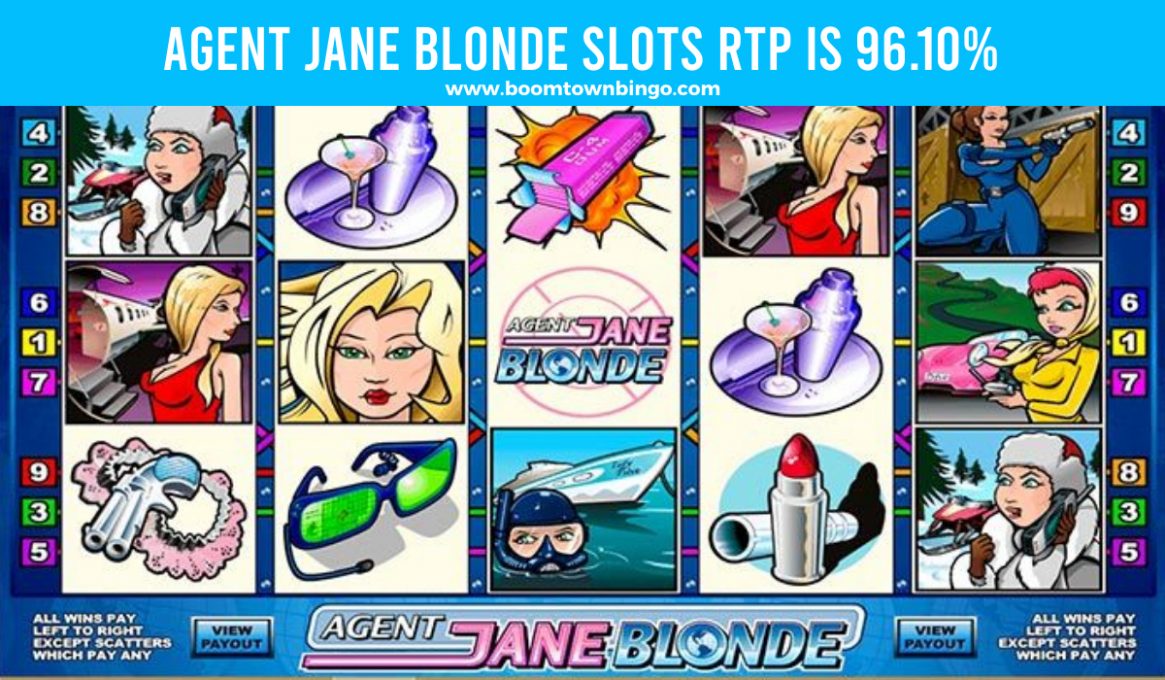 This data has been taken from since the game was released, so it's an accurate representation of what you can expect your odds to be while playing. This is a great percentage and exceeds that of the average, which means that Agent Jane Blonde gets a thumbs up from us.
Slot Volatility
Agent Jane Blonde Slot has a low variance.
This works in combination with the RTP and means that you can expect lots of payouts. It returns real money wins frequently making the game all the more enjoyable.
Related Microgaming Pages
Check out more from Microgaming below to see other offers in March 2023.
This is a shortlist of the most popular games available from Microgaming and does not mean the best in the online gamers reviews.