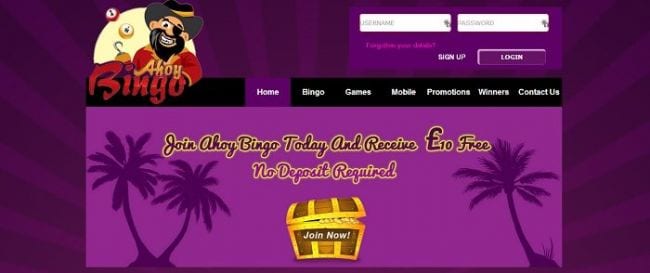 Cozy Games recently launched a new online Bingo Website called Ahoy Bingo. As its name states, the website sports a Pirate inspired theme where hunting different types of money making treasure games is an added bonus to its mainline set of Bingo games. Unlike most bingo sites, this is created to follow a gaming center concept that welcomes any player with an attractive 'No Deposit Required' Bonus and an inclusive free £10 for new players signing up. Here are more reasons to check this site out.
​
Games
Bingo games flaunt a London inspired Bingo setting covering a wide range of 30 (speed bingo), 50, 75 and 90 ball bingo games. Tourney or tournament games invites players to enter according to the player level, room tournament or depending on the tickets acquired by a certain player. This allows anyone to game in with other players and even chat with them. The Slots cover an interesting set of games from 'King of Slots' and 'Queen of Legends' to 'Cupid's Arrow' and 'Lucky Devil' to 'Painted Elephant' to 'Monkey Business' and more slots to choose from. Casino games speak for themselves, indulge in Las Vegas games such as 'Black Jack', 'Deuces', 'Roulette' and 'Keno'. The Scratch cards gives you about nine different scratch cards. The Freebets tab is where players for fun can enjoy numerous instant games.
Bonuses and Promotions
This site has options for playing real money (thru Cash or BBS) or virtual money (via Freebet games). The site's 'No Deposit Required' feature means that a player can try games out without having to put his money on the line. The site's welcome bonus gives a £10 free cash that allows anyone to try the different games without risking any real money. It has schedules for big jackpots on a daily, weekly and monthly bases. A player can buy tickets for big jackpot bingo games; other than that, a player can even score more cash by entering the promotion tab where he can enter competitions on seasonal activities. It has big deposit percentage bonuses that can cover the range of 200%-900% deposit bonuses.
Software
Anyone who is familiar with games by Cozy Games can easily adjust to the website. The website is equipped with easy to maneuver tabs and multiple option buttons for different types of games. Each game has options for betting real cash or BBS. They can enter tournaments and play against other players to win some cash or BBS.
Mobile Readiness
The website is Android-ready giving anyone the delight of playing slots or casino games on the go. Players who were not familiar with games by Ahoy Bingo can go to the website's Live Help Chat. They may contact the online customer service chat line to ask for queries and directly air their complaints and suggestions. It can easily be accessed via Android devices for those who prefer the comforts of their mobile gadgets.
PROS
Multiple games to choose from
Nice graphic system
No deposit bonus for new players
Multiple chances to earn free cash
Regular updates on Promotions
Tournament games for higher gaming interaction.
CONS
No downloadable version on Google Play Store or Appstore.
Opens another hassle browsing page for every game