Do you prefer slots with more ways to win?
This exciting slot comes with fairy dust sprinkled on top, the theme is one of a fairy princess and as you'd expect it displays colour throughout.
Of course, you do, that's why it's key to look for lots of paylines. Angel Princess slots has 5 reels and 40-paylines available in 2023.
On top of the usual ways to win, you can also enjoy the various bonus features, extra wilds and free spins.
In this Angel Princess Slots review, we use our experience and expertise to break down the slot game. Find out how to play, whether it's worth enjoying and more on the jackpot.
Blueprint gaming sites offer new and returning players the chance to experience the very best casino and slots games on offer.
Best Angel Princess Sites
From our research, we have created a list of the best Angel Princess sites:
Play Angel Princess Slots Online
If you wish to play Angel Princess, then you won't have to look too far.
It is being made available at a range of top casino sites. We have brandished all of the best casinos that provide this slot. Click onto the links here and play Angel Princess slots online.
To find this game online, use the sites here or visit a casino and use the search function. It is now widely accessible across different platforms.
Make the most of online slots and in particular, Angel Princess video slot and its magical spin.
How to Play Angel Princess Slots
Playing slots of this magnitude is simple. Figure out your stake and click play.
Follow these steps on how to play:
Find the site you wish to use here, either sign-up or login.
Click onto the slots and search for Angel Princess.
Once on the game, set your stake before spinning the reels.
Press play and see if you can win.
If you are unsure on whether a symbol pays out, you can then check the paytable.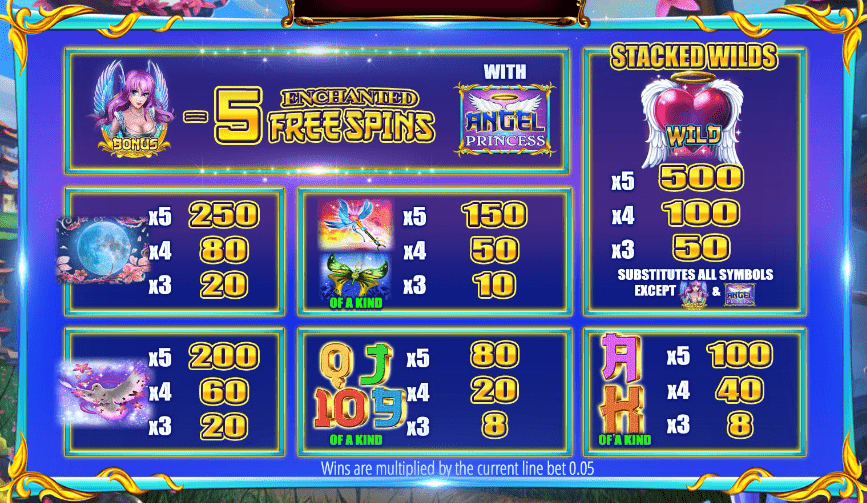 Other things to look out for includes wilds, jackpots and bonus features. We get into this further into the article. Check out the interactive features, and ways to enjoy big wins and real money.
Angel Princess Slot Free Spins
Angel Princess has free spin bonuses- they are multi-layered features. You can land three angel scatter symbols to reach the bonus. You can get 5 free spins on either enchanted, super or epic, three scatters get you the previous and the other two are triggered with four or five scatters.
Pick your bonus before the spins begin, and find out what prizes you'll be playing for.
Interactive Features
Bonuses are our friends and there's lots of them. There are wilds added to the reels. Whenever there's a bonus feature mentioned, our ears zone-in to the possibilities. Get your hands on free spins, extra wilds, magical spin options and much more, what else could you ask for when playing online slots.
Features of this kind provide a chance to win. That can only be a good thing, right?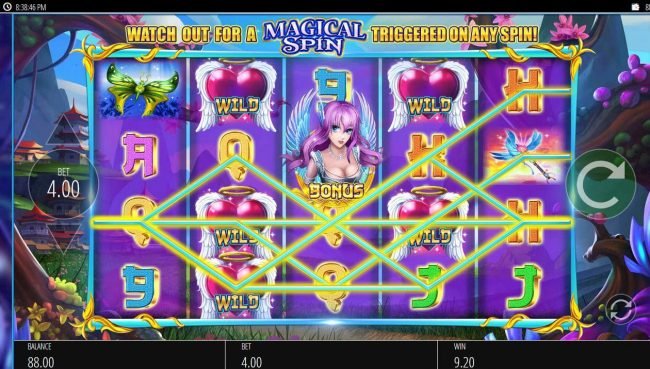 Here are interactive features that we found at Angel Princess slots:
Magical Wilds- Magical wilds adds new wilds to the reels. This gives you more chance of winning.
Enchanted Spin- 20 mystery symbols are placed on the reels. They will all match and therefore give you a great opportunity to win big cash prizes.
Super Bonus Reels- 2 bonus symbols land on the reels.
To activate the enchanted spin, you will need to land three scatter symbols. You then get at least five free spins.
Another great extra is the progressive jackpot. When you get the jackpot bonus, you will be able to play for the huge jackpot.
Paylines and Stakes
The game is a five-reel slot with a progressive jackpot. You will also find lots of paylines and plentiful bonus features.
Paylines- 40
Grid- 5×5
Reels- 5
Features- Wild, Free Spins & Bonus Prizes
Stake- 0.40- 400
Jackpot- Progressive
The fantasy-themed game comes with lots of bonus features such as free spins, wilds and instant prizes. Make the most of scatter symbols and large rewards that are available to you.
Angel Princess Slots on Mobile Phone
Play Angel Princess Slots from your mobile. You can enjoy it without the need to download a mobile app.
We're in a new era, one where most of us take to our phones. When playing slots, we want to be able to play from all devices.
This game has cleverly been designed the game to function on all smart products. Simply load the game or casino on your internet browser. The HTML-5 will automatically convert to a mobile-friendly game.
Angel Princess Slots Graphics Design
It is certainly a game that captivates your attention. It's colourful, visually aesthetic and comes with a melodic theme tune.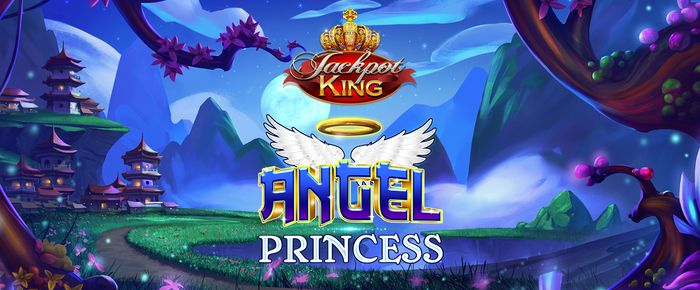 The background compromises of mountains and rural views. It is a twist to the usual fairy-tale but it sets a magical scene as you play the reels.
About Angel Princess Slots
It comes with a fantasy theme that showcases a well-known angel. She could help you capture your wish.
The game is a 5×5 slot reel with 40-paylines. There are different bonuses and free spins available. It is easy to understand the concept of the game and you can stake as much or as little as you need.
Enjoy all of the stacked symbols, scatters, wilds and enchanted spins.
Angel Princess Slots Software
Angel Princess Slots is powered by Blueprint Gaming software. 
Blueprint Gaming are a renowned commodity in the gaming world. The brains behind many slots and casinos, always brandish innovation.
We experienced this particular slot for ourselves. It is fast and effortless to work. You don't need to work anything out or wait for slow loading times. The game's fast and is always uninterrupted.
Angel Princess Slots RTP Review
Angel Princess slots RTP is a 95.31%.
As a rule of thumb, we look for a minimum of 95% RTP. This is a fair amount and what we believe to be the average throughout the slot games.
RTP means Return to Player and ultimately reveals the likelihood of getting a payout per spin.
This a good average and exceeds the average that we look for. The volatility and variance are medium, allowing the game to pay some big cash wins and also vary in what size the wins provide.
Slot Volatility
Angel Princess has a medium variance.
This means that you are able to enjoy regular wins with the chance of winning big too!
Summary
Step into the magical world of Angel Princess Slots, a captivating game found in casinos. You can try it out first in a slot demo to see how it works.
The game has exciting features, like a special bonus round and fun video slots. When you spin the reels, there's a chance to win exciting prizes, like coins.
It's like a journey where each spin can lead to exciting wins and uncover the magic of the angel-themed slots.
Whether you're new to this or you've played before, Angel Princess Slots is a game that welcomes you to explore its enchanting world and discover the treasures it holds.
Blueprint Gaming Ltd Games
Here is a list of the most popular Blueprint games online players love to play:
This is a shortlist of the most popular games available from Blueprint Gaming Ltd and does not mean the best in the online gamers reviews.