An old saying says it best – you win some, you lose some. But how accurately can this phrase be applied to online slots or any casino games?
Are online slots rigged? The short answer is no. They aren't rigged.
This article will take a close look inside the tech behind popular games. You'll see how they function with fairness and everyone has exactly the same chances of winnings as anyone else.
RTPs and RNGs – What Are They?
It's worth mentioning two important abbreviations, which you'll find in any talk about the credibility of online casino sites. RTP and RNG. These mean the Return to Player (rate) and Random Number Generator.
They're important when it comes to understanding the design of online slots and how they're built to be fair when it comes to prizes and payouts.
Return to Player Rates (RTPs) and Online Slots
An RTP is a definitive indication of the odds of a player winning on any given slot. It's most often expressed as a percentage so it's typically seen, for example, as "expected RTP, 94%" which you'll find on a slot.
What does that actually mean? The slot is telling you how much that slot usually returns back to players who play it. The percentage is better understood in an example. For every £100 put in a slot with a 94% RTP rate, you expect to see £94 come back to the player. Check out the slots with best RTP to see games you can try out.
RTP Rates and Variance in Online Gaming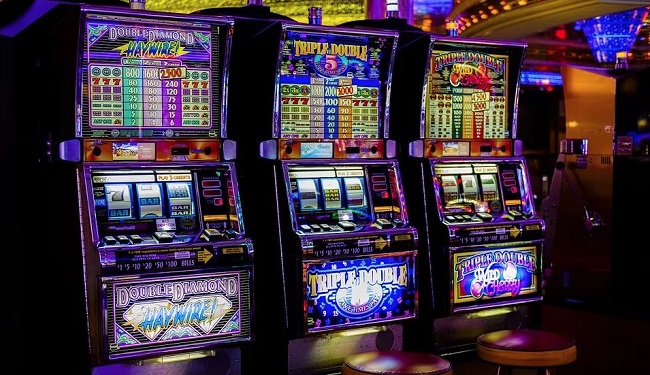 In theory, the more the RTP rate, the lower your chances of losing a significant sum, especially over a long period of time.
But, these should only be considered as a guide. Players should know that machines with a lower RTP rate can come with a better opportunity for big one-off wins.
This is because of 'variance', which outlines the type of expected payouts from a specific machine. A machine that has high variance pays out less often but does churn out bigger sums of money. A low variance machine won't pay out as much but will pay out more often.
The RTP rate is a useful thing to know, regardless of what kind of player you are. You should look at games offering 90% RTP minimum. The ideal figure would be 95% and over.
Random Number Generators (RNGs) and Online Slots
All online slot games run using a computer system called a Random Number Generator (RNG). An RNG's job is to assure you that your results are entirely fair during your online slot game.
It ensures that each of the players has the same odds of winning, too. The RNG will feed back a different number set each time you click the spin button on an online slot. These numbers work their way through an algorithm and appear to you on-screen as your reel results.
The key thing to keep in mind when playing online slots is that this system doesn't know you at all. So it doesn't know your history with that particular slot. It doesn't work as a computer with a memory. So it might appear to you like you're having an unlucky time, but the game is still fair.
Likewise, if you get a big win there also no reason why you wouldn't win again on that same slot game. Every spin is unique and at the mercy of a mathematical equation that a person can't control. It's an even playing field for all players.
The Best Gaming Operators are Fully Licensed to Run Fair Games
The online casino games you play don't get regulations from an all-knowing calculator on steroids. They're designed by real people. They are responsible for guaranteeing that the computer components, the RTP rate and RNGs are working as they should.
The market-leading games providers like NetEnt focus a lot of time on this, as you'd hope. You don't have to blindly trust their word, though.
NetEnt and the other market-leading games providers need to have a license. These should come from independent regulatory bodies who exist to ensure players' best interests. There are a lot of authorities, and NetEnt have a license from the best, the UK Gambling Commission.
They're known for being difficult to please. It means brands like these have jumped through some serious hoops. Independent bodies have put them through various vetting processes. They are legally bound to ensure their games adhere to specific RTP rates and their RNGs are fully-operational to provide fair play.
Casinos and Gaming Licenses
The game provider isn't the only one in need of a license to operate. All the platforms you're using will have a legitimate casino license from a recognised authority too.
It ensures they're up to date and meet the safety, security, customer service, fair play and responsible gambling standards set before them.
Are Online Slots Rigged or Genuinely Fair?
The licensing bodies check all kinds of strict criteria to make sure they're doing their job right. They look into the casino's ownership and ensure they have the right credentials across a range of factors. These include anything from finance to business competence and integrity to non-criminality.
Casinos have an obligation to prove they have policies in place that guarantee they have the right things in situ. This is to ensure their games are fair and every registered player has a fair chance of winning.
Are Casino Licenses Something You Should Care About?
There is only one answer to this and it's a wholehearted YES. Casino licenses aren't put in place to ruin anyone's fun. They're there to let you enjoy playing with the most peace of mind you could have.
Companies acquire these from third party bodies who conduct meticulous checks on both casinos and game providers. A casino in operation without a license is an illegal one and should always be avoided.
There are a few different regulatory authorities. The UK Gambling Commission and Malta Gaming Authority are the most stringent and trustworthy.
Licenses from other places offer a seal of approval also, but these two are the biggest and best. UK players should be mindful that the UK holds a regulated market. This means a casino may only operate if they have an appropriate UK license to do so.
How Can You Know the Games You're Playing are Fair?
Both online slot and casino games should be fun and you shouldn't have to worry about the game being fair. There are things you can do to guarantee that you benefit from a gaming experience that's fair:
Only ever choose games offered by a respected and licensed game supplier like NetEnt. They have the mark of approval from the UK Gambling Commission and a dedication to transparency. You'll be able to find their RTG rates for all the games.
Only play games at a licensed casino. There are a few reasons why this is wise. A license doesn't only prove a casino's commitment to fair play but also security over your personal information. They're vital and you should be able to find their license information on their website.
Follow these tips! There are plenty of trustworthy and forward-thinking providers out there. They provide the best slots games and have a lot of respect in the industry.
Have Fun and Play with Total Peace of Mind!
You're not wrong to have concerns about the potential for online slots to be either unfair. But don't worry, online slots aren't rigged. The online gambling industry is highly-regulated and promotes fair play.
They do business to give you enjoyment, too. You're in control of the type of player you are and you get to choose the slots that suit your taste. If you follow the instructions in this article, you can have lots of fun enjoying these games.