Beetle Frenzy Slot Machine
Join the humdrum and greenery of the garden to discover the delightful 4 (or more) legged friends. So, head out with your butterfly nets and gardening gloves, and spin to win!
Read this Beetle Frenzy Slot Review if you are not one to shy away from colourful flowers and crawling critters. This review will teach you how to enlist the help of these friendly bugs so they can help you dig up the winning prizes in this old-fashioned style of slot gaming.
Beetle Frenzy Slots is a fun insect and bug themed slot game. It is powered by NetEnt and it features critter and flower symbols that help the player get the big wins, including beetle frenzy which gives you three bonus games! The casino game consists of  9 paylines and 5 reels and medium variance.  
Beetle Frenzy Slot Sites
From our research, we have created a list of Beetle Frenzy Sites in January 2022:
About Beetle Frenzy Slot Game
It's the start of a new season. This brings about the cute crawlers who are out to explore the world again. This down to earth, classic slot lets players dive into the world of nature and all its creatures in the Beetle Frenzy slot game.
The outdoors holds many surprises, both small and big, dull or colourful. You just have to be patient to see the wonder of nature. Will it bring you wilds, scatters, or multiplier wins? Find out in this nine reel, five pay-line video slot game, as the screen bursts into Beetle Frenzy colours to thrill and awe players.
NetEnt Software shows players how the beetles and flowers want to play; there are there to help you gain as many wins as possible. Don't be afraid. The bugs won't bite. On the contrary, they come with surprising wins and prizes for each player to collect.
This fun little slot game may look simple, being that as it was made to look like a slot machine out in the garden, but it packs a handful of good prizes and bonus games.
Outside, you will find symbols such as flowers in different shades, a beautiful ladybug, some assorted beetles and even mushrooms.
The colourful game looks something straight out of the Smurf's setting, with its cartoonlike illustrations and upbeat music. Now and then, you even hear the bug zappers electric buzz.
This game is uncomplicated and generous to any player who is not afraid to get down and dirty in the garden.
Beetle Frenzy Slots
Attributes

Casino Game:

Beetle Frenzy Slots Game

Paylines:

Reels:

Software:

Minimum Bet:

£00.1

Max Bet:

£5.00

Variance:

RTP:

94%

Slot Theme: 

Colourful, Nature, Bugs and Beetles

Bonus Features:

The Flower Icon: If the player gets flowers of the same colour on a payline, this means the flower frenzy bonus begins. The glass jars also give the player another bonus round in the game.

The wild icon used in the game is the lightning bug, this creates some excellent, this can appear anywhere, and can replace all icons apart from the golden apple. It does not take the place of the icons needed to trigger the bonus rounds either.

The Golden Apple is the game scatter and this can appear anywhere to offer instant payouts. Two or more are needed to collect the rewards.

Jackpot:

2500

Free Spins:

No

Release Date:

02/01/2014
How to Play Beetle Frenzy Slot Online
Here are some tips to keep the vibe light and playful with the critters:
Click the Bet Level (+/-) section to alter the amount to bet and then adjust the size of the coins by clicking the Coin Value (+/-) section. Alternatively, you can press the Bet Max to set the maximum bet for the spin. Then, when you are ready, click the Spin button to begin the game.
Explore your garden from the comfort of your couch by playing the Beetle Frenzy online. This game is compatible with any mobile, tablet, and PC devices.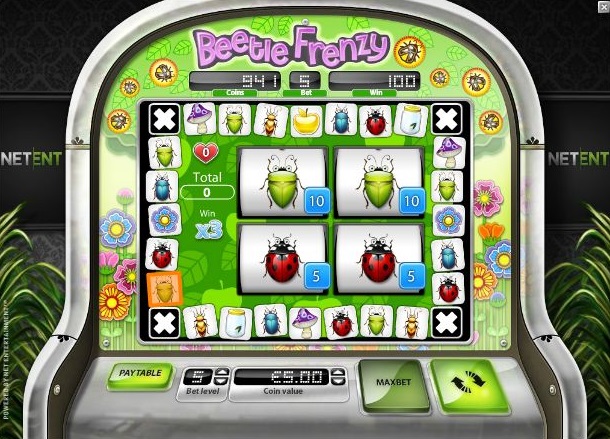 Interactive Features
Wilds. The bee represents the wild symbol. This symbol can substitute for any symbol apart from the scatters.
Scatters. The golden apple represents the scatter symbol. Win multipliers are determined by the number on any given spin Players can win anywhere from 2x multipliers for two golden apples to 400x multipliers for eight apples.
Bonus Games. There are three bonus games: the Bug Collector, Flower Frenzy, and the Lucy Spin.
Bug Collector. A player can trigger this feature by landing three glass jar symbols on an active pay line. Players will have to choose 1 out of the nine jars presented. This game ends if the jar picked has an X symbol.
Flower Frenzy. This is triggered by landing three flowers of the same colour on one bet line. Players will have to press the Spin button to reveal four new symbols. During this spin, a light will shine on the symbols. If it lands on a match, you win the bonus of that match. This game ends if the symbol that the light shines on has an X symbol.
Lucky Spin. This feature is triggered by getting the same symbol on all four corners. This feature can also be triggered by getting the same symbol in the middle square of each of the four sides. Players can win one extra spin during this feature.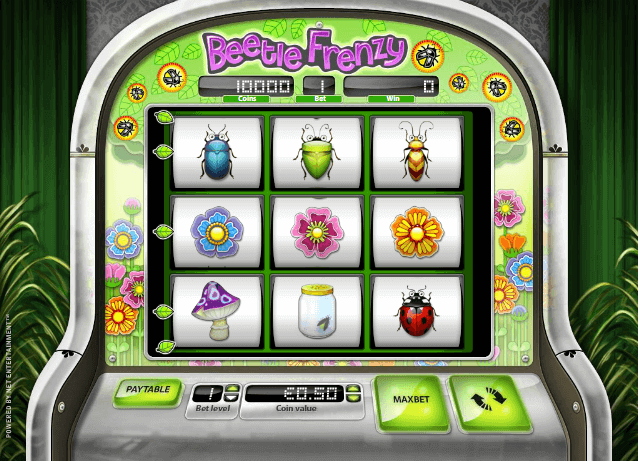 What Symbol Triggers Beetle Frenzy Slot Bonus Free Spin?
This is one slot game where there aren't any free spins to be had, despite having a few scatters. Although, players can still rely on the lucky spin bonus game to land an additional spin.
Paylines and Stakes
To land some good payouts, players can rely on the bonus games as well as the high and low-paying symbols to gift some multiplier wins and even the 500 jackpot. Though, to do this, players must first set a bet that's valued between 0.1 to 5 coins per spin.
Starting with the bonus game wins, players can expect to win some multipliers as well as coin wins. By landing 3 of a kind of either the pink, blue, or yellow flowers, players can get anything between 1x to 3x multipliers. The bug collector, on the other hand, triggers a minigame wherein the prizes depend on the chosen jar.
Then there are the golden apples, colourful flowers, the ladybug, and the grasshopper to look out for. By landing 9 of a kind on the reels, players can get a minimum of 300x multipliers and a maximum of 500x multipliers. Although, by landing nine golden apples, players can win the "super win" prize. All these are the higher-value symbols.
Lastly, landing 9 of a kind of purple mushroom, blue beetle, green beetle, three flowers, or four beetles, players can expect multiplier amounts that vary between 15x to 200x.
Beetle Frenzy Slot Game Software
This bouncy and whimsical game of Beetle Frenzy was made possible by NetEnt Software.
NetEnt Software is one of the most known gaming providers who is constatantly providing players with unique and premium online games. Their games provide digital entertainment on all platforms including mobile play.
What is Beetle Frenzy Slots RTP?
Beetle Frenzy is a light and fun non-progressive slot game with an RTP of 94%.
Slot Volatility
This slot has a low-medium volatility rate. That means this slot game provides players with pretty small payouts, but these do land frequently enough to get some adequate wins.
Summary
Designed to accommodate any level of player, players will find this game delightfully fun as the friendly insects do their best to dig up some wins to avoid players from leaving the game empty-handed. Now, the game may have limited bonus features, but all of them surprisingly packs a punch whenever they're triggered, so don't worry.
You May Also Like
We have researched and reviewed all other NetEnt Ltd games you might also like: