Have you got the appetite for huge jackpots and spicy real money winnings? Grab your winnings in this wholesale curry game, you'll be able to grab cash wins.
Cash 'n' Curry Slots is a 3-reel slot game with 1 payline and an Indian restaurant theme. This medium-variance Microgaming classic has a 96.5% RTP and bonus features such as Holds, Nudges, the Bonus Spice Round, Curry Dishes that you need to line up, and a Ruby Ring that can get you up to £500.
This game revolves around curry dishes and has lots of great features. It's not all about paylines, instead, you're able to make use of Bhaji Bonuses and other food-related features.
If you're looking to enjoy an online fruit machine then this classic slot is a perfect choice. Read on as we take a look at the video slot and its tasty RTP. We feedback in this Cash 'n' Curry Slot Review.
Best Cash 'n' Curry Slot Sites
Roxy Palace Casino

100% UP TO £100 + 50 SPINS

New accounts only, Min £10 deposit, debit card only, 50x wagering, game contributions vary. 7 day expiry. Full T&Cs apply.

Full T&C's Apply
About Cash' n' Curry Slots
There are functions such as nudge gambles, nudge hold, nudge repeat, gamble nudge, and the hold feature, which all allow the player to add some strategy to their game.
So, for a hot and spicy game, with splashes of bright Indian themed colours, Cash' n' Curry might be for you.
It has a 96.5% RTP and a lot in the way of features and cash prizes available.
Slot Info
| Cash 'n' Curry Slots | Attributes |
| --- | --- |
| Casino Game: | Cash 'n' Curry Slot Game |
| Paylines: | |
| Reels: | |
| Software: | |
| Minimum Bet: | £0.10 |
| Max Bet: | £10.00 |
| Variance: | |
| RTP: | 96.50% |
| Slot Theme:  | Indian Restaurant |
| Bonus Features: | Hold, Nudge, Bonus Spice Round, Curry Dishes, High-paying Ruby Ring |
| Max Win: | £500.00 |
| Free Spins: | No |
| Release Date: | 23rd January 2009 |
Cash 'n' Curry Slot Graphics Design
Cash 'n' Curry offers a spicy display of imagery with a bright purple backdrop and a fiery logo featuring an Indian waiter with both hands full.
One hand displays a fan of notes, and the other hand balances a tray with delicious curry and poppadoms on the side – yum yum. To add intensity to the logo, flames sprawl out from underneath.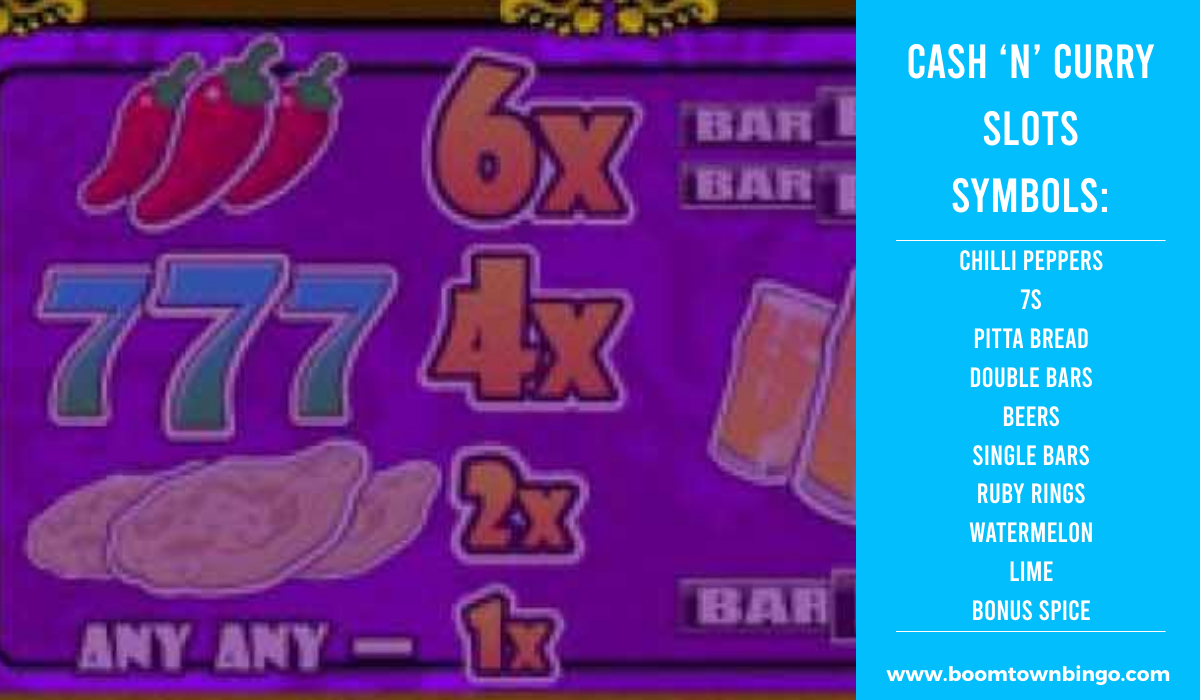 The Cash 'n' Curry game has also been designed for easy viewing and playing. For instance, you can view the Bonus Spice record on the left-hand corner at the top of the screen, displaying an array of curries.
The paytable on the bottom right of the same screen as the reels to decipher the three matching symbols worth. The symbols range from:
One or two bars
Poppadom
Red chilli peppers
Seven
Pint of lager
Lime
Watermelon
Ruby ring
The audio to accompany the game stays true to traditional slot games likened to those in casinos.
However, depending on the combo you land, you may hear the waiter announce something humorous along the lines of "I think you're on fire sir".
Paylines and Stakes
Cash 'n' Curry is three reeler slot game with one payline situated in the centre of the reels where you shall hope to create your winning combos.
You can place a bet from 0.10 up to 10.00; thus, it provides players with all budgets the opportunity to play.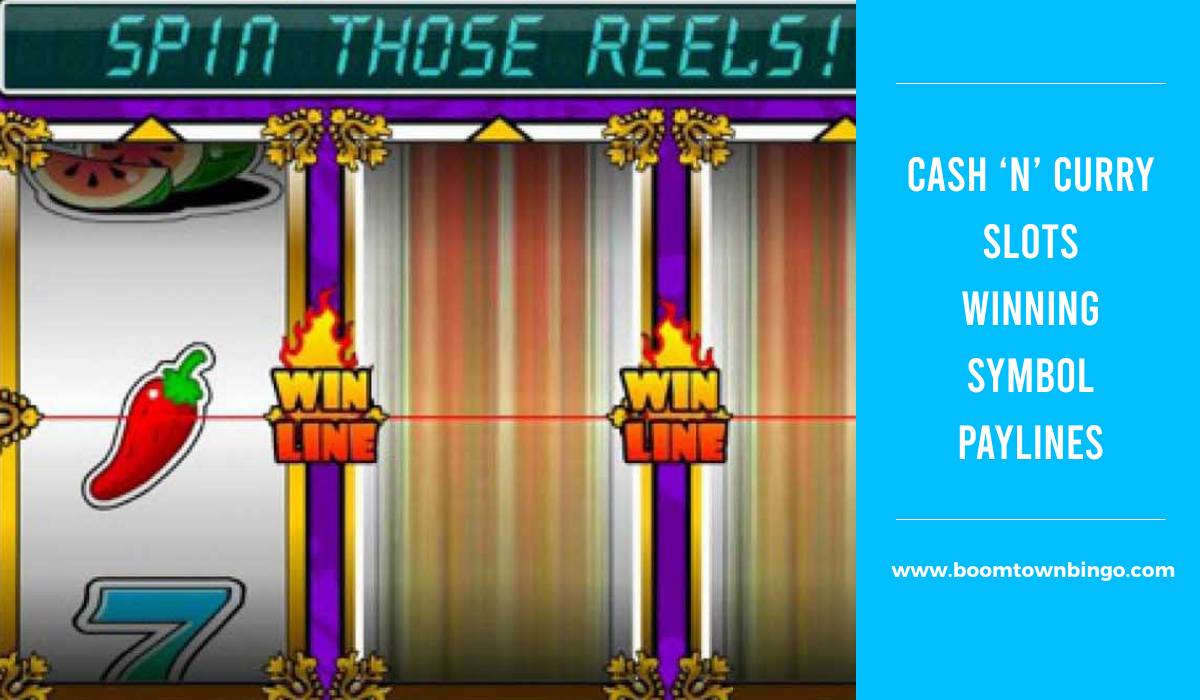 The jackpot for Cash 'n' Curry is 500. During the game, you shall want to match three symbols on the payline.
However, there are alternative ways to gain cash prizes, such as through the Bonus Spice Round.
Cash 'n' Curry Interactive Features
Microgaming slots designed Cash 'n' Curry to includes a number of exciting bonus features, making it a favourite amongst bettors. Enjoy a bonus feature that expands further than the base game.
As mentioned above in the graphic section, in the left-hand corner of the screen, you will be able to see nine curry dishes in rows of threes.
To trigger the bonus spice round, you need to fill one row of these curries. Once achieved, you'll be diverted to a new screen to undertake the bonus round, where you shall find 24 squares.
Taking note of the number, you will shift around the board. However, if the level of coolant runs out, the bonus round shall come to a halt.
Each time you are on one of the 24 squares, your coolant level decreases. The moment you run out of coolant, depending on what square you are on, you claim the prize and revert back to the reels.
To give you an idea of what to expect on each of the squares, here is all the information you'll need:
Starting Square – This is where you shall begin your bonus spice round.
Bhaji Bonus – If you claim this square, you shall return to the original screen. The reels will spin and create a winning combo for your prize.
Big Gulp / Lose / Down in 1 / Spillage – Avoid these squares. Landing on any one of these causes the bonus round to end.
Top-Up – If your coolant is getting low, and you land on the top-up square, the top-up square will replenish your coolant levels.
Spice-O-Meter – The spice-o-meter features nine levels. Each of which has a multiplier value that shall times your stake by the value you have landed on. Across the meter, your job is to click stop to try and land a level with a high multiplier.
Take a Breather – Relax. This square means you can take a break. It doesn't offer anything else to you other than to continue playing.
Rogan Dosh – Firstly, what a great name. Secondly, you will be sent back to the reels where you have to hit 'Stop' to select a reel instantly. Keep your hand near the stop button, because you need to give it another tap to choose which symbol the one chosen reel shall land on and which symbol shall subsequently fill the payline to secure you a win.
Bombay Mix – You shall see a highlighted meter flashing, now you need to click 'Stop' to claim a multiplier.
Multi Balti – This is another square that shall multiply the value of your stake. Three multipliers shall be displayed which move around. You need to select one.
Chicken Ticker – You'll be taken back to the game where time is ticking, as you need to stop the reels asap in a bid to try and land a winning combo.
Cheeky Half – This is a saviour for those with low coolant. A cheeky half shall top you up and allow you to carry on in the bonus round a bit longer. Hopefully enough to win a prize.
Turbo Boost – Expect to be randomly thrust to a new square. Who knows where you might end up?
Belt Buster – Expect to be reverted to the original game where you shall experience a happy stream of winning combos. Click 'Stop' to claim the winning combo that you want.
Vindaloot – Claim this square and you will be reverted back to the reels, where episodes of winning combos shall emerge that are added together and given to you as a prize.
Curry Go-Round – This square is destined to be punters top pick that players shall vouch for during the bonus round. The reason being, if you collect it, you shall win 500 x your original stake. Not only this, but you will also get a shot at another three wins with the 'Yes or No Repeater'. Meaning you could win 500 times your stake, on another three occasions!
What Symbols Trigger Cash 'n' Curry Slot Bonus Free Spins?
Unfortunately, Cash 'n' Curry does not have any free spins. With that said, there are plenty of bonus features. Check out the bonus games above and enjoy an assortment of different features in the absence of free spins.
Cash 'n' Curry Slot Software
Cash 'n' Curry is powered by Microgaming Software.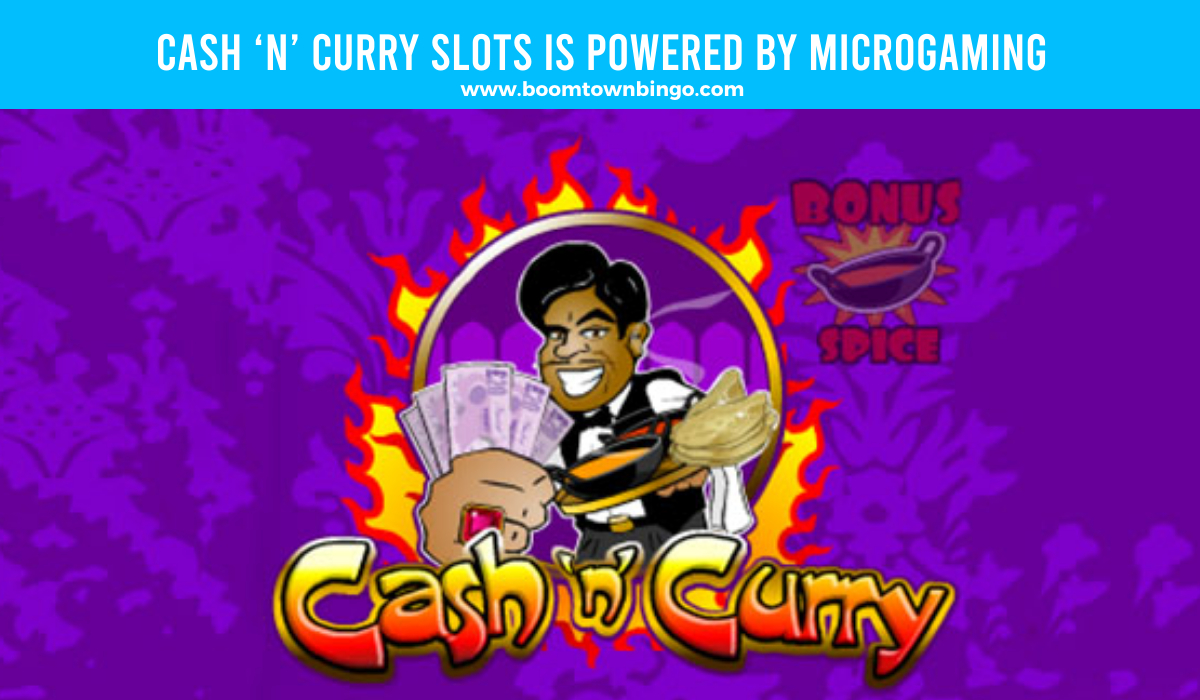 If you're a keen slot lover then you'll know all about Microgaming. They're an award-winning developer that has created thousands of different slot games and themes.
Plash Cash 'n' Curry Slots Online
It's easy to see why Cash 'n' Curry is a favourite amongst punters. With its bright graphics and humorous sound effects from the waiter cheering you on, the game offers a lot in the jackpot and bonus game.
Cash 'n' Curry adds diversity to the slot game and introduces new exciting ways for players to win money.
So, for a fun, inviting game that you can engage in for either a quick game or a few hours, Cash' n' Curry is your best bet. This slot game is available either on mobile or on your tablet device.
Cash 'n' Curry Slot RTP
Cash 'n' Curry has an RTP of 96.5%.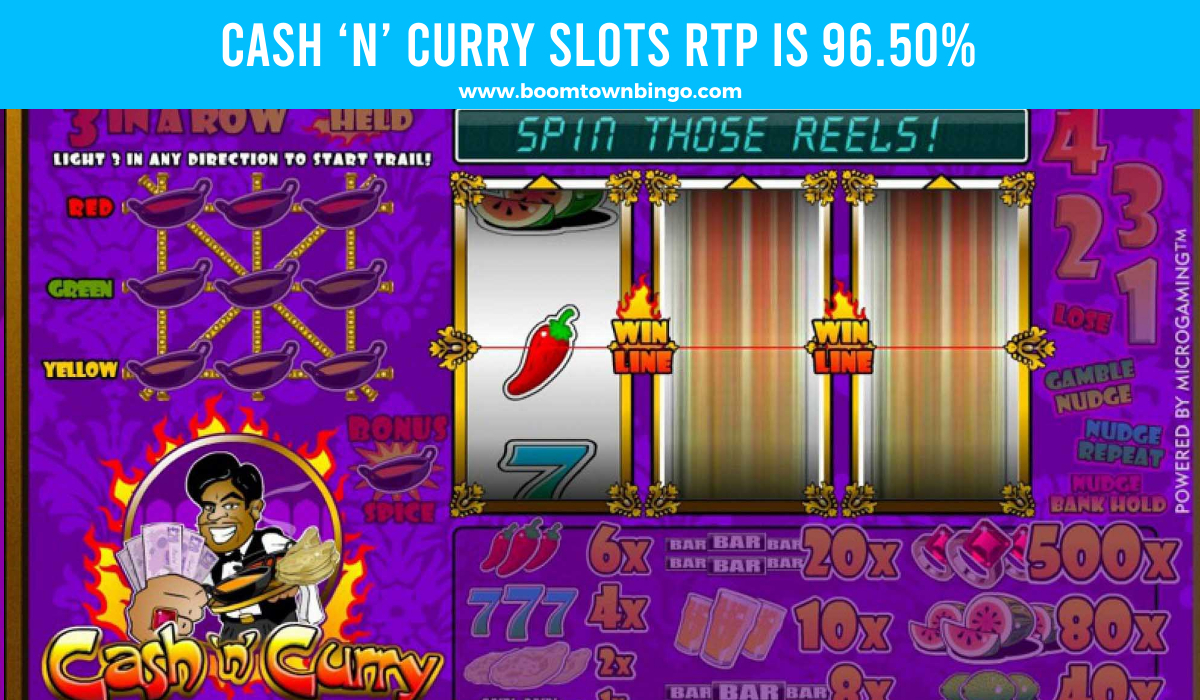 This is well above the average of 95% and means that you can expect regular payouts on this slot machine.
Slot Volatility
Cash 'n' Curry is a medium level variance.
This represents how volatile the slot game is, with it being of medium variance, you can expect regular payouts and still play for a jackpot.
Microgaming Software
Here is a list of the most popular Microgaming games online players love to play in October 2022:
This is a shortlist of the most popular games available from Microgaming and does not mean the best in the online gamers reviews.