Dubya Money! is a video slot game that serves as a tribute to the former president of the United States of America, George W. Bush. He was usually referred to as "Dubya" hence the name of the game.
Dubya Money! Slots is a 3-reel slot game with 1 payline and 1 row on each reel. Microgaming included a £5000 jackpot in this Texan-themed casino game along with the Dubla Hold, Nudge, and Shifta, The Oil Fields feature, and Dubya Money! Multiplier at a 96.50% return to player and medium variance.
Are you into satirical games?
Then keep reading out Dubya Money! slot review and discover how the game pokes fun at Dubya himself who does not exactly have the most honourable legacy when it comes to previous US presidents.
Best Dubya Money Slot Sites
From our research, we have created a list of the Best Dubya Money Slot Sites:
About The Slot Game
Dubya Money! is a classic three-reel video slot game with a single payline. Its theme features the Texan heritage of Dubya who is not really known for his unfaltering grace and democratic decorum during his term.
Instead, his foreign policy was known to be rampant. Aside from this, he was also known to have left many clangers all over the place.
Anyway, Dubya Money! is a great real money game for those who are interested in iconic classic slot machine symbols and Texas-style reels.
Slot Info
| Dubya Money! Slots | Attributes |
| --- | --- |
| Casino Game: | Dubya Money! Slot Game |
| Paylines: | |
| Reels: | |
| Software: | |
| Minimum Bet: | £0.01 |
| Max Bet: | £10 |
| Variance: | |
| RTP: | 96.50% |
| Slot Theme:  | Texan |
| Bonus Features: | Dubla Hold, Nudge, and Shifta, The Oil Fields feature, Dubya Money! Multiplier |
| Max Win: | £5000 |
| Free Spins: | No |
US President Slot Design
Dubya Money! has a bit of a Texan theme with the game's screen featuring a grinning George W. Bush standing outside the White House while holding a big wad of money.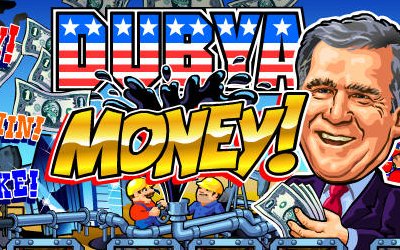 Around him are some flying flags and working oil wells. The dominant colours of the screen are red, blue, and white.
Players will also see familiar fruit machine symbols such as cherries, lemons, oranges and plums. 
You will also see special symbols including a Stetson Hat, an Oil Barrel, and a picture of Dubya Bush himself placed over an outline of the Lone Star State. 
Dubya Money! Software
Dubya Money! is developed by the industry-leading software provider, Microgaming.
This online slot machine game is of the classic slot type and a great addition to Microgaming's series of incredibly entertaining slot machines.
With the goal of retaining some semblance of retro charm while putting the past US president who became a laughing stock into the centre of the action, Microgaming shows how players can have a great time spinning the reels alongside Dubya through Dubya Money!
Payline and Stakes
Dubya Money! only has one payline.
For the stakes, players can choose their total wagers from a minimum of 0.01 credits to a maximum of 10.00 credits for every spin.
This is not bad for both casual players and high-rollers who want plenty of scopes while enjoying a satirical spinning action.
The jackpot prize available in this game is a whopping 500x the total bet. Players can scoop this up when they manage to align three Dubya logo icons. 
On the other hand, the smallest prize players can get from Dubya Money! is a 2x multiplier. This is given whenever three cherries align on the horizontal win line.
As for the other symbols, three lemons get the players a 4x multiplier, three oranges get 8x, and three plums get 10x.
Moreover, three bells award 16x, three watermelons award 20x, three Stetson hats award 30x, and three oil drums award 50x the total bet value.
Interactive Features
Dubya Money! offers special features, including the following:
The Hold. This feature is triggered randomly. It can hold the position of symbols in one or more of the reels for the duration of your next spin.
The Nudge. This feature is also randomly triggered. It allows players to "nudge" a reel to display the next symbol. Players can win a maximum of four nudges for each spin.
The Shifta. This is triggered randomly if there is no winning combination formed. This makes a reel stay in place while you nudge the other two until a winning combination is formed.
The Oil Fields feature. This is a bonus game that is triggered by reaching the "Start" icon on the number counter below the reels.
During this side game, players are presented with three sets of 3-reel games with different game symbols and mystery wins. 
These include cherries which are worth 1x, single gold bars which are worth 2x, double gold bars which are worth 4x, triple gold bars which are worth 10x and oil drums which are worth 100x. 
Just like in the base game, the highest-paying icon is the Dubya logo which pays out wins worth 500x the total bet value.
There are no free spins or wild symbol available in this game at the moment. But that doesn't mean there won't be any added in future updates, so keep an eye out.
How to Play Dubya Money! Online
Players should set their bets first before getting to spin the reels and meet George "Dubya" Bush.
To do this, they must choose between 0.10 to 10.00 credits to bet for each spin.
Players must then click on "Spin" to begin rolling the reels.
As usual, players have to be able to form certain combinations to win. These form from the aforementioned classic slot icons and special logos.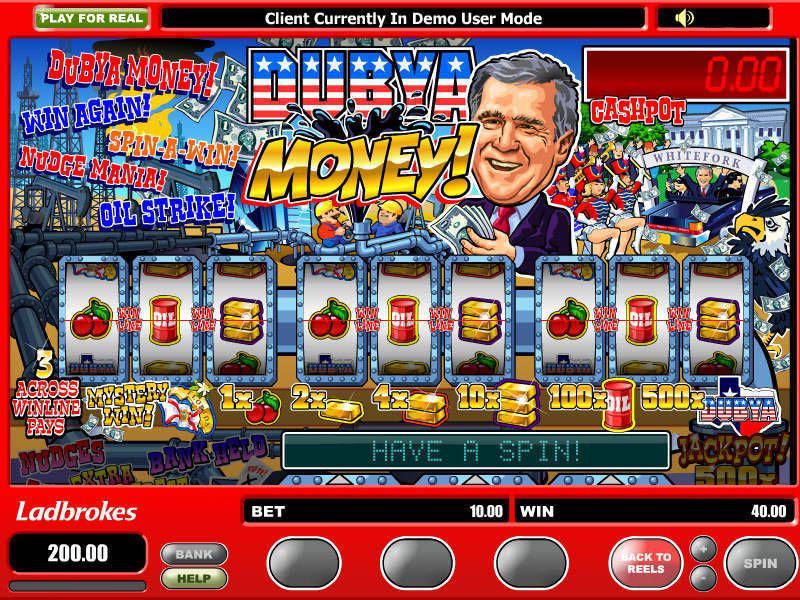 To enter the special bonus round, players need to have an arrow icon in each space of the game's single active payline.
Dubya Money! RTP
The Return to Player for Dubya Money! is 96.50%. 
With an RTP of this rate, expect this game to provide an excellent chance of scooping a big win!
With its high RTP, special bonus game feature, Nudges, Holds, and Shiftas, Dubya Money! definitely offers big enough payouts for players who seek to find fun in earning!
Slot Volatility
The Dubya Money slot game has a medium variance.
This means it's good for different types of players. It caters to those looking for frequent small wins, as well as those interested in less common large wins.
There are plenty of medium volatility slot games out there if you like this style of play.
Head to the USA and Play
We hope you enjoyed our review of this slot game. We feel that it's got a great theme with some exciting features and bonus options to enjoy. The RTP value is great for players and there are plenty of fun symbols to look for while you play.
Want to give Dubya Money slots a go yourself? Check out some of the top slot sites online and sign up to join the fun.
Other Microgaming Slot Games
You can find plenty of welcome promotions on Microgaming Slots.
Now you have read our review, check out more from Microgaming below to see other offers in March 2023.