Elvis Multi Strike Slot Machine
Play with Elvis Aaron Presley, aka the King of Rock and Roll and a famous rock music icon in Elvis Multi Strike!
Elvis Multi Strike Slots is a 5-reel video slot game with 60 paylines, 3 rows and a rock 'n roll theme. Powered by IGT, this casino game has a medium variance and a 94.50% RTP. The bonuses include the Elvis Multi-Strike, a Memories Bonus, and a Fan Meter that measures music popularity.
In this Elvis Multi Strike Slot Review, we will also discuss some slot terms for the bonuses and features so you can play this slots game fair and square.
Learn more about the slot machine based on the one king of rock and roll whose name is still remembered up until this day.
Read on to know how you can get your Elvis Multi Strike spins at any IGT casinos.
Best Elvis Multi Strike Sites
From our research, we have created a list of the Best Elvis Multi Strike Slot Sites in October 2022:
About Elvis Multi Strike Slots Game
Elvis Multi Strike is a video slot from IGT that has five reels and 60 paylines.
This slot has a little more action on its reels because of its game features and slots bonus.
Unlike most slot machines, Elvis Multi Strike has game levels that you can choose depending on your preferred number of paylines.
There are three levels of reels that carry symbols of Elvis' signature, his mansion, his pink Cadillac, a teddy bear, and music-related items such as a guitar and a microphone.
You will also see a photo memories symbol and letter symbols that include E, L, V, I, and S.
The special symbols include the wild symbol.
In the background are more photo memories of the one rock and roll king at different points in his career.
Elvis is an unforgettable name and this slots game gave justice to it in terms of its theme and spin audio.
The background audio includes some of his biggest hits.
Slot Info
| Elvis Multi Strike Slots | Attributes |
| --- | --- |
| Casino Game: | Elvis Multi Strike Slot Game |
| Paylines: | |
| Reels: | 5 reel casino slots |
| Software: | |
| Minimum Bet: | £1.00 |
| Max Bet: | £300.00 |
| Variance: | |
| RTP: | 94.50% |
| Slot Theme:  | Rock and Roll, Music |
| Bonus Features: | Elvis Multi-Strike, Photo Memories Bonus, Fan O Meter |
| Max Win: | £40,000.00 |
| Free Spins: | No |
| Release Date: | 14 February 2012 |
How to Play Elvis Multi Strike Slots Online
To play the Elvis Multi Strike game, there are some terms and conditions that you should follow.
The following are the steps to take when you want to play the Elvis Multi Strike reels:
Decide on how much you want to deposit.
Click on the -/+ buttons in the LINES section to increase or decrease the number of active paylines.
Click on the -/+ buttons in the BET section to increase or decrease the number of coins you will stake on each payline.
Press MAX BET if you want all 60 paylines active and the number of coins per line set to 5.
Click on the SPIN button (circle with arrow) to start the game with your chosen wager.
Slots players nowadays prefer having winnings and spins on reels that they can take wherever they go.
Fortunately, this slot game is one that is compatible with both desktop PCs and mobile devices such as Android smartphones, iPhones, iPads, and tablets.
To be receive notifications about updates like bonus features, free reels, T&C on winnings, VIP player benefits, and whatnot, you can subscribe to online casino sites via email.
Interactive Features
Most video slots from IGT offer unique and exciting interactive features.
For Elvis Multi-Strike, the bonus features are explained in detail below.
Note that T&Cs apply for these bonus games.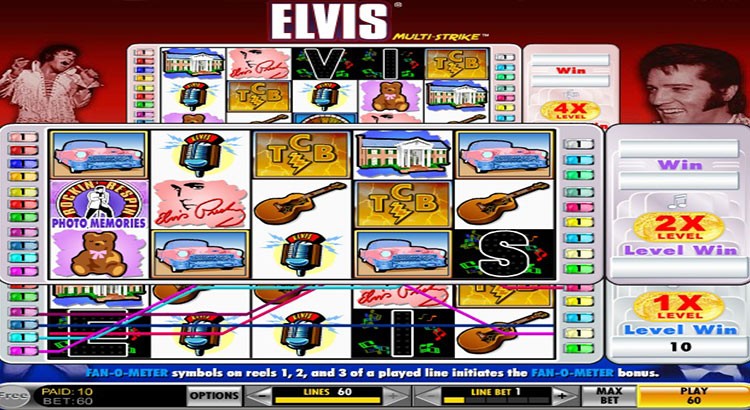 Elvis Multi Strike
This feature is the main attraction of this slots game and it's what makes it unique.
There are three levels in this game: the first level comprises of the first 20 paylines, the middle level comprises of lines 21 to 40, and the highest level comprises of lines 41 to 60.
If you choose to start from the bottom level, you can advance to the next by winning or by activating the Free Ride feature.
Photo Memories Bonus
You will get to play the Photo Memories bonus round when you land the photo symbol on the first and second reels at the same time as the Rockin' Respins logo lands on the third, fourth, and fifth reels.
During this bonus game, you will need to spin a pointer.
The pointer will then land on a different photograph which will determine the amount of instant cash prize you will get from this bonus feature.
The photograph will turn into a 'Collect' symbol.
You may keep spinning the pointer until you land on a 'Collect' space.
Fan O Meter
The fan o meter symbol is a bonus symbol in the game.
You will play on a separate set of reels when you bring up three of these bonus symbols.
The new reels contain different televisions.
Each television features Elvis performing various songs.
You will then need to select one of the televisions which you think the fans would love to hear.
The louder the fans scream, the higher the votes and consequently, the win amount.
What Symbol Triggers the Elvis Multi Strike Slot Bonus Free Spins?
One of the most sought-after bonus rounds is the Free Spin feature.
During this bonus spins, players get to have free spins on the reels by landing certain symbols in the base game reels.
Unfortunately, Elvis Multi Strike does not offer this feature.
However, you can still enjoy the spins in the bonus games by landing the special symbols mentioned above.
Paylines and Stakes
You can play Elvis Multi Strike on 60 paylines.
The min bet is £1, while the max bet can go as high as £300.
The maximum winnings is worth 40,000 coins.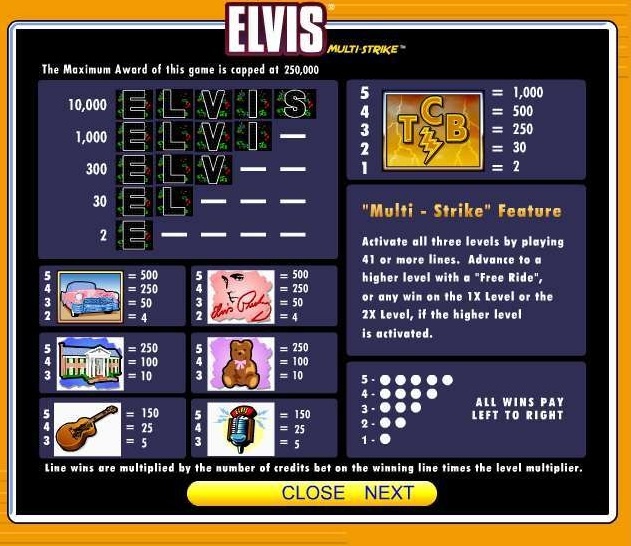 Note that you have more chances of getting the jackpot when you deposit the max bet.
Meanwhile, the highest paying combination are the letter symbols that spell out ELVIS.
When all five letters appear on the reels during the base game, players will receive 10,000 casino credits or coins.
Elvis Multi Strike Slot Game Software
The Elvis Multi Strike game is powered by IGT.
IGT consists of proven leaders that create quality slot games with low deposit to cater all types of players.
Based on its games and some of the gambling news about IGT, each spin that you invest on IGT slots is worth your wagering money.
Their games offer special features such as multipliers to help online slots players land more winning combinations.
What is Elvis Multi Strike Slot's RTP?
The RTP for Elvis Multi Strike is 94.5%.
This payout percentage means that there could be a return payout worth £94.5 when you deposit £1.00 per spin for a hundred spins.
These terms may be unappealing to some players since this RTP rate is considered to be just below the average RTP value.
However, a player can still increase the wins by playing the game repeatedly.
Slot Volatility
Elvis Multi Strike also has a low to medium variance.
This volatility level means that the chances of winning come steadily even if the prize amount is on the low side.
Despite these terms, players can still expect the prizes to be high as long as they a deposit high wagering amount.
Popular Questions
Where can I play Elvis Multi Strike Slots for real money?
You can play Elvis Multi-Strike slots for real money on IGT slot machines.
When you play these slots, you will get the chance to claim the amazing bonus of real money!
Just place your bet and spin! You will get your bonus cash in an instant!
Can I play Elvis Multi Strike slots for free?
You can play this amazing slot for free when you play in the demo mode.
You will get to experience plenty of fun and interactive bonus features, such as bonus spins, a multi strike feature, a wild symbol bonus and so much more!
Unfortunately, you will be unable to get the real cash bonuses with this feature as a deposit may be required.
Summary
To conclude this Elvis Multi Strike Slots Review, Elvis Multi Strike feature packs a lot of fun and entertainment as one of the best IGT slot games.
Despite not having free spins and a progressive jackpot, the memories for photos, fan o meter bonus games, and multipliers are enough to setup ample wins.
Try this game out at any of our recommended online casino sites for Elvis Multi Strike.
Note that gambling must be done in moderation so always play responsibly.
Also, read the wagering terms before playing and making a deposit.
You May Also Like
We have researched and reviewed all other IGT you might also like: