Esqueleto Explosivo Slot Machine
Jump into the fun with this exciting slot title, this Mexican themed game has a range of bonus features for all slot players.
Esqueleto Explosivo Slot is a slot game from Thunderkick Games with 5 reels, 17 paylines and lots of bonus games. This Mexican themed game displays skull designs, it has cascading reels and wild symbols. 
Looking to give it a try? This Esqueleto Explosivo slot review should help you get the hang of what is on offer.
Best Esqueleto Explosivo Slot Sites
Find the best Esqueleto Explosivo slot sites in September 2023 and land generous offers and bonuses when signing up to play. Use our full list of online casino sites below:
About Esqueleto Explosivo Slot Game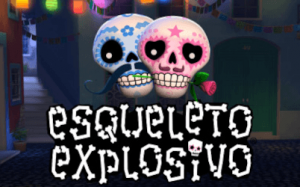 Esqueleto Explosivo celebrates the Mexican Day of the Dead with a 5-reel, 17-payline slot experience using an incredibly good graphical design. Expect sugar skulls and find more exciting designs in this Mexican themed slot.
The 3D graphical style used for the game is gorgeous and another amazing display of Thunderkick's talents. Most Thunderkick casinos games have excellent visual designs, but Esqueleto Explosivo really pushes things forward with the novel style and great clarity to back it up. A pink skull, blue skull and yellow skull are all the same shape but clearly distinct, so new players will not get mixed up.
How to Play Esqueleto Explosivo Slot Online
Play Esqueleto Explosivo Slot is easy to play, follow our steps:
Find the best Esqueleto Explosivo Slot slot sites and welcome bonuses.
Then, find the stake and adjust the paylines using the + and –
Press spin and aim to land winning combos
Use the paytable for details on the potential wins
You can play from your phone, tablet and computers. You can enjoy this game from iOS or Android without hassle, play from your browser without the need to download any software.
Interactive Features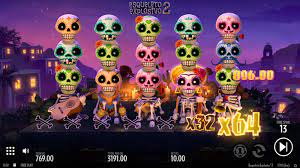 The dropping symbols mean that a win will push more symbols onto the board, acting as a miniature bonus game. When you play Esqueleto Explosivo, you always have a not-quite-free-spins feature ready to activate. Get a winning combination, and those symbols explode, letting others tumble down to replace them.
This allows these new symbols to achieve another consecutive win. Not only does this earn you more money for free, but each winning combo increases your multiplier, from 1x up to 32x. There is no extra cost to this since it acts as a free spin: you do not have to pay for these 'bonus rounds'.
Wilds
The key bonus feature here is the Explosivo Wild symbol. Getting an Explosivo Wild in a winning combination blows up eight symbols near it, letting the others drop in. Each time one arrives, the mucho multiplier bumps up an extra 1x, slowly improving how much your consecutive wins are worth.
These golden skulls can also give you free spins – every third Explosivo Wild you get adds one to your free spins tally. This is the only way to get any bonus spins.
What Symbol Triggers Esqueleto Explosivo Slot Bonus Free Spins?
The closest thing to a 'bonus game' is really just the reels falling, providing you with more and more chances to earn real money. You are not kicked into a separate free spins game or given control of a separate wheel, so you are never taken away from the normal game.
This game has both multipliers and cascading reels. Find the best cascading reels using our guide and you can also find separate multiplier slots.
Mucho Multiplier
The mucho multiplier feature means that you can get multiplier increases regularly from the tumbling reels, so a winning payline can lead to more and more win bonuses as the five reels keep dropping more wins. However, if those big wins stop, your bonuses are used up, too, so those golden skull symbols are very valuable.
There is not a regular scatter symbol, with the main bonus being built into the game itself. Mucho multipliers are also tied to wins, so you earn them while you play, regardless of which symbols you use to win.
Multiplier Increase
This multiplier applies as a bonus to your real cash winnings, so it depends entirely on the cash funds that you play with. The more your spins are worth, the larger the bet is, but that is no reason to waste all your money on the slots as quickly as possible.
Remember that this bonus applies as long as the reels are still falling, so you do not get a way to play with a different stake once it starts. The bonus is based on what you started with, just like free spins would be if you had a bonus game that offered free spins after a win.
Paylines and Stakes
As mentioned before, Esqueleto Explosivo offers 17 paylines at 4 reels total, each with 3 skulls. This makes it similar to a lot of classic game types, so you should not have any trouble getting used to it.
Remember that the cascading reels can make formerly failed paylines open up when other symbols drop down, so there is also an element of randomness towards certain paylines actually being losses. Your extra spins only end when you stop winning.
You can stage between £0.10 and £10 on each spin, with your maximum win limit being 5,000x your original stake. This max bet is much lower than with other games, meaning that you are forced to gamble responsibly and can't blow all your money on one risky spin.
| Esqueleto Explosivo Slots | Attributes |
| --- | --- |
| Casino Game: | Esqueleto Explosivo Slot Game |
| Paylines: | 17 winning combinations |
| Reels: | |
| Software: | Thunderkick Slot |
| Minimum Bet: | £0.10 |
| Max Bet: | £100 |
| Variance: | |
| RTP: | 96% |
| Slot Theme:  | |
| Bonus Features: | Cascading Reels Feature & Wilds |
| Max Win: | 1,000x |
| Free Spins: | Yes |
| Release Date: | October 2010 |
Esqueleto Explosivo Slot Game Software
The software behind Esqueleto Explosivo comes from Thunderkick.
Not only is it graphically beautiful compared to a lot of online slot games out there, but the Mexican song choice and the general layout makes it a great game for people who value looks.
More importantly, none of this gets in the way of being able to play responsibly and win normally. You will never be confused over bonus features or find the game weighting things against you by obscuring important information. Thunderkick has created a wide range of games, many of which might be familiar to UK customers: Crystal Quest, Midas, Carnival Queen, and Pink Elephants, just to name a few Thunderkick slots still 'on the market'. Thunderkick slots have a great level of graphical effort put into them, and this is no exception.
What is Esqueleto Explosivo Slots RTP?
The RTP for Esqueleto Explosivo falls somewhere around 96%.
This slot game has a high return to player percentage, any slot game with more than 95% gets our vote! You can find other great paying slots.
Slot Volatility
Esqueleto Explosivo Slot has a low variance.
Even though the primary bonus feature of Esqueleto Explosivo is based on random chance, volatility is low: wins are quite common but are not usually going to be massive events. You are going to get Esqueleto Explosivo Wilds quite often, but a single Wild symbol is not worth too much in the long term.
Of course, selected games can always be different, and you never know when you will suddenly hit a max win limit. Always play responsibly, especially when you play for real money, and try to take the wins when they are coming for you.
Summary
Esqueleto Explosivo is an interesting game and one that relies on a very simple bonus system. Since the entire bonus uses either Wilds or adjacent symbols that cause wins, there are no major slot features that demand your attention.
It is a casual-type video slot game that makes the max win and max bet limits clear, letting you loose with some simple slots to play.
This Esqueleto Explosivo slot review has covered most of the basics since it is a very simple slot. There is not a dedicated bonus game, and bonus spins come in the form of free spins as cascading wins, so learning to play Esqueleto Explosivo is as simple as making a stake and hitting the spin button.