Diamonds may be a girl's best friend, but it's these colourful gems that will have anyone, and everyone gobsmacked and addicted. Jewels of every colour are just waiting to be collected, each worth more than the last. Question is, how does one get all this treasure?
Gemix Slots is a 7-reel slot game with 1 payline and 7 rows. Features like Miner's World, Princess' Wold, Wizard's World, Crystal Charge Meter, and Cascading Reels add excitement to this magic-themed casino game by Play n' Go with a £602,550 jackpot at low variance and 96.75% return-to-player rate.
With the help of the game's friendly sugar princess, gnome, wizard, and tips from this Gemix Slot Review, players can find out how to cultivate all the sparkling wins this slot has in store!
Gemix Slot Sites
From our research, we have created a list of Gemix Sites in March 2023:
About Gemix Slot Game
Have you ever gone mining for precious stones? It isn't easy when you can't see what's valuable as, most of the time, we do not see what's invisible to the naked eye. Sometimes, a little magic and wonder go a long way.
The sparkling beauty of the colourful gems usually hides underneath things that we easily overlook. There are dazzling blues, bright golds, oranges, and pinks, as well as opulent reds, purples, teals, and greens fill the reels in a wide array of playful shapes such as flowers, stars, moons, and more!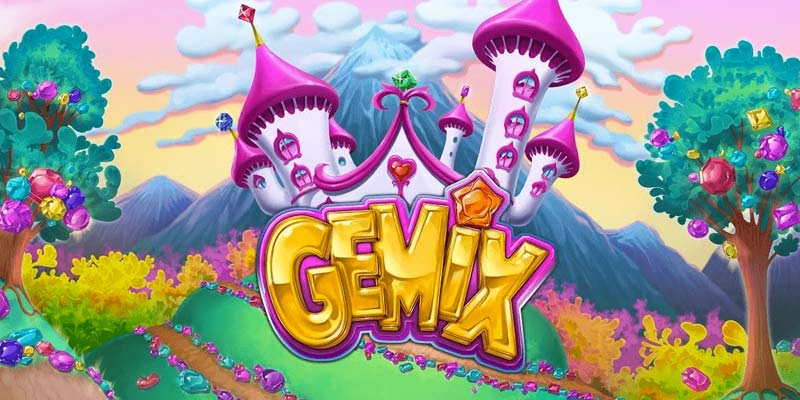 In this seven reel video slot game by Play'n Go, players will enjoy the benefit of having a game that has an all ways to pay kind of payout scheme. Together with the magical theme it holds, the game produces a pretty wonderful gaming experience for players to enjoy. The reels look somewhat like Candy Crush or some other puzzle video game. This slot is the kind of game that involves similar symbols, unlike most casino slot games.
It includes symbols such as differently shaped jewels which each have a bright, brilliant hue, very similar to Candy Crush that involves different hard and jelly candies or even Bejeweled that includes boxier, 3D gemstones.
As the reels spin, there is a lively and playful tune that accompanies the game, only intensifying whenever winning combinations are made or whenever the meter on the right side of the screen fills up. The game itself is set in what can only be described as the dark woods – the place where all magical or mythical creatures live and roam.
In the forest, players can find some cascading reels, a crystal charge meter that will spout our several types of bonus features, different wilds, worlds, and even a jackpot prize of 602,550!
Now and then, the scene shifts and brings players into a whole other part of the magical land. The gnome's land is set underground where he mines for the treasure, the princess' land is pretty, like Candyland, and the wizard's world is the most beautiful of them all – picturesque and magical.
So, if you're ready for a magical adventure that helps you gain some colourful prizes, then spin the reels and see just how many jewels you can pick up as you make your way through the worlds!
Slot Info
| Gemix Slots | Attributes |
| --- | --- |
| Casino Game: | Gemix Slot Game |
| Paylines: | |
| Reels: | 7 |
| Software: | Play n' Go |
| Minimum Bet: | £0.5 |
| Max Bet: | £100 |
| Variance: | |
| RTP: | 96.75% |
| Slot Theme:  | Magic |
| Bonus Features: | Miner's World, Princess' Wold, Wizard's World, Crystal Charge Meter, Cascading Reels |
| Max Win: | £602,550 |
| Free Spins: | No |
| Release Date: | 2nd of December 2014 |
How to Play Gemix Slot Online
Before exploring magical worlds, here are a few tips and tricks to remember:
To adjust the number of coins to bet, players can toggle with the section at the bottom with the buttons that show different values. After deciding on the amount to bet per spin, players can go ahead and click the "Start" button to begin the spin, or click the "Autospin" button on the left side of the reels to begin uninterrupted gameplay.
Gems aren't easy to attain, but they can be found easily with the help of some magical friends. See how many jewels the princess, wizard, and gnome can fetch for you when you play the game from your mobile (Apple or Android), tablet, or PC/ Desktop devices today!
Interactive Features
Wilds and the Worlds. Players will move through the worlds after every 50 to 100 spins. There are three worlds, and each world has a different wild symbol.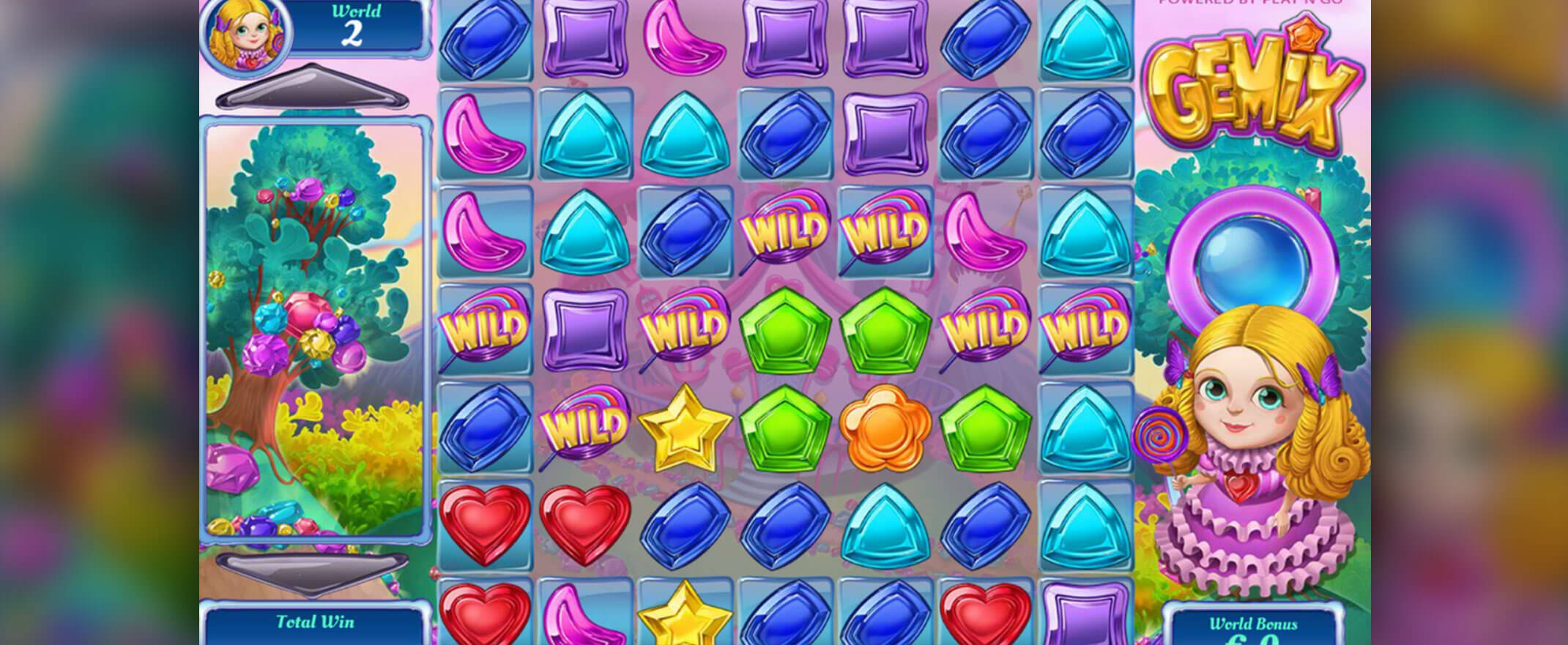 Miner's World. This round is set underground where the mines are. During this round, the wild is the miner's lamp. In this world, players can expect to get up to 10 wilds that cascade from the top of the reels.
Princess' World. This world is set in a pink, cotton candy looking scene. During this round, the lollipop represents the wild. Here, players can expect the wilds to expand either vertically, diagonally, or horizontally on the reels until it reached the edge.
Wizard's World. This world is set in the magical woods, and in this round, his spellbooks represent the wild icon. This symbol can show up randomly on the reels, and they will stick there until the cascade stops.
Cascading Reels. The symbols will explode on the reels every time five or more of the same symbols lands on the reels. With every cascade, players can also get additional multipliers which increase by 1x after each cascade.
Crystal Charge Meter. For every winning combination, the meter located on the right side of the reels will fill up. When it fills up, players can experience 1 out of 5 bonus features:
Chain Lightning. During this bonus, 2 of the corner symbols will link with each other. This action will then turn every symbol in between into the same colour.
Light Beam. For this feature, players will see light beams shoot out and target a symbol. This beam will then turn everything it touches into the same colour or type as the symbol it originally picked out.
Crystal Warp. The game chooses one random icon during this feature. After it's been determined, each icon similar to the one picked will turn into the symbol that's most present on the reels.
Novablast. During this feature, the game chooses one random symbol, and this symbol will explode. This explosion will then leave a hole in which new symbols will fill up. These symbols will cascade from the top of the reels.
Super Charged Crystal. The crystal charge meter can receive a supercharge in this feature. This feature can be triggered by having a big enough winning streak. During this feature, players can win more massive amounts since this multiplies the totals with a 3x multiplier.
What Symbol Triggers Gemix Slot Bonus Free Spins?
This game has a multitude of colourful jewels to be had, and you can gain each of these from the handful of bonus features presented here. These features can aid in landing big wins, although this list does not include any scatter symbols or any symbol that can trigger free spins. This isn't a big issue though, as the bonus features are quite generous with their aid and they do land frequently enough so players won't need any free spins here.
Paylines and Stakes
To gain the jewels and the 602,550 jackpot prize, players must first place a bet valued between 0.10 to 100 coins per spin. Doing so will begin a game that pays in all ways – through the winning combinations and by triggering bonus features.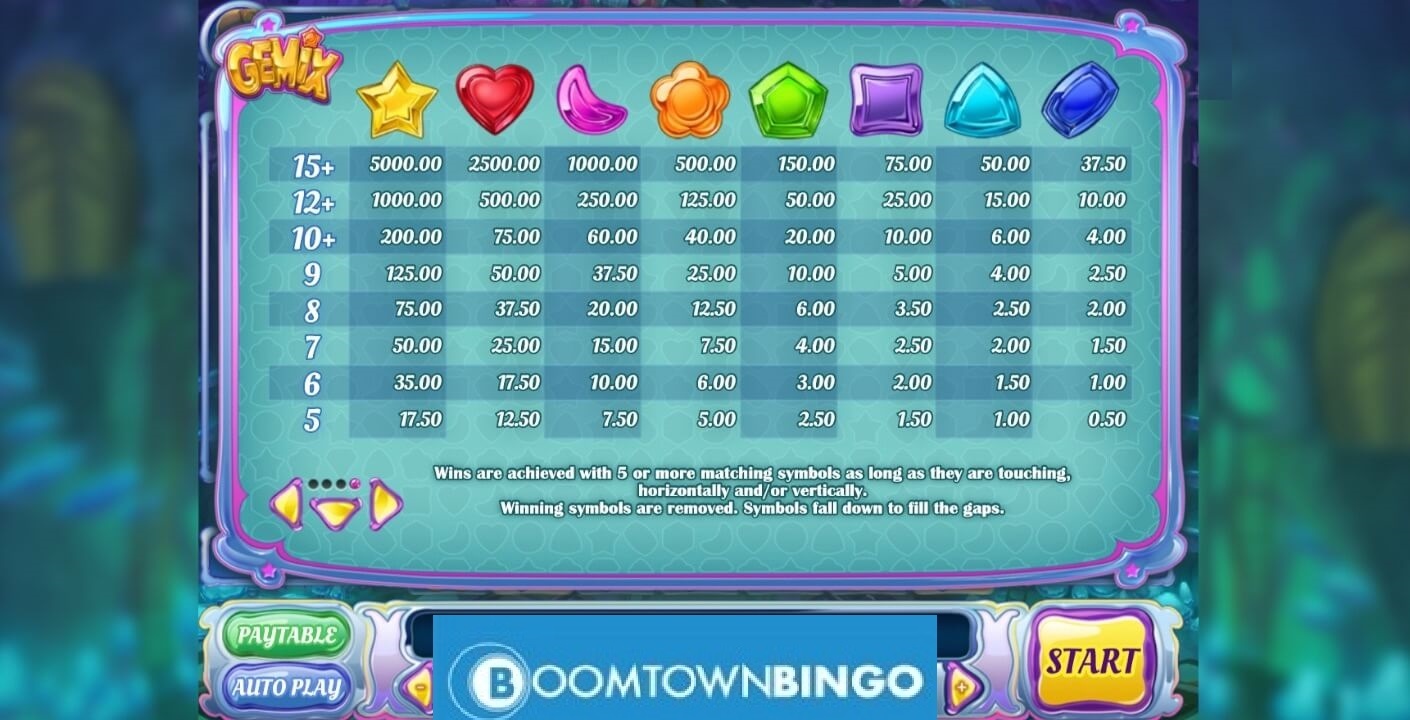 Now, the symbols that give payouts consist of the different brightly coloured gemstones. Players will need to land anything from 5 of a kind to 15 or more of a kind. Doing this will allow you to win amounts varying from 0.50 to 5,000.
Gemix Slot Game Software
Gemix is a slot game that was made possible by Play'n GO.
Made for players by players, the Play'n GO team tailor their games to delight and excite players. After two decades in the industry, the Play'n GO team no signs of stopping.
What is Gemix Slot's RTP?
Gemix is a non-progressive slot game that has an RTP of 96.75%.
This game has an excellent Return to Player rate, and that means that players can get a return average of £96 per £100 bet.
Slot Volatility
This online slot game is a low variance game. This kind of slot volatility allows players to gain more since the payouts land pretty frequently, albeit in smaller amounts.
Summary
This slot is one game that's perfect for those who are still itching to scratch the itch that is the likes of Candy Crush. Although unlike these games, players can win good or decent amounts by the end of the game. It's suitable for all levels of players as this poses little to no challenge when it comes to lading a win. This game is also perfect for those who are looking for a more casual gaming experience. So, if you're up for collecting something that sparkles, then try this game out for size.
You May Also Like
We have researched and reviewed all other Play'n GO Software games you might also like: