Genie Jackpots Slots is a 5-reel video slot game with 20 paylines, 3 rows, and a fantasy theme. This medium-variance Blueprint Gaming casino game has a 96.54% RTP. The bonuses include Genie Wilds, Monkey Wilds, Mystery Wilds, Magic Scatters, Magic Carpet Bonus, 3 Wishes Power Spins, and Free Spins.
Genie Jackpots grants your wishes in a number of ways, thanks to the many bonus features. The Jackpot King slot machine comes with 5 reels and up to 20 ways to win.
There's a lot of bonus features on this exciting slot from Blueprint Gaming, find the wild symbol, magic carpet, mystery win bonus and a progressive jackpot.
It's time to make your wish on this exciting video slot full of action.
We have an extensive list of blueprint gaming casino sites, check out the link for our in depth guide on all of the sites we think you should be gambling on!
We peel back this online fruit machine in this full Genie Jackpots Slot review now:
Best Genie Jackpots Slot Sites
After carrying out our research we have put together a list of the top Genie Jackpots slot sites:
About Genie Jackpots Slots
Who doesn't enjoy a genie story? We've all watched Aladdin but this time you can make your wish on Genie Jackpots Slot.
Although this isn't the Genie Jackpots Jackpot King version, there are huge jackpots and bonuses to unravel.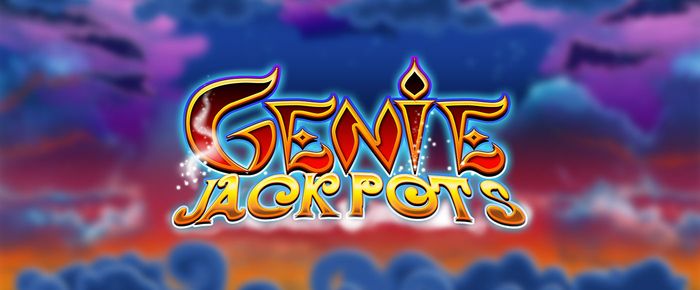 The game comes with lots to embrace including that of a treasure chest, magic lamp, infectious monkey wilds that expand and much more. It doesn't take a genius to work out that this theme is similar to the Aladdin animation.
As well as a vibrant colour design, you can also look out for other features such as the lamp in the bottom corner that can randomly award you with a feature. The genie may appear at any given time and he can often bring wishes your way.
If you like this game but want to find more ways to win then take a look at Genie Jackpots Megaways Slot Review, as we look into the entire gameplay, RTP and what's different.
Genie Jackpot Slot Info
| Genie Jackpots Slots | Attributes |
| --- | --- |
| Casino Game: | Genie Jackpots Slot Game |
| Paylines: | |
| Reels: | |
| Software: | |
| Minimum Bet: | £0.20 |
| Max Bet: | £80.00 |
| Variance: | |
| RTP: | 96.54% |
| Slot Theme:  | Magic, Fantasy |
| Bonus Features: | Genie Wild, Wheel King Jackpot, Respins, 2x Multiplier, Monkey Wilds, Magic Carpet Bonus, Mystery Wild Bonus, 3 Wishes Power Spin, Magic Scatter, Free Spins |
| Max Win: | 10,000x/Progressive Jackpot |
| Free Spins: | Yes |
How to Play Genie Jackpot Slot
Playing the Genie Jackpots Slot is simple, set the stakes and look for matching symbols. Follow the steps below to play Genie Jackpot:
Set the stake and choose your wager prior to each of your spins.
You can use the + and – to adjust the paylines and stakes.
From there you are able to wait to match symbols and land winning combinations.
Check out the paytable for more details on how much you can win.
What Symbols Trigger the Genie Jackpots Bonus Free Spins?
When you land two bonus symbols, you will be able to complete the bonus activation with bonus symbols on reel 5.  If for instance that is a Magic Scatter on the fifth reel, you will unlock the Magic Carpet Bonus Game and get anything from 10 free spins to 20 free spins.
The Magic Carpet Feature is a free spins feature and the only one on this slot machine. Look out for the scatter symbols and the Magic Carpet Icon on Reel 5 for this exciting bonus round.
For the free spins, you will need the bonus symbols with the genie icon, this will trigger the Genie Free Spins. You can get 10 free spins, 12, 15 or 20 free spins.
Genie Jackpot Slot Features
Big Time Gaming has done a great job with the bonus features on this game, read on as we reveal more on the Genie Win Spin, Monkey Wilds, Mystery Symbols, Multipliers and more.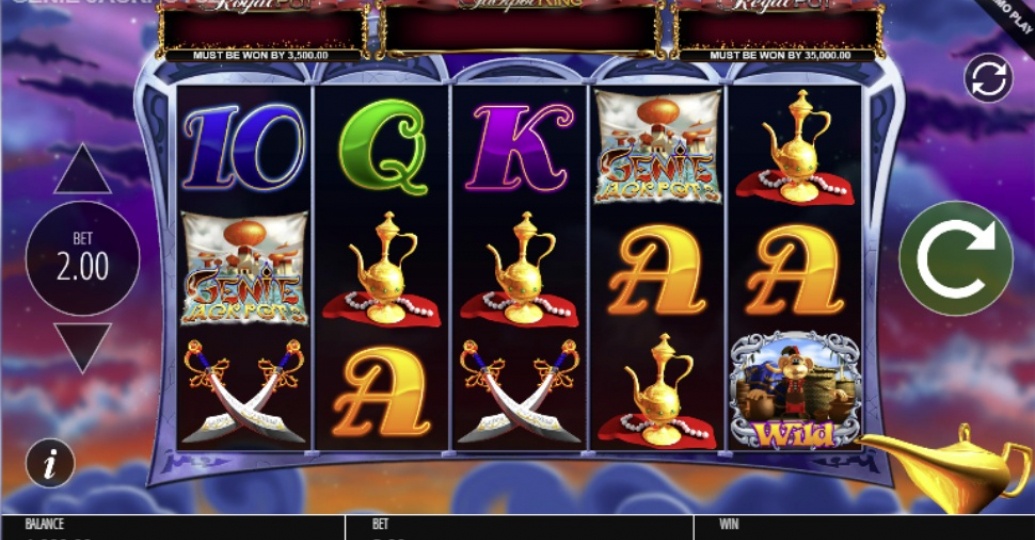 Here are the Genie Jackpots Slot Features and bonuses:
Wild Symbols: Wild symbols are represented by the Monkey and are one of the main features of this game. They allow big wins and make it easier to accumulate wins.
Jackpot King: Jackpot King is a famous progressive jackpot and the biggest win is over £1 million. Land the Wheel King symbols to gain access to these huge jackpots.
Genie Wilds Respins: Wilds can take over the reels and award you with a re-spin. Get another chance of winning with wilds on your reels.
2x Multiplier: get Genie Wilds and also double your win. You can get this when landing the wild symbols. If you want to multiply your wins then try the best multiplier slots.
Infectious Monkey Wilds: Monkey Wilds take over the screen and any reel they hit, will turn into wilds. This can give you a better chance of winning as well as increasing the amount that you can win. This will give you respins and the chance of a Genie Streak.
Magic Carpet Bonus: this is the free spins feature, get a scatter symbol on reels 1 and 3 then the Magic Carpet symbol on the fifth reel. You will also be privy to locking wilds during the free spins feature. Once a wild hit the reel it locks into place hence the name locking wilds.
Mystery Wild Bonus: if you get two scatter symbols and a treasure chest on the fifth then you will unlock the Mystery Wishes bonus. You will enter the Genie's Cave with a chance of getting 100x your stake. Mystery symbols are added to the reels offering a win that is revealed.
3 Wishes Power Spin: this randomly generated bonus can pop up at any moment. You could be awarded 3 wishes, you get to choose from three lamps.
Unlimited Multiplier – the unlimited multiplier occurs on the bonus feature, climb the multipliers and get a huge win.
Genie Jackpoy Paylines & Stakes
Paylines: 20
Reels: 5
Min Bet: 0.20 per spin
Max Bet: 80 per spin
Max Win: 10,000 times your stake/£250,000 or progressive jackpot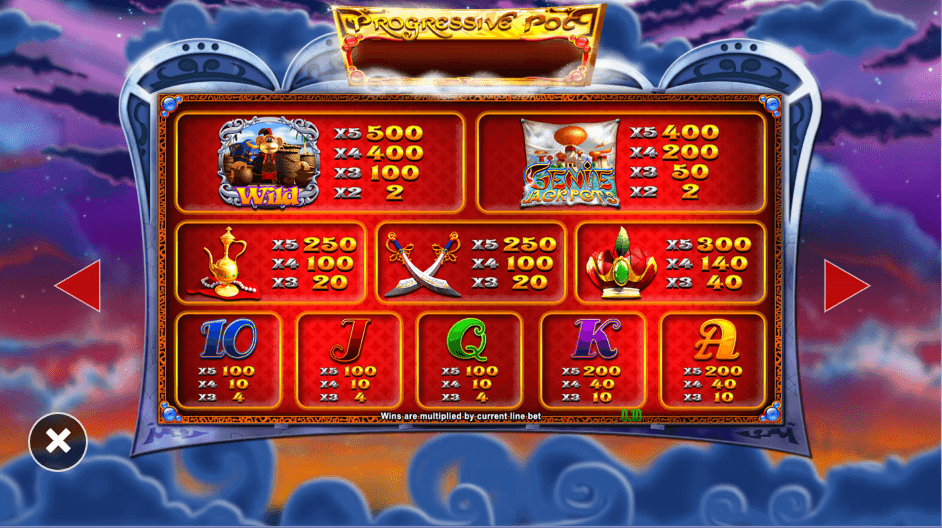 Free Spins Round: Yes
Bonuses: Genie Wild, Free Spins & Jackpot King
RTP: 96.54%
Software: Blueprint
Genie Jackpots Jackpot King
One of the most appealing attributes to Genie Jackpots is the Jackpot King. Jackpot King is a well known progressive jackpot network that pays out millions of pounds in prizes.
The main prize is always in excess of £1m and some have won over £4.3m. The aim of the game is to land five Jackpot King Symbols in a row.
This will unlock a separate screen where you aim to get 15 crown symbols. Either way, you will win money once you make it to these reels but if you get enough Crown Symbols then you will activate the Wheel King.
Once you spin on the Wheel King, you can multiply your stake by a set number or get one of the three pots.
The three progressive jackpots are as follows:
Regal Pot – It is usually in the hundreds starting from £100
Royal Pot – This continues to grow, all the way to around £15k
Jackpot King – This is the prize everybody wants with it being £1m plus
If you're a fan of progressive jackpots, these can be won during any 3 Wishes Power Spin. The progressive jackpot is available for any stake with 2% of the stake being added to the pot and 0.2% added to the reserves.
As soon as the jackpot is won it's reset to the reserve pot amount. This will then begin to rise again. Players will stake funds that will go into the progressive pot and reserve pot. It's possible for a simultaneous win to occur.
In the event another player wins the progressive jackpot, a notification message will occur prior to the current player being awarded the jackpot. Should there be a communication area after a win has been determined; the money will automatically be transferred into the player's account. Jackpots cannot be terminated when the game is live. If the game is removed, the pool amount can be moved into another jackpot.
Landing the Wheel King Feature could land you the progressive jackpot king and a reward of over £1m
Genie Jackpots Slot Software
Genie Jackpots Slot is powered by the well-known Blueprint Gaming Software and Ash Gaming.
Blueprint Gaming is a famous software developer with hundreds of games, each with unique features and its own base game design. They are constantly creating smooth and enjoyable slots, this game is no different.
We tried this game on for size and we were pleased to find lots of facets of this game engine. Not only is it a progressive slot but it comes with a range of big wins and bonus features. Enjoy the colourful graphics, sound effects and different elements.
Genie Jackpots RTP
Genie Jackpots has an RTP of 96.54%.
The average Return to Player amount is 95%, the return to player (RTP) gives slots players an idea of how likely a winning combination is likely to land and how often. If you were to place £1 bets for 100 spins then you could expect to win £96.54 on average.
This means that Genie Jackpots showcases an incredible return, you can expect frequent wins on this game with a generous RTP and the chance to land free spins.
Genie Jackpot Slot Volatility
Genie Jackpots slot volatility is of medium variance. 
Slot volatility is important as it offers us slots players more information on how volatile a slot game can be. This game is of medium variance, which provides fairly frequent wins whilst still having the chance to win big.
The lower the slot volatility the more frequent the payouts. The lower slot volatility also requires a lower contribution, so it allows newer players the chance to take part in slot games without wagering massive stakes.
Tips on Genie Jackpots Jackpot King Slot
When it comes to playing Genie Jackpots there are no shortcuts to winning combinations. It is a randomly generated game but with that said, you're able to make the most of slot sites and welcome bonuses.
Our team have scoped out all of the best Genie Jackpots slot sites. Simply find the best slots on our page and utilise their latest welcome offer. By getting promotions and offers, you can lower the risk but that does not mean that you are guaranteed a win.
Find a site and offer that suits you, you will also be able to stake the perfect amount for your budget. Play around with the wagering, paylines and look out for the bonus rounds. If you get onto the Genie Power Spin, Locking Wilds and Unlimited Multipliers, free spins and then you are in luck.
Popular Questions
Can I Play Genie Jackpots Mobile?
Yes, you can play Genie Jackpots from your smartphone, tablet or PC. You won't need a mobile phone app to enjoy this game from iOS or Android.
Play from your phone whilst on the go, you don't need a laptop to spin for Genie Wilds. The game is easily accessible and you can play from your web browser. You won't need a download or installation to enjoy this game.
The game is fully functional on all devices with all of the base game features and bonus round features.
Are There Any Genie Jackpots Cheats?
No, there are no Genie Jackpot cheats. The game is a randomly generated one and is legally licensed and certified in the UK by the UK Gambling Commission.
The Blueprint Gaming Slot is an official game that cannot be cheated. If you want to win, then you will want to stake an amount that you can afford and spin the reels for a bonus game.
You can also lookout for the best welcome bonuses and free spin offers before joining a site.
What is the Genie Jackpots Max Win?
The max win on Genie Jackpots is 10,000 times your bet and is capped at £250,000. Although, you are also able to win over £1m with the Jackpot King Progressive Bonus.
The Progressive Jackpot continues to grow and could land you a huge win if you unlock the biggest win. Genie Jackpots has a minimum bet on this slot is £0.20 and the max bet is £500.
How Can I Win the Progressive Jackpot?
To enter the Jackpot King game you will need to get five Jackpot King Symbols to enter the bonus.
From there, you will then be able to win a multiplier. If you get 15 Crown Symbols then you will trigger the desirable Wheel King Feature.
During the Wheel King, you spin the fortune wheel and get chance to multiply your stake. You will also be able to win either the Regal, Royal or Jackpot King Pot.
Other Frequently Asked Questions
Save yourself time and hassle by using our answers. We break down the most common questions that slot players ask.
How to Play Genie Jackpots Demo?
You can enjoy the Blueprint Gaming demo with a number of free play options. Play the Genie Jackpot demo version with the free play available at the following sites:
These sites allow you to test out the game without playing real money. You will not need to stake your own cash but you will be unable to win a real cash prize. It is a great way to check out the gameplay before wagering.
Is This the Genie Jackpots Megaways Game?
No, Genie Jackpots Megaways Slot is a different game to Genie Jackpot Jackpot King.
Nonetheless, we have also reviewed Genie Jackpots Megaways.
The game is full of ways to win and also offers a broad range of bonus games. Bonus feature options on this game include a free spins round, unlimited multiplier and plenty of huge prizes. Even the base game is striking with its animation theme and genie icons that are added to the reels.
Check out Blueprint Gaming where this game engine ensures the best experience for slot players. If you want to check out a similar game with more free spins and more ways to win then take a look at the Megaways Game. We review the entire Genie Jackpots Megaways Slot and you can try both games before deciding on your favourite.
We have also reviewed Genie Jackpots Megaways, find out more using our in-depth analysis including our view on the bonus megaways.
How to Unlock the Free Spins?
Genie Jackpots Slot has scatter symbols that can unlock the free spins round. Get a scatter symbol on reels 1 and 3. You can land symbols on reels 1 and 3 then either a chest scatter or Carpet scatter on the fifth reel.
Get two bonus symbols and then land one of two scatters on reel 5.
Summary of Genie Jackpots
Genie Jackpots is one of our favourite Blueprint Gaming Slots, with its numerous bonus features and wilds that are added to the reels.
Not only that but you can play for the Jackpot King and completely change your life. This game is full of free spins round, a Genie Wild, a Genie Streak, Mystery Wishes and progressive jackpots.
This is one of the most celebrated casino games available online, with vast features and colourful graphics. Other animation games sure to captivate you includes South Park Slot and Game of Thrones Slots with lots of bonus rounds and free spins. It's famous for its magic carpet scatter symbol, mystery win bonus, wheel king bonus, jackpot king bonus chest scatter symbol, tombola style wheel, 3 wishes power spins and more!
Wait until the mystery symbols are added and find out how much you could win. This game is full of genies, lamp icons and much more.
Genie Jackpots boasts one of the best casino bonus according to the feedback we have received.
From this Genie slots review we hope you come away will all the required information to make an informed decision on whether you would enjoy this slot, if you are interested in any new games you haven't tried yet, head over to our casino review page or slots reviews page and we have most likely done an in depth review.
We love it here at BoomTown!