Gladiators Gold Slot Machine
Try to avoid death during this traditional entertainment and you could be in for some exciting real money wins. Gladiators Gold is a no-nonsense slot machine that isn't about the thrills and bonus features, instead, it's about exciting graphics, themes and big wins.
Gladiators Gold Slots is a 3-reel classic slot game with 3 paylines and a Roman Gladiator theme. Powered by Microgaming, this medium variance casino game has an RTP of 95.89% and a max win of £4,000. Earn wins from classic symbols like the different coloured 7s and bar symbols.
Read on for what we discovered about this exciting game and its design as we break it down in the full Gladiators Gold Slot Review.
Best Gladiators Gold Slot Sites
Want to find out more on Gladiators Gold Slot Sites May 2023?
From our research, we have created a list of the best Gladiators Gold Slot Sites:
About Gladiators Gold Slot Game
As you can imagine the game revolves around the roman empire, their battles and their entertainment.
If you have seen the movie – Gladiator, then you will already know a little about the gladiator theme. The game is retro by design yet it is exciting and comes with its own intricacies including gladiators as part of the game screen.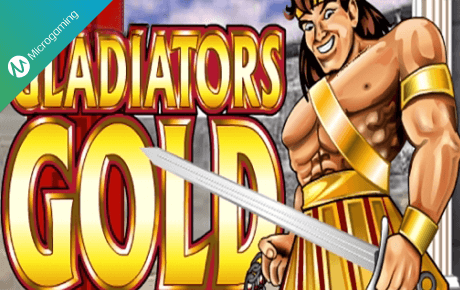 You will find lots of classic symbols including the bar symbols, 7 with the gold coin, get the former and you will be able to land the jackpot win.
The classic slot machine offers a gladiator form slot with gladiators and a stadium plus it has sound effects to match.
Slot Info
| Gladiators Gold Slots | Attributes |
| --- | --- |
| Casino Game: | Gladiators Gold Slot Game |
| Paylines: | |
| Reels: | 3 |
| Software: | Microgaming |
| Minimum Bet: | £0.25 |
| Max Bet: | £5 |
| Variance: | |
| RTP: | 95.89% |
| Slot Theme:  | Roman, Gladiator, History |
| Bonus Features: | Progressive Jackpots |
| Max Win: | £4,000 |
| Free Spins: | No |
| Release Date: | June 2012 |
How To Play Gladiators Gold Slots Online
As a classic slot game, the rules of Gladiators Gold are simple and there are only a couple of instructions needed when playing.
There is some difficulty in this slot game, as the reels can stop rolling in between symbols. If this happens, the entire combination will be voided and you will not win anything.
To win the jackpot in Gladiators Gold, you need to match a winning combination of three symbols on an activated payline.
The command bar is located at the bottom of the reels, making them easy to find and even easier to control when playing on a desktop. This command bar allows you to:
adjust the size of your wager as well as the number of paylines that you want to activate during a game by using the plus and minus buttons. You can alter the coin size to suit you.
set the reels in motion by clicking on the SPIN button and use other command buttons.
If you are feeling lucky, or want to take a risk, you can use the Bet Max button to bet the maximum wager instantly. With this button, just one click will set you all-in for the three paylines which could end up paying you back tenfold.
If you want more detail then use the paytable on the side of the screen, showing the payout amounts that are available.
Most video slots are easy to play from a mobile phone or tablet without a download. Although this game is basic, most casinos in the United Kingdom and United States now allow this no progressive game to play smoothly online.
Enjoy the mobile slot from you phone, tablet or desktop – it is compatible with both iOS and Android.
Interactive Features
Gladiators Gold Slot Machine isn't about bonus features, free spins, scatters and wild symbol features.
They have purposely made it simple for both new and existing slot players. Sit back and enjoy this game as you keep your eyes on the prize. If you escape the death of the stadium sport then you won't need wilds or scatter symbols.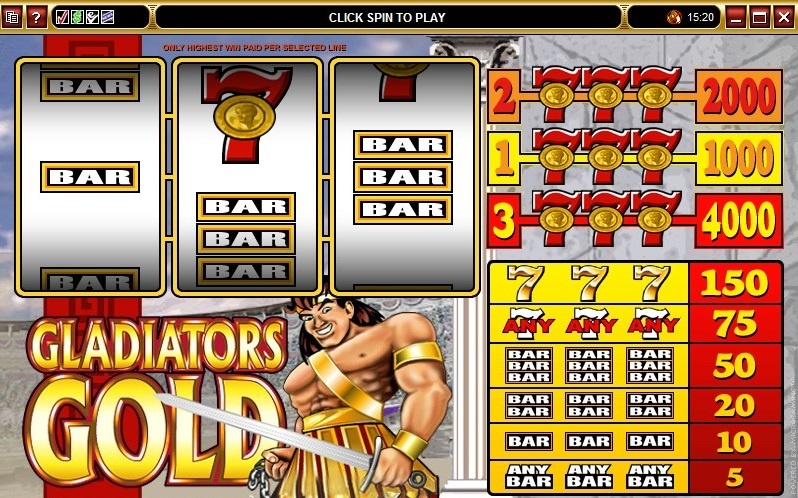 This game is an experience with it offering a 3 reel slot and the gladiators theme.
Get yourself a jackpot or some other intriguing wins. Here are some of the potential winning combinations that can form:
777 on all 3 active paylines – 4,000
777 on 2 active paylines – 2,000
777 on 1 active payline – 1,000
Triple Bar – 50
What Symbol Triggers the Gladiators Gold Slot Bonus Free Spins?
As mentioned, Gladiators Gold does not have any bonus rounds including the free spins. On a positive note, this makes the game straightforward and easy to play.
Payline and Stakes
Paylines: 3
Reels: 3
Minimum Bet: 0.25
Max Bet: 5
Max Win: 4000
Slot Type: Video Slot
Gladiators Gold Slot Game Software
Gladiators Gold slot is developed by Microgaming.
Microgaming is one of the best developers in the business so you should expect high quality and responsiveness whenever you see this name.
Microgaming is a huge platform and are one of the best software developers. Although it doesn't have complex features, it does display a seamless game.
What is the Gladiators Gold Slot's RTP?
The RTP value of Gladiators Gold slots is 95.89%.
This means that there will be a theoretical return of 95.89 coins for a 100-coin wager.
Slot Volatility
Gladiators Gold slot has a medium variance.
This means that both the frequency and amount of payout are at a moderate level. However, with an above-average RTP rate, expect this slot to deliver good results!
Summary
To conclude this review, the simple and straightforward gameplay of Gladiators Gold slot makes it highly recommended for players who are either new to the online slot world or just looking for a relaxing slot game that is worth spending time and money on.
Play Gladiators Gold for real money now or try it out on our recommended slot sites for free!
Other Microgaming Slot Games
Check out more from Microgaming below to see other offers in May 2023.
This is a shortlist of the most popular games available from Microgaming and does not mean the best in the online gamers reviews.