This slot is bananas!
You get a banana, and I get a banana, everyone gets a banana! With enough luscious fruits to go around, these crazy, fun gorillas will have you going bananas in June 2022.
Go Bananas Slots is a 5-reel video slot game with 20 paylines and a jungle theme. Powered by NetEnt, this medium variance casino game has an RTP value of 96.9%. The bonus features include regular banana wilds and special animal wilds like gorilla, orangutan, baboon, lemur, & tarsier wilds.
Monkey see, and the monkey does, so spin the reels and see what the gorillas have in store for you.
Best Go Bananas Slot Sites
From our research, we have created a list of the Best Go Bananas Slot Sites in June 2022:
About Go Bananas Slot Game
The jungle brings a lot of surprises. Meet some cool monkeys, inquisitive baboons, playful lemurs, and even the king of primates himself – the great ape! In this five-reel, 20 pay-line video slot game by NetEnt Software, players will be met by wins that the monkeys and wild feature brings.
This jungle may not have any scatters and free spins lying in wait, but the countless wild ways to win more than makeup for the lack of bonus features. Join the mischievous monkeys as they swing through the vines collecting fruits and wins for you. Get to know each monkey's characteristics and personalities to see what wins they offer.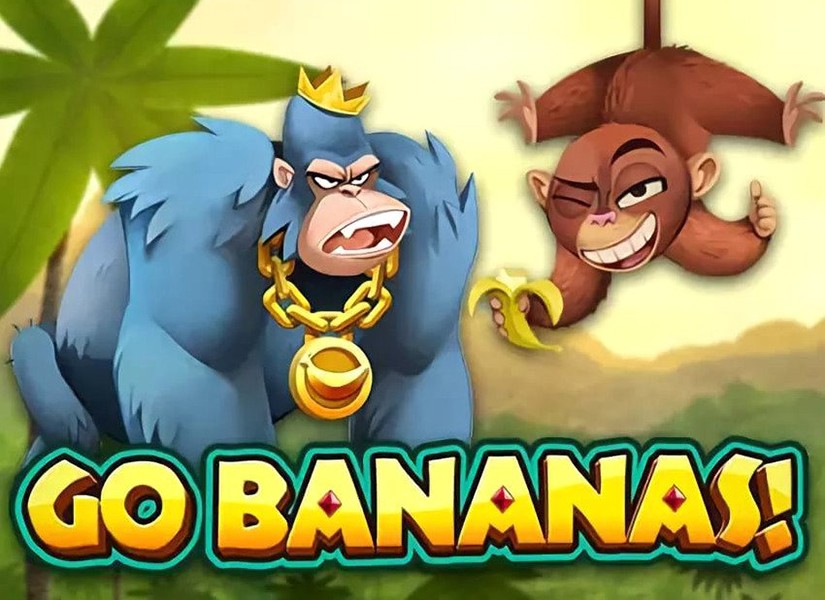 This jungle adventure game by NetEnt brings players back into the deep forest that is teeming with mischievous primates. When gaming was still starting in the good old days, we had nothing but Donkey Kong to fill our time. Now, players will be able to play around with crazier, fruit hungry primates, and even a few apes too!
In terms of graphics, the Go Bananas video game is a beautifully fun designed game that entices players to stay on, venture into the jungle, and spin the reels. The ape and different monkeys' illustrations aim to capture what these primates look like – from a silverback ape to a tarsier, a lemur, baboons, and orangutans.
The cartoon versions of the animals put a more playful light on the silly creatures, enticing players to spin the reels more. Even the fruits are juicier and more delicious looking.
Players will feel like Tarzan or Jane while playing the reels with the treehouse showing in the background as the reels spin. This slot game will have you spinning for hours. Have fun with the friendly primates, and do be afraid to go bananas!
Slot Info
| Go Bananas Slots | Attributes |
| --- | --- |
| Casino Game: | Go Bananas Slot Game |
| Paylines: | |
| Reels: | 5 |
| Software: | NetEnt |
| Minimum Bet: | £0.01 |
| Max Bet: | £1 |
| Variance: | |
| RTP: | 96.9% |
| Slot Theme:  | Animal, Jungle |
| Bonus Features: | Banana Wilds, Special Wilds |
| Max Win: | £700 |
| Free Spins: | No |
| Release Date: | June 2019 |
How to Play Go Bananas Slot Online
Before you go off on your jungle adventure, here are some tips to keep you from going bananas:
Click the Bet Value (+/-) section to set the coins' value per spin.
Click the Bet Level (+/-) section to set the amount to bet.
Click the Spin button when you are ready to begin the game.
Press the Autoplay button to start uninterrupted gameplay.
Press the Max Bet button to set the maximum bet for the spin.
You can now play in the jungle with all your ape friends from the comfort of your couch. Access the Go Bananas slot game on any mobile (Apple and Android), tablet, or PC device.
Interactive Features
Wilds. The bright yellow banana's main wild symbol is the word "wild" on it. The wilds can substitute for other symbols. There are five other wild patterns: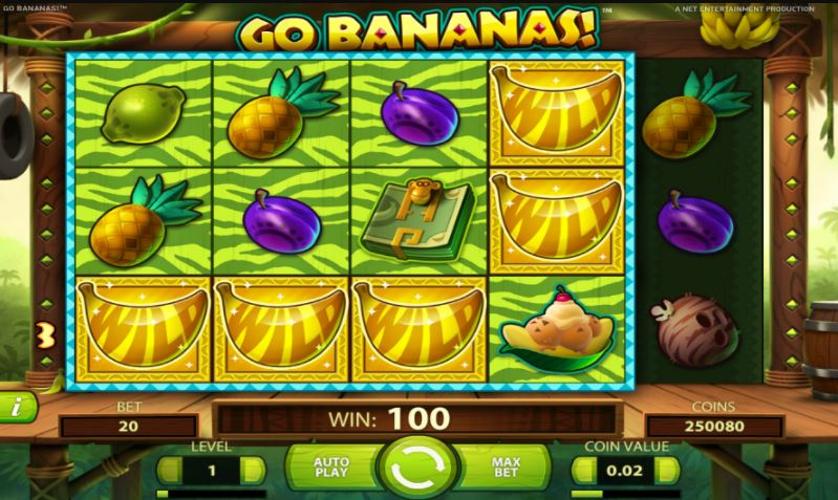 Gorilla. This symbol will add five wilds in an X pattern.
Orangutan. This symbol will add four wilds in a square pattern.
Baboon. This symbol will expand to cover the reels.
Lemur. This symbol will spread out in a row. This symbol will also give players three wilds in a horizontal pattern.
Tarsier. This symbol will award players with two wilds. This pattern will either go horizontally or vertically.
What Symbol Triggers Go Bananas Slot Bonus Free Spins?
There, unfortunately, are no scatters to trigger free spins as there are no free spins available. Although, given the number of wilds in this game,
Paylines and Stakes
You don't have to monkey around to get the 700 jackpot prize. The only thing players need to do is place a bet valued between 0.01 to 1 coin per spin.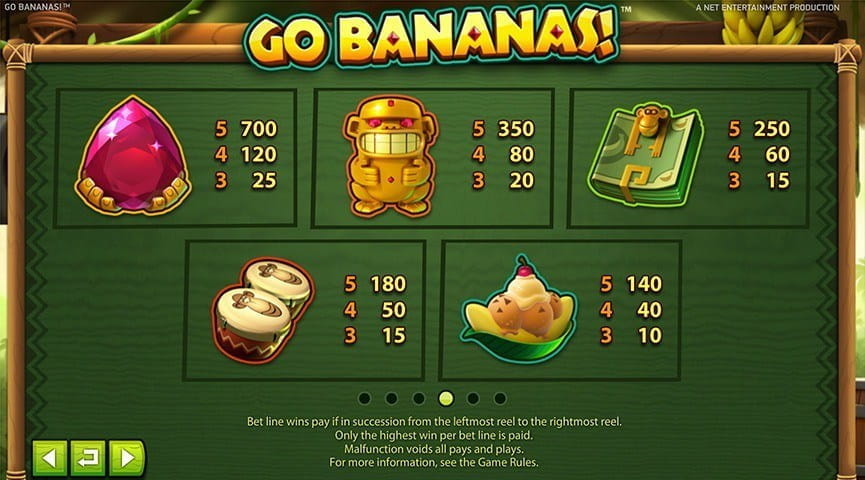 This will then begin the game that exposes some payouts from the high and low-value symbols. The pink gem, gold monkey totem, monkey money clip, monkey drums, and the banana split all act as the higher-value symbols. These can bring players a minimum of 10 coins for landing 3 of a kind and a maximum of 700 coins for landing 5 of a kind.
Meanwhile, the orange, pineapple, coconut, lime, and grapes act as the lower-paying symbols. These can bring players amounts varying from 5 to 70 coins for landing 3 to 5 of a kind on the reels.
Go Bananas Slot Game Software
Go Bananas Slot is powered by NetEnt Software. Thanks to this software, the monkeys and apes all go wild in this game of slots.
NetEnt Software is leading the way with unique and premium online games that provide digital entertainment on all platforms. They now provide games for mobile play.
What is Go Bananas Slots, RTP?
The RTP of Go Bananas Slot is 96.9%. It is a non-progressive video slot game. The rate of Go Bananas Slots estimates a return of more or less 96 pounds for every 100-pound bet.
Slot Volatility
This is a low to medium variance game. That means the game provides players with pretty low or fair payouts, but these only land semi-frequently. Players may still get good winning amounts, although it might take longer to land them.
Summary
If you want a good challenge without losing too much, then this video slot is definitely one to try out. This game presents players with a fun, entertaining, and pretty generous gaming experience that any player is more than welcome to take for a spin.
The bonus features are pretty limited, however, but the wilds do give some pretty interesting and helpful ways to gain winning combinations.
You May Also Like
We have researched and reviewed all other Netent Games you might also like: