Heroes of Spin Slot Machine
Are you a hero or are you a villain? Good or evil, these superheroes could save you, and even bring big wins and exciting features to the table.
Heroes of Spin Slots is a 5-reel video slot game with 25 paylines and a superhero theme. Powered by Blueprint Gaming, this medium variance casino game has an RTP value of 95% and a jackpot of 200x. The bonus features include Diviso Bonus, Glacier Bonus, Kinetix Bonus, Scorcha Bonus, & Free Spins.
If you like the look of this game, then read this Heroes of Spin Slot Review to see how you can be one of the heroes who whooshes through the reels and collects all the winning combinations at super speed. You need not look far either for this game is widely available. There are big casinos that are yet to introduce the popular game, but we have made your job easy with the selection on this page.
Do you know just how many sites offer Heroes of Spin in June 2022?
Best Heroes of Spin Sites
From our reseach we have created a list of the best Heroes of Spin sites:
About Heroes of Spin Slot Game
Who doesn't love a superhero comic? This slot game has been designed for fans of heroes and it comes with some intriguing stats. By now, you're aware of the game and its excitement.
It is a 5 reel game with conventional rules and a superhero comic theme. You can access the bonus features and signal for your favourite hero to come to your rescue. Each character has their own power and it could help you land a win. Use our features and how to play section for more details on the game itself. You can play the 25-winning lines as well as hoping for the free spins.
It is a great game sure to keep you intrigued throughout. We relished in theme and were also impressed with the bonus features or various bonus offers such as the Cash Match, No Deposit Bonus, and Free Spins. If you manage to unravel kind promotions such as free spins or no deposits, we recommend that you use them. Free spins allow you to trial games and a site, without using your own money.
A no deposit bonus is very rare. They are a true free promotion, unlike many of the others. That is because you are not required to make a deposit or wager any money of your own. Usually, you need to qualify for the promotions that are available.
It is full of heroes and even showcases a city backdrop. This affects the entire atmosphere and puts us in the mood for a hero theme. It has different graphics of the superheroes and these keep us intrigued.
Slot Info
| Heroes of Spin Slots | Attributes |
| --- | --- |
| Casino Game: | Heroes of Spin Slot Game |
| Paylines: | |
| Reels: | |
| Software: | |
| Minimum Bet: | £0.10 |
| Max Bet: | £500 |
| Variance: | |
| RTP: | 99% |
| Slot Theme:  | Superhero, Cartoon |
| Bonus Features: | Diviso Bonus, Glacier Bonus, Kinetix Bonus, Scorcha Bonus, Free Spins |
| Max Win: | 200x |
| Free Spins: | Yes |
| Release Date: | January 2016 |
How to Play Heroes of Spin Slot Online
The thrilling gameplay is enough to attract returning customers. It's not all about keeping an eye on the reels, but you will also see bonuses fly past the background or the reels will be stopped whilst in the middle of the air. Here's how you play:
Find the site you want to play on, with the list on this page. Choose the stake using the plus and minus, before each spin. You can then click the spin button. Repeat this as many times as you like and look out for matching symbols. Although it's great to land a winning combination, you will want to find the bonus feature. We have explained the interactive features in detail, below. If you want details on how much you could win and what symbols to look for, use the paytable on their game.
Want to enjoy big wins from your mobile phone? It's common for players to take to their phone. If you'd like to play from your smart phone or tablet, then you can do so without effort. Don't worry about downloading an app or having to manually access a mobile version.
Simply, find the casino site on the browser, pick out this game and enjoy, That is all you need to do, it will automatically convert to a mobile slot version.
Interactive Features
This well-paying slot is the talk of the town and we're starting to see why. The bonus features are basic but certainly engaging. Now, as each hero has different power, and each power offers different bonuses.
Find out how their powers benefit you when you land them:
Diviso. This bonus provides super splits to break up symbols and increases winning value.
Glacier. For this bonus, players can get the power that freezes wild the reels.
Kinetix. This superhero has telekinetic powers and this power can move symbols between reels 1 and 2. This could be the chance to get a winning combo.
Scorcha. During this bonus, the hero's power burns the reels up into wilds and they spread across the reels. So, this is a great wildfire bonus.
What Symbol Triggers Heroes of Spin Slot Bonus Free Spins?
Anything is possible when you have the help of some super friends. This means you could win countless bonus features like free spins. When doing so, a different superhero could show off their powers, in order to help you pocket more cash. To activate the bonus, match the three scatter reels and join the bonus game. You will get 12 free spins and a character will pop up and help you match symbols.
Paylines and Stakes
For the prize of 10 pence to £500 per spin, players can experience the different powers of each super. During this online casino game, players can win the different payouts from the several bonus features as well as the high and low-paying symbols.
So apart from the wilds, scatters, and free spins, players can win a minimum amount of 10 coins whenever 3 of a kind land on the reels and a maximum of 200 coins whenever 5 of a kind lands on the reels. This can be awarded by the higher-paying symbols which are made up of the 4 different heroes.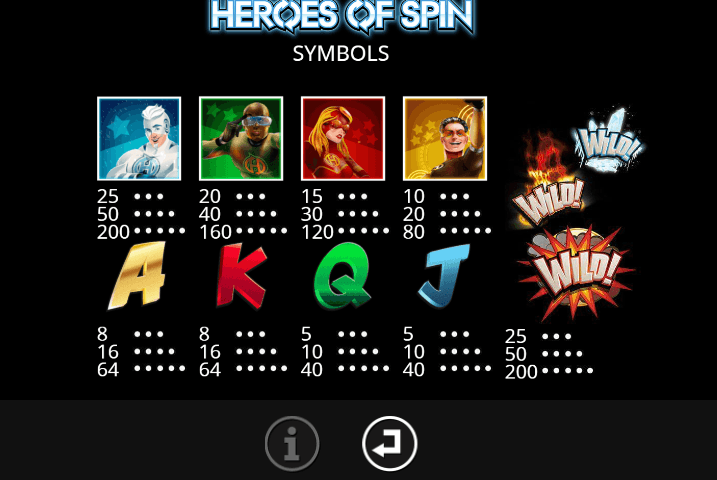 Meanwhile, the lower-value symbols such as the colorful and comic-cartoon looking card symbols (A, K, Q, and J) can bring players amounts that vary between 5 to 64 coins whenever 3 to 5 of a kind lands on the reels.
Heroes of Spin Slot Game Software
Heroes of Spin is another game brought to you by Blueprint Gaming.
Blueprint Gaming is responsible for creating hundreds of amazing slot games. This particular game works flawlessly and that's typical of this provider. Enjoy their game without any issues, whether you play from your phone or tablet. You can spin the slots without any hassle and the bonus gameplay is awesome.
What is Heroes of Spin Slots RTP?
The Heroes of Spin slots has a good payout percentage as it has an RTP of 95%.
This makes up for the small jackpot amount.This is where we became astounded. Usually a 95% RTP is a good sign, anything even marginally above that is fantastic. On times we get to see 96% but never 99%.
Slot Volatility
The perfect slot with a medium variance and a great return payout percentage.
This variance gives players the chance to win bigger amounts during the game albeit in a semi-frequent manner. So, by the end of the game, players can actually have decent winning amounts.
Summary
If you're a fan of the DC or Marvel universe comics, then this is definitely one slot game you wouldn't want to miss out on. It has enough helpful features to make the game thrilling, immersive, and exciting to play and it's actually good for players of all backgrounds and levels.
Now, the game is pretty volatile but this means that players can win more, it just takes a little more time before a big amount can be landed or even the jackpot prize of 200x multipliers. It will surely keep players spinning for hours on end thanks to the theme and fun graphics providing a good gaming experience. So, if you want to feel like a hero for the day, then take this slot out for a spin and see just how super your wins can become!
Blueprint Gaming Ltd Games
Here is a list of the most popular Blueprint Gaming games online players love to play in June 2022:
This is a shortlist of the most popular games available from Blueprint Gaming Ltd and does not mean the best in the online gamers reviews.