Martial Arts Themed Slots
Millions of people enjoy martial arts films and television shows. This genre is incredibly iconic, from Bruce Lee through the Karate Kid and even the Rocky trilogy.
Martial arts-themed slots are slot games that appeal to several fight enthusiasts, you will find many movies, shows and games that use this theme. These slot machines incorporate wrestling, karate, kung fu and more – this includes Bruce Lee and many other icons. Enjoy bonuses and wilds.
Read this review to learn more about these ninja slots that offer bonus features such as free spins, wild symbols, and other bonuses. Find out more with our full take on various slot themes.
What Are Martial Arts-themed Slots?
Martial Art themed slot games are slots with a fight theme, martial arts include karate, kung fu, jiu-jitsu and more. This niche was made popular in the 70's by none other than the legendary Bruce Lee. Many slots now offer a Chinese martial art theme with nunchucks, weapons, fighters and more.
Nowadays, you can play online slots games with various themes such as sports, films, music, and so on, and martial arts-themed slots are, of course, a little niche within the iGaming business.
While slot games are unique in that they do not follow the same storylines as video games, the passion and enthusiasm for martial arts will still be sufficient and fulfilled if you play them.
You can still follow the common themes of your favourite martial arts films, such as employing the protagonists as symbols and so on. As a result, online slot games allow you to get closer to what you are enthusiastic about.
FAQs
What Martial Arts-themed Slot Has The Best RTP?
One of the casino slots with the best RTP is Microgaming's Karate Pig, with a return-to-player rate of 96.52%.
Karate Pig is a fascinating 5-reel, 40-payline slot game themed on a Japanese pig who is a singer, karate champion, philosopher, strong samurai, and sushi chef, among other things. Karate Pig contains stacked wilds, a lucrative Free Spins Bonus feature, and a multi-level bonus game triggered by the Bonus scatter.
What Variance Are Martial Arts-themed Slot Games?
The slot's theme and atmosphere are crucial for many players, and so is the slot variance.
If you're not a high roller or you prefer betting low to moderate wagers on slots, then casino games with martial arts theme are the right choice for you. These slots' volatilities range from low to medium, giving players frequent and steady payouts.
Can I Play Martial Arts-themed Slot Machines On Mobile?
Online casinos offer all casino games, usually including a mobile version and a free-to-play app with virtual play money chips. You can benefit from free plays since you don't have to wager real money.
These games include ones with the martial arts theme, and you can play them on the go with an Android or iOS mobile device. Even if the game does not have an app exclusive for mobile play, you can still play it by loading the website on your internet browser.
What Symbols Are On Martial Arts-themed Slots?
The icons and characters on martial arts-themed slots are inspired by whatever art the developer took its inspiration from. They can be Kung Fu uniforms, kicking shoes, swords, fighting sticks, throwing stars, nunchucks, and even faces of martial artists.
Martial Arts-themed Bonus Features
Playing these slots give you many exciting chances of activating their game features, which include the following.
Free Spins Bonus
Free spins are bonus games that can be triggered by scatter symbols, this is a great chance to land big wins. You can enjoy free spin bonus rounds on many of these slot machines, they often come with different themes too.
Wilds and Scatters
These special symbols activate other bonus features in the game, such as multipliers and free spins. The characters that represent them depend on the themes, but the wild and scatter icons can be a martial artist, a uniform, a belt, and whatnot for this particular theme.
Best Martial Arts-themed Slots
You've come to the perfect site if you enjoy martial arts! We combed the web to compile this comprehensive list of all online slots with a martial arts theme.
Bruce Lee Slot Game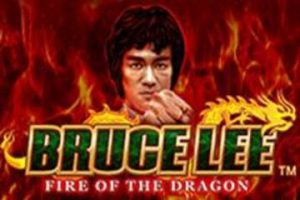 Where better to start than the legend himself? Bruce Lee is considered the godfather of martial arts due to his publicity and how he introduced the arts to the mainstream.
WMS's portrayal of Bruce Lee, the great martial arts fighter, is well worth your attention. Buddhist scrolls, a golden headgear, a dragon, a knife, throwing stars, shuriken, a Chinese case, and nunchucks are among the symbols found on this 5-reel, 60-payline slot.
There is one scatter symbol and two wild symbols in this slot. The treasure chest icon represents the scatter, and the wilds are Bruce Lee's visage and Bruce Lee in a kicking position. There is also a free spins bonus element in the slot for players to enjoy. It gives you plenty of chances to win big once it's triggered.
Flaming Fox Slot Game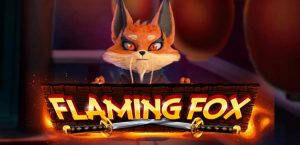 This Red Tiger slot is set in a dark and ominous dojo. The Martial Arts theme appears to be a favourite of the developer, and we agree. There are five reels, three rows, and ten paylines on this slot machine, as well as numerous exciting chances to win real money.
Linked swords, metal headbands, an ancient scroll, claw boots, and a feline mask serve as symbols. Red Tiger's graphics are once again stunning, and the Auto-play here lasts for 100 nonstop spins.
The Fox sensei appears and attacks the reels when you get five wilds, leaving winning combinations in his wake and rewarding you with 500 times your bet.
Three scatter symbols activate the free spins bonus, which can be re-triggered many times. This is where players can win up to 3,333x their bet if they strike the jackpot.
Karate Kid Slot Game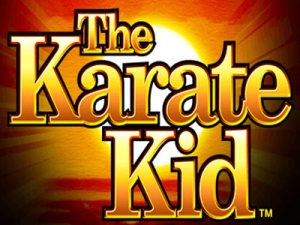 The casino industry has been waiting a long time for a slot adaptation of the Karate Kid film. The concept was taken up by Skywind Group, which released the first-ever karate kid online slot in 2019.
The game's aesthetic is a little old, but that's because it portrays the film's release era. It has a progressive jackpot and is played on six reels with 10,000 paylines. There's a wild, a scatter, and a Lock It extra game in this slot.
Karate Kid may have taken a long time coming onto the reels, but this is one slot that you will want to play again and again. This game is a martial arts slot but it's also a movie-themed slot machine with it being based on the classic film.
Paws of Fury Slot Game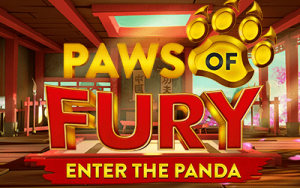 Based on the popular Kung Fu Panda film, this Oriental slot machine features 5 reels and 20 paylines of action-packed martial arts. The slot is part of Blueprint's Jackpot King progressive network, which means big rewards are up for grabs.
A panda's paw is the wild symbol, and a pair of panda eyes is the scatter symbol. Five wilds will pay out 500 times your bet, while 3 or more scatters will activate one of the five bonus games. In a quasi-meditative pose beside the reels, the panda adds a bit of levity to the overall setup.
Although the Kung Fu Panda concept has been overdone, Paws of Fury is aesthetically attractive and weirdly rewarding.
Ninja Ways Slot Game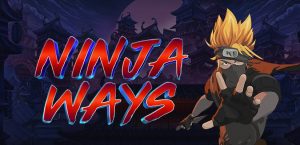 In this Red Tiger slot, you'll need to go slicing over 6 reels, so make sure you're good with a sword. Ninja Ways employs the Megaways system, with a total of 4096 ways to win. In Quickspin mode, the reels spin really quickly, and the aesthetics on this slot are one of its most appealing features.
The ninja leaps onto the reels as you make a winning combination, revealing rewards with each slice of the sword. This online slot is not only exciting but highly lucrative, with wilds, scatters, and up to 25 free spins in the bonus round.
Conclusion
It's a lot more fun to play casino games when you can relate to the characters, and martial arts-themed slots do just that. With graphics and features that simulate martial arts wrestlers use, they provide an entertaining experience for martial arts fans.
Try out some of our recommendations above and bring out the ninja warrior in you!
Other Slot Machine Themes
Here are other slot machine themes popularly played by online casino players: