Penguin City Slot Machine
Prepare for fun with this ice-cold penguin slot with an animation design.
Penguin City Slot is a slot game from Yggdrasil Gaming and it displays an animation theme. This game has 5 reels, win all ways and has winning combinations, sticky wilds and a jackpot of 200x your stake. Penguin City Slot has a high RTP and low volatility. 
Visit the Penguin Emperor and look to land exciting wins, we take an in-depth look at the Penguin City Slot Review in October 2022.
Best Penguin City Slot Sites
Use our help to find the best Penguin City Slot Review in October 2022 and activate the best welcome offers.
About Penguin City Slot Game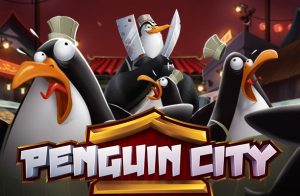 The Penguin City Slot structure is based on your standard five-reel, all-ways-to-win payline design that you might have played in the past. This makes it a nice mixture of familiar and new for people who have only played conventional slot games but also keeps it from being too different to get used to.
Penguin City is the theme of this particular slot, and a lot of effort has gone into it: enslaved by the Penguin Emperor to work in giant food kitchens, the Penguin chefs spend all their time cooking and cleaning. It is a bizarre premise, but it works, creating something that really stands out.
This design also means that you get a nice mixture of aesthetics, including symbols. Most of them are food items, with the occasional playing card thrown in to make up the lower-value symbols. Great artwork, good sound, and a nice interface that does not obstruct too much or leave you struggling to keep track of it all.
How to Play Penguin City Slots Online
Playing Penguin City is simple, set the stake and spin the reels. Follow our steps to play this game:
Find the best Penguin City slot sites and welcome offers.
From there, you can load the game up in the catalogue.
Check the paytable for details on payouts.
Set the stake and adjust prior to each spin with the + and -.
Press spin and aim to match winning combinations.
Play Penguin City from your mobile, tablet or computer without the need to download an app. You can enjoy this game from your browser whilst on the move.
Interactive Features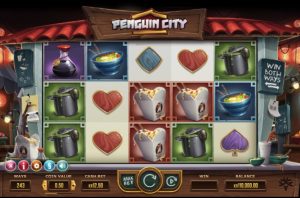 There's a number of exciting bonus features from the Escape Mode to Stacked Wilds. Read on for more details on the bonus feature games.
Penguin Escape Mode Feature
The Penguin Escape Mode feature provides you with some penguins, one of which will try to escape on each spin (as long as the Wild Emperor Penguin feature symbol is not present). Whenever a penguin jumps on the reels, it either adds one sticky wild to the 2nd or 4th reels or swaps out one symbol on reel 3 to force losing spins to become a win.
This means that you will get free spins (technically respins) until the winning combination streak ends. This means that you effectively get multiple automatic free spins and random extra wilds.
You also get to benefit with a stacked emperor stacked wilds, offering a better chance of landing a win.
Emperor Penguin Feature
A non-stacked Emperor Penguin feature can activate during Penguin Escape Mode, too. This gives you a walking Wild that drops down one space per spin, guaranteeing a winning combination until he disappears from the bottom. This essentially gives you three guaranteed winning free spin options.
Using These Bonuses
Since these are the main bonuses of the Penguin City online slot game, the game is designed to let them work with one another. During this 'bonus round', for example, you can continue your winning combination streak using the
Emperor Penguin's guaranteed wins. You will get winnings paid normally after the bonus game ends.
What Symbol Triggers Penguin City Slot Bonus Free Spins?
As mentioned before, the free spins in the Penguin City video slot game are actually re-spins triggered by the Wild symbols.
Since each Wild symbol is stacking and covers the whole of one reel (often the middle reel), they are very hard to miss.
These bonus games are considered to be free auto-spins, not regular free spins. The free spin winnings are tallied up once your chain ends, and that includes any bonus spin winnings from the sticky Wilds or the instant guaranteed wins caused by the Emperor Penguin re-appearing on the third reel.
Paylines and Stakes
Penguin City has 5 reels with a Win All Ways design, meaning that your stake applies to all paylines, and every possible payline is accounted for.
This means that any winning chain is covered by your stake, and in most cases, you can win as long as there is a line somewhere on your board from the first reel to the fifth reel (including vertical jumps between rows).
Your stake can vary between 10p and £125 per spin, although if you activate bonus spins, you will not have to actually pay for those extra free spins. The Stacked Wild that can appear at complete random acts like free slots, replacing all other symbols in that reel to increase your chances of winning.
| Esqueleto Explosivo Slots | Attributes |
| --- | --- |
| Casino Game: | Esqueleto Explosivo Slot Game |
| Paylines: | 17 winning combinations |
| Reels: | |
| Software: | |
| Minimum Bet: | £0.10 |
| Max Bet: | £100 |
| Variance: | |
| RTP: | 96% |
| Slot Theme:  | |
| Bonus Features: | Cascading Reels Feature & Wilds |
| Max Win: | 1,000x |
| Free Spins: | Yes |
| Release Date: | October 2010 |
Penguin City Slot Game Software
Penguin City is powered by Yggdrasil Gaming.
Yggdrasil Gaming is the makers of the Penguin City online slots and has managed to give Penguin City slot machine-level quality (or even something beyond) with their skills.
Yggdrasil Gaming has a long list of casino games on offer, and when you play Penguin City, you can see that same quality applying here. They have received four Innovator of the Year awards, regularly partnered with other major companies, and continue to expand their games list year after year.
Considering the company was founded in 2013, that has not given them that much time compared to a lot of larger companies that were already established before they made online games. They are fully licensed by the UK
Gambling Commission (since all UK sites have to be licensed by the UK Gambling Commission to make eligible games).
What is Penguin City Slots RTP?
Penguin City has an RTP of around 96.2%, slightly higher than the baseline of only 96%.
This means that you will not get anything too extreme, but it also means that the base game is not below average. Thanks to the bonuses, a winning spin can quickly become another and another, meaning that casino bonuses are much more valuable here.
Your chances of winning are good, even if payout percentages are slightly low. However, this is not a bad thing – plenty of games pay out lower winnings on a more frequent basis, and the bonuses (especially Sticky Wilds) can keep the wins coming.
Slot Volatility
Penguin City is low-volatility overall offering regular wins.
If you aim for only cash stakes about the £50 mark, you can turn it into a volatile game, but considering that even simple 10p cash stakes qualify as a valid stake, that is really your own choice.
Bonus funds can also bump your winnings up, but again, this depends on when you get them. A losing spin can lose you real money, but even if you get no more wins, you are not going to lose anything but your coin value. The minimum coin size means that you can play responsibly if you are worried.
Summary
The bonus free-to-play slots, excellent Chinese restaurant-style themes, and overall great Penguin City software quality make this a great game in general. As a Yggdrasil slot, you can expect maximum quality, but there are a lot of smaller tweaks too. The fact that the matching symbols are all unique but distinct food-related symbols makes it much easier to play, for example.
If you are a serious player who always aims for the max bet and max bonus, this can be a comfortable place to try and get some different gameplay features under your belt. The Penguin Escape mode is great for new players, too, since the entire Penguin Escape Mode feature can randomly provide you with even more benefits.
You can find the game in many top UK casinos. While one online casino might have a deposit bonus, welcome bonus, or qualifying deposit bonus, the game itself is always the same. Obviously, things like age verification are needed for preventing underage gambling, but anybody reading this should not need age verification anyway.
So, is it recommended? Of course. If you are hunting down the max bet potential and best casino bonuses, then it might not be a perfect video slot (there are plenty more where wagering contributions vary heavily), but it plays extremely well and has an excellent set of bonus features.