Pirates Paradise Slot Machine
The pirate ship is home to three awesome pirates and a massive bounty.
Pirates Paradise is a 3-reel, 1 payline, online video slot game, powered by Microgaming. The pirate themed casino game has an RTP of 95.93% and a low variance. Look out for high paying treasure chest symbols which can help you win up to £12,500! The minimum bet is £0.10 and the maximum bet is £30.
Are you interested in finding out more on Pirates Paradise Slot Sites May 2023?
Then read on to find out more about this slot's graphics, gameplay, software, stakes, and payout details!
Best Pirates Paradise Slot Sites
From our research here is a list of the best Pirates Paradise Slot Sites.
About Pirates Paradise Slot Game
Pirates Paradise has three reels and a sole payline.
This slot has a Treasure Chest and a Skull and Crossbone symbols to make it instantly recognisable as Pirates Paradise.
This game perfectly replicates a good pub game right there in your own home!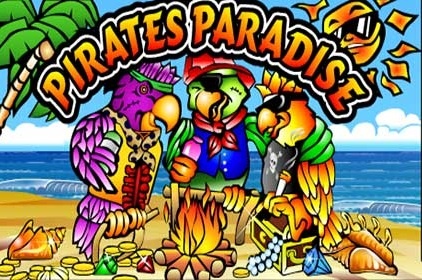 This slot is a bright and colourful game. The symbols have been designed to mirror the theme well.
The symbols, like the pirate flag, double and triple bar, treasure chest and seashells are bold.
The background that the reels sit on is a tropical island. You will notice three suspicious-looking birds, too. They guard the reels for the pirates.
The sounds on this game are better than most and add a real sense of fun. If you close your eyes, you will think you are somewhere else entirely.
More specifically, on a pirate ship listening to the wind through the sails as gulls circle overhead and waves bash against the boat.
Hopefully, you will get to hear the winning sound, too.
If you do not like the usual casino soundtrack you get with a lot of video slot games, these novelty sounds will put a smile on your face.
If you are not keen, there is a mute button that you can use to take off the sound effects.
Slot Info
| Pirates Paradise Slots | Attributes |
| --- | --- |
| Casino Game: | Pirates Paradise Slot Game |
| Paylines: | |
| Reels: | |
| Software: | |
| Minimum Bet: | £0.10 |
| Max Bet: | £30 |
| Variance: | |
| RTP: | 95.93% |
| Slot Theme:  | Classic Pirate |
| Bonus Features: | Treasure Chest Symbol, Seashell Symbol |
| Max Win: | £12,500 |
| Free Spins: | No |
| Release Date: | 15th June 2010 |
How to Play Pirates Paradise Slots Online
This Microgaming video slot reflects the mischievous adventures of a pirate.
Players will get the chance to grab some treasure left behind by pirates on a desert island. It's not easy, though. The island is guarded by some gorgeous, but vicious parrots.
There are squawks from seagulls in the background. There is also the sound of boat paddles on the water.
This makes the player feel like they are there on the island. Especially when the reels turn and you hear the creaks of a ship.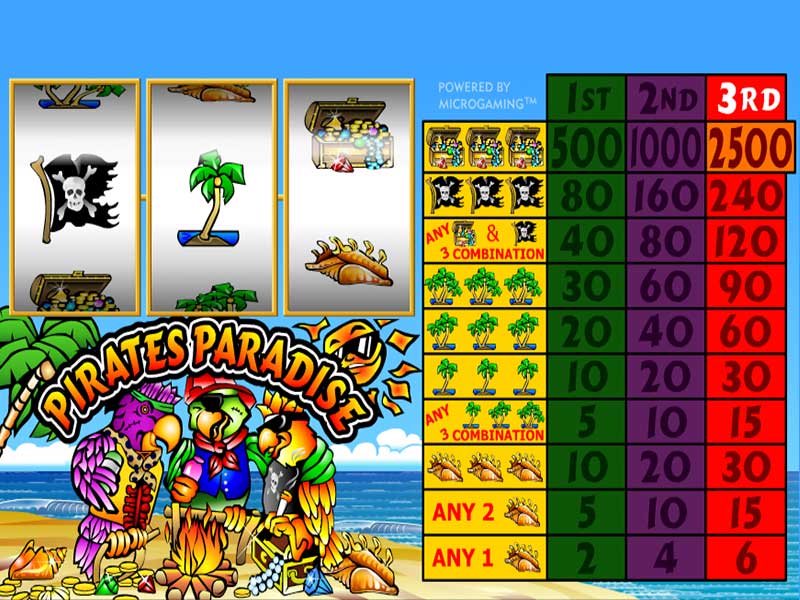 There is a splash when they stop, too. When a winning combination is landed, you will hear a pirate whistle to celebrate.
Experience all of these yourself by following these steps:
Set your bet on the bet settings bar;

Click the spin button to start playing the game.
This slot game is not currently available for play on a mobile or tablet device.
Interactive Features
As mentioned above, for all the fancy graphics and quirky sounds, this game does not offer a lot in terms of additional features.
There is a treasure chest that is key to unlocking the maximum prize possible on a maximum bet. To get this, you need three symbols to land on the all-important payline.
The lack of additional features might be a drawback for some fans of more complex games.
What Pirate's Paradise does offer, though, is three winning combos that will benefit all players.
This means landing any 3 bar symbols along with any two characters that have a seashell. Some have one seashell, others have more.
The pirate theme is a fan favourite and players love some pan pipe music when they sign up! Grab your parrot and board the pirate ship with the smugglers to find the jackpot treasure.
What Symbol Triggers Pirates Paradise Slot Bonus Free Spins?
This slot is traditional, so it does not have any bonus rounds or progressive jackpots. No free spins nor any multipliers, scatters, or wilds.
Paylines and Stakes
This game is beautifully simple, offering one payline.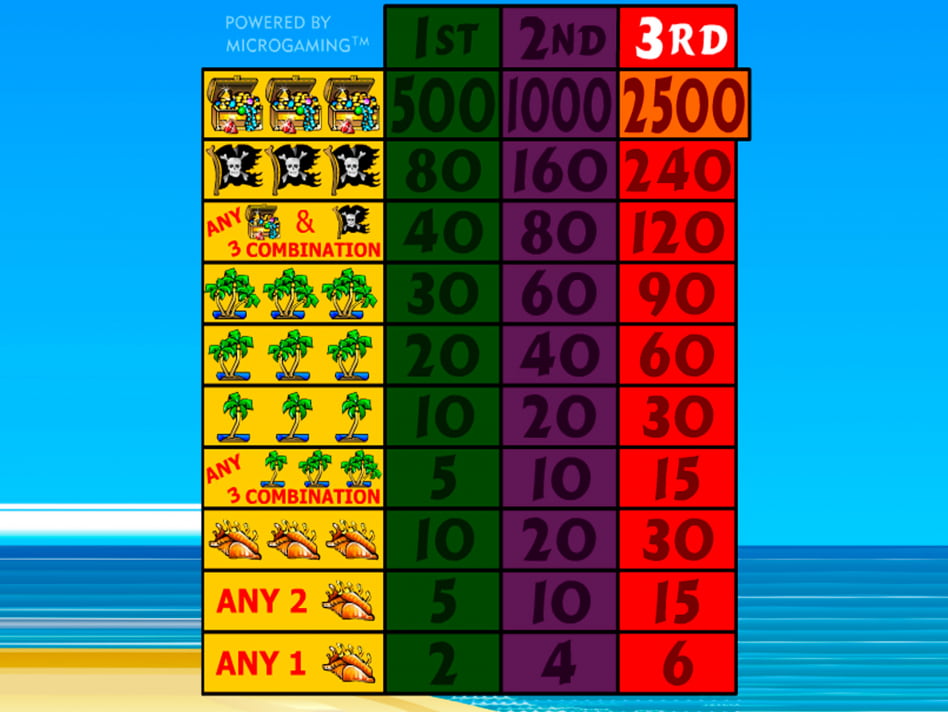 Coins can be customised from 25p up to £5.
The value of the coin can range from 1p to £5.
You can play a max of 3 coins per line.
Pirates Paradise Slot GameSoftware?
Pirates Paradise Slot is powered by Microgaming.
Microgaming has developed and produced the software for this pirate-themed video slot game.
Microgaming is recognised as one of the titans of video slot developers. They bring classic slot games in hundreds of ways.
What is Pirates Paradise Slots RTP?
The RTP rate for Pirates Paradise is suggested to be 95.93%.
There are some guesses online but nothing official from Microgaming.
Slot Volatility
Pirates Paradise has a low variance.
This means high chances of winning for the players, but the payout value can be low most of the time.
Summary
To summarise this Pirates Paradise Slots Review, this slot game can be a bit lacking to some slots players who are used to complex gameplay and fancy bonus features.
However, this game can also be rewarding because of its simplicity and straightforward gameplay.
Get yourself on this slot's island now by visiting our recommended casino slot sites!
Related Microgaming Pages
Check out more from Microgaming below to see other offers in May 2023.
This is a shortlist of the most popular games available from Microgaming and does not mean the best in the online gamers reviews.