The Season So Far…
5 weeks into the season and we are starting to see a separation between top and bottom. With an 80 point difference between Dan Grant at the top of the league and Alan Semple at the bottom of the league, it is definitely too early to rule anyone out of winning the league. There are 7 points between the top 3 which shows how close it really is. After finishing 270th in the league last year, David Dooley is yet to show signs of his success in this season but hopefully, we will get to see this as the season progresses. The main talking point at the minute is the failure of Alan Semple's team which has catastrophically managed to fall 80 points behind in the first 5 weeks. We heard a lot of talk about this guy's potential on Fantasy Football but so far we really aren't seeing much quality at all. James Dooley has also managed to fail on his main talking point this season which is team value. His team has fallen to 99.7 million which is a very worrying sign so early in the season, especially considering he thrives upon building a very good team value! Elliot Preston has the best team value with 100.6 and being only 7 points behind, we could see him begin to slowly overtake Dan Grant at the top.

Gameweek Six Tips – Elliot Preston
For Gameweek 6, my main philosophy is Manchester City. The Citizens have enjoyed a set of great results against some very strong teams. 4-0, 5-0, and 6-0 results are something that City fans could be getting used to for the next few weeks as they play against some much weaker teams in the Prem.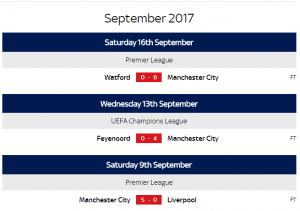 For this reason, I believe it is imperative to start drafting in the Manchester City stars. I already have David Silva due to Paul Pogba's unfortunate injury last week which could keep him out for months and now it might be time to say goodbye to Lukaku. As a United fan, this isn't something I am delighted with, but with Aguero looking so sharp and Jesus always looking lively and wanting to get on the scoresheet, it might have to be done. This is definitely a huge dilemma that a lot of Fantasy Premier League managers seem to be facing and there are a number of options to bring in City players. Many are considering downgrading Alli or Eriksen to upgrade Firmino to allow them to bring in a City star whereas others are even considering parting ways with Harry Kane. This is definitely an option but the Spurs striker has managed more shots than Swansea this season, so surely goals are on the way?
32 – @HKane has had more shots than Swansea City (30) this season – both have scored just twice. White.

— OptaJoe (@OptaJoe) September 18, 2017
Next week, City face a very weak Crystal Palace side at home. After demolishing Liverpool and Watford, I could see the blues firing in a number of goals against the struggling Palace team with Aguero likely to get on the scoresheet at least once. So this week, if I decide to make a change, I plan on bringing in Aguero for either Kane or Lukaku!
Although everything can change, it's looking like City or United are favourites to win the league!
Kane Captaincy Risk – Elliot Preston
My Gameweek seems good compared to the rest of the world, however, in our league, it seems somewhat average. Even though I still managed to beat James who was rescued by Valencia's wonder goal providing him 15 points! With Dan somehow managing a fluke 86 points, he has managed to crawl to the top for now. But with my future plans all set-out, this shouldn't last too long and I should be back to the top in no time.
My main let down star this week was Harry Kane who failed to score against a struggling Swansea side and even missed a couple of sitters in a frustrating 0-0 draw for Spurs.
David Silva, Romelu Lukaku and Mohammed Salah, on the other hand, all played well and brought in over 10 points each for me. My defence really stood out as 4 out of 5 earned clean sheets. Jones for United, Naughton for Swansea, Cedric for Southampton and Foster for West Brom all managed to prevent their opposition from scoring and racked up some points for my team!
Gameweek Six Tips – Dan Grant
My main tip this week is to bring in Newcastle's Lascelles at the back whilst he's still cheap. He's been picking up points for fun recently and looks likely to keep rising in price the way he's playing.
In terms of the team I've replaced West Brom's Dawson with the Newcastle man, whilst bring in Swansea's Fernandez in off the bench for their home fixture against Watford.
Finally, I'm also starting Newcastle's Elliot in goal, so a clean sheet for Newcastle really is a must for me next week.
Dan Grant's Genius Wildcard
Well well well.. that wildcard worked just fine! 86 points strong and back where I belong, at the top of the Boomtown Fantasy League. There were many standout players in my new look side that fired me to the top of the league, however, allow me to pick a few that really stood out:
Salah: (captain): After a brilliant start to premier league life and a goal in his Liverpool Champions League debut, Mo Salah looked like a worthwhile risk to captain this week. This risk paid off with a total of 20 points after the bonus points for my side.
Lukaku: What can I say, if you haven't had this man in your team over the last 5 weeks you have missed out on many crucial points. Picked up another 12 for me this time around.
Otamendi: A goal, and a clean sheet. What more can you want from a centre-back?!
Mkhitaryan: Another very in-form player, picked up 9 points from midfield in an impressive attacking display.
Yoshida: Clean sheet and two nice bonus points saw me gain 8 points from the defender.
Oh and James, I didn't forget about your tweet the other week…
@james_dooley Sorry James, did you say something? 😂😎 pic.twitter.com/jkSwe6I6Xz

— Dan Grant (@dangrant77) September 18, 2017
Gameweek Five Tips – James Dooley
After being saved somewhat by captaining Harry Kane last week, I have decided I could do with bringing in more Spurs players to hopefully bring in some more points. As a result, Mane is out and Dele Alli is in. Also, I'm thinking about bringing Phillips in off the bench to hopefully have an impact against struggling West Ham.
Gameweek Five Tips – Elliot Preston
Had a decent enough week last week with 47, my tips for this week are pretty straight forward. Firstly, I'm going to captain Kane as he faces Swansea which he's likely to score against. Secondly, as injured Paul Pogba needs replacing out the side, I'm going to bring in David Silva who has been in decent from as of late and could do damage against Watford over the weekend.
Overall I'm hoping these changes will help me progress to the top of the league, as so far I'm happy with my team's first four weeks in the Boomtown Bingo Fantasy League.
Gameweek Five Tips – Dan Grant
After a reasonable week finishing on 44 points, I've opted to take the risk and play my wildcard this week in an attempt to bring in plenty of the in form players from the opening weeks of premier league football. I'm hoping their great form will continue into week 5, and potentially propel me to the top of the league. With further ado, here is my new and improved XI:
Courtois
Jones
Otamendi
Yoshida
Choupo-Moting
Mkhitaryan
Salah
Willian
Chicharito
Lukaku
Jesus
(Bench)
Elliot
Dawson
Richarlison
Fernandez
Time to sit back and watch the points come in!
Gameweek 4 Summary
Brighton's Pascal Groß was the outstanding player in Gameweek 4, with the midfielder picking up 18 points from his two goals and one assist in their 3-1 win against West Brom. Pascal is evidently a very capable footballer, just check out his best goal and assists from his 14/15 season with Ingolstadt:
The Dream Team of the Week lined up in a 3-4-3 formation. Newcastle's Rob Elliott (£4.0m) was the standout goalkeeper with 8 points, and his teammate Jamaal Lascelles (£4.5m) the star defender with 15. They were joined in the defensive positions by Spurs' Ben Davies (£5.7m) and Watford's Kiko Femenía (£4.5m). A cut-price midfield of Groß, Choupo-Moting, Sané and Obiang would have earned you 57 points this week, while up front some more familiar names in Welbeck, Kane and Jesus (combined cost £30.3m) scored 41 points between them.
David Dooley Dominates Competition
After a busy week of holidays and work trips, unfortunately, we weren't able to offer any tips for Gameweek 4. Interestingly though, this lead to the first week where we all didn't know what our opponents had up their sleeve. To conclude, David Dooley took home the gold in a tight week with his 54 points. Players that stood out for him included Harry Kane with an impressive 13 points, De Bruyne with 9, Lukaku with 6 and Pogba with 5 despite picking up an injury.
After this gameweek was over and done with, things remained relatively tight in the Boomtown Bingo Fantasy League leading up to Gameweek 5.
Gameweek 3 Summary
I think this tweet sums up quite a bit that James Dooley tweeted through to Dan Grant. After him being in first place last week he has had a very low scoring week and dropped few places.
Oh dear @dangrant77 you have gone from first place to midtable within a week on fantasy football #BoomtownBingoLeague 😱😝😱

— James Dooley (@james_dooley) August 28, 2017
In general, the week was a low scoring affair with the main percentage of people choosing Lukaku or Harry Kane as captains. Both not producing any goals or assists then because of this majority of scores was below the 50 mark which seems to be average scores per week.
Gameweek Three Tips – James Dooley
After a better GW2 from me, this week I'm keeping things simple and making 0 subs to save for two on GW4. Start of the season is all about trying to maximise player value and bringing in players who rise in price and taking out those not performing who are losing 0.1 in value. Towards the end of the season, this is vital because you should be having your team value to be around 105 million to choose from and the ones who don't look into this and only have a team value of 99 million end up struggling at the tail end of the year.
Golden Tip is to utilise player value early in the season so you build a squad value of 105 million plus because end of the season especially when it starts to fall into double game weeks this pays dividends
Gameweek Three Tips – Dan Grant
So after a strong week that has catapulted me into first place, it's time for my game week three predictions that will hopefully continue my good form. This week I'm sticking with the 4-3-3 formation, with Otamendi, Valencia, Dawson and Alderweireld as my backbone with Gomes in goal for a second week running.
My midfield is where I've really gone to town this week. My first signing is the Brazilian wonder kid Richarlison of Watford, who impressed massively last week and faces the shaky looking Brighton at home for GW3. In addition, the acquisition if champions league winning Jese Rodriguez Ruiz from Stoke should play in a very advanced position against West Brom away. My final midfielder includes the in-form Paul Pogba, who is looking like a real steal at 8.0m when I first signed him before GW1.
Up top remains the same with Manolo Gabbiadini, Romelu Lukaku (captain) and Alexander Lacazette as a front 3. Lacazette has the hardest fixture out of the three against Liverpool, but i'm hoping for a good week from all three.
Gameweek Three Tips – Alan Semple
No changes for me this week as like James, i'm waiting to get two transfers next week. I'm hoping last week was a one off, and that this week I push off the bottom spot.
Gameweek Three Tips – Elliot Preston
Only some slight changes this week for me as I bring in Dele Alli for Kevin De Bruyne. Kevin has struggled in previous weeks to pick up the points people were expecting from him, whilst Alli has looked promising in both fixtures he's played so far and faces Burnley at home. I expect a solid return from Alli against Burnley with Kane failing to supply the goals that Spurs desperately need and there is a chance that Firmino could return a goal against a weak Arsenal side who just sold Alex Oxlade Chamberlain to the Reds.
Gameweek 3 Preview
There's a host of excellent games to look forward to this weekend, starting with Saturday's early kick off, as Manchester City travel to Bournemouth in search of their second away win of the season. Fantasy managers will have been frustrated by City's attacking players thus far, particularly against Everton on Monday when City were denied despite myriad chances. With that said, Bournemouth have been poor in their opening 2 fixtures, and most will be predicting a comfortable City win here. Kevin de Bruyne (£10.0m) looks a good pick for this match and an underperforming Bournemouth could be just what the Belgian needs to open his account for the 2017/18 season.
Saturday evening sees an in form Manchester United side hosting one-time Champions Leicester City in what is likely to be the first real test of the Red Devil's title credentials, but there are an array of fantasy talents that will appeal to fantasy managers – Belgian striker Romelu Lukaku has been in red hot form, netting three goals in two games so far and he's showing no signs of slowing down. Midfielder Paul Pogba (£8.1m) has also found the net on two occasions already, whilst Henrikh Mkhitaryan (£8.2m) has chipped in with four assists in his first two games of the season.
There's some great matches being played out on Sunday too, with Spurs home-away-from-home fixture against Burnley kicking off at 1:30pm. The north west outfit should prove not so stern a test for Spurs as trying to keep Chelsea out in their second game at Wembley, and the likes of Dele Alli (£9.5m) and Christian Eriksen (£9.6m) are both appealing fantasy prospects for the weekend. Spurs could well keep their second clean sheet of the season against Burnley too, who endured a truly awful away record to hang on to Premier League status last season, making Ben Davies (£5.6m) a tempting prospect for defensive returns as well as attacking output.
To finish off, one pick from each of the remaining gameweek 3 fixtures:
Crystal Palace v Swansea – Tom Carroll (£4.5m)
Huddersfield v Southampton – Aaron Mooy (£5.6m)
Newcastle v West Ham – Chicharito (£7.1m)
Watford v Brighton – Richarlison (£6.0m)
Chelsea v Everton – Alvaro Morata (£10.0m)
West Brom v Stoke – Ahmed Hegazi (£4.7m)
Liverpool v Arsenal – Roberto Firmino (£8.5m)
Fantasy Football Roundup GW2
Gameweek 2 Summary
There were a host of excellent performances during gameweek 2, with Chelsea's Marcos Alonso scoring 2 goals in a close game between Chelsea and Spurs in their first home game at Wembley. The national stadium did the Lilywhites no favours but there is no doubt that Chelsea were the better team on the day, overcoming a Michy Batshuayi own goal in the first half to win 2-1 thanks to the Spanish wingback's superbly taken goals.
The Dream Team lined up in a defensive 4-5-1 formation, with Jack Butland putting in an inspired performance to keep a dogged Arsenal from scoring against the Potters, whilst Huddersfield's Christopher Schindler had an excellent game for the Terriers against a woeful Newcastle side.
Former Manchester United striker Javier Hernandez opened his account for a 10-man West Ham side against Southampton over the weekend, scoring twice against the Saints, but it wasn't enough to overcome Southampton, who won a penalty late on to secure all 3 points.
Dan's Baguettes Boss the Boomtown League
(Write up by Dan Grant)
After a solid opening week, my task for game week two was to close that gap on Elliot and push for the top spot. After some savvy substitutions and subtle changes to the team, I can happily say that that gap has well and truly been closed. A week of 55 points has positioned me 10 points clear at the top, however after some unfortunate red card incidents I've been forced into taking a -4 point hit this week to bring out a couple of my short-tempered banned players.
Despite the -4 point hit and a few disappointing games from some of my players, overall I was really pleased with my team selection for GW2. Pogba had an absolute blinder which had me celebrating like a mad man in front of my friends on Saturday, whilst my prediction for Manolo Gabbiadini to perform against West Ham came true with a goal in a 3-2 win. Other players that really added to my week winning performance were Watford's Gomes and West Brom's Dawson, who both picked up a nice clean sheet over the weekend too.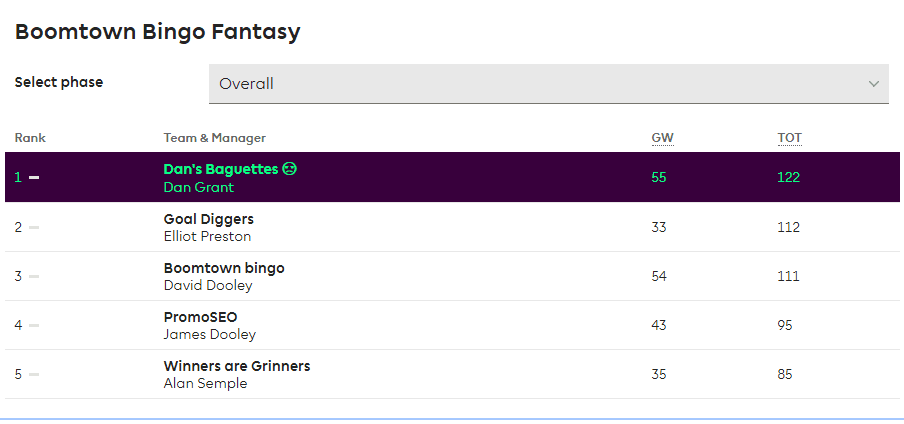 Gameweek Two Tips – Elliot Preston
This week, my tactics have been massively changed due to a likely 4-week injury to one of my main midfielders, Wilfried Zaha. The Palace midfielder took a blow against their embarrassing 3-0 loss to Huddersfield last week after many crunching tackles from the Premier League newcomers. Due to this, I have been forced to make my first transfer of the season, bringing in Aaron Ramsey for £7.0 million. Although this transfer will be made before the match on Saturday, it is 99% confirmed. However, a couple of other considerable options that I have in mind are Granit Xhaka and Matty Phillips. I particularly favour the Arsenal midfielders as they seem to be very nailed on and should be in line for a number of goals and assists.
Aaron Ramsey seems to be Arsenal's main midfielder this season and depending on his fitness, he could be the determining factor in their success for the next 12 months. I expect him to return a few points against Stoke this Saturday and hopefully, even more points in the near future.
Gameweek Two Tips – Alan Semple
After Chadli failed to shake off his injury fully to start last weekend I've opted to transfer him out, with a budget of 6 million I've taken a bit of a gamble in that this player is just coming back from injury as well but after getting 13 minutes under his belt coming on against Man City last week I'm sure he's ready to start this week. He is the main player for Brighton and with a decent set of fixtures coming up I have gone for Anthony Knockaert, he was player of the Championship last season and the highest scoring midfield in the division with 15 goals, he's also the set-piece taker. Here are just a few examples of what this man can do on his day:
With only 2% of FF players picking him if he carriers his form from last season I think he could be a good find and do well in the Premier League. As far as captain goes I have not fully decided, the obvious choice is Lukaku away at Swansea after his great start but with Jesus knocking on the door last week I could opt to captain him at home against Everton.
Gameweek Two Tips – James Dooley
Nice and simple. Zaha out, Mane in. Mane captain. Brace against Palace coming up!
Wiinner Winner Chicken Dinner!! Too eassssyyyyy

— James Dooley (@james_dooley) August 29, 2017
Gameweek Two Tips – Dan Grant
After a promising first week finishing on a respectable 67 points, I'm feeling really good going into week 2. Game week one was a funny one really, as anyone who didn't captain Lukaku was pretty much at a massive disadvantage (unlucky James). The big man picked up two goals and looked really lively in a very convincing 4-0 victory to The Hammers at home. Undeniably, Romelu is about to have a very bright season for the reds.
There was more to be happy about on the opening weekend too, as my defence picked me up a very healthy 20 points, only to be let down by Marcos Alonso's dire performance that earned me a whopping 0. Despite generally happy with my entire team's display and captain's performance, in particular, it is worth saying that my Chelsea really lets me down on the opening weekend. It's with these Chelsea themed performances that I run through this week's changes to Dan's Baguettes:
To kick things off, Marcos Alonso has been replaced with the ever-reliable Man United fullback Antonio Valencia. In addition to this, I've taken the risk of starting Watford's Huralio Gomes in goal ahead of Courtois, as the Chelsea #1 ironically could only manage 1 point on his nightmare start to the season and faces the ever consistent Tottenham Hotspur next on Sunday. Finally, Lukaku stays captain after a more than impressive debut, and Marco Arnautovic comes into midfield in place of the more defensive-minded Oriol Romeu.
As a little side note, I really believe that both Gabbiadini and Shaqiri could surprise a few people this week. Both of their first games of the season were very low scoring ones, and I think Gab vs West Ham and Shaqiri vs Arsenal (Arsenal looked very shaky defensively in their opener, see here: http://www.skysports.com/football/arsenal-vs-leicester/preview/373097) so I'm feeling optimistic about some very nice scores come in for the boys.
I'm hoping that these few little tweaks will continue my solid start, and fingers crossed my comfortable 15 point lead ahead of "fantasy football king" Mr James Z Dooley will be stretched to 30+. In terms of Elliot's start to the season, I won't lie it has been very impressive. He finished on a nice 79 points, which gives me the task of closing down on that 12 point gap this weekend.
Gameweek 2 Preview
Gameweek 2 gets underway at lunchtime on Saturday with Swansea City hosting Manchester United. The hosts here picked up a creditable 0-0 draw at Southampton in their opener while United started the season impressively with a 4-0 victory against West Ham. The clean sheets for both teams in those games may be misleading for this fixture though, with both teams finding the net in each of the last six meetings between the sides. Romelu Lukaku (£11.6m) looks the obvious pick here, although Anthony Martial (£8.0m) could be a shrewd midfield purchase, with his 10-minute appearance on Sunday bringing a goal and assist and putting him well in contention for a starting spot this week. For the home side, Tom Carroll (£4.5m) is worth consideration at a bargain price, especially considering his likely deployment on free kicks and corners following the imminent departure of Gylfi Sigurdsson.
Tottenham v Chelsea is undoubtedly the biggest game of the weekend, as last season's top 2 go head to head early in this campaign. Chelsea started the season in horrendous fashion with a 3-2 home defeat to Burnley and red cards for Gary Cahill (£6.4m) and Cesc Fàbregas (£6.9m) mean that they'll be suspended for Sunday's clash. With Eden Hazard (£10.5m), Pedro (£8.0m) and Tiemoué Bakayoko (£5.0m) all ruled out as well through injury Tottenham should be confident of taking three points in their first 'home' game of the season at Wembley. Dele Alli (£9.5m) scored the opener in Spurs' 2-0 victory against Newcastle last weekend and bagged both goals as they ran out 2-0 winners in this fixture last season, so is the man to look to for Fantasy Football points in this one.
The first Monday night game of the season sees Manchester City host Everton at the Etihad. City are undefeated in their last 12 Premier League home games while Everton have failed to win any of their last 8 away, so it's difficult to make a case for the away side getting much here. Sergio Agüero (£11.5m) and Gabriel Jesus (£10.5m) started up front together on Saturday and will be expected to do so again in this game, with either (or both) providing a real goal threat for your Fantasy team. David Silva (£8.0m) was sublime in the 2-0 victory against Brighton and despite stiff competition for starting spots in the City midfield he surely can't be dropped in this kind of form.
All fixtures for GW2 can be seen here: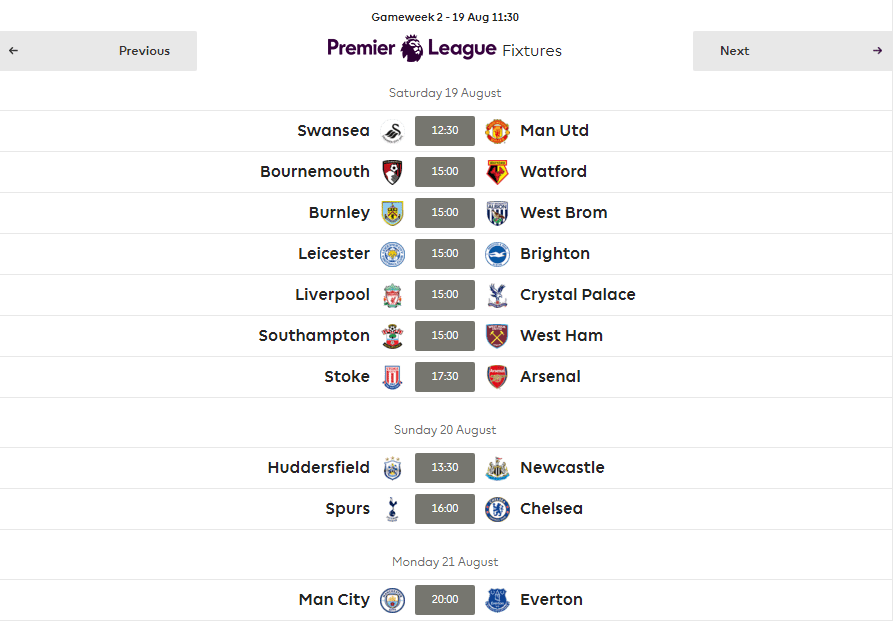 To finish off, one pick from each of the remaining gameweek 2 fixtures:
Bournemouth v Watford – Ryan Fraser (£5.5m)
Burnley v West Brom – Sam Vokes (£6.0m)
Leicester v Brighton – Jamie Vardy (£8.6m)
Liverpool v Crystal Palace – Roberto Firmino (£8.5m)
Southampton v West Ham – Ryan Bertrand (£5.5m)
Stoke v Arsenal – Aaron Ramsey (£7.0m)
Huddersfield v Newcastle – Steve Mounie (£6.0m)
Fantasy Football Roundup GW1
Gameweek 1 Summary
West Brom's Ahmed El-Sayed Hegazi was the outstanding player in Gameweek 1, with the centre back scoring a debut goal to secure a 1-0 home victory against Bournemouth. The goal and clean sheet, alongside three bonus points, earned him 15 points this week. Tottenham's Ben Davies also picked up points for a goal and clean sheet, but his yellow card mean he has one point fewer than Hegazi.
The Dream Team of the Week lined up in a 3-4-3 formation, with Hegazi and Davies joined at the back by Huddersfield centre back Zanka and goalkeeper Lössl, 4 players who would have only cost you a combined £19m. In midfield, Eriksen, Mkhitaryan, Salah and Xhaka were all directly involved in 2 goals each to score a combined 44 points (at a cost of £32m), and up front Vokes, Vardy and Lukaku scored 13 points apiece (for £26m combined) with each getting on the scoresheet twice.
Elliot's Elite Shine on Game Week 1
(Write up by Elliot Preston)
Unsurprisingly, my somewhat 'average' score of 79 points has managed to take me above both James and Dan in the first week of fantasy football. To my surprise this morning, James told me that it was, in fact, Alan that managed to somehow fall behind James in the first week. This is actually as bad as it sounds as I was told that he was a really solid Fantasy player but such a shocking performance like that has me asking a few questions as to what he is doing in our league in the first place… Shocking performances from all of them has given me a nice head start to build the foundation of my team on and although it is very early to be confident I can now focus on holding this top spot for the season.
Although Lukaku was the main points provider in my team, Firmino was the real difference as although everyone I talked to said he was a bad signing, he managed to bring in 12 points with a goal and an assist. I can't hear them talking about him anymore though… 79 points is a score that I am very happy with for the first game of the season as I have a solid plan in my head that involves a very early wildcard and saving my free transfers (something that Dan has already managed to bottle and has already made his free transfer on a DEFENDER). There really isn't much hope left for him is there? Poor guy.
Gameweek One Tips – Alan Semple
Going through my team:
Foster: West Brom have a great start to the season and this is a position that money can be saved.
Dawson: Same as Foster with a Evans and McCauly doubts I went with him.
Valencia: Utd look to be playing a back 3 which should allow Valencia to get forward, with him being also being one of the first names on the team sheet worth the money.
Bertrand: Southampton also have a great start to the season should hopefully keep some early clean sheets also can be an attacking full back.
De Bruyne: City have a decent start to the season he looked impressive in pre-season, set piece taker and 90 minute man.
Ward Prouse: one of the first names on my team sheet, new manager seems to like him an attacking midfield who also takes set pieces, bargain.
Chadli: This is the last player I picked so more picked for price, West Brom have a good start with him playing far up the field should chip in with some goals and assists.
Loftus-Cheek: Bargain of the season a good attacking player who never got his chance at Chelsea a easy slotter to save money.
Jesus: Manager loves him and should score a lot this season.
Lukaku: Utd have good fixtures to begin with should be a 90 minute man and wants to impress.
Kane: My top scorer again this season a must.
Gameweek One Tips – David Dooley
Gk. Foster west brom
When selecting a keeper it's imperative you believe he and his team are capable of keeping clean sheets, however, a keeper who is kept busy with shots on goal is just as vital for save points and also bps points.
Def Valencia man united
The right back is an expensive addition to my defence and I can see plenty of clean sheets on the horizon but valencia also poses an attacking threat and in recent friendlies he has been promoted to a more advanced right sided midfield.
Def Cedric Southampton
Another right back who loves to get forward and attack. With a kind set of opening fixtures he could prove a real bargain.
Def Dawson west brom
A robust defender. Outstanding off set pieces and with west brom set piece quality he's assured to be amongst the goals.
Mid Ward-Prowse Southampton
Flourishing under his new manager and has been outstanding in pre-season. Not only is he the no.1 set piece taker he also has an eye for goal and is a bargain at the price.
Mid Pogba man united
With a hefty price tag of 93miilion people say he underperformed last season but the underlying stats could suggest he was exceptionally unfortunate hitting the framework on 13 occasions. With possibility of pens and free kicks I expect his returns to he far greater this time round.
Mid De Bruyne man city
Expensive but what a talent. With pep changing his system it means man city have been amongst the goals in pre-season and if he's not scoring he's usually on the premesis with assists.
Mid Loftus-Cheek palace
When looking for a bargain to save money for the big names but wanting somebody to ensure you points then step forward Ruben Loftus-Cheek. A snip and this chelsea loanee has already earned plenty of praise from his new manager with outstanding and commanding performances in recent friendles.
Fwd Benteke palace
With the palace manager changing his formation it looks assured that Benteke will reap the rewards. With plenty of crosses from the wide areas this man mountain will take some stopping.
Fwd Lukaku man united
With uniteds new style of play I can only see goals coming from this lad. Cool, calm, collective, strong, fast what more could you ask for. I anticipate a great season.
Fwd Kane tottenham
Who else? The golden boot award winner ticks all the boxes. You don't look to save your money on your strikers you build your team around them.
Subs
Gk Fabianski Swansea
Assured to be busy and the swansea no.1 could suprise a lot with bps points and a few clean sheets.
Def Ben Mee Burnley
A squad rotation certainty with exceptionally kind home fixtures in recent weeks
Def simpson leicester
Expect a much improved leicester this season and this bargain defender is an assured starter in his right back roll.
Mid Brady Burnley
A surprise package in the making. Disappointed after becoming Burnleys record signing last season but seems to have improved significantly in pre season and could hit the ground running
Gameweek One Tips – Elliot Preston
The first gameweek is always a massive deal for everyone involved in the fantasy premier league as it is the foundation for your team for a good few weeks and maybe months. I have picked a solid team with a number of great players that I am 99% sure will be copied by Dan and James once they see this…
Foster: Ben Foster is always a formidable option to have in net and at a small price of £4.5 million; there is no question behind why he is the 3rd most selected keeper this year.
Cedric: My Southampton triple threat is one of my punts this year but their fixtures suggest that 3 of the Southampton players are completely necessary.
Bertrand: The second of my Southampton triple threat. I expect them to achieve many clean sheets in their first few months as only one fixture looks difficult on paper (vs Utd)
De Bruyne: The City magician is probably my main punt of the first gameweek due to the rest he has received in preseason and the acquisition of Bernardo Silva in a similar position. However his 21 assists last season speak for themselves.
Willian: He was never once in my plans until today when I was massively shocked to see that he came in at an unbelievable price tag of £7 million! An insane bargain!
Zaha: The palace star is a gem to have in any FPL team due to his attacking presence that he provides for Palace.
Ward-Prowse: JWP is the last of my Southampton triple threat. He provides assists on a plate for FPL managers and I expect him to bag me a few points in the first months.
Lukaku: Romelu will be my first captain choice this week as although I had my heart set on Kane captain, it seems less risky to play the mainstream vote and choose Lukaku who will be raring for a great start for his new team in the prem.
Firmino: The Liverpool star has now been changed up to a striker this year on FPL and seems like a very valid option to have as my third striker. Especially with the ever-injured Sturridge as he should get plenty of game time up top and possible as the lone striker.
Kane: Harry Kane is obviously nailed on and breaks a number of records regarding FPL including shots taken in the box. These underlying stats are something that last year I did not research and this year I am hoping that they will take me to the top of the league with ease.
Gameweek One Tips – Dan Grant
So yeah, as you can see, I've basically already won the league. I've essentially kept the best bits from last year and improved the parts that needed a slight tweak, allow me to begin with the goalkeeper and defence:
Courtois: Chelsea's #1, fresh off of a premier league title winning season, confident as ever (don't you dare mention his awful penalty in the community shield because that does NOT count). A solid, reliable goalkeeper bound to gather many clean sheets this season.
Alonso: Barely a defender, guaranteed goals, assists and clean sheet points weekly. Enough said.
Walker: Arguably the best fullback in the premier league last year, bombs up the wing, I can see more clean sheets from City this year with the revamped defence.
Dawson: Pretty much a centre forward. Loves a header. Cheap and cheerful.
Otamendi: A risk, but a calculated one (for now). Who wins fantasy football without risks?
The defence was the easy part. After all, if last season was a competition based purely on the defence I'd have won hands down. Now for the glue of the team, the midfield:
Pogba: It's this man's season to shine. I'm so confident about Paul Pogba, that I foolishly gave the tactic of bringing him into the team to Elliot and James who have unfortunately now copied me. Quite sad to see really, but I guess you have to help those less fortunate every now and then.
McArthur: I won't lie, I can see this player being transferred out in the next few weeks unless I see some special performances from him. Another risk, but we'll see..
Shaqiri: Undeniably talented and capable of being involved in many of Stoke's goals this year. Very unlucky with injuries last year, and I believe people are massively underestimating him.
Now for the top dogs, the big boys, the main men, the breadwinners, etc etc. Here are my strikers:
Lukaku (Captain): Certain goals. Expensive, but certain goals. Had to captain him with his great record against West Ham (information that I foolishly shared with Elliot Preston)
Gabbiadini: Evidently a talented and more than capable goalscorer. Like Shaqiri, Gabbiadini was unlucky with injury last year. However when fit, I can see this being a steal at 7.0m.
Lacazette (Vice Captain): Yes James, Arsenal have signed a new striker (I'm sure this is the first you've seen of this news). Looked very lively against Chelsea in the community shield, Leicester at home will surely get him off to a good start in the premier league.
Dan Grant Introduction
Despite losing the league to James and Elliot, I saw last year's season (this was my debut season) as an overall success. It's worth mentioning that not being used to when to play triple captain, who is having double game weeks and when to play the all-important wildcard did set me back a bit, however with this new found knowledge I way more confident than I did back then.
It wasn't all doom and gloom last year though, in fact for large portions of the season I was really in the running for first place (by "large portions of the season" I literally mean for a week or two). Furthermore my defence was solid throughout the year (something I hope to implement into the upcoming league), and who could forget my midseason triple captaining of Harry Kane bagging 4 goals and silencing both James and Elliot (shhhhh).
Also please allow me to enter the realm of statistics real quick. My good friend and work colleague Elliot Preston finished 1.4 millionth in the world on his debut season, whilst I finished 400,000th in the world in mine. Surely then, this would make me 1,000,000 times better than him at fantasy football.
Furthermore, James' lack of transfer window information is sure to prove key this season, as I'm fairly sure that if me and Elliot told him Benzema had just moved to West Brom he'd be signing in trying to sign him. Worrying times for that man, but I guess it's just another reason why I'll win this year.
So after a rollercoaster ride of a first season with plenty of ups and downs, allow me to present to you the 2017/18 Fantasy Football winning team name: Dan's Baguettes.
Elliot Preston Introduction
After finishing 14000th in the WORLD the year before last, I decided to calm down on my Fantasy Premier League graft last year and take it easy. Due to this, my measly 100,000th finish was a complete shambles of a result by my high expectations. But this year, with the competition's regular trash talk as loud as ever, I have decided to refer back to my 2015/16 season and vow to end any hopes that James and Dan still have of beating me. Although I took an L to James last year, his mind games of a single gameweek bet that would change my team name to 'I Am Gay' for the rest of the season completely put me off and made me lose all control of the league that I had, consequently causing me to fall behind and lose. However, this year I am more than happy to provide the whooping that is needed to teach the boys who are the rightful boss of the Fantasy Premier League.
David Dooley Introduction
Hello followers. For those who are unaware of who I am my names David Dooley. I am fantasy football mini-league expert and after winning all 17 mini-leagues I entered last year, plus helping 1000's of others to do the same, and finishing 224th in the global rankings then it's no surprise that I've been inundated with requests to give a little insight into this year's team selection and reasons for such choices.
Alan Semple Introduction
My name is Alan this years winner of the FF, there's a few reasons for this, firstly picking a team is not just about the best players but fixtures, formations and managers thoughts need to be looked at. Based on previous years attacking midfielders and forwards are usually the highest scorers over a full season so I'm a believer this is where the money should be spent.