If you have ever seen a Japanese movie, you will know that the way of the Samurai is rich in history and ritual.
Over many years, the legend has not just been in films, its inspired stories, and comics. Now, the samurai is in video slot games as well!
As traditional slot games go, this one has the right amount of classic Vegas style and some more modern features.
Samurai 7s Slots is a 3-reel, 3 payline, online video slot game, powered by Microgaming. The medium variance casino game has an RTP of 95.24% and a Japanese Samurai theme. Look out for high paying Red Seven symbols and the Fixed Jackpot, which can help you win up to 6,000x your stake in real cash!
You should see if you can tame the Samurai in this entertaining slot game.
Are you interested in finding out more on Samurai 7s Slot Sites June 2023 through this Samurai 7s Slot Review?
Best Samurai 7s Slot Sites
From our research here is a list of the best Samurai 7s Slot Sites.
About Samurai 7s Slot Game
Samurai 7s is a traditional slot which uses 3 reels and 3 paylines.
It also has one wild symbol. So, despite their age, it appears the ancient warrior breed still has a few tricks up his sleeve to teach us Millenials. It's worth having a try. The jackpot is a massive $30k.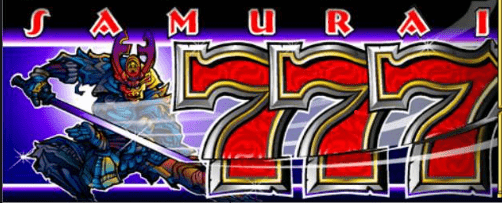 An ancient but powerful Samurai warrior will slash his way through those trip sevens to make up the logo for this slot game. It uses up a quarter of the screen, but there is still room for the three classic reels and a full-length paytable.
The reel symbols mirror the Samurai theme. They contain throwing stars and dragons. Don't forget the 7 and mixed bar symbols.
If you land combinations of 3 symbols, you're a winner. This will be illustrated on your paytable and you'll hear a loud Japanese gong.
Slot Info
| Samurai 7s Slots | Attributes |
| --- | --- |
| Casino Game: | Samurai 7s Slot Game |
| Paylines: | |
| Reels: | |
| Software: | |
| Minimum Bet: | £0.75 |
| Max Bet: | £75 |
| Variance: | |
| RTP: | 95.24% |
| Slot Theme:  | Japanese Samurai |
| Bonus Features: | Red Seven Symbol, Fixed Jackpot |
| Max Win: | 6,000x |
| Free Spins: | No |
How to Play Samurai 7s Slots Online
Looking at the control panel, it's incredibly similar to a traditional slot. The bets are configured in a very similar way.
You must select a coin using the +/- buttons (which represent 0.25 to 5 dollars) then select if you want to play 1-3 lines by clicking the "bet one" button.
You're not automatically given the option for autoplay on this slot game. You can only opt for 'spin' or the 'max bet' options in order to place a bet.
If you're using the expert panel, it does include automatic spins, though. You have to turn this feature on by clicking 'expert'.
Samurai 7s isn't currently available on mobile devices. Apologies to Apple and Android users who wanted to play this game on the go.
Interactive Features
This game is lacking in additional features. It's a very straightforward game with a potentially whopping jackpot. Simple as.
There is a red seven icon. This makes up for the lack of other interactive features. It pays the three largest prizes available on this slot. It also acts as a wild for the other symbols on any of the other 3 paylines.
What is Samurai 7s Slot Bonus Free Spins?
Unfortunately, this video slot does not offer the opportunity to gain any free spins during play.
Paylines and Stakes
Samurai 7s has five coin values. They range from 0.25 up to 5. You can play in dollars, pounds or euros.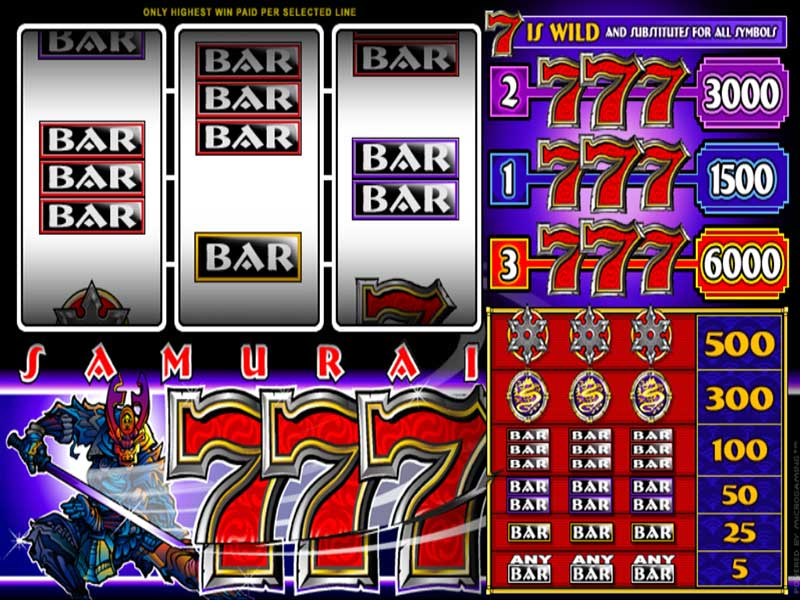 When you combine the 3 potential line configurations, a 0.25 to 15 dollar bet range is made.
Unlike a lot of traditional slot games, this does offer an autoplay option. To use it, you must switch the game into expert mode. This will trigger three buttons on your control panel. They are 5 spins, 10 spins and user-created auto-spins.
Samurai 7s Slot Game Software?
The software that powers Samurai 7s Slots is Microgaming.
Microgaming are the proud developers of the software for this video slot game.
What is Samurai 7s Slots RTP?
The RTP Value for Samurai 7s Slots is 95.24%.
Slot Volatility
The second most important aspect of playing video slot games is volatility or variance as this will determine whether you win big or win small.
Slot games fall into three categories, Low variance is a higher chance of winning but lower jackpots, high variance is a lower chance of winning but bigger jackpots and medium variance is in the middle.
Summary
Final thoughts of the slot game and if this is one we would recommend
Positive tone for good aspects and a neutral tone for any bad aspects. Mention 'Samurai 7s Slots Review' as part of the outro and summarise what you love about the game
Related Microgaming Pages
Check out more from Microgaming below to see other offers in June 2023.
This is a shortlist of the most popular games available from Microgaming and does not mean the best in the online gamers reviews.