Super Diamond Deluxe Slot Machine
We have found a diamond in the rough in this IGT slot machine with 5 reels and 10 paylines.
Super Diamond Deluxe Slots is a 5-reel, 10 payline, online video slot game, powered by Blueprint Gaming. This medium variance casino game has an RTP of 96.43% and a Jewel theme. Bonus features, such as the Progressive Jackpot and Stacked Symbols, could help you win up to 10,000x your stake in cash!
The game is a development of the classic slot and you can unearth some incredible features, the symbols are stacked and there's a jackpot up for grabs. When the reels turn gold, you're in for a surprise, read on as we reveal all in our review.
Head over to best Blueprint Gaming Software Provider for more information.
This Super Diamond Deluxe Review of 2023 offers an overview of the entire slot machine, read on for everything that you need to know about the software, return to player and bonus features.
Best Super Diamond Deluxe Sites
From our research, we have created a list of the best Super Diamond Deluxe sites:
Finding the Diamonds
It's not always about all-singing and all-dancing features, sometimes simplicity is better. You are able to merely match symbols and enjoy the game.
We have discussed some of the features, although there aren't bonuses, you can play for the jackpot and enjoy other unique designs.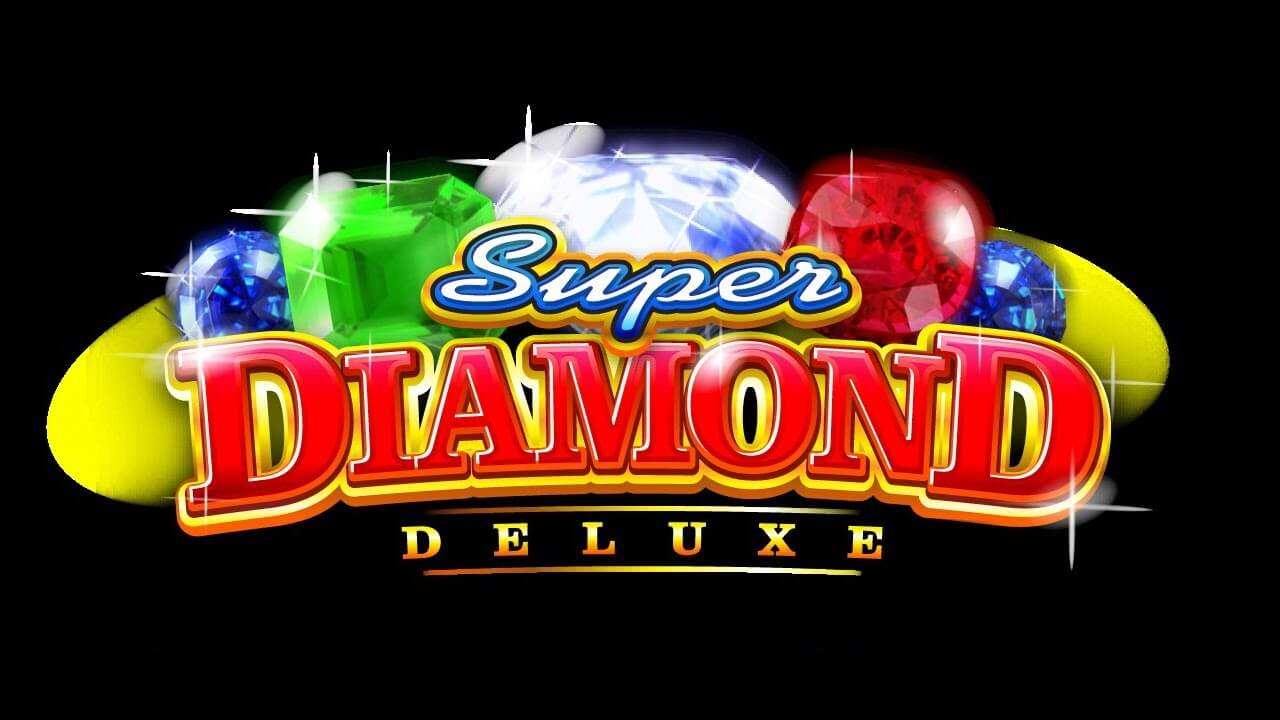 There's a lot of colour and as you'd expect, plenty of shiny diamonds. Match the different colour diamond symbols with blue, green and red jewels. If all 5 reels turn gold, then you're in luck, this feature means that you have a chance to win the jackpot.
Slot Info
| Super Diamond Deluxe Slots | Attributes |
| --- | --- |
| Casino Game: | Super Diamond Deluxe Slot Game |
| Paylines: | |
| Reels: | |
| Software: | |
| Minimum Bet: | £0.10 |
| Max Bet: | £500 |
| Variance: | |
| RTP: | 96.43% |
| Slot Theme:  | Jewels |
| Bonus Features: | Progressive Jackpot, Stacked Symbols |
| Max Win: | 10,000x |
| Free Spins: | No |
| Release Date: | 16th February 2014 |
Play Super Diamond Deluxe Slots Online
Super Diamond Deluxe is a five-reel slot game with 10 paylines and a progressive jackpot. It is an understated slot game that keeps the majority of the base game concept, nice and easy to enjoy.
Our team of reviewers have taken a good look over the entire slot game and provided a complete breakdown of the slot.
If this game is what you're looking for, then you will want to check out the sites on this page. It is easy to find and is available at a number of esteemed online casinos or slot sites.
We've unravelled all of the best casino sites that offer Super Diamond Deluxe on this page, find one that appeals to you and click onto it. You could be playing for big wins on this game, within minutes.
How to Play Super Diamond Deluxe Slots
Set your stake, press spin and match symbols. There are also bonuses you can look for.
It's not a complicated game, it's one that is simple to follow and exciting to play. There are different elements to the slot, and you will also learn that it is different in many ways. You can match symbols and winning combos, even if they do not land on reel 1.
You can check out the winning combinations by accessing the paytable, you are also able to land the jackpot. There are life-changing sums up for grabs. Read the interactive features for more detail on the slot features.
What Symbol Triggers the Super Diamond Deluxe Slot Bonus Free Spins?
There are no free spins on Super Diamond Deluxe Slot but there is a jackpot up for grabs.
Interactive Features
There isn't a multitude of bonuses, but there are some interesting features embedded into this game. You can enjoy unconventional paylines, a progressive jackpot and stacked symbols.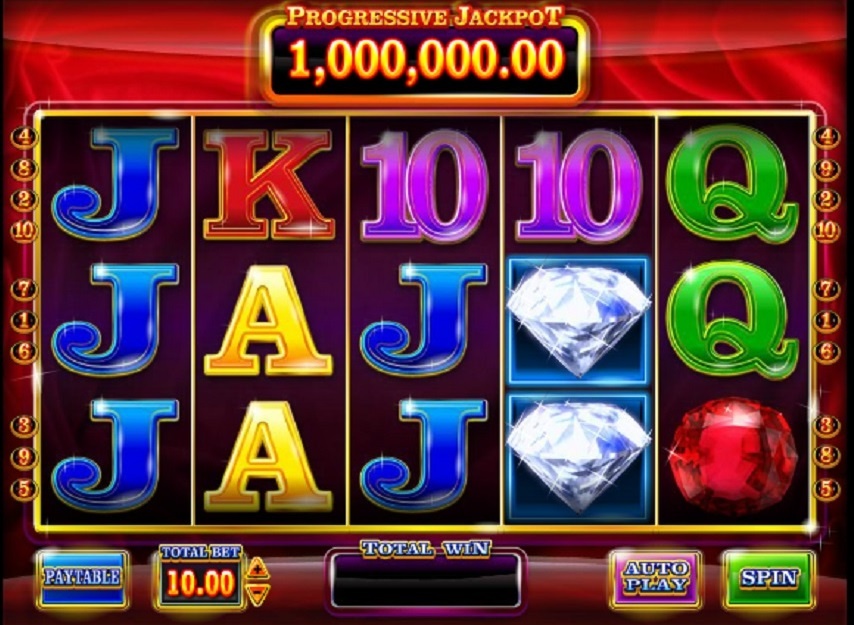 Non Standard Paylines
Generally, when it comes to slots, you need to land a symbol on reel 1 before you can match them. This game allows you to match winning combinations regardless.
Progressive Jackpot
The slot is linked to Blueprint Gaming jackpots. You could enjoy a life-changing amount if you get the big jackpot. Turn all the reels gold and you will get onto the jackpot feature. The jackpot is entered by complete random.
Stacked Symbols
Another rare feature of this base game is that it provides stacked symbols. It doesn't offer free spins or wilds. But the symbols come in stacks, potentially offering more chance of winning and a better chance of winning big.
Paylines and Stakes
Paylines- 10
Grid- 5×3
Reels- 5
Bonuses- Stacked Symbols
Stake- 20 pence to £150
Different symbols have different values.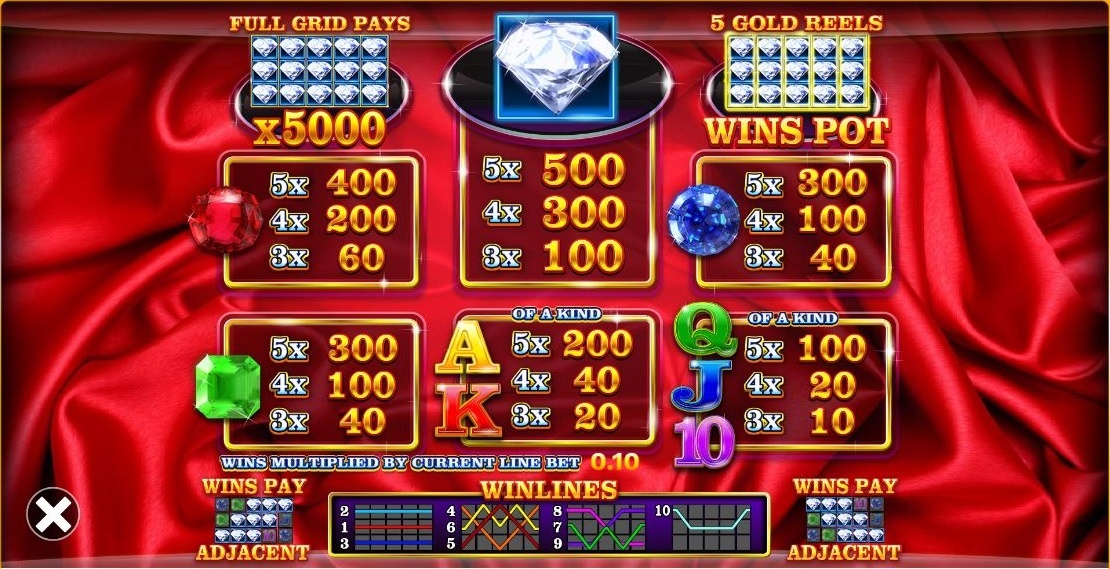 The diamond symbol is the highest paying symbol, with a potential payout of 500 coins.
Super Diamond Deluxe Slots Software
Super Diamond Deluxe is powered by the well-known software – Blueprint Gaming.
Blueprint Gaming are leaders in the industry and are constantly rolling out new games. They are the genius behind 100's of different slot games.
You can always trust in this reputable company. We trialled the slot game and were happy with the responsive design that it provides.
It offers fast loading times and it's reliable on all devices.
What is the Super Diamond Deluxe Slots RTP?
The Super Diamond Deluxe RTP is 96.43%.
We always check to see if slot games offer the 95% RTP threshold. Why do we do this? Well, we believe that to be the average RTP and come to expect it. Anything remotely above that payout percentage is hugely generous, this game has exceed it by a mile.
This is amongst the best paying slots, find others on our list using Best RTP Slots.
Slot Volatility
At medium variance this slot machine provides regular wins.
Medium variance is a balance of frequent wins throughout spins and also having an opportunity for some juicy wins.
Summary
In the wide variety of slot machines, Super Diamond Deluxe shines as a true gem. This electrifying slot game, powered by Microgaming, promises an exhilarating gameplay experience filled with rewards and excitement.
For fans of super slots and casino games, Super Diamond Deluxe is an excellent pick. Its engaging gameplay and state of the art graphics are bound to captivate players, drawing them into a world of sparkling treasures. The allure of this game extends to both paid and free slots enthusiasts, making it a versatile choice for players of all backgrounds.
One of the highlights of Super Diamond Deluxe is its reliability for rewarding players generously. With a multitude of rewards waiting to be uncovered, players can anticipate an exhilarating journey filled with surprises and satisfying wins.
In summary, if you're on the hunt for a game slot that delivers both excitement and rewards, Super Diamond Deluxe is an excellent choice. Its Microgaming-powered gameplay promises a dazzling experience that appeals to super slots aficionados and newcomers alike.
Blueprint Gaming Ltd Games
Here is a list of the most popular Blueprint Gaming games online players love to play in 2023:
This is a shortlist of the most popular games available from Blueprint Gaming Ltd and does not mean the best in the online gamers reviews.