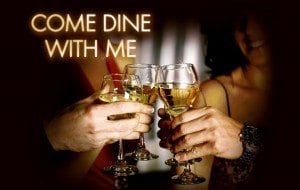 This December Tidy Bingo are inviting all Tidyers, new and old, to come and join them in their exclusive jackpot game that boasts an impressive £250 prize pot for FREE! This is Tidy's biggest jackpot giveaway since they launched back in 2013, so they are really quite excited about it.
The team at Tidy Bingo is made up of Nickie and David, and on the 3rd December Nickie will be appearing on the popular TV show Come Dine With Me – Couples Edition. The free game is to celebrate her claim to fame.
Tidy Bingo are well known for their exclusive promotions and here we see another fine example of what we love about them. They are a brand that endeavours to maintain close relations with their players as they see them as real people not just usernames.
Tidy Bingo are hoping that their players will be tuning in to watch the show and get to see Nickie in a more personal setting. And of course, in true Tidy form, they just love an excuse to celebrate, and when Tidy Bingo celebrate that always means another exciting and exclusive promotion is born.
Nickie will be making her appearance on Thursday 3rd December at 5pm on Channel 4 and then you can tune in to the Couples Come Dine With Me Jackpot game, which will be played at 7pm. Nickie, will be in the room from 6.30pm if you have watched the show and want to grill her about things.
The £250 jackpot will be shared in the following way:
One Line – £40
Two Lines – £60
Full House – £100
Plus, £25 for 2TG and £25 for 1TG
So make sure you don't miss out on this exclusive giveaway from Tidy Bingo and join them for some Couples Come Dine With Me fun.