Ultra Hot Deluxe Slot Machine
Things are about to get hotter in here.
Ultra Hot Deluxe Slots is a 3-reel, 5 payline, online video slot game, developed by Novomatic. This high variance casino game has an RTP of 95.17% and a Classic theme. Bonus features, such as Red 77 Jackpot Symbols and the Gamble Feature, could help you win up to 300,000 coins. The max bet is £25.
It will go from zero to ultra-hot in the blink of an eye. Think you have what it takes to beat the heat? Ultra Hot Deluxe Slot is one of our favourite slot machines, it comes with 3 reels and 5 paylines. If you love classic slots then see for yourself in this Ultra Hot Deluxe Slot Review.
Ultra Hot Deluxe Slot Sites
From our research, we have created a list of Ultra Hot Deluxe Sites in September 2023:
About Ultra Hot Deluxe Slot Game
Can you hear the sizzle? This three-reel, five pay-line classic slot game is bringing on the heat – the ultra hot deluxe heat. Keep the fire blazing – hang on the classics before they fizz out!
Novomatic Software has once again brought a classic back to life in the Ultra Hot Deluxe slot game. With as much as 40,000 on the line, make sure you spin smart to keep from fizzing out.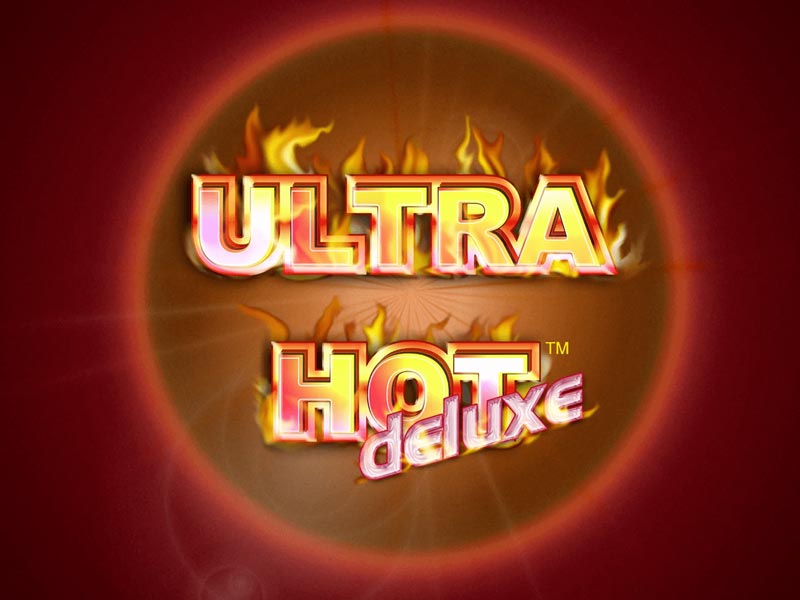 This classic slot machine brandishes fruits, bars and other classic symbols.
There are no wilds or scatters, so you will have to get creative. Get those noggins racing and find a way to get those reels hotter with every spin.
This is a simple game with simple ways to win tons! Though, if you are not happy with what you have gained, you can always give in to temptation and gamble your current bets for a chance to win over three times that!
All you will have to do is have luck on your side. But remember, the flame of your wins can be snuffed out with just one blow. Guess correctly, and you will get some hot wins; guess wrong, and be burned. If you are ready to handle the heat, then spin on and see just how hot the reels can get for you! The Ultra Hot Deluxe classic slot game is just as the name says it is – it has ultra hot payouts but simplistic layouts.
This game takes players back to the start of slot gaming when the symbols were simple, and the cashout was plentiful. You're also able to play other hot slot games including the Sizzling Hot.
Slot Info
| Ultra Hot Deluxe Slots | Attributes |
| --- | --- |
| Casino Game: | Ultra Hot Deluxe Slot Game |
| Paylines: | |
| Reels: | |
| Software: | |
| Minimum Bet: | £0.05 |
| Max Bet: | £25 |
| Variance: | |
| RTP: | 95.17% |
| Slot Theme:  | Classic |
| Bonus Features: | Red 77 Jackpot Symbol, Multipliers, Gamble Feature |
| Max Win: | 300,000 coins |
| Free Spins: | No |
| Release Date: | 18th November 2008 |
How to Play Ultra Hot Deluxe Slot Online
Blaze through the reels by remembering these steps:
Click the Bet One (+/-) section to set the size of the coins per spin.
Click the Bet Line (+/-) section to set the number of coins per line.
Press Spin when you are ready to begin the game or Auto Start to automatically spin the reels.
Press the Max Bet button to set the maximum bet for the spin.
Beat the heat and play from any tablet, mobile (iOS, Android) or PC device. You can enjoy the full slot game from your iOS or Android. You won't need to download any software or mobile phone apps.
Interactive Features
This is not a classic that comes with a bonus game but there are real money prizes that are available.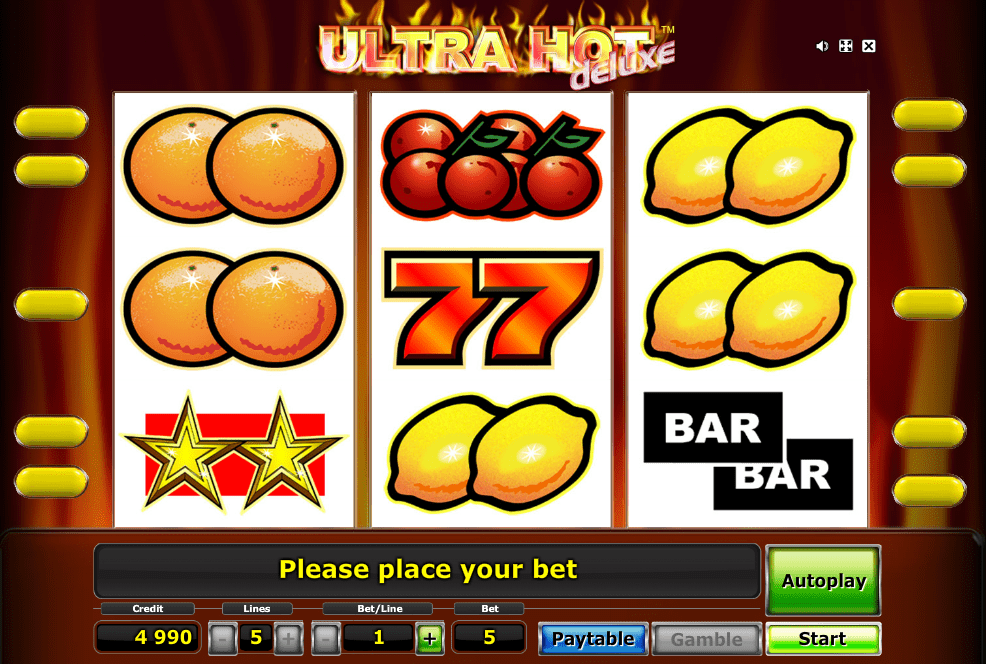 Red 77 symbol. The big, red 77 symbols represent the jackpot symbol. Getting two or more red 77s on the reels will result in a variation of multiplier and coin payouts.
Multipliers. When fruits fill the reels, each will give players a 2x multiplier of the total bet.
Gamble Feature. This is one of those fun bonuses that allow players to gamble wins to get a chance to gain bigger wins. Here, players will have to pick the correct card colour. Those who can choose correctly will gain a double win, but those who guess incorrectly will stand to lose all the wins and end the round.
What Symbol Triggers Ultra Hot Deluxe Slot Bonus Free Spins?
There is no wild symbol icons, nor are there any scatters in this game, and therefore no symbol to trigger any free spins. So, for this slot game, players will have to rely on the other bonus features and symbol payouts to land any wins.
Paylines and Stakes
Players can begin this sizzling game by betting one coin per spin to get the reels spinning. Though, getting the jackpot of 3,000 coins isn't going to be a walk in the park. While waiting for that to appear, players can rely on symbols such as the red 77, double gold stars, double bars, the triple x, and the fruits.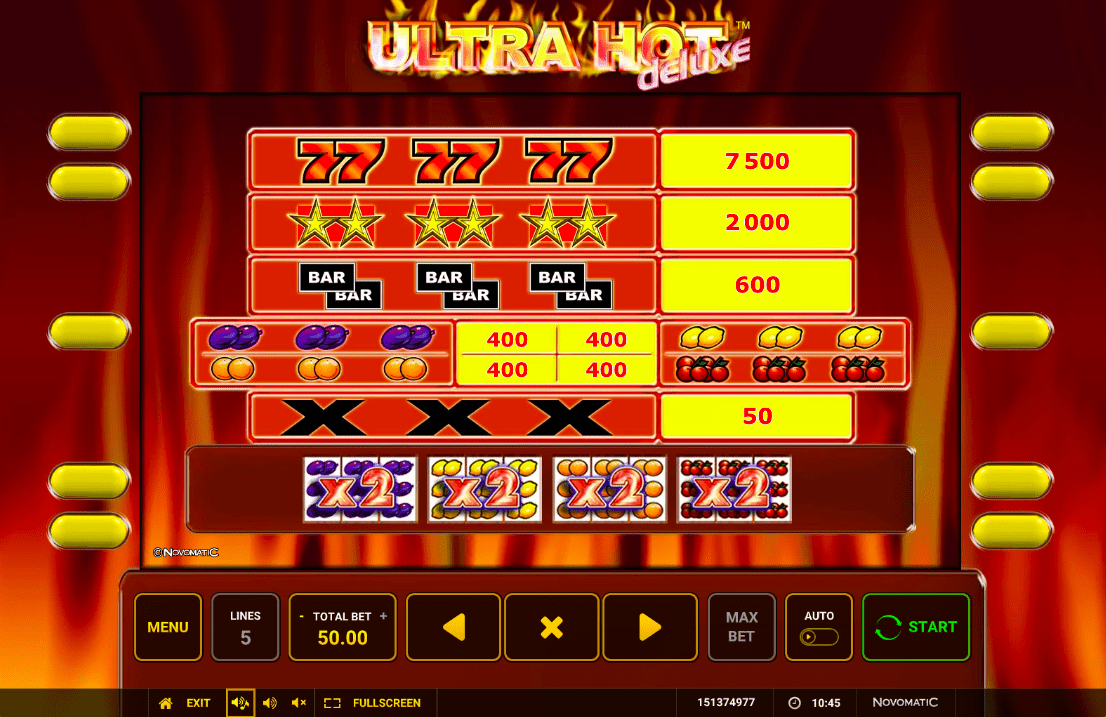 Landing 3 of the red 77 symbols can award players over 300,000 coins while landing 3 of a kind of the rest of the items can fetch players anything from 2,000 to 80,000 coins. Landing fruits is another story as players will need to land double fruits to win anything.
Once players can achieve this, they can get 16,000 for landing 3 of a kind. These fruits can also award players with 2x multipliers each.
Ultra Hot Deluxe Slot Game Software
The sizzling game of Ultra Hot Deluxe was made possible by Novomatic Software.
Known as one of the largest gaming technology companies in the world, Novomatic Software is responsible for providing and exporting high-tech games and gaming software worldwide.
What is Ultra Hot Deluxe Slots RTP?
The Ultra Hot Deluxe slot is a non-progressive game with an RTP of 95.17%.
The RTP- 95.17% is a generous percentage and is above what we believe to be the average return to player.
In theory, the RTP allows you to bet 100 x £1 and you'll get £95.17 on average.
Slot Volatility
This ultra hot deluxe slot game presents players with a medium to high variance level.
This kind of volatility presents a challenge to players as the payouts do not come often, but they come in huge amounts. If you love playing for big real money prizes then you will love this game, it comes with the chance of large wins.
Find more high variance slot games with our full list.
Summary
This game is a slot that puts players to the test. So for anyone looking for a good challenge, this game is the one to spin. The payouts are more than generous, but they do not land often, and there are not many bonus features to help land wins, so players will have to rely on their skill and strategy to try to land these wins.
This simple game poses a good challenge, so intermediate and experienced players may find this more enjoyable.
You May Also Like
We have researched and reviewed all other Novomatic Software games you might also like: