Think you have what it takes to be a Wild West gunslinger? Then try your hand at these western-themed casino games. Spin the reels and watch them carry you back to a simpler time when the stakes were great, but the benefits were much higher if you made it through.
Wild West-themed slots are games that delve into the world of cowboys, Native Americans, desert plains, and tumbleweeds. These online slots may be the typical idea of the wild west but these games can rake in pretty wild wins, fun bonus rounds & game features, and thrilling slot experiences.
Wild West is a unique types of slot game, it is fast becoming one of the top slot game themes in the industry, with many of the big developers now creating similar slots.
Read on for everything you need to know about the finest Wild West slots and how to find a variety of games with this type of theme, from RTP to Bonus Features.
What Are Wild West Themed Slots?
Wild West slot machine games were influenced by the classic Hollywood idea and iconic comics of cowboys, golden star badges, spurs, saloons, and of course, some bandits. Take the risk and have a shootout with the outlaws and you may even land yourselves sacks of big wins!
NetEnt and NextGen Gaming are only some of the top gaming providers that let you play wild west slot themed games. If you've ever imagined being a cowboy growing up, then you'll know what to expect when it comes to game symbols, the terms used in the bonus round, and other aspects that make these slot machines true to the theme. You'll also see that wild west online casino games usually sport five reels.
In these online slots, you'll be getting a slice of American history coupled with jam-packed action scenes and some pretty great prizes to win. It also usually shows beautiful graphics depicting the American old west, funny Mexican Bandidos, some Native American action, and the usual Clint Eastwood gunslinger look. If you're a fan of the genre, you'll want to keep checking back for new video slot additions because the Wild West is one of those periods of time that online game developers can't seem to get enough of when it comes to creating new games.
Wild West slots games appear on a regular basis, and with the beautiful graphics, hidden cowboy treasure, memorable gameplay, these western genre slots might be some of the games you may just enjoy playing for fun or for real cash.
Best Wild West Themed Slots
Play Wild West Games for real money or for fun on your favourite casinos sites today! Enjoy the amazing graphics, great soundtrack, worthwhile money payouts, and the action-packed adventure these online casino slots pose. Below are some of the top slots with a theme of the wild west:
Dead or Alive Slot Game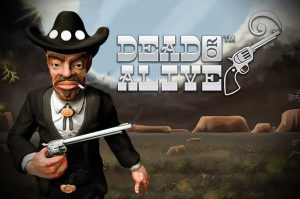 Dead or Alive is an online casino slot with five reels and nine paylines. Here, players can track down wanted bandits using the free spins mode and a sticky wild, just like in the old days. Newbies and big rollers alike may play this wild slot and win up to £54 in the jackpot with a maximum wager of £18.
You would be surprised to see truly impressive graphics and animations for such a simple slot. A stormy sky over a western landscape is depicted in the background, complete with a swinging lantern, a spinning weather vane, and lightning blinking in the sky. With lonesome birds calling, a random dog barking, and the wind blowing, the background sounds match the outdoor scenario. You can play this anytime and anywhere since it's fully compatible with devices such as Mac, Linux or Windows computer operating systems. Dead or Alive is web-based which means there's no need to download.
Read the full Dead or Alive Slot Game Review for our favourite features of this slot machine.
Wild Wild West Slot Game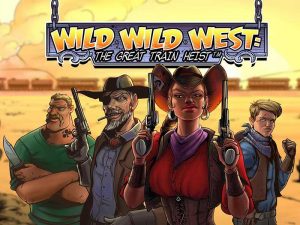 This entertaining NetEnt slot offers a number of unique extra features to keep things interesting as the reels spin. The soundtrack of Wild Wild West: The Great Train Heist Slot is the first thing you'll notice when you start the game. NetEnt is known for its meticulous attention to detail and high-quality products. The music is in the manner of the Wild West, with added sound elements such as steam trains.
The slot machine has five reels and just ten paylines. A band of railroad thieves and typical playing card icons are among the characters. Except for the scatters and bonuses, the game has a wild symbol that replaces all others. Three bonus icons are required to activate the first special feature. After that, you'll be asked to choose one of the bonus symbols for an instant cash payout. If you prefer free spins, land the some scatters, which in this case is a giant "7." Three or more scatters activate the free spins bonus, with five triggering a whopping 30 spins. You'll get one of four possible wild boost features once the free spin bonus commences.
Money Train Slot Game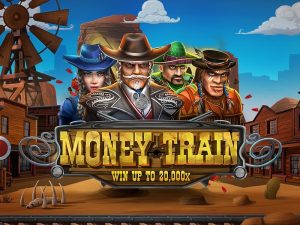 Money Train is a five-reel, four-row online slot created by Relax Gaming. It's set in the Wild West and revolves around the bonus round, which is triggered when scatters appear on reels 1, 3 and 5. Multipliers, expanding reels, and a special golden icon are all present throughout th free spins.
You may find it a little unusual since it the RTP varies on your wager. You can normally expect an RTP of 96.2%. However, that RTP spikes to 98% if you decide to pay 80x your wager to activate the Money Cart Bonus round. The volatility, as you can expect, is also high, which means that landing a win might be a little more challenging. So, if you're a high-roller or high stakes kind of player, then this is definitely one online slot you shouldn't miss!
What Symbols Are On Wild West Themed Slots
Slots with the most iconic themes are always prone to a little cliche, but these details are always what makes their gameplay more interesting and appealing. When you play wild west slots, you can expect to see classic symbols of cowboys and their whole costume, horses & saddles, revolvers, pistols & shotguns, spurs, cigarettes, bags of gold, wanted posters, and damsels.
But other likely icons to appear are liquor bottles, peppers, pinatas, feathers, tepees, bows & arrows, sombreros, and even some Aztec jewellery!
FAQs
What Wild West Themed Slot Has The Best RTP?
Dead or Alive is currently the Wild West slot themed casino game with the best RTP (return to player) value. This slot comes with a superb bet feature, great bonuses, and boasts a high RTP of 96.82% with a maximum payout of up to 3,000x your line bet.
What Variance Are Wild West Themed Slot Games?
Many of the top Wild West slots have a medium to high variance. This level of volatility allows players to gain tons of helpful features and good payouts. However, with this variance, players will really have to work for these wins since they can be quite difficult to nab.
Can I Play Wild West Theme Slot Machines On Mobile?
As many of the top gaming developers have jumped on the saddle with themed slot games, they were sure to include the Wild West slots for all the true sheriffs out there. Almost all of these online casino wild west slots are accessible on any mobile device such as Android and iOS devices, so you can play on the go whenever, wherever! Although, if you prefer to play wild west slots from the comfort of your homes, you can simply look up the game online on any browser.
Wild West Themed Bonus Features
Whether you're skilled enough to lasso some real money or if you're simply in the mood to play for fun, bonus features are always a great way to land bigger, better wins. Here are some of the casino bonuses you can expect to find in a slot machine with a Wild West theme.
Wild Symbols
This symbol comes often takes the form of the slot's logo and it comes as a regular wild symbol. However, in other games, you can also gain some sticky wilds. Wilds are special icons in slot games that can stand-in for the other icons and be a part of winning combinations that give bigger wins.
Scatter Symbols
Scatters are usually also an icon that relates best to the genre of the slot. It can be anything from the true sheriff badge or a bandit behind bars. This is another fun icon that you can land in an online casinos game. It can be used to trigger another enjoyable and rewarding casinos bonus. Of course, it can also be used as multipliers.
Free Spins
This is one of those slot machine bonus rounds that can lead to additional spins or other cool bonus games. Often, additional spins can also play some whimsical cartoon or video that relates to the genre. When you trigger this, the slot machine allows you to wager on online casino games for free. The slot machine utilizes your free spins instead of your total bet to place a wager. The best thing is that you can win real money and even a jackpot prize if you win while playing free spins.
Super Bet Feature
SuperBet allows players to put more or adjust the wager on the spins. Adjusting this can offer even more multipliers.
Conclusion
Put on your best Jesse James impersonation, strap on some cowboy boots, and get on your good horse as you stomp through the dusty western theme reels where you can find plenty of gold coins, winning game symbols, and even a casino jackpot or two!
These are the kinds of casino slots to play if you desire the high-risk thrill of chasing the kind of payoff that will eventually allow you to settle down comfortably with your win pile. There are tons of slots with storylines that suit all tastes – everything from gunslinging female outlaws, old gold mines, steam trains, or even wild horses roaming the prairie. So, check these out today and see what grand wins you can lasso in for yourself.
Other Slot Machine Themes
Here are other slot machine themes popularly played by online casino players: