Wolves are among the most skilled hunters on the planet. Their noses can detect a smell from a distance of ten miles. But how can you enlist the assistance of such a formidable predator?
Wolf Rising is a 5-reel video slot game with 100 paylines and a wolf theme. Powered by IGT, this casino game comes with a stacked wilds, free spins bonus round and scatter symbols. The game has plenty of bonus symbols like the Totem Pole (wild), Wolf Idol (bonus), Black Wolf, White Wolf, Brown Wolf, Grey Wolf, Ace, King, Queen, Jack, 10 and 9.
In this Wolf Rising Slot Review, learn how to win their confidence and join the pack. Once you are in, you will have access to all of the victories they can find.
Best Wolf Rising Slot Sites
From our research, we have created a list of Wolf Rising Slot sites in March 2023:
About Wolf Rising Slot Game
Enter a winter wonderland filled with some of the world's most beautiful beasts, as well as all the fantastic prizes they might find.
A wolf's greatest mate is the darkness of the night. It's when their eyes are darkest and their noses are more sensitive to the various scents in the environment. There is nowhere to hide and nothing is safe. By hook or by crook, the wolves will discover everything they're searching for. They still seem to get what they want.
IGT Software transports gamers to a snowy landscape populated by wolves in this five-reel, 100-pay-line video slot game. Since taming the beast is futile, it's best to let them run wild on the reels. Players will be rewarded with rewards such as scatters, free spins bonus round, piled wilds, and even the 1,000 coin jackpot bonus if they do so (you could even win in real money).
The stunning, lifelike imagery in the icons, as well as the serene backdrop of snow falling amidst some white sycamore trees, would pique every player's interest.
There are some old totem poles and Native American bonus symbols here, in addition to the wolves. They did, after all, get their courage from the wolves. Throughout the contest, a gentle rumbling tune from their drums can be heard, as if coaxing the wins to come out and be trapped.
If you are interested in other wolf-themed slots, check our Wild Wolf slots, Wolf Moon slot game and Wolf Gold.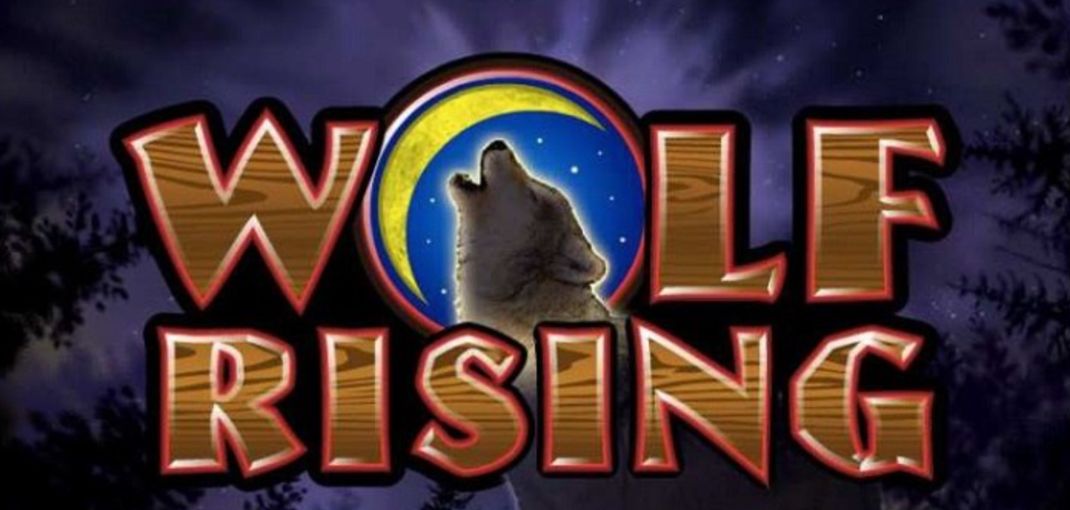 How to Play Wolf Rising Slot Online
Before going out for a pack run, here are a few tips and tricks to remember:
First, players can control the number of coins placed as a bet on each payline. Use the + control button under the coin section to increase the number of coins. They can also use the – control button to lessen the number of coins.
Then, the player can change the coin size. Players can use the associated + and – control buttons on the panel to adjust the coin size to their preference.
After customizing the Wolf Rising Slot coin size and line bet, the players can start playing the game. Click on the Spin button on the control panel to start spinning the reels.
Be a part of the wolf pack. The Wolf Rising Slot game can be played from any mobile device with either Android or iOS systems like mobile phones and tablets. It can even be played from desktop computer or a laptop.
Slot Info
| Wolf Rising Slots | Attributes |
| --- | --- |
| Casino Game: | Wolf Rising Slot Game |
| Paylines: | |
| Reels: | |
| Software: | |
| Minimum Bet: | £1 |
| Max Bet: | £500 |
| Variance: | |
| RTP: | 96.05% |
| Slot Theme:  | Wolves |
| Bonus Features: | Stacked wilds, free spins, scatters |
| Max Win: | 1000x |
| Free Spins: | Yes |
| Release Date: | 2011 |
Interactive Features
The Wolf Rising online Slot has bonus features and special games for players to take advantage of and win more prizes from.
Wolf Rising Wilds
The wild sign is represented by the colourful totem pole. This mark appears in a sequence of eight, and it eventually covers the whole reel. Apart from the bonus symbol, this symbol may be used to replace every other emblem.
Wolf Rising Scatters and Free Spins
The carved circular sign with the word "BONUS" written on it is the scatter mark. Players will win free spins if they land this.
Wolf Rising Wilds Free Spins
The stacked wilds will appear on reels 2 to 4 during this feature, as they will be altered during the free spins bonus round.
What Symbol Triggers Wolf Rising Slot Bonus Free Spins?
The Wolf Rising Slot has a free spins round that can help players win more without spending more.
Wolf Rising Scatters and Free Spins
The carved circular sign with the word "BONUS" written on it is the scatter mark. Players will win free spins if they land this.
Powerful ancient Native American icons are said to exist. When three of the bonus carved symbols appear on the central reels in this video, the player is awarded five free spins. This does not seem like much, but thanks to the stacked signs that appear on reels 2 to 4, players will earn even more during this feature.
The free spins feature can be retriggered, with a limit of 250 free spins available. There will be no multipliers awarded here, so only stacked wilds can be obtained in addition to the free spins.
Wolf Rising Stacked Wilds Free Spins
The stacked wilds will appear on reels 2 to 4 during this feature, as they will be altered during the free spins round.
Paylines and Stakes
Totem poles are said to house the ancestors' strength as well as the power of wild animals. So if you have 3 to 5 of these on the reels, you'll win 50 to 1,000 coins. Players must first place a bet ranging from 1 to 3,000 coins per spin before they can begin. The cost may be high, but the wolves would make it worthwhile.
The higher-paid sums are earned by spotting the four different wolves. Plays will get a minimum of 25 and a maximum of 500 by landing three to five of a kind.
Meanwhile, the lower-paying symbols are the colourful card symbols (A, K, Q, J, 10, and 9), which are carved into wood and decorated in vivid rainbow colours. Landing four of a kind will earn you as little as $25 while landing five of a kind will earn you up to $150 in real money.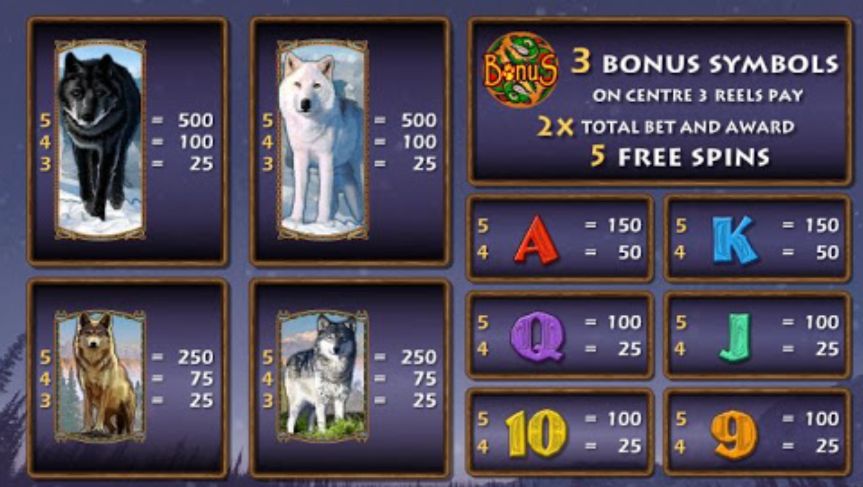 Wolf Rising Slot Game Software
Wolf Rising is a slot game that was made possible by IGT Software.
IGT software is a well-known gaming company that offers quality content, cutting-edge technologies, and in-depth user intelligence to its customers.
What is Wolf Rising Slot's RTP?
The Wolf Rising online slot is a non-progressive slot game that has an RTP of 96.05%. 
With a bonus ratio like this, players will potentially collect over £96 with every £100 wagered.
What is the Wolf Rising Slot Volatility?
This online slot is a medium to high variance game.
That is, the game offers decent payouts to players, but win payouts are only made on a semi-regular basis.
Popular Questions
Where can I play Wolf Rising slots for real money?
You will be able to play Wolf Rising online slot to play for real money when you play on IGT online slots.
When you play on the online slots, you can play for real money and win mega cash bonuses!
Just place your bet and spin… the real money can be yours in an instant!
Can I play this slot machine for free?
You can play Wolf Rising slot for free when you play in the demo mode!
In the demo mode, you can experience interactive features, such as a bonus round, bonus symbols, no deposit bonus, fun casino games, and so much more!
Unfortunately, you will not be able to play for real money in the demo mode as this will require a deposit.
Summary
This is the game we will recommend to anybody who enjoys basic gaming. The appearance of wolves, as well as the Native American theme, gives this game an almost alive and strong feel. It has a small number of bonus features, but they're all really useful in terms of landing decent payouts.
The game's beat is almost hypnotic, and it aids in keeping players engaged and engrossed in the game. While this game is stunning and enchanting, it could be a better fit for players who have more experience with high stakes, high reward games.
You May Also Like
We have researched and reviewed all other IGT games you might also like: