Fight your way to the top on this action-packed slot machine.
Bruce Lee Slots is a 5-reel video slot game with 60 paylines, 2 to 4 rows, and a Martial Arts theme. This 2012 release from WMS Software boasts Free Spins, Treasure Chest Scatters, and Expanding Wilds that can get you up to £250,000 when you bet £60. This game has a high variance and a 96.05% RTP.
Bruce Lee slots is based on the martial arts expert and you now have the chance to immerse yourself into his character as you play for free spins, wild symbols, and scatters.
Try your hand at this slot game and enjoy matching symbols, wild symbol icons and much more. We have tested the game for ourselves and reported back in this in-depth Bruce Lee Slot Review in June 2022.
Don't miss out on what we discovered about these fascinating free spins.
Best Bruce Lee Slot Sites
From our research, we have created a list of the best Bruce Lee Slot Sites:
About Bruce Lee Slot Game
The martial arts guru comes out with all the best moves in this fighting slot machine. You can play for an exciting max win and also enjoy lots of kung fu themes throughout.
This game is powered by the money burst engine, the distinctive design that displays just two rows on reels 1 and reels 2. This engine offers plenty of chances to land big wins with its exciting and volatile nature.
You will also find lots of familiar symbols and themes including Bruce Lee himself. In addition to the previous, you will get to enjoy icons such as yin and yan, nun chucks, a dragon, temple and a sensei master.
Slot Info
| Bruce Lee Slots | Attributes |
| --- | --- |
| Casino Game: | Bruce Lee Slot Game |
| Paylines: | |
| Reels: | |
| Software: | |
| Minimum Bet: | £0.30 |
| Max Bet: | £60.00 |
| Variance: | |
| RTP: | 96.05% |
| Slot Theme:  | Martial Arts |
| Bonus Features: | Free Spins, Treasure Chest Scatters, Expanding Wilds |
| Max Win: | £250,000 |
| Free Spins: | Yes |
| Release Date: | 2012 |
Play Bruce Lee Slots Online
If you're interested in finding somewhere to play Bruce Lee slots online, you're in luck. It is one of WMS' most popular games. Therefore, you may already be playing at a casino which carries the game.  If not, it is always worth Googling to see if you can find any other leading sites.
The best way to check for the Bruce Lee slot game is to take a look at our site lists. We make sure to list the biggest and best sites currently offering Bruce Lee as standard.  Want to try the game without having to do much searching around? Take a look through our lists and launch the game at a mobile casino of your choice.
It is a five-reel slot game from WMS, and it features a jackpot worth 240x your initial stake. 
It is an interesting-looking game, particularly as the reels format is a little different to what you may expect elsewhere. What more could you need?
How to Play Bruce Lee Slots
Want to know how to play Bruce Lee slots?  Now's your chance.  This fantastic game is very easy to get into.  As a five-reel slot game, it is fairly self-explanatory.
First, make sure to set your opening bet and how many paylines you'd like to play for.  The more paylines you play on, the more money you bet – but it could also lead to bigger prizes.
Then, spin the reels.  You can either do this manually, or you can set the game to autoplay, meaning it will spin several times for you.
There are no 'generic' or royal symbols here.  All of the symbols you spin into view are related to the theme of the game.
That means you can expect to find hats, scrolls, vases, daggers, throwing stars, knives, nunchucks, coins, dragons, game logos, and two depictions of Bruce Lee himself.
Unlike many five-reel games, you only get two symbols on the first two reels.  There are more on the latter three than you'd find elsewhere, however.
There are bonus features you can unlock here, too.  We will cover these in a little detail shortly.
What Symbols Trigger Bruce Lee Slot Bonus Feature Free Spins?
There are three different ways of getting free spins with method 1, method 2 and method 3, land four matching symbols and enter the free spins.
Land scatter symbols on reels 1-5, at least three times and activate the bonus free spins. You can get five free spins from any of the three bonus game options, but they also come complete with other add-ons.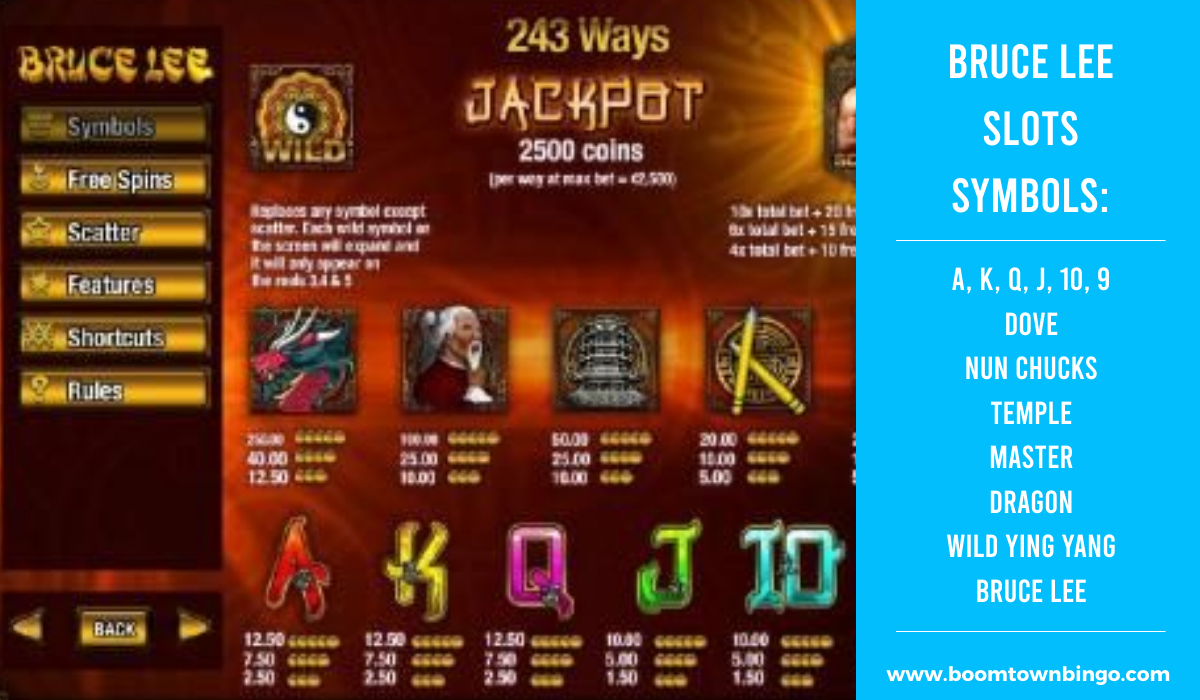 Free Spins 1 – This free spins feature is triggered by landing the exact same bonus symbols on the mini reels 1 and 2, this includes that of the wild symbol. You will then get five free spins and a mini reels sticky symbol.
Bonus Spins 2 – This bonus spins feature is another one that awards 5 free spins. This time you'll activate it with Treasure Chest scatter symbols on reels 3, 4 and 5. Once you trigger these spins, you also get an expanded wild symbol and one wild symbol guaranteed on the other reels. This provides a huge chance of winning per spin.
Enter the Dragon Free Spins – This bonus game is rarer than those mentioned above. Trigger five free spins when you land the red dragon three times. It will then provide you with sticky wilds, an expanded wild and plenty of chances to win. This is the most desirable bonus round.
Interactive Features
Let's take a closer look at Bruce Lee slot's interactive features and bonus games. There's a handful of ways to trigger free spins in the game, meaning that you should have plenty of chances to win some big money.
 If you match four symbols on the first two restricted reels, you'll get a stack of free spins.
 If you spin three bonus chests on the last three reels, you'll get up to five wild-ready free spins.
 You can also trigger 20 free spins if you manage to combine both of the above.  You get guaranteed wilds on all free spins, meaning that you really have everything to play for.
Wild Symbols can substitute for any other symbols on reels. The Wild Symbol on Bruce Lee Slots is the legend himself.
There isn't much more here in terms of features, but the game is known to be fairly generous.  Free spins packages are likely to do a lot for slots players who want to get as much as possible out of a game.  Therefore, free spins shouldn't ever be sniffed at!
Paylines and Stakes
It's always worth checking the paylines and stakes at a game you've never played before. Bruce Lee slot offers five reels and up to 60 paylines, meaning that you could win some big prizes on the lines if you're lucky enough.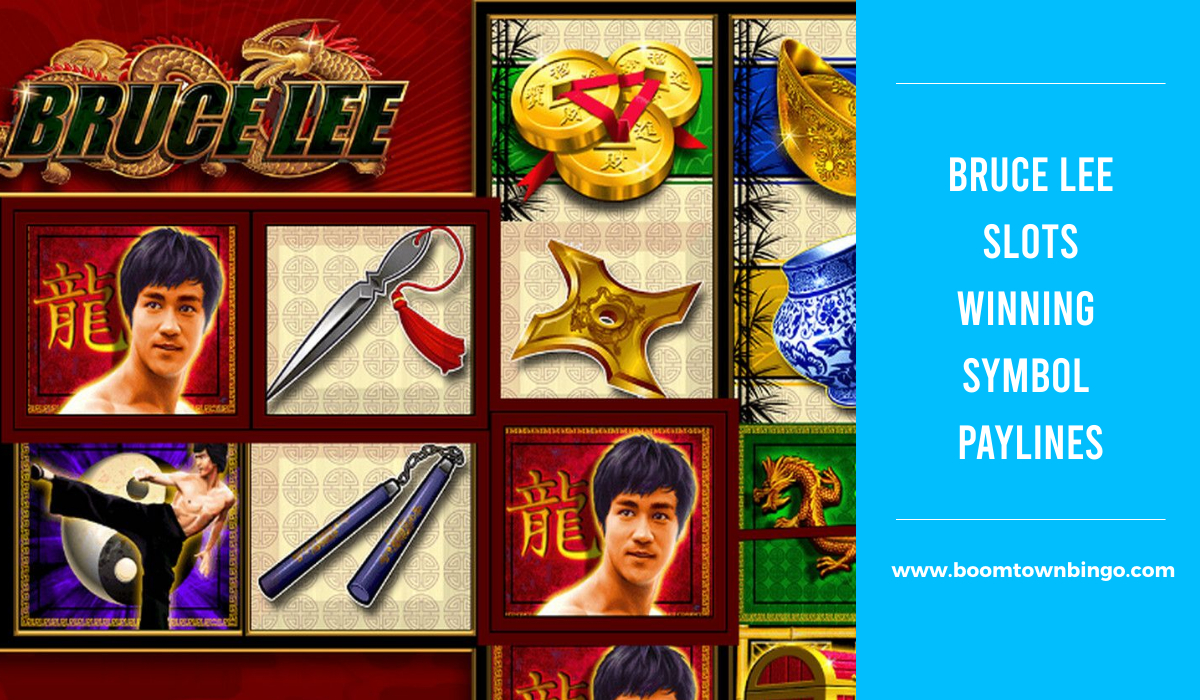 You can start spinning from 30p a go, with £60 being the maximum bet available.
This may not seem like much, but when you consider the free spins and the RTP, you could claim some big money back. We will cover the RTP of the game shortly.
Bruce Lee Slots on Mobile
If you want to play Bruce Lee slots on mobile phone devices, you're in luck. WMS has optimised the game for all mobile browsers.  If you play at a major casino, you may also find there is an app that you can download. Therefore, there might be multiple ways for you to play the game on the go.
Want to take a look at the game on a casino's mobile site?  Simply enter the web address into your chosen browser and log in as normal.
You can then start enjoying the game from a smaller screen at your leisure.  The game works just as well on desktop, however, the mobile version is certainly worth taking a look at.
Bruce Lee Slots Software
Bruce Lee Slots is powered by the award-winning Blueprint Gaming software.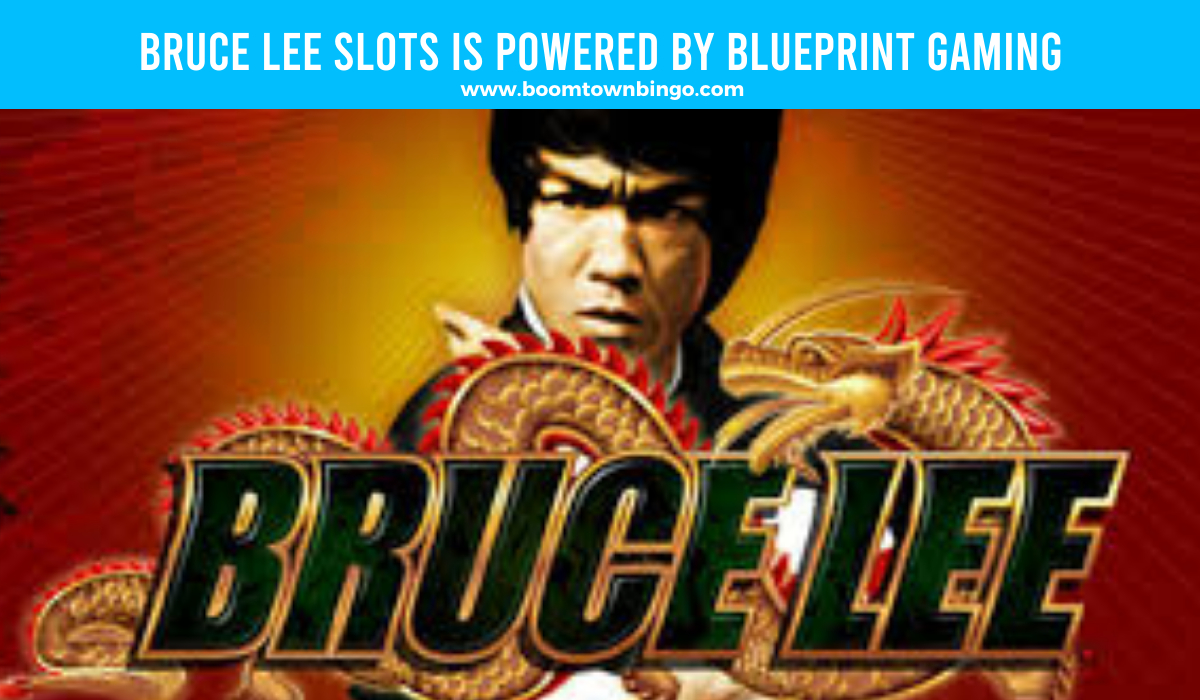 Blueprint are a well-known software developer responsible for the creation of hundreds of popular slot machine games. They create fast, reliable and trusty platforms that have high quality graphics. You will also be able to revel in the various bonus rounds and interactive features.
After testing this slot machine, we were pleased with how it runs and how easy it is to play.
FAQ's
What is the Bruce Lee Slot Big Win?
You can win 240x your stake on this Bruce Lee Slot Machine. Play for this jackpot and when you land those high-paying symbols, you're in luck with this incredible big win.
Can I Play the Bruce Lee Demo Free Play?
Play Bruce Lee Slot Machine with the free play demo version, you won't need any real money stakes, instead enjoy the gameplay.
This demo gives you the opportunity to take a peek at the video slot without committing your real cash.
Check out the sites we have listed and then choose the free play version before trying the game for real, you can check out the 5 free spins, 20 free spins, expanded wild symbols, treasure chest and much more without wagering.
Bruce Lee Slots Graphics Design
The Bruce Lee slots graphic design looks great across all devices.  WMS generally does a good job at bringing themed games to life, meaning we doubt many people will be put off by the design here.
There are no standard symbols here, meaning that the game fully immerses itself in its theme!  That's great news for anyone looking for a bit of escapism.
You can clearly see what all the symbols are, even across mobile devices. Therefore, it's likely to be one of the most appealing games of its kind for players on smaller screens.
Bruce Lee Slots RTP
Bruce Lee Slots has an impressive RTP of 96.04%.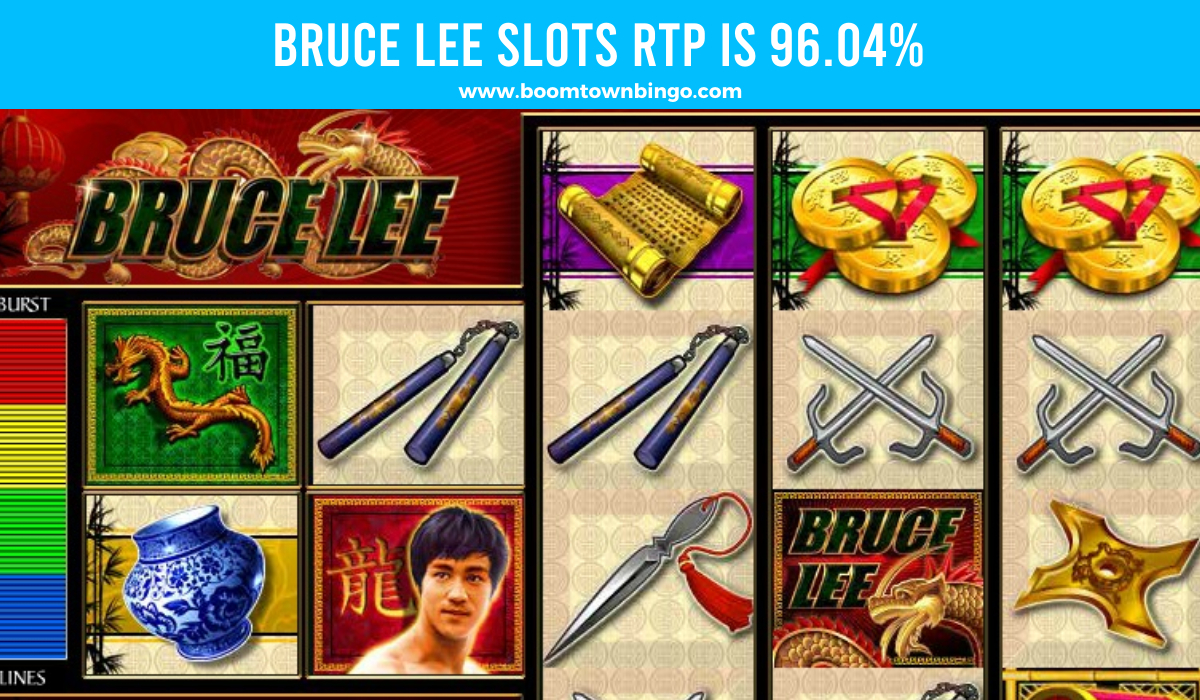 RTP is the Return to Player and it gives an indication of how likely it is to win per spin. We look out for games that offer a minimum of 95%.
This exceeds that of the industry standard by one percent, which is a huge amount when it comes to slot RTP. This is yet another positive for the innovative video slot.
Slot Volatility
The slot volatility of Bruce Lee Slots is medium to high variance.
That means that you can enjoy huge wins, the game is volatile but that provides numerous benefits. If you're a high-roller then rejoice, as you play for big wins and thrills in this martial arts adventure.