If you have ever played bingo online before, you will likely have noticed that most rooms will have neat little chat windows attached. This is where, alongside playing bingo games, you can chat with other players and room moderators. It's a great little way for you to get to know other people in a friendly chat room while playing for some big prizes!
You might even find that, alongside a main bingo game, there are a few bingo chat room games opening up to give you an even bigger chance of winning a cash prize. Some games are just for fun, too! Let's take a look at what a chat game actually is, and what a difference it might make to your bingo bonus.
List of Bingo Chat Sites
Find the best bingo chat sites below, this is what we found:
What is Bingo Chat?
Bingo chat is a staple of all good online bingo sites. It's a way for you to get to know other players through text windows.
As well as being able to dab off your numbers virtually, you'll be able to have a good old chin-wag with other bingo fans connecting to the same game. These chat room scenarios are overseen by a chat host or moderator, and they will also oversee chat games along the way.
Chat games are a relatively new phenomenon, particularly as bingo game standards have evolved over the years. You don't just have to be the first person to call 'house' any more – you could be the first person to claim a bingo bonus from trivia chat games alongside!
Why Do Bingo Players Enjoy Chatting?
Why not? As with any bingo game in the 'real world', there should always be a social aspect. This is part of the buzz of playing any kind of bingo game.
People who play bingo for real in halls and clubs look forward not only to marking an odd number off, but also to catch up with friends. As you mark down number after number, you can have a laugh with your bingo site buddies – and no one feels bad if they lose out on a particular line or game.
What Exactly Are Bingo Chat Games?
Bingo chat games run in the chat rooms alongside online bingo games. These games give you chances to win a prize or two which you can use in the main game – a bingo bonus could be yours!
For example, you will normally have a full bingo game window open to the left of your screen, and a chat window to your right. A chat host will set up fun games for you to play while waiting for the next game to start.
It's during these chat games that participants will be able to win bonus funds before the next game starts. You might even be the first to win a number of free tickets for the game that's coming up.
Bingo chat games add a fantastic layer of fun to online dabbing action. The more opportunities you'll have to win, the more fun you'll have!
What Can You Win?
When playing bingo chat games alongside the main dabbing action, you could win big cash prizes just by being the first to type in the right answer to a trivia question.
You might, for example, also win free bingo tickets for the next game coming up. This means that you will have to dip into your own cash pot less.
In some cases, chat games are just for fun. There is often a little bit of time when you will need to wait for the next bingo balls to load up, meaning that while you set up your tickets, you can pass the time by being the first to show the world you're a true smarty pants.
Therefore, a chat game is a great way to pass the time with online friends. As some games can take up to 20 minutes to half an hour to load up, it stands to reason that you'd want to have some fun while waiting for things to get going. An enthusiastic chat host will not only keep track of who's winning what, but will also make sure everyone is kept safe.
What Are Some Types of Bingo Chat Games?
There are many different types of chat game played online:
You can play trivia chat games, where you will simply need to be the first to type out the correct answer to a question. For example, you might find some chat games offer trivia questions about TV, movies, music, sport, geography and more. It's like playing Trivial Pursuit but while you're waiting for bingo to start up!
There are also number games you can play. For example, a chat host might ask you all to name the first ball you think will be called in the first game after a break. The chatter with the closest number to the actual ball called might win a bingo bonus. There are some chat games which let you pick the last number called, too.
Karaoke is also a popular chat game where people can stand to win big. Rather than sing your heart out, however, you simply have to enter in the next lyric or line to a song that the host posts. For example, if a host posts 'Is this the real life?' (from Queen's 'Bohemian Rhapsody'), you would need to be the first to answer 'Is this just fantasy?' to win.
There are also group games that you can join in, too. In these games, you might find yourself put in groups based on the first letter of your username, for example. In these cases, you're all playing together to win a shared prize.
Chat games really can vary from site to site, meaning it's well worth keeping your eyes peeled for some interesting new twists. Why not take a look around the best bingo sites to see what chatters are playing to win?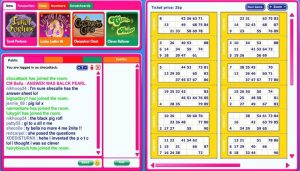 Can You Play a Chat Game Alongside Bingo?
Yes – in some cases! However, most chat games will take place during the loading period between bingo sessions.
This means that you will have the chance to win a prize or two while you buy a number of tickets for the game coming up. If you have an afternoon of bingo fun lining up, it makes sense to really throw yourself into a chat game or two at the same time. This way, you're maximising your potential winnings!
However, as stated, there are always going to be some games which offer you 'just for fun' prizes. However, you might find that you have a lot of fun just playing for glory!
Do I Have to Pay for Chat Games?
Not always. In most cases, chat games will be free, and played alongside the main event – providing you've bought a ticket for the current game, you'll likely be able to take part.
However, do always make sure to check whether or not you have to pay for any chat games that come up. The last thing you are going to want or need is to pay out more for the sake of it!
Rest assured, we will list sites with bingo rooms and games where you will be able to play chat competitions fairly and affordably alongside the classic dabbing thrills you're already so used to. Why should bingo fun have to start and end with your scorecard?
What Makes a Great Chat Game?
A great chat game is – naturally – one with a number of great prizes. However, you're also going to need to make sure you are playing with a fair and friendly host, and that you don't have to pay too much extra to join in the additional bit of fun on the sides.
As mentioned, it is pretty rare that any bingo site will expect you to pay in extra money for these games. However, that's not to say it's impossible. What's more, you will normally need to have bought at least one ticket in an upcoming game to take part. This is only reasonable – otherwise, you'll be putting zero money in to get cash back!
We think that the best chat games are those with plenty of variety. Over the years we've played games where we've had to fill in the blanks in famous phrases, guess the celebrity by their photo, and, of course, we've played our fair share of karaoke games.
Above all, these games exist to help make things even more fun. The time you often have to wait between games might normally lead you to go browsing the web elsewhere, or to even forget about your bingo game completely. Therefore, it's a really great way to keep you interested and engaged in the action.
Never played a bingo chat game before? You're missing out. Take a look across the best bingo sites online and check out a few chat rooms – you might find that you win big before you even start dabbing your tickets. You've got to be in it to win it!