Wild Antics Slot Machine is a 5 reel, ant-themed slot game with soldier and worker ants. Powered by blueprint gaming software with a return to player value of 95.5% and medium variance. Play this online casino to win bonus rounds and jackpots!
It's not every day you're able to have some fun with a couple of insects. It's even rarer to enjoy a game with them while earning a little coin as you do it. In this online video slot, players will get a chance to experience wild antics with the wild ants as they bring on wild wins, free spins, and even a jackpot bonus! Read this Wild Antics Slot Review to find out how you can have some fantastic fun with these tiny insects who pack whopping big wins.
Do you know how many sites offer Wild Antics in May 2022?  Let's take a look at our full review.
Best Wild Antics Slots Sites
From our research, we have created a list of the best Wild Antics slot sites:
About Wild Antics Slot Game
When you look at your garden, it's hard to imagine seeing any insects worth knowing. But, in this whimsical 5 reel, 20 pay-line video slot game by Blueprint Gaming, players will have a chance to get to know some cartoon bugs that all pack a winning punch. These characters all look like that of the famous Pixar movie "Bugs Life" except instead of presenting players with a nice movie about the lives of these critters, they give players a fun and enjoyable gaming experience.
Wild Antics is one of Blueprint's landmark titles.  While it may only have a few pay lines, it offers plenty of different bonus rounds and games that are worth holding out for.
The Wild Antics slots graphic design is fantastic.  It's cartoony and fun, which will appeal to casual players.  However, the sound effects and animations also put the game well ahead of many other titles in similar lines.  Blueprint's games always have a touch of quality to them that's easy to spot.
Enjoy Wild Antics and its green, critter-filled design across desktop and mobile devices.  You'll lose absolutely none of the charm moving to a smaller device.
The game morphs very well to smartphones and tablets.  Therefore, you will lose none of the graphics or functionality by moving to a smaller screen. It's quick, responsive, and always smooth to load.  Blueprint is a studio which produces top quality games for phones and tablets, meaning you likely won't have any trouble playing on the go.
If you aren't afraid of a few creepy crawlies, then play this online casino slot and see just how many winning combinations you can land!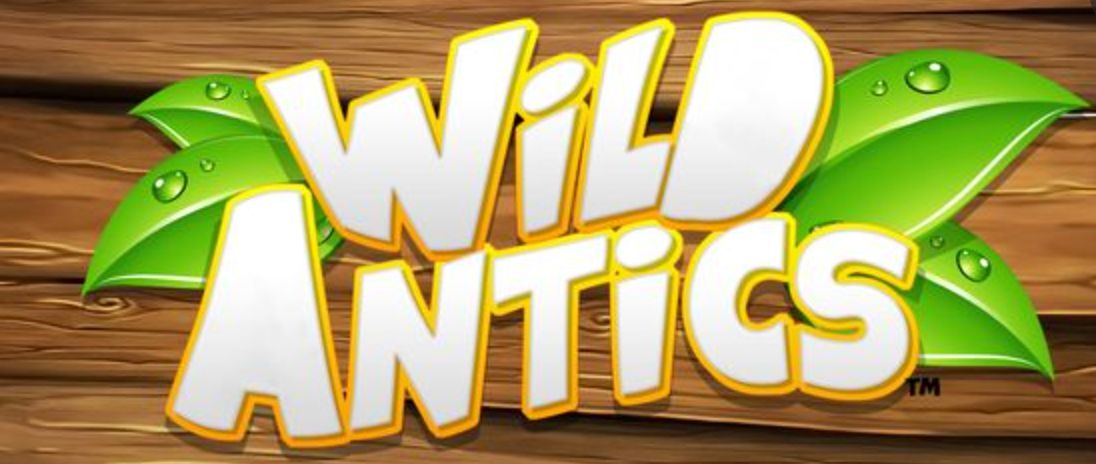 How to Play Wild Antics Slot Online
Playing Wild Antics slots is really simple.  As with most slot games, all you need to do is set up your bet and start spinning.  But what is there to play for?
First of all, set your bet or stake. Then, choose how many paylines you want to play on.  The more you choose, the bigger the prizes you could get.  However, it will, obviously, increase your opening stake.
Then, spin the reels. You can either do this yourself, or you can set the game to spin reels on your behalf.  To do this, set a number of spins to autoplay.
Then, you need to start looking for symbols. As with most slot games, the low-paying symbols as 10, J, Q, K and A.  These are known across the gaming industry as royal symbols.
However, there are higher-paying symbols you will want to line up more of. These include ladybirds, blue ants, snails and Wild Antics logos.  The logos will give you the most money on a line.
There are also wild symbols. These appear in the form of an ant in a sunflower.
You should also look out for bonus symbols. Line up enough of these, and you can unlock any one of four different games! We'll take a look at these shortly.
Interactive Features
Wilds. The wild icon in this game is the ant and sunflower combination. This kind of icon can stand in for any other symbol in the game except for the game's bonus symbols.
Other than this feature, you can also trigger random variables.  These are called Jet Pack Antics.  These include:
Wild Antics, which change random positions on reels to go wild.
Frantic Antics, which switch your symbols into those which win.
Aardvark Antics, which switches reels to random and throws in another 40 paylines.
Colossal Antics, which throws in colossal wilds for big wins.
These events can occur at any time, meaning it is worth playing a few spins to see what happens!
What Symbol Triggers Wild Antics Slot Bonus Free Spins?
At last, it's time to look at Wild Antics' interactive features.  There are four to look for in any spin.  You need to line up two aardvarks on the first and third reels, along with one of four different ants to trigger a specific game which all include free spins.  These include:
Soldier ants, who will give you roaming and multiplying wilds.
Worker ants, who will give you roaming wilds.
Colonel ants, who will give you roaming, expanding wilds.
The Queen ant, who will grant you roaming wilds as well as a big 3×3 wild that randomly appears.
Paylines and Stakes
Do make sure to take note of a game's paylines and stakes before you pay any money in.  You get 20 paylines at Wild Antics, though these can expand triple if you get the Aardvark Antics feature.
You can play from as little as 20p, and as much as £500 a go.  This is a very broad range!  Therefore, it's a game that's likely to appeal to casual gamers as well as those who are in it to win big. You can, of course, always reduce the paylines you want to play on.  This will help to reduce the entry cost at the very least.  However, it will also lower the prize values as you go along.
Landing the other insects and the colourful cartoon card icons (A, K,Q, J, and 10) can give players a minimum of 4 and a maximum of 500.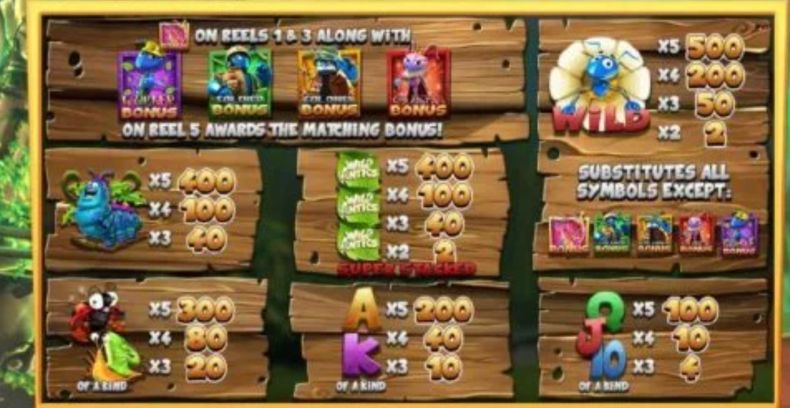 Slot Info
| Wild Antics Slot Machine | Attributes |
| --- | --- |
| Game: | Wild Antics Slot Machine |
| Paylines: | |
| Reels: | |
| Software: | |
| Minimum Bet: | £0.20 |
| Max Bet: | £500 |
| Variance: | |
| RTP: | 95.5% |
| Free Spins:  | Yes |
| Bonus Features: | The Queen ant, Free spins & Frantic Antics |
| Max Win: | 400 |
| Real Money Wins | Yes |
| Release Date: | 2015 |
Wild Antics Slot Game Software
The Wild Antics slot game was made possible by Blueprint Gaming.
This particular slots software is never likely to crash or slow down.  That's because Blueprint builds solid, reliable games. We tested Wild Antics thoroughly and have no crashes or lags to report.  We're confident you'll enjoy this title providing you have a steady internet connection and a compatible device.  If you do, then you have everything to play for.
What is Wild Antics Slots RTP?
Wild Antics' RTP is 95.5%, which makes it very generous. 
Anything higher than 94% is likely to pay well over time. This game has a pretty great payout percentage and that means that players can gain about £95 for every £100 that's placed as a bet.
Slot Volatility
This fantastic slot has a high volatility rating.
That kind of variance level means that players can expect to win the payouts from the game in a semi-frequent to rare manner. This isn't anything to be afraid of though as the amounts to win are pretty generous, so, even if they don't land as frequently, over time, the total winning amounts will end up pretty great.
Summary
Players of all skill level and age are welcome to try out this fun and whimsical game. It doesn't only offer you a great gaming experience along with generous payouts, but it offers you a chance to enjoy slot gaming for hours on end. Now, players with more experience may find this more enjoyable than those who are pretty new to the game as it could be quite difficult to land a winning combination. It isn't impossible, but it does take time so patience and skill are key.
Blueprint Gaming Ltd Games
Here is a list of the most popular Blueprint Gaming games online players love to play in May 2022:
This is a shortlist of the most popular games available from Blueprint Gaming Ltd and does not mean the best in the online gamers reviews.