For fans of mobile games, Bejeweled 2 might be a familiar brand. Do you know how much you could win?
Bejeweled 2 Slots is a 5-reel slot game with 20 paylines and 3 rows. This jewel-themed slot game by Blueprint Gaming offers players a chance to win the jackpot of £250,000 at a 95% return to player rate, with a wild symbol, a Wheel of Riches, a Bonus Game, and a Free Spins Round.
This game differs slightly from the one that you're used to seeing- this video slot has five reels and 20 paylines.
Land symbols and unlock bonus features, wild symbols, free spins and more, on this vibrant slot game.
In this this October 2023 Bejeweled 2 Slot Review we will take a close look at what you can expect from the game.
Head over to the link for the blueprint gaming sites that we suggest to new and returning players.
Best Bejeweled 2 Sites
From our research, we have created a list of the best Bejeweled 2 sites:
Play Bejeweled 2 Slots Online
It's a game that has been available to play on phones, tablets and consoles for many years. 
However, it's also a popular slot game from Cryptologic.  Unlike other takes on Bejeweled, Bejeweled 2 is a traditional slot game with five reels. 
Want to play Bejeweled 2 slots online?  There are plenty of ways you can look for the game.
As a popular title, you may actually find it at a casino you already play at.  Otherwise, it is worth running a quick Google search to see where you can play the game for free and for real money.
However, the best way to find where to play Bejeweled 2 online is to look through our guides and catalogues!  We make sure to list all the best sites currently running Bejeweled 2 right now. You might even find a great welcome bonus to play the game with!
About Bejeweled 2 Slots
Bejeweled 2 slots is a videogame adaptation from Cryptologic.  It is a popular brand with many people as it has been a leading mobile game for many years.  Therefore, mobile casino players are likely to gravitate towards the title, should they find it at their favourite casino.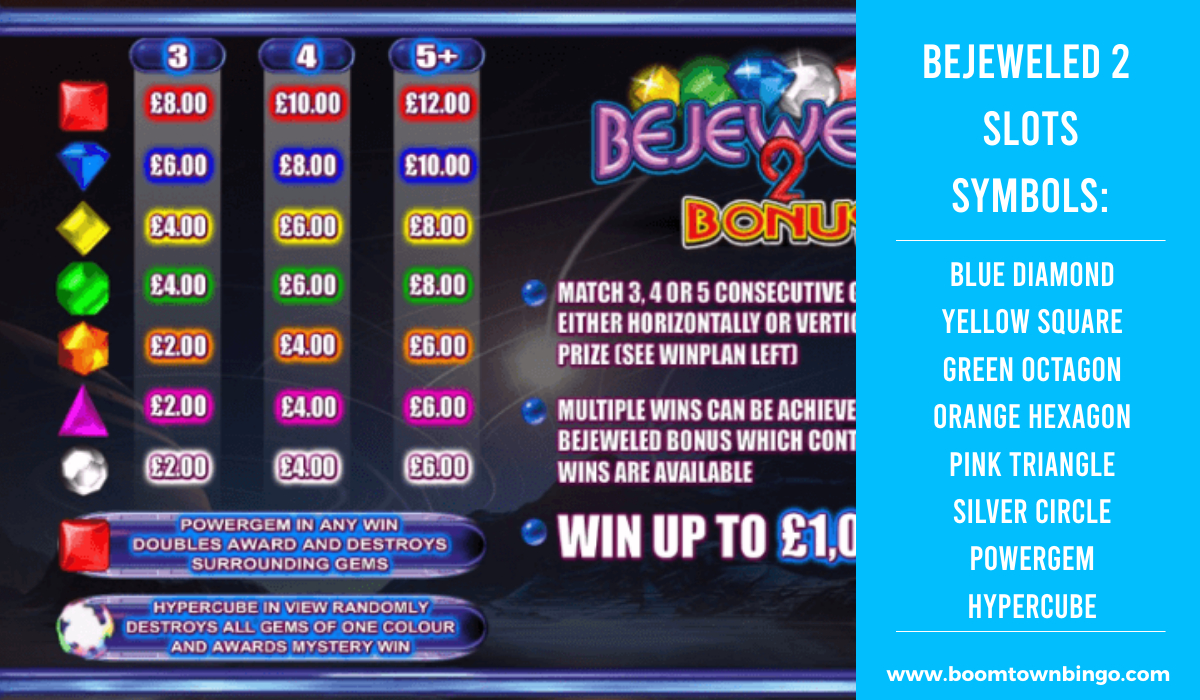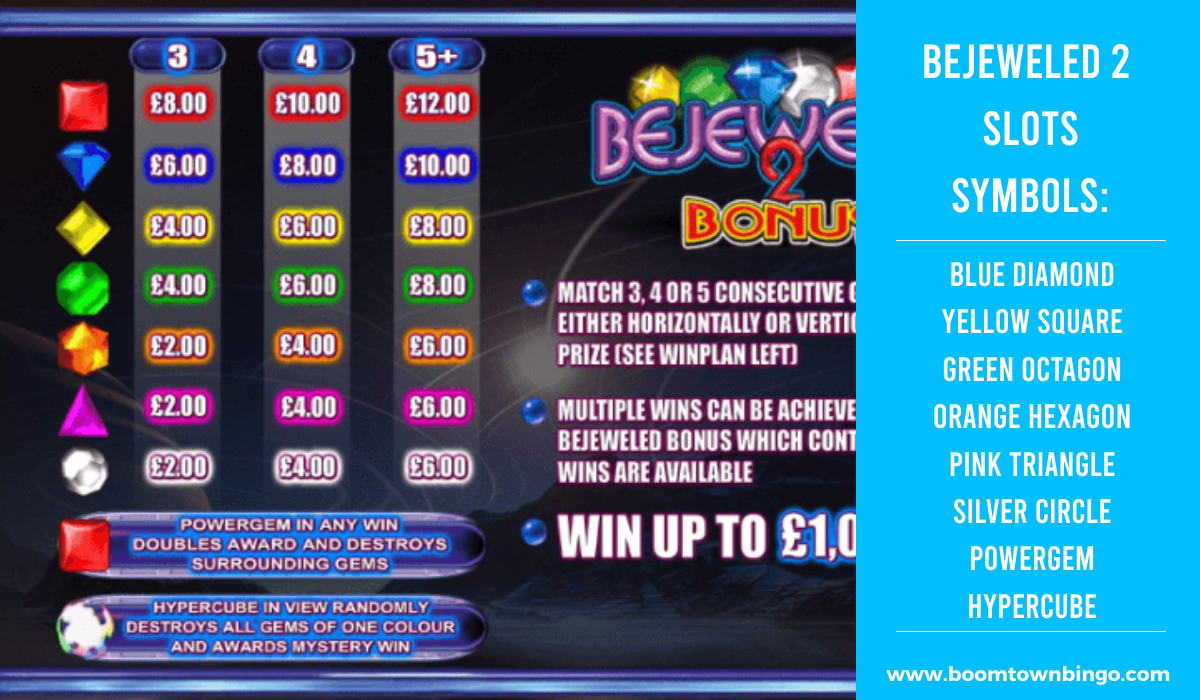 Cryptologic is a leading name in slots design, and Bejeweled 2 is one of many titles they are very popular for.  It's a game that appears simple but has lots of potentials.
Slot Info
| Bejeweled 2 Slots | Attributes |
| --- | --- |
| Casino Game: | Bejeweled 2 Slot Game |
| Paylines: | |
| Reels: | |
| Software: | |
| Minimum Bet: | £0.01 |
| Max Bet: | £25 |
| Variance: | |
| RTP: | 95% |
| Slot Theme:  | Jewellery |
| Bonus Features: | Wild Symbol, Wheel of Riches, Bonus Game, Free Spins |
| Max Win: | £250,000 |
| Free Spins: | Yes |
| Release Date: | 1st of April 2011 |
How to Play Bejeweled 2 Slots
Learning how to play Bejeweled 2 slots shouldn't take much time.  As a classic five-reel slot game, many of the rules here will apply to other games you may play elsewhere.
    First, set your bet amount and choose how many winlines you would like to play on.
    This will increase or decrease the amount you play per spin.  It can also increase and decrease the amount you could win.
    There are a handful of royal symbols you can spin, such as 10s, Js, Qs, Ks and As.  These symbols pay less than the picture symbols.
    Picture symbols include red, blue, green and yellow gems, each worth specific rewards.
    You can also spin a wild symbol into view, which will replace any other symbol on the board and help to create winlines.
    There are also three scatter symbols – for free spins, for a bonus game, and for the Wheel of Riches.
There are a few bonus games to unlock in Bejeweled 2.  Keep reading, and we will let you know what they are!
Interactive Features
It's time to look at Bejeweled 2's interactive features.  As mentioned, there are a few scatters and bonus games you can unlock during play.
Free Spins – This bonus game does what it says, it offers you free plays up to a specific number.  You'll need to line up at least three free spins scatters to unlock the game. Line up five of these scatters and you get 50 free spins.  However, the basic amount is 15.  You can set a multiplier for the game before you start, and there's a chance to retrigger.
Wheel of Riches – Line up three or more Wheel of Riches scatters, and you'll unlock the eponymous wheel.  This is a brief game where you can take away a big win off a multiplier.
Bonus Game –The main bonus game is unlocked when you line up three or more bonus game symbols.  This will take you to a game board that's like the original Bejeweled 2 game. However, you will simply need to wait and see gem combinations fall into place.  When they do, they will add money to your total. The game continues until all possible gem combinations complete.  Some gems will multiply your win, while others will award mystery prizes, and even wipe out gems of a specific colour.
Bejeweled 2 Slot Free Spins
This video slot is full of excitement and that's thanks to carefully cultivated gameplay and variety of bonus features.
Enjoy the different bonus game options, with Wheel of Riches Bonus, Free Spins and the Bejeweled 2 Bonus.
The free spins allow you the chance to unlock up to 50 free spins. If you land three scatter symbols you will get 15 free spins.
Paylines and Stakes
The paylines and stakes for Bejeweled 2 are very reasonable, meaning that they game should appeal to casual players.  However, you can stake anywhere between 1p and £200 per spin!  This means it could appeal to high stakes spinners too.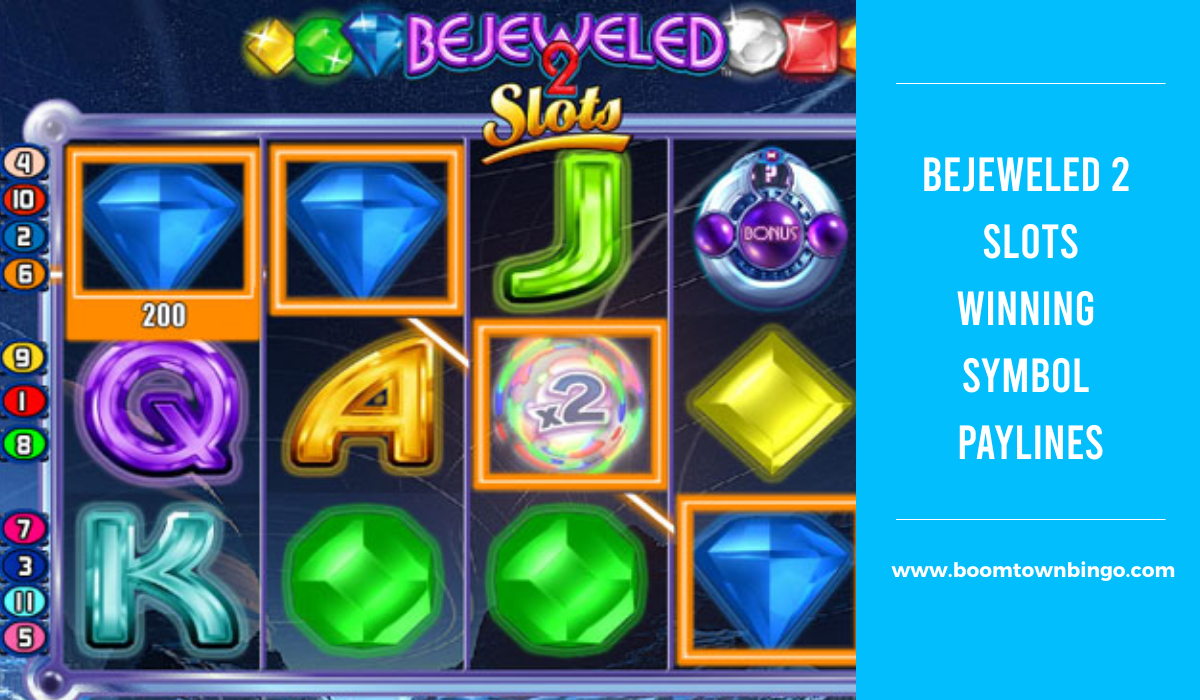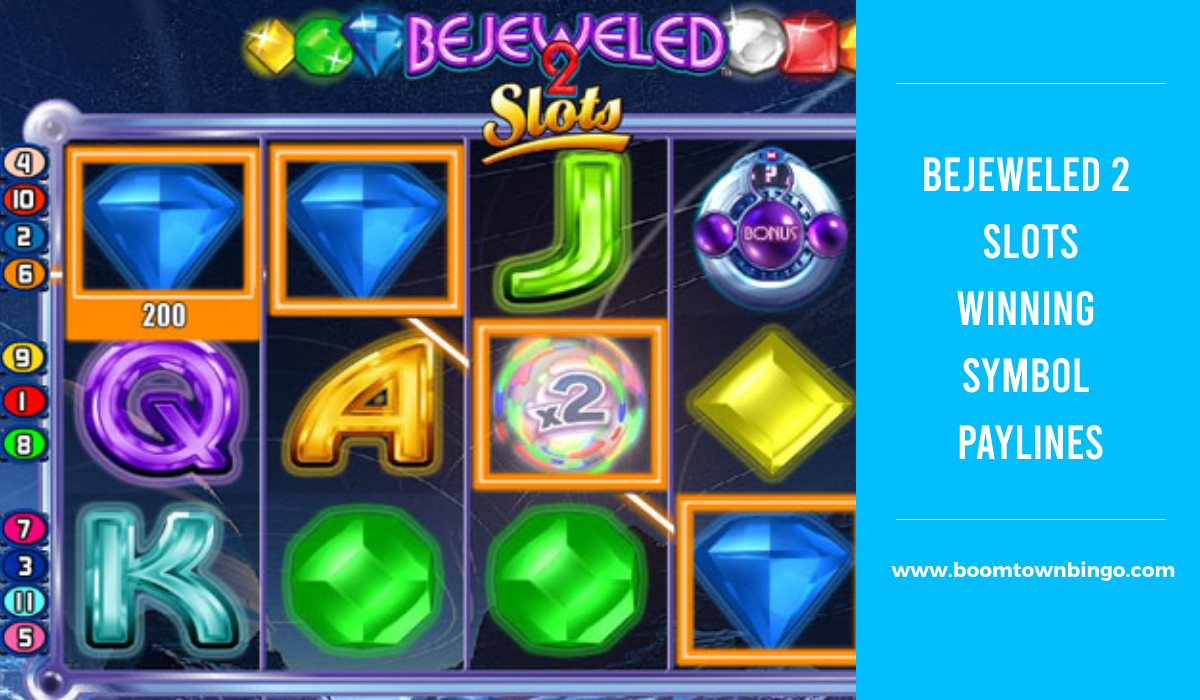 There are 20 paylines or winlines, which tends to be the standard for five-reel games. As mentioned, the more winlines you set, the more you pay per spin.  However, this means you could stand to win more, too.
Bejeweled 2 Slots on Mobile Phone
It makes sense that you should be able to play Bejeweled 2 slots on mobile phone devices. Given that the game is an iconic mobile title, it's fitting that you can play the slot game easily on the go, too.
Bejeweled 2 is a game which morphs perfectly to all devices.  Therefore, if you would like to try it on the move, or on a smaller screen, you should have no problems getting started.
Simply make sure you head to a casino's mobile site or download a casino app which lets you play the game on a smartphone.  Most major casinos will have apps you can download.
However, if you play at a smaller site, it is likely they will have a mobile version of their games catalogue you can try.
Bejeweled 2 Slots Software
Bejeweled 2 Slots are powered by the famous Blueprint Gaming.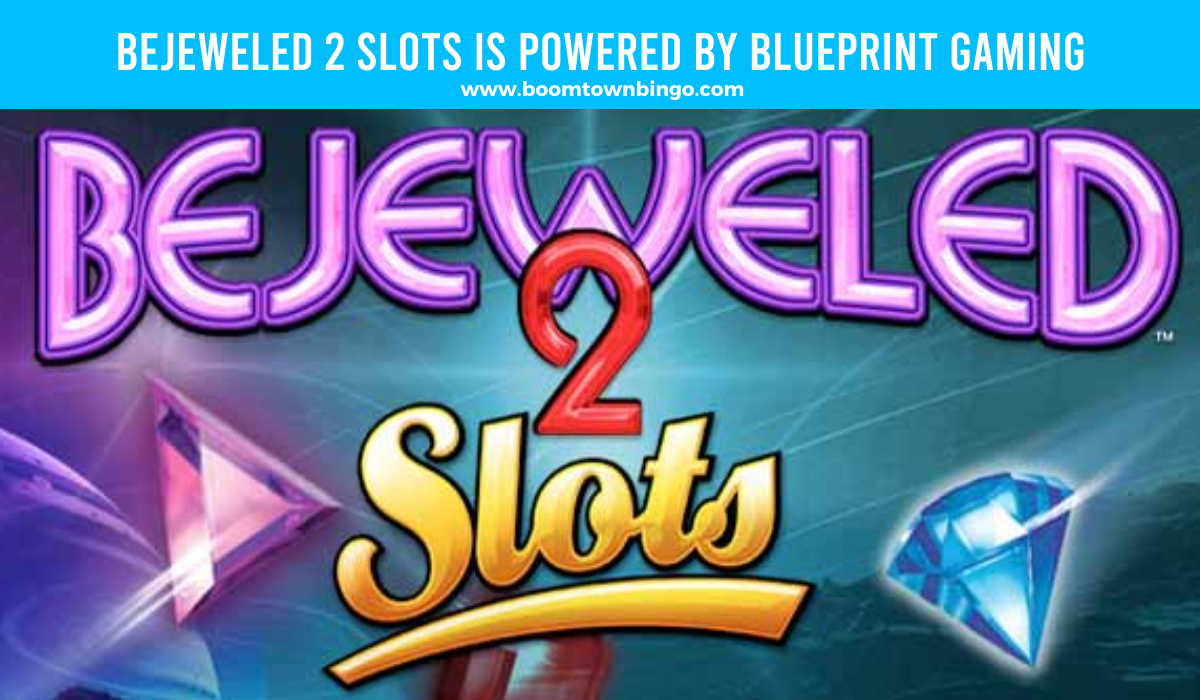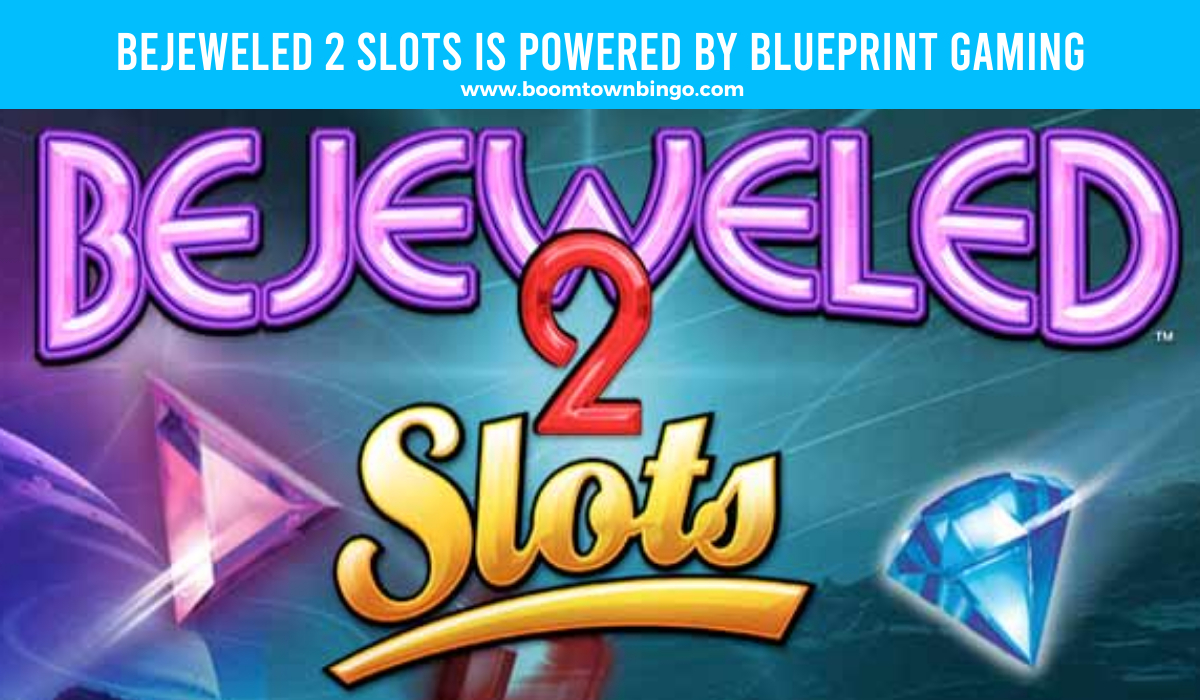 We experienced no problems with the Bejeweled 2 slots software during our tests. There were no slowdowns or crashes to report.
This is great news for anyone who wants to try the game on a mobile device.
Bejeweled 2 Slots Graphics Design
Bejeweled 2 slots graphic design is very simple, yet faithful to the original game. Therefore, anyone who has played the mobile game will recognise the features in the bonus games as well as the main gems you can spin into play.
It's clear that there has been a lot of effort put into creating a faithful take on Bejeweled 2 for slots, and it shows.
The game's simple design is nice and bright, and it is always easy to see what's happening.
Bejeweled 2 Slots RTP Review
In our Bejeweled 2 slots RTP review, we found that the game has an RTP of 95%, which is mid-range.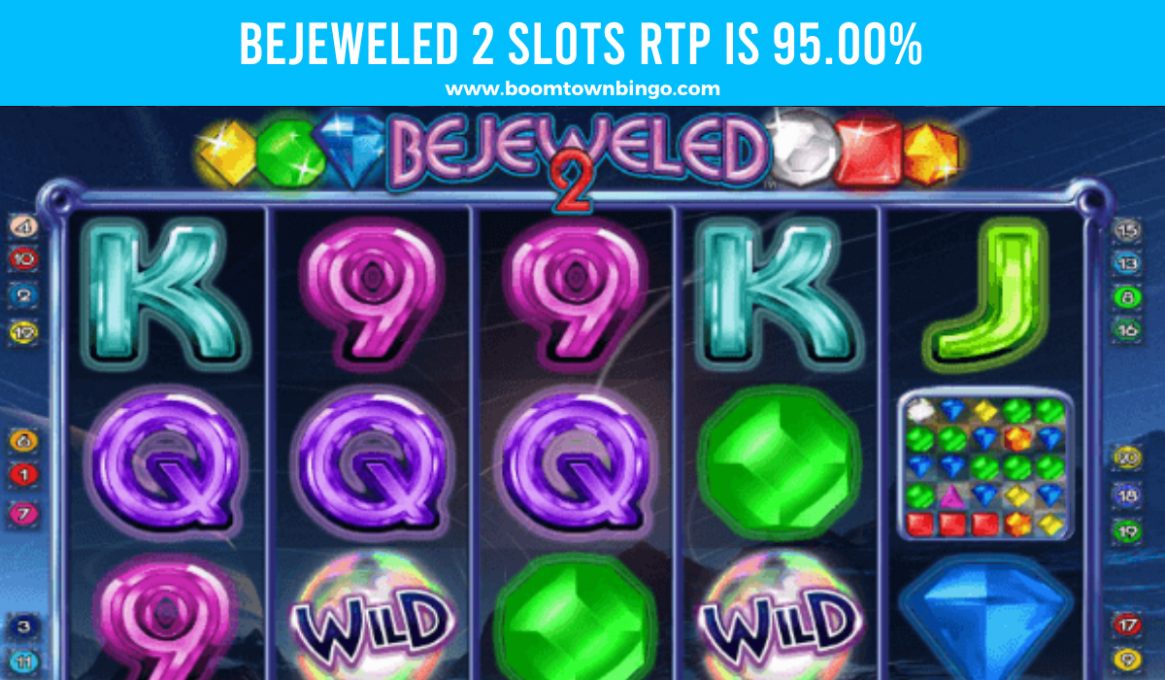 Any games paying out 95% are generally fairly generous!  Therefore, the game is well worth looking into.
As always, it's worth considering the game's RTP, or Return to Player.  This tells you how much you can expect the game to pay out during its life.
Summary
Bejeweled 2 Slots, powered by Microgaming, is a dazzling addition to the world of video slots and slot machines.
This gem-themed game not only offers stunning visuals but also promises an exciting gaming experience with the potential for big wins.
As you spin the reels, keep an eye out for multipliers and bonus rounds that can significantly boost your winnings.
The paytable provides valuable insights into potential payouts, making your gameplay strategy even more engaging.
Plus, Bejeweled 2 Slots doesn't disappoint when it comes to bonuses, offering enticing deposit bonuses to enhance your chances of hitting it big.
Step into a world of sparkling jewels and thrilling spins with Bejeweled 2 Slots, where every spin holds the promise of uncovering precious treasures and unlocking exciting rewards.
Blueprint Gaming Ltd Games
Here is a list of the most popular Blueprint Gaming games online players love to play in October 2023:
This is a shortlist of the most popular games available from Blueprint Gaming Ltd and does not mean the best in the online gamers reviews.