Are you hoping to land some huge wins and regular payouts on slots? Then you'll need to learn more about the Return to Player (RTP) percentage and how to find the slots with the highest RTP, luckily for you we have made it easy.
Use our list below to find all of the Best RTP Slots around. We talk you through the different slot games and why the online slots payout percentage is integral to the gameplay. The Highest RTP Slots offer regular wins and more chances of winning.
Best RTP Slots are slot games with a favourable payout percentage, the payout is calculated by the Return to Player Statistic. We have found the sites with the biggest RTP percentage, this means that in theory, the particular slots that we pick out are more likely to offer frequent returns. 
Increase your chances of landing real money wins using our full guide in May 2022, here's our guide and list of the highest payout slots.
Our List of the Best Payout Slots
Our team of experts have unravelled the highest RTP slots online, some that reach a payout percentage of up to 99%.
Play high RTP slots using our reviews below :
Mega Joker Online Slot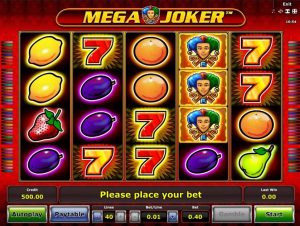 Mega Joker is a classic fruit machine, emulating the popular pub-style games, but it comes with regular payouts and an astonishing RTP percentage.
With an RTP of 99%, you will struggle to find a better payout percentage on any other slot machine, as this percentage makes it one of the highest RTP slots around. This is one of the high RTP Slots, and for that reason, it's a fan-favourite.
To add to the game, it is a high volatility slot, allowing big wins as well as regular returns too.
The game is simple and has 5 reels, find symbols such as fruits, the joker and 7s. Mega Joker Slot is colourful and comes with lots of pleasant surprises along the way.
This game is not only known for its top return to player percentage but it also comes with a progressive jackpot, which is a rarity.
Slot RTP: 99%
Free Spins Bonus: No
Jackpot 6000 Online Slot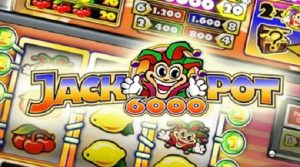 The clue is in the name, as you play for the biggest progressive jackpot. Jackpot 6000 is another fixture in the slot industry, and although it's simple in appearance, the 3 reel game comes with some 3 rows and exciting prospects.
Play Jackpot 6000 and enjoy the massive return to player amount on this particular slot. The percentage is through the roof and for that reason, a number of avid slot players take kindly to the gameplay.
The slot machine has just 3 reels, 5 paylines and two bonus game options. Although it's absent of free spins, you can make the most of the immense jackpot potential, the Supermeter Feature and a Gamble Feature on this game.
No prizes for guessing the jackpot – if you land the jackpot then you will get 6,000 coins. Use our full and in-depth review on Jackpot 6000 Slot Machine.
Slot RTP: 98.9%
Free Spins Bonus: No
Retro Reels Online Slot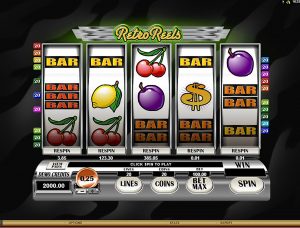 Retro Reels Slot is true to its name, displaying 'old-school' reels and a familiar slot design that mimics that of casino games and online slot favourites. Find our full test and review of Retro Reels Slot, for more analysis on the game and likelihood of winning.
As you guessed, the game is here for a reason, and that is down to the generous return to player. The payout percentage of this game provides you with a good chance of winning and is one of Microgaming's best RTP slot machines with its huge £50,000 jackpot. Please find more of the generous Microgaming Jackpots using our complete breakdown.
It comes with 5 reels and 20 paylines, which modernises the classic theme. It is simple to play, and you will be privy to fruit symbols and lots of dollar signs. This game is the epitome of a traditional online casino game with its design and buttons that surround the reels.
Slot RTP: 96.2%
Free Spins: Yes
Ooh Aah Dracula Online Slot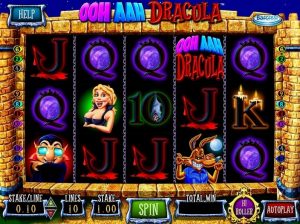 Ooh Aah Dracula, we said Ooh Ahh… Okay, we may be getting a little excited about this game and its melodic title, but there's more to this slot than the mere name.
You can enjoy the high return to player percentage as well as the different bonus games. The bonuses include a click me bonus, extra wilds and free spins. There's plenty to sink your teeth into, with this game provided regular returns and the chance to win big in the process.
Ooh Ahh Dracula Slot has a range of bonuses for every player and also boasts regular wins. Combine that with the medium variance that it possesses, and you're in for a winner!
Slot RTP: 96%
Free Spins: Yes
Blood Suckers Online Slot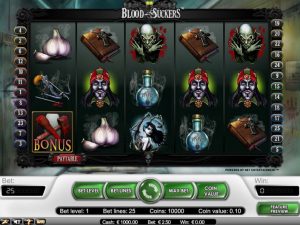 Blood Suckers is a famous slot title, and one of the reasons for that has to be down to the amazing Return to Player percentage.
This Blood Suckers video slot is a fan-favourite for many slot players but not so much for online casinos. Why's that? Well, it pays out a hell of a lot, and for that reason, most online casinos try to up the wagering requirement of any bonus.
However, if you wager and stake your own cash on this slot game, then there's nothing stopping you from getting your hands on some interesting returns. If you get bonus funds for this game, then be sure to look at the wagering requirements attached.
Check out our full Bloodsuckers Slot Review as we dissect the entire gameplay, bonuses and more on the return to player.
Comes complete with free spins round and the opportunity win 1000x your stake per free spin. What's more, the game combines a high payout percentage with low volatility, meaning that you can expect frequent wins throughout.
Find slots with highest RTP, using this guide, as you can see this particular game has an astonishing payout percentage, and when combined with low variance, you can guarantee that you're in for some great prizes on Blood Suckers Online Slot. The 98% RTP of this slot makes it well worth playing and when you add the features to the picture, it becomes even more desirable.
The 98% RTP makes it one of the best high RTP Slots on this list.
Slot RTP: 98%
Free Spins: Yes
1429 Uncharted Seas by Thunderkick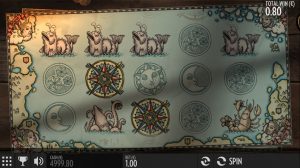 Enter uncharted waters as you fish for the high RTP (return to player) of this exciting slot game.
All aboard the boat as we enjoy a history lesson by 1429 Uncharted Seas Slot. The game comes packed with an adventure, on what could easily be overlooked.
This conventional video slot displays five reels, three rows and 25 paylines. Also, get 50 free spins in one go, what's more, you can also re-trigger this bonus game, making it 100 bonus spins. Getting a magnificent 50 free spins is quite the offering when you consider the generosity of this game already, enjoy the free spins feature and other bonuses.
Check out our 1429 Uncharted Seas Slot Review as we breakdown the entire game and why many players are flocking to this high-paying video slot.
The RTP is 98.6%, why is this game not getting more publicity? Probably because the online casinos and slot sites don't want you grabbing the big wins from this slot machine.
This game has a low variance, allowing you regular wins on this game. It beats 98% RTP with the 98.6% percentage the game boasts.
Slot RTP: 98.6%
Free Spins: Yes
Rainbow Riches Pick n Mix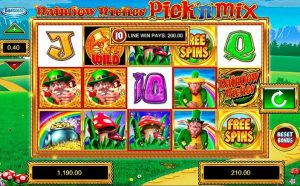 Rainbow Riches is one of the most sought-after online slots across the globe and it's also one of the highest winning slot games.
Unbeknown to many, there are different versions of the game that includes the original, Megaways and Pick n Mix. This version has a high return to player thanks to the Big Bet Feature.
The RTP of this Rainbow Riches is 98.6%, an incredible number that allows you to embrace the regular payouts.
This game has a pick and wins feature, free spins and vibrant graphics. Read our Rainbow Riches Pick n Mix Review for everything that you need to know about the game and its payout percentage. Rainbow Riches is a popular title that is loved for numerous reasons, including the bonuses, regular wins and the base game itself. Another game with a better than 98% RTP, again showcasing 98.6%.
Slot RTP: 98.6%
Free Spins: Yes
White Rabbit Online Slot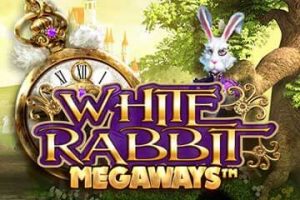 This online slot isn't as fluffy and innocent as you'd expect, the online casino favourite comes with a high variance and a huge RTP.
White Rabbit Online Slot comes with 5 reels and Megaways Reels; this means 248,832 ways to win.
White Rabbit Slot is an enjoyable game with an RTP of 97 percentage and more. The high variance slot gives you the chance to enjoy the best RTP Slots whilst also being able to embrace huge returns.
It is rare that the slots with the highest RTP also come with high variance. Also enjoy the free spins round, as you look for the scatter symbols and other bonus features. This game will allow you up to 15 bonus spins with the chance to get your hands on an additional 12.
With an RTP of 97 percent and more, you can be sure that you will have a lot of fun on this high variance slot game.
Slots RTP: 97.72%
Free Spins: Yes
Ugga Bugga Online Slot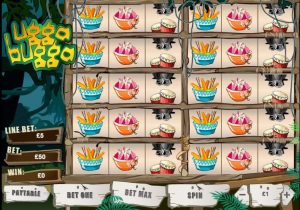 Ugga Bugga is a unique jungle-themed slot game. Offering an incredibly high RTP of 99.07%, Ugga Bugga is a popular slot.
Not only does it showcase regular wins but it also comes with free spins, the chance to hold reels and plenty of slot sites that offer bonus funds.
During the free spins feature, you can get extra spins and win back the free spins round by simply retriggering the bonus.
Ugga Bugga is an online slot with a lot to offer, including a max win of 250,000 coins.
Slots RTP: 99.07%
Free Spins: Yes
Book of Dead Online Slot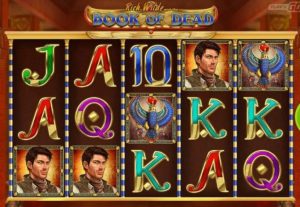 Book of Dead is a famous slot machine that follows a storyline. The Play n' Go Slot comes with lots of max bonus features and games. What's more, this slot game is a high variance slot that gives you the opportunity to win humongous awards.
The Book of Dead game is based around a character called Rich Wilde, and as you follow his journey, you soon become immersed in the story. It helps that they have also provided lots of features during this high RTP slot, it has a gamble feature, free spins and expanding wilds.
Book of Dead is one of our top slots, thanks to its variation of slot features, win spins and the story behind it.
Read the full Book of Dead Slot Review to find out more about this exciting video slot.
Slots RTP: 96.21%
Free Spins: Yes
Fluffy Favourites Online Slot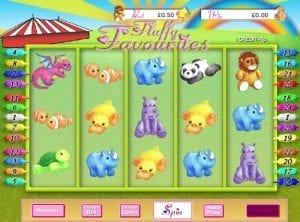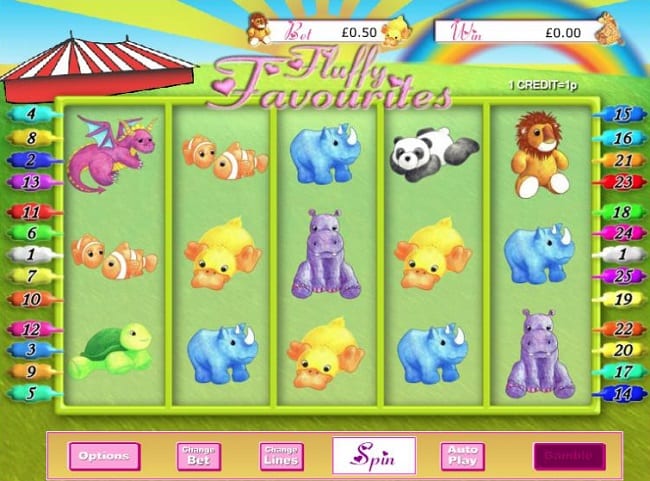 Fluffy Favourites isn't the highest paying out of the online slot list, but when you combine the popularity, special features and RTP, you're onto a winner.
The percentage exceeds that of the average and the game also comes with some interesting slot features. Be sure to spin your way to the bonus round. This game is one of the most popular around, and much of that is down to the storyline, look out for the pink elephant.
Check out our Fluffy Favourites Slot Review, and if it's a match for you, the cuddly gameplay is complemented by the generous RTP.
Additionally, you will be privy to different bonus features with a pick feature, free spins and a wild symbol.
Slots RTP: 95.38%
Free Spins: Yes
Gonzos Quest Online Slot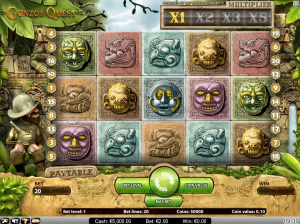 Guess who's calling? That's right, Gonzo, and he's got a quest for you.
Gonzo's Quest is another well-known online slot game that's received countless accolades. This is a solid game because not only does it display tumbling reels, free spins and wilds but you have a great RTP.
The RTP is at 96%, as previously discussed anything over 95% is a good return. If you want to learn more about Gonzo's Quest, then read more about the NetEnt Slot using our full review.
Find the full Gonzo's Quest Slot Review and find out why many love the tumbling reels and unusual bonus rounds.
Slot RTP: 96%
Free Spins: Yes
Starburst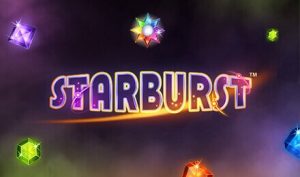 Okay, you get the idea, we have listed all of the popular online slots. But again, this one has a huge cult following and most online casinos love to offer bonus funds or free spin promos on Starburst.
It's great to see a classic of this kind provide such a generous return. This game is simple to play and doesn't make anything too complicated.
It comes with a bonus spins but only as little as 3 of them at a time.
Take a look at our Starburst Review and find out why many slot players are big fans of this famous game.
Slot RTP: 96.1%
Free Spins: Yes
Thunderstruck II Online Slot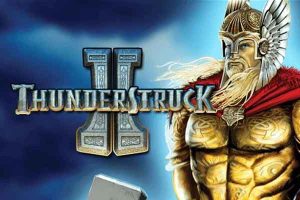 Thunderstruck 2 is an exciting online slot that has sparked a number of experienced and new players into action.
If you like what you see, then you will be glad to know that this five-reel game also comes with bonus features and sharp graphics.
There's enough to keep you occupied here, and when you check out the percentage below, you will be even more intrigued.
There were lots of rumours regarding the first version of this game and the RTP, but we believe Thunderstruck II to have the better RTP.
Check out our Thunderstruck Review; we break down the entire game from the base game to the bonus features.
Slot RTP: 96.65%
Free Spins: Yes
Immortal Romance Online Slot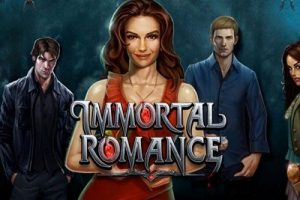 If you're a stickler for a video slot storyline, then you'll love this game.
Immortal Romance Slots comes with some interesting graphics, bonus features and five reels.
The game has free spins, a bonus and an astounding 243 ways to win, which adds more probability to getting some crazy wins. Enjoy all three bonus features of this slot game, with plenty to keep you captivated.
Immortal Romance is a fantastic game that has a number of intriguing facets from bonuses to big win opportunities. The game has high volatility which allows for some big wins.
This Microgaming Slot isn't alone in creating a high-paying game; you can find several other Microgaming Slots with high RTP using our list and full guide.
Slot RTP: 96.86%
Free Spins: Yes
What is RTP?
RTP stands for Return to Player, and it is offered as a percentage, the amount indicates the likelihood of earning a payout over a number of spins.
Ultimately it lets you know how much you can expect to win from a given online slot game over its lifetime and provides you with details on your chances of winning. In many ways, the inverse of a house edge that you would find at a casino.
The return to player theoretically gives you an indicator of what you can expect back from a slot over a period of spins. For instance, if it is a 95% RTP then you would expect £95 returns over 100 x £1 spins. This is not guaranteed but it is applied to an infinite number of spins to give you a fair idea of your likelihood of regular wins.
The casino or slot site needs to have a form of edge to remain profitable, and this is expected. A 95% return to player percentage is deemed reasonable and anything above is often considered generous.
What is the Average Payout on an Online Slot?
The average payout percentage is 95% and anything above that amount is generous. Slot machines are programmed to pay between 0% and 99% RTP.
We believe that anything above the average RTP is fantastic and that's why we were licking our lips at the prospect of the best RTP slots on this page. Each and every one of the slots here, surpass the average RTP that is expected.
A theoretical RTP of 95% is generous in our book, and anything that exceeds that amount is going above and beyond.
Why Looking for RTP in Slots is Important?
Return to Player percentages are imperative to a slot's gameplay, they are a gauge for how likely slots are to pay. Finding the return to player can impact a slot player's choice on what game to enjoy.
With the above in mind, you'll want to ensure that you consider RTP when choosing your favourite video slot. In layman's terms, the Return to Player provides an insight on how likely a slot game is to pay out per spin.
It's integral to any slot game and is officially vetted by overseers in the UK. The UK Gambling Commission check that all percentages are correct. This gives you an excellent formula for deciding on the high RTP slots.
Play slots that have a good Return to Player and look out for other features such as a bonus game, free spins or jackpots.
What RTP Should I Look For?
Our team have sifted through thousands of slot games in our time, and we believe 95% to be the average RTP. Anything that matches this or exceeds it is a good slot to go for.
Remember, when it comes to a percentage of this nature, anything over the average is huge. If you can find RTP slots of over 95%, capture them with both hands. We've been fortunate enough to pick out numerous slot machines that showcase a Return to Player of 96% plus, with some making it north of 98%.
Even one percent over the average is a huge difference, meaning that you can expect regular payouts for the most part.
What Are the Best Paying Online Slots?
Here are the best slot games for winnings, we highlight the best paying slots and the return to player percentage:
| Best Payout Slot Game | RTP Percentage |
| --- | --- |
| Ugga Bugga | 99.07% RTP |
| Jackpot 6000 | 98.9% RTP |
| 1429 Uncharted Seas | 98.60% RTP |
| Fluffy Favourites | 97.72% RTP |
| Mega Joker | 96.97% RTP |
| Thunderstruck II | 96.65% RTP |
| Book of Dead | 96.21% RTP |
| Starburst | 96.1% RTP |
| Gonzo's Quest | 96% RTP |
| BloodSuckers | 98% RTP |
| Rainbow Riches | 98.86% RTP |
Kings of Chicago also deserves an honourable mention. The Kings of Chicago Online Slot has a theoretical RTP of 97.8%.
Best paying slot games are synonymous with the highest RTPs, and that's why we believe this page to be the best indicator of the best-paying slots. If you have a high payout percentage, then the game is more likely to payout and is, therefore, the highest RTP Slots.
Enjoy the best payout online slots using our guide above, playing these types of games provides more opportunities to land wins.
Top RTP Slots with a Progressive Jackpot
It's rare that you find top RTP slots that also come with a progressive jackpot. Mega Joker Online Slot is a standout online slot with a jackpot and a high RTP.
Another surprise about Mega Joker Slot is that it's a high variance slot, allowing huge wins. Generally, progressive slots are less likely to have a high return to player percentage because the number has to take the jackpot play into consideration too, this naturally brings the number down.
We have found the best progressive jackpot slots with a high RTP:
House Edge v RTP
House Edge is the opposite value to the RTP but it, therefore, shows you the same information.
Don't be confused by all of the numbers; the house edge is the opposite figure to the RTP. For example, if you had a 98% RTP, then the house edge for that game would show you the 2%.
Instead of focussing on the returns, it highlights the risk of a game: the lower the house edge, the better and the bigger the RTP, the greater.
Both values show you more than a simple per spin probability.
Slot RTP FAQs
Is an RTP of 97% a High Return?
Yes, an RTP of 97% is a huge best online slots payout percentage and it exceeds the return to player that we believe to be the average. Anything above 95% is generous and if you get lucky enough to enjoy a 97% RTP then take it with both hands.
We have listed all of the highest RTP slots with some reaching heights of 99% which is almost unfathomable for most in the slot world.
Playing high RTP slots will increase your chances of landing wins throughout your spins.
How to Find the RTP of a Slot Game?
Each slot RTP is available to be seen on our site, check out all slot game reviews for the RTP and variance. Alternatively, find the Return to Player in the slot's information, check the info or settings. The UK Gambling Commission has clearly stated that all slots must clearly show their RTP. 
Where to Play the Best RTP Slots? 
When you want a variety of the highest paying slots, check out an esteemed casino or slot site. We recommend trusted casinos with exciting promotions, such as 888 Casino, LeoVegas Casino and The Sun Vegas. Each of them has a number of the best RTP slots as part of their slot catalogue.
There are numerous casino sites online and we constantly review the best in the business, find the best online casinos and capitalise on their promotions. You will find a range of slot machines available including the likes of the best payout slot games UK.
Is the Variance the Same as the RTP?
The slot variance is connected to the Return to Player percentage but they are separate entities. The variance is the same as slot volatility and reveals not only the frequency of wins but the size of them. A low variance slot pay regularly but smaller amounts, whereas high volatility slots offer bigger wins.
The RTP gives us an idea of how frequent a game pays out over a period of spins but this doesn't reveal the size of wins.
Summary of the Best RTP Slot Games
When looking for the top RTP slots online, you're going to need to keep some figures in mind. The higher the percentage, the better chances you will have of getting your money back, and more, over time.
Again, this is no guarantee that you will win on every spin, as there is still a random generator built into the heart of every slot game. However, it is still something you will need to bear in mind while 'shopping around'.
The concept of chance runs core to the online casinos and slots games experience – so it's understandable why so many people rely on this system!
RTP is a great way to help gauge which slots games may be best for you. However, it shouldn't ever be used as the be-all and end-all. Ultimately, all slots games are built with a house edge in mind, and those regulated games are built to be completely random, as well as profitable. Unfortunately, there is no exact strategy or straightforward way to know how and when you'll win big money on slot games – you just simply have to try your luck!
Check out the best online slots and their huge return to player amount using our review; we go further than a mere top 10 in this complete guide. Some of them also have free spins, deposit bonus options, bonus spins, jackpot slots, bonus games and casino bonuses – check them out for yourself.