When looking around for slot games online, you're naturally going to need to find a game or two which promises you big prizes, or at least regular wins.
However, many players just like the thrill of playing for bonus games more than the big wins. That's where medium variance slots really come into their element.
Medium volatility slot games are well-known for having stacks of bonus games, paylines and more besides.
Bonus features aside, unlike many high variance slots, you will generally find that you come away with more wins, more often. This does differ from game to game, but it's a general idea that does apply across the board.
So – could online slots offering you medium volatility work best for you? What is it about medium games which is likely to appeal to people looking for free spins and regular wins? In this guide, we'll take a look at the best medium variance slots and games online, and discuss what all this talk of slot games and variance actually means to you and your gaming experience.
Find out more about medium variance slots:
What is a Medium Variance Slot?
Variance is something that measures how likely it is that a slot game will payout.
The higher the variance or volatility slots games are, the more likely it is that they will give you big wins.
High variance slots will generally give you more to play for, but they will only reserve really big wins every so often.
With low volatility slots, you stand to get the most wins, but the lowest prizes.
Therefore, as you can imagine, medium volatility appeals to a lot of people as it's right in the middle-ground.
A medium variance or medium volatility slot will give you an array of bonus features such as scatters, free spins, big multipliers and more besides.
Unlike high variance slots, these games are likely to give you a sizeable paytable that you might stand a regular chance of making some money back from!
Medium variance and mid volatility slots are great for casual players and pro gamers alike. While high rollers will naturally drift towards high volatility slot machines, there's a lot to play for with games that fall neatly into the middle ground. There is also a number of low volatility slots, which enables you to land regular wins throughout the gameplay.
Why is it Worth Playing Medium Volatility Slot Games?
Medium variance slots tend to bring together much of what gamers look for in big slot games.
While big wins may not be as common through medium volatility as they might be through high volatility games, there are perhaps more in the way of bonus games, symbols, scatter and wild chances.
You might also be able to sample more in the way of free spins deals and chances, too, meaning that even though you're not getting access to the biggest jackpots, doesn't mean you're not coming away with regular cash.
It's definitely worth playing online slots and slot brands that fall under the medium variance side of things. If you are new to measuring slot variance – low, high or otherwise – it is well worth trying a medium variance slot with free spins and bonus codes.
It's also worthwhile checking out various guides to online slots run by those players who regularly check the stats and playability of big titles. Unfortunately, it is not always simple to ascertain the exact variance and volatility of these games, meaning that it's worth seeing what regular players have to say.
Is Medium Variance Better Than High Variance?
That all depends! Some players will tell you that a medium variance slot tends to be a better value as it gives you the best of both worlds. There also might be more chances of you claiming big prizes through bonus games, or free spins altogether. High variance and high volatility slots are likely to appeal to those players who really look for all-or-nothing – the high rollers who want the maximum back from their stakes.
Therefore, while a medium variance slot is likely to appeal to most people, there is nothing to say that high volatility slots are any more or any less value than these games. The same goes for low variance slots, too!
It all depends on individual experience and tastes, and what you are looking to make out of your money.
What Are the Best Medium Variance Slots Online?
Of course, it wouldn't be a complete guide to medium variance slot games if we didn't line up a few great examples for you to dip into and try.
In many cases, these games are available for you to play for free using welcome codes and bonus deals, meaning it's well worth keeping your eyes peeled for them if you are signing up at a casino or slots site for the first time. Here are some great medium variance and mid volatility slots likely to appeal to most people.
Count Duckula
Based on the classic 80s cartoon of the same name, Blueprint's fun and colourful title lets you spin the reels while looking to line up symbols featuring Transylvania's only vegetarian vampire duck, as well as his cohorts Igor and Nanny.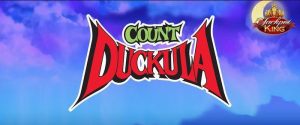 This game tends to take a little bit of patience, but when you get into the bonus side of things – free spins and more besides – you'll find it's one of the most rewarding medium volatility slot games around. Blueprint tends to design big, bright games which really balance the bonus and big wins side of things well.
This is a slot that will naturally appeal to players of a certain age! However, as a medium variance slot game, it'll also give you a nice balance between regular wins and free spins bonuses (and some bonus spins if you are lucky). It's got a reasonable return to player rating – lower than the average, but not to be sniffed at.
Read our full review on Count Duckula.
Developer: Blueprint
RTP: 93%
Volatility: Medium
Bullseye
Another classic 80s Tv property, this medium variance slots standard is a great little game for those who remember Jim Bowen's darts-throwing action.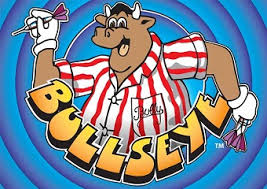 You can't beat a bit of Bully – and this Microgaming title brings a lot of themed fun and regular wins to the table. In line with high variance slots, too, this is a game with solid bonus action and plenty of big win opportunities. Line up familiar symbols and icons from the classic gameshow to access some seriously tempting prizes.
Bullseye offers a good RTP for a medium variance title, and it does seem to gain inspiration from the best in high variance slots elsewhere. Therefore, for the best of both worlds, try this slot game with a few free spins if you ever get the chance.
Check out our complete guide to the Bullseye slot game.
Developer: Microgaming
RTP: 96%
Volatility: Medium
Satoshi's Secret
Inspired by espionage? This futuristic, top-secret title is an Endorphina title with plenty going for it. It has a solid paytable you'd likely see at some of the bigger high variance and high volatility games, as well as plenty of interesting bonus touches.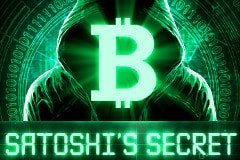 It might not pay as frequently as some of the more common low variance games, but the sheer look of this title alone should appeal to most comers – pros and casual players alike.
Satoshi's Secret is a solid game that is worth trying within a few free spins deal. As a mid-range game, it brings together the best of high volatility titles, as well as those games which bolster with free spins and regular bonus triggers. The decent RTP shouldn't put you off, either.
Read our complete guide and review to Satoshi's Secret.
Developer: Endorphina
RTP: 96%
Volatility: Medium
Chief's Magic
Chief's Magic is a great little slot game that really does take things back to basics.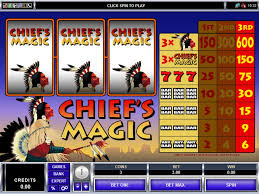 High rollers and risk-takers might find the setup a bit more simplistic than that you'd find at big high variance titles, and as there are no bonus round or free spins deals tied in, you really do get the bare-bones experience.
However, the theme is really appealing, and sometimes, it's good to just keep things simple. It's one of many medium-range volatility slots games that offer only a handful of symbols and a small play window. It's likely to appeal to those players looking for a more classical slot standard. However, as it's not as volatile as something with high variance, this slots title is likely to be a big winner with those looking for low risk and regular rewards.
Developer: Microgaming
RTP: 94.3%
Volatility: Medium
FAQs about Medium Variance Slot Games
Can I Play Medium Variance Slot Games for Free?
Yes you can play medium variance slot games for free!
In many cases, it will be easy for you to find mid variance slots with plenty of bonus features that you can try for free. For example, some big online casinos might offer you free spins on titles such as Count Duckula. What's more, free play mode is available on some slot games, so take a look around.
Is Slot Volatility Different to Return to Player (RTP)?
Yes – in a way slot volatility is different to RTP.
Return to player, or RTP, measures how likely it is that you are going to keep a level wallet. Essentially, it will also tell you how likely a slot game is going to give you your money back. Variance, however, measures how often a game will trigger wins, and whether or not these are likely to be for high amounts of cash. Crucially, high variance slot games with a low return to player will rarely pay well – making it appealing to people who like to get involved in risk on their slot games.
Check out the best payout slot games with our guide on the slots with the best Return to Player percentage.
How Do I Measure Slot Volatility?
Slot volatility is actually really difficult to measure and manage.
Only leading experts and slot pros are able to measure this side of things with any kind of certainty. However, the more you play slots – at high variance or otherwise – the more you will get a feel for how likely it is you'll come away with some solid wins. You may be able to measure how likely a slot is going to vary based on its free spins options and bonus features, for example.
Should I Look for a Low Volatility Slot Game?
Low variance games are great fun and will generally appeal to those gamers looking for high action rather than big wins.
These slot games won't always have stacks of bonus features, but they are worthwhile slots to play all the same. What might appeal to you more with medium volatility games is the fact that these slots tend to offer you a midway balance – bigger prizes, but they come through fairly thick and fast. Isn't that what everyone is looking for in a slot game?
Conclusion of Medium Volatility Slots
Medium volatility slots are a lot of fun.
If you want to play medium variance slots then check out the ones we have highlighted above.
If you're really unsure whether to go for low or high volatility, why not strike for the midground? Check out some of our fantastic slots in our guide above, and have a feel around for titles that appeal to you – whether that's thanks to RTP, bonus games or otherwise.
Enjoy!