Daub Alderney Limited are a respected and celebrated name in the bingo, casino and gambling world. They're behind numerous sites, collections of games and software that many casino players love. Daub Alderney was formerly known as Daub Gaming, a software developer behind many bingo and casino sites.
Daub Alderney bingo sites are domains online that have bingo games developed by Daub Alderney software. Daub Alderney have played a critical role in the bingo industry for years now, developing game after game and becoming a leading provider of online bingo games.
If you're uncertain about where to look for the most enjoyable games and gaming sites then look no further, our team of experts share their favourite sites by Daub Alderney right here.
Best Daub Alderney Bingo Sites
From our research, we have found the best Daub Alderney Bingo Sites:
Daub Alderney Ltd were the original owners of the hugely popular Wink Bingo and also Posh Bingo site too, but they then sold both sites over to 888 Holdings in 2009.
Daub Bingo Games
Daub Alderney Limited have a full bingo network with multiple sites and bingo games. You can embrace a range of games and themes.
Here are some of their exhilarating games:
Britain's Got Talent Bingo
1p Bingo
Jackpot Bingo
Speed Bingo
Find a long list of different bingo games and chances to play for jackpots. They offer a multitude of games that are perfect for all players and online bingo lovers.
If you are searching for casinos and slot software then check out the likes of Dragonfish, a platform known for creating the best slot games.
Best Daub Alderney Casino Sites
From our research, we have found the best Daub Alderney Casino Sites:
Who is Daub Alderney?

Daub Alderney was once known as Daub Gaming, they are famous for their software platform and various gambling sites for online bingo and casinos.
The former business made a lot of noise with their online casinos and software, with their most enjoyed site being Foxy Bingo. They were also behind huge software providers such as Dragonfish.
Daub Gaming was bought by the well-known giants – 888 Holdings PLC in 2010. Then in 2012, they reappeared as Daub Alderney and are listed today as Stride Gaming PLC.
They are behind sites such as Spin and Win, Lucky Pants Bingo and Kitty Bingo.
Security & Regulations
Daub Alderney Ltd is regulated and offer complete security, their gaming sites are officially licensed and regulated by the United Kingdom Gambling Commission.
Daub Alderney is commissioned and certified by the UK Gambling Commission, the company is based in the Channel Islands of the United Kingdom and is trades under Stride Gaming.
Although they're officially licensed, please gamble responsibly and don't gamble outside of what you can afford.
The Guernsey company are officially licensed with the license number: 039022-R-319427-014 and you can find the official file on Daub here.
Daub Companies House
They are under the name of Stride Gaming but they are filed under Alderney E-Gambling. You can check out the entire companies house and accounting details using the company information.
Discover more about accounting history, office address, annual returns and filing history.
Why We Love Daub
Daub Alderney are a respected software and gaming provider for a reason, we discuss why we love this network and why their casinos and bingo sites are some of the best out there.
If you are hoping to enjoy table games or bingo at a trusted site then it's a good idea to search the best sites Daub offer. If you love slots then you may want to take a look at leading software such as Blueprint Gaming.
Here's their mission:
Passionate
Respectful
Innovative
Collaborative
Accountable
Benefits of the Daub network includes a number of brands, bingo bonus schemes, free spins offer and lots of bonuses for your cash wagers on online casinos.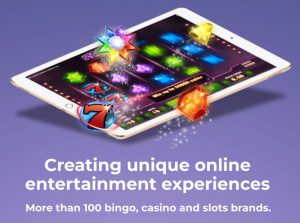 Contact Details
Daub Alderney is known for being a customer-based software and platform. It gives a focus on customers and is easy to contact.
If you have any queries then get in touch via e-mail, social media or telephone. Although they're based in the Channel Islands, they are easy to get in contact with.
Email Address – info@daubalderney.com
Telephone – +44 207 284 6083
Postal Address – Daub Alderney Ltd, Suite 1, Turing House, Gibauderie, St Peter Port, Guernsey, GY1 1XN
Why Daub Alderney?
They have over 10 years of experience and are known through the industry
A trusted site that is licensed and regulated by the UK Gambling Commission.
Range of online casino brands such as Regal Wins, SpinandWin Casino and Magical Vegas
Lots of bingo sites including the likes of Lucky Pants Bingo and Wink Bingo.
Range of bingo and casino games including table games.
Lots of bingo bonus offers and casino bonuses such as 50 free spins and deposit bonus promotions
You will also find plenty of deals for new players, bingo tickets and promo code offerings