Ready to sample a dragon themed slot machine with a difference? Dragon Spin is a Bally Technologies slot game that has a lot of charm, character, and that has been with us since 2015.
However, it's really not showing its age! Taking on that classic Asian theme and offering eye-catching, dragon-matching action over 5 reels, this is a 30 payline game that could see you win 3000 coins.
Dragon Spin Slot Machine is a 5 reels, 30-90 playlines, 3 rows and is an Asian Dragon Theme. Powered by Bally Technologies, this medium variance casino game has a RTP value of 95.94%.  The reels to trigger the bonus features include a green emerald symbol which can reward free game to players. 
Ready to tame the beast? It's time to play Dragon Spin, read our full Dragon Spin slot review and find out why we love the mystery stacked bonus.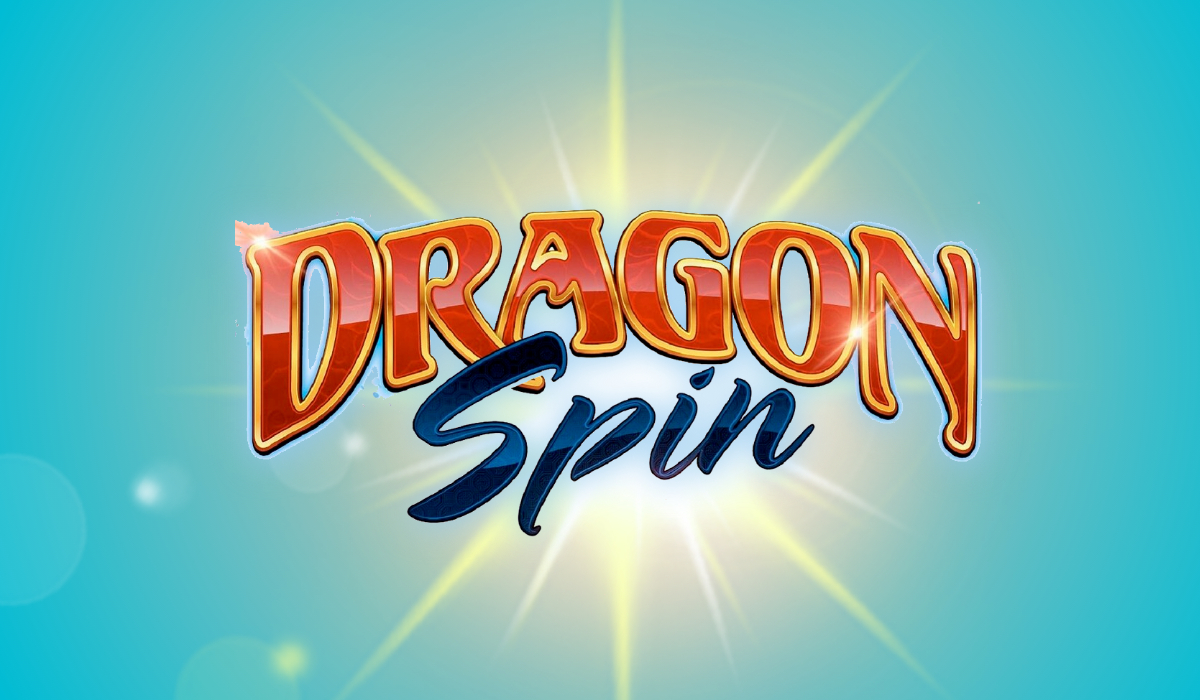 Best Dragon Spin Slot's Sites
We have researched and listed the best slot sites for Dragon Spin in May 2023:
About Dragon Spin Slot Game
The Dragon Spin slot game is now one of Bally's staple online games, having emerged in online casinos all the way back in 2015. It's a vibrant, hyperactive little game, meaning it is always likely to capture your interest – just make sure to turn that sound down low if you're likely to jump easily!
As mentioned, the Dragon Spin slot takes on the Eastern theme that many games ran with a few years ago. Dragon Spin aims to do something a little bit different with its base game look and its bonus features, particularly as you'll have the chance to claim a big free spins package through its main wheel feature.
With its thumping techno music and cracking SFX, this is a game that really strives to break free from what you'd normally expect of slots titles in this genre. There are raining wilds, mystery stacked reels and more – and of course, as mentioned, there's a Dragon Spin Wheel, which is where the main action takes place. It's here where you can claim the staple of all good online slots, the free spins bonus game. In fact, there are three bonus rounds you can potentially activate from the wheel itself.
We think the Dragon Spin slot game works brilliantly across mobile devices as well as in desktop mode. Therefore, you can easily leap into this big, bold and colourful title from the comfort of a smaller screen if you prefer.
How to Play Dragon Spin Slots Online
Want to play Dragon Spin slots for yourself at an online casino? Fancy grabbing a deposit bonus to help boost that cashpot? We don't blame you. Follow these steps and you'll soon be able to play Dragon Spin from your phone, tablet or PC.
Take a look at our list of slot sites and online casino brands currently running Dragon Spin slots online. We only ever list sites and casinos that legally operate within the United Kingdom, and which have fully regulatory rights.
Then, take a look at any welcome bonus codes or deposit bonus offers and sign up. Make a first deposit and search for Dragon Spin in the casino catalogue. You might be able to find it easily in a list of Bally Technologies games.
Launch the game and set your min bet or max bet per spin. Choose your paylines (30 max in the base game), and keep those fingers crossed.
Spin the reels! The video slot will then kick into action, and it's up to you to keep your eyes out for wild symbols, bonus symbols and more besides. From reel to reel, there is a lot going on here, so keep your focus!
Launch the game from a casino app and every spin will be touch friendly. This is a great mobile gaming staple, meaning there's no need for you to boot up the laptop or PC unless that's what you prefer.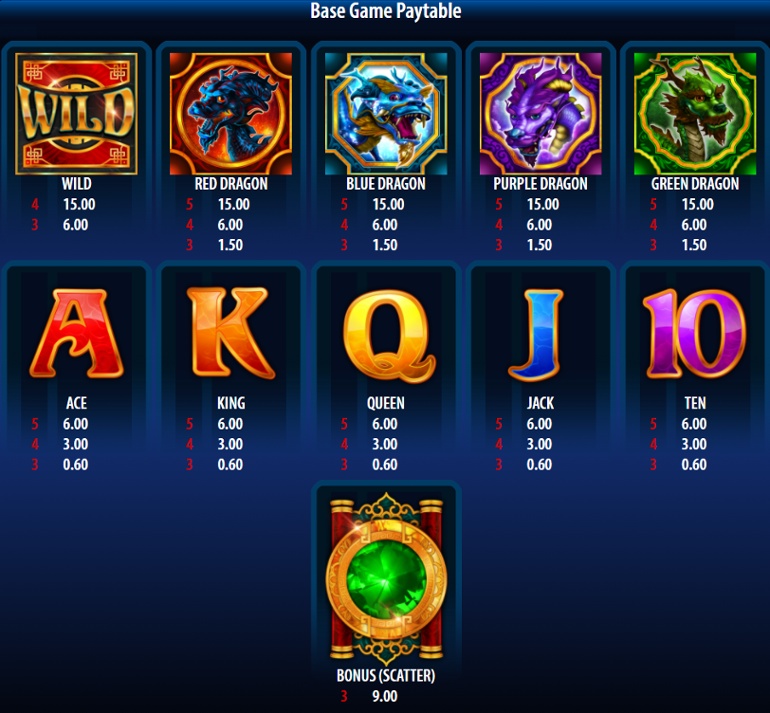 Interactive Features
Dragon Spin has a lot of features to offer – so let's break the bonus rounds down, feature by feature, so you really know what to expect.
Mystery Stacked Reels: The Mystery Stacked Reels feature will activate randomly from spin to spin. Line up mystery symbols and they will flip over to match any one of the main pictures the game features. This could help you to rack up some big line wins!
Dragon Spin Bonus: One of the best features in the Dragon Spin slot, line up at least three bonus symbols, or scatter symbols, and you'll get the chance to spin the wheel. You can then activate one bonus round in a selection of three, all of which give you free spins to some extent.
Raining Wilds: The Raining Wilds bonus game gives you 5 free spins to play with. You'll then get between 3 wilds and 10 wilds cascading onto the reels on each spin. Mystery symbols come into play across all the reels in this game, too.
Reel Blast: The Reel Blast bonus feature will grant you 5 free spins, too. However, this time, you'll be playing across three reels sets, meaning you have 90 paylines to play across! There's also a centre reel that applies to all three of the sets, affecting reels 2, 3 and 4. Mystery symbols and wild symbols come into play here, too!
Persisting Wilds: If you're lucky enough to land the Persisting Wilds bonus on the wheel, you'll get another 5 free spins to start with. Then, should a wild symbol appear, it will stick and persist. Two wilds at once can appear and stick on the first three spins, while three wilds will appear on the fourth spin. On your fifth and final spin, up to seven wilds can appear and stick! That's a total of 16 persisting wilds, potentially in one grid.
General Symbols: Dragon Spin serves up card symbols such as 10, J, K, Q and A. You can also spin Dragons into play in four different colours, with the wild symbol giving you the biggest possible win on any line. Look out for the scatters, too!
What Symbol Triggers Dragon Spin Slot Bonus Free Spins?
To access the bonus round at Dragon Spin, you'll need to line up at least three scatter symbols.
As with many other online casino games, bonuses in this game normally activate through lining up a specific symbol. In Dragon Spin, this activates the Dragon Wheel, which after you spin will give you one of three fantastic bonuses, all of which boast free spins.
When you first get into Dragon Spin, play for the Wheel Bonus – it really is the best part of the game, and you might just be lucky enough to convert a big win or two off the back of it!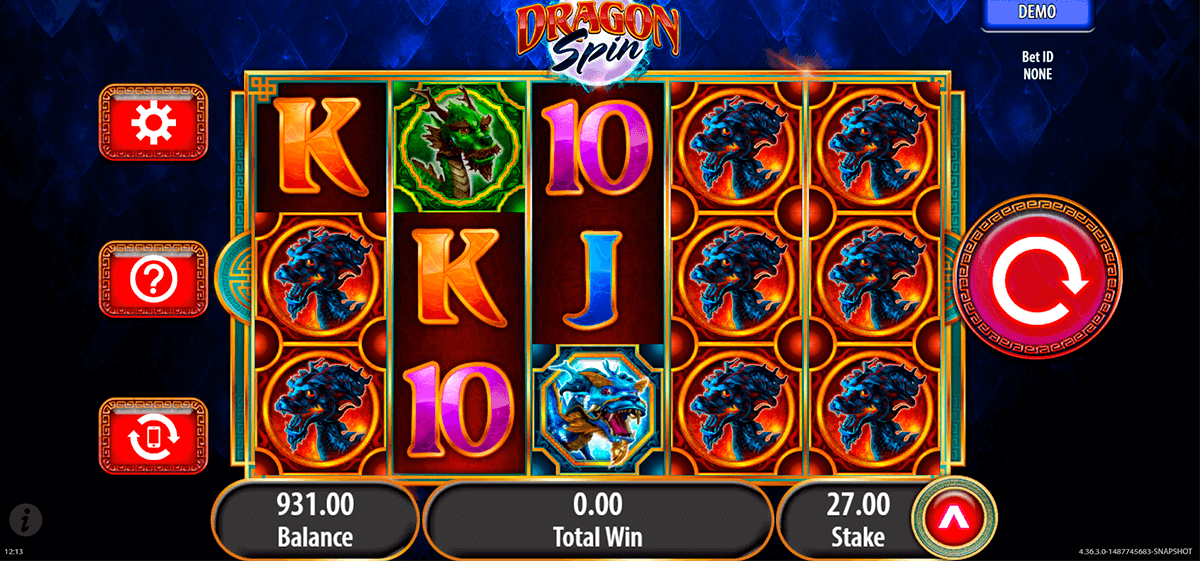 Paylines and Stakes
Dragon Spin is a 30 payline slot game with 5 reels. In one bonus round, the paylines extend from 30 to 90.
You can start playing Dragon Spin from as little as 30p per go all the way up to £120 per spin. If you are looking for a high roller slot, Dragon Spin might just have what you're looking for.
Dragon Spin Slot Game Software
Dragon Spin is a game designed and produced by Bally Technologies. Bally is well-known for its physical games and fruit machines in casinos.
However, in recent years, they expanded massively into the world of online casinos and slots. Dragon Spin is just one of their top games!
You may have played slots such as Celestial King, 88 Fortunes, Monopoly Heights or Anchorman: The Legend of Ron Burgundy. These are all Bally games, all available at some of the biggest online casinos.
When we set out to review Dragon Spin. we knew we were in for a lot of fun. Bally's games often come crammed with bonus features, and have fair RTP and volatility. More on that side of things below!
What is Dragon Spin Slots RTP?
The RTP for Dragon Spin is 95.94%. That falls just below the benchmark of 96%.
96% RTP, or Return to Player, tends to be a good marker for games that are likely to pay well over their lifetimes. It is not a marker for how much money you could make from these games, however, it will give you an idea of how generous it could be, potentially.
Dragon Spin is fairly generous, and while you may not get the bonus features such as Persisting Wilds or the Reel Blast every single time, you do still have a great shot at getting some big money back.
Slot Volatility
The volatility of Dragon Spin is medium. That means it is likely to pay reasonable prizes, though not all the time.
A medium volatility or variance game is one which really is in the middle. When you spin Dragon Spin's reels, you can normally expect some small to medium line wins, with a free shot at the bonus every so often.
This doesn't always mean it's a video slot you'll get huge prizes from. However, unlike some slots out there, you should get plenty of play for your money. Why not take a look at reputable casinos offering games and slots like this right now? We've listed a few of the best to help you get started.
Summary
Dragon Spin is a staple game at plenty of casinos online, and it is easy to see why. It is extremely easy to start playing, and three different bonus features with wild symbol twists really do help it along in a big way. We love games that have big, varied bonuses.
What some players may struggle with is the sound! This game plays along to a thumping techno beat, all the while you are striving to line up colourful dragons. It's a feast for the senses in many different ways!
If you want to start playing Dragon Spin, do always choose a casino or slot provider with a firm reputation. We've helped you – take a look at the casino brands and casinos outright in our list currently supporting this title.
From reel to reel, this video slot has a lot going for it. Check out the Dragon Spin Wheel if you're lucky, and review Dragon Spin for yourself! It's one of many great titles from this leading developer.