Let's take a look at the best ways to win at online bingo and the best strategies to do so. There are lots of factors to consider when playing bingo, and although it's down to lucks, there are ways to stack it into your favour.
Bingo has a long history and millions of avid players from all demographics. That's the joy of this exciting game, and you can now play from the comfort of your home with online bingo.
Read on as we take you through ways to win at bingo, not only will you want to find the best bingo sites and buy additional bingo cards but you will also be able to check out the Granville Strategy amongst others. Could you land yourself a big bingo win today?
Find out as we help you understand how to make the most of online bingo and easy tips to increase your chances of winning.
Online Bingo Strategies
Although all online bingo games that we recommend are fair and legitimate, there are still ways in which you can tilt probability into your favour. We find some of the popular strategies used when buying your bingo card and entering a game.
Granville Strategy – 

Granville Strategy is a famous online bingo strategy that comprises of three checks when you receive your bingo card. Ensure that you have an equal number of high and low numbers, an equal number of even and odd numbers and also an equal amount of numbers that end in 1, 2, 3, 4, 5, 6, 7, 8 and 9.

Tippett Bingo Strategy – 

A lesser-known strategy yet this statician's theory is that the shorter a game, the closer that numbers will be drawn to the number 38. Longer games have low and high numbers meaning you are likely to draw numbers close to 1 or 75.

Buy More Bingo Cards – 

Not as meticulous or sophisticated yet buying more bingo cards simply improves your chances of winning. It costs more money, and you do not increase your probability per bingo card, but you can pile the cards if you're feeling lucky.
6 Bingo Tips & Tricks to Win
Our team of experts reveal six tips and tricks in addition to the strategies above; this will allow you to enjoy higher odds of winning. Read on for everything that you need to know before playing online bingo.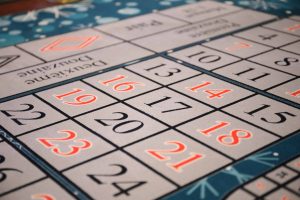 Find the Best Bingo Site
No matter what online game you're thinking of playing, this is always the number one rule. It is so essential to choose a legitimate, trustworthy and reputable online bingo site. Bingo may be purely luck, but a fluke aside, it's vital to your online safety that you pick a place that looks after you and offers big jackpots.
We've already spent time to vet out the best bingo sites using our knowledge, find all of the best bingo sites.
This will give you peace of mind, and you can enjoy playing knowing that your safety is in hand, and security is tight. It should be easy to deposit and withdraw your winnings.
You cannot cheat on a legit bingo site, we discuss cheating on bingo and whether you can cheat online.
Here are the best ways to look out for a trusty bingo site:
Lots of Bingo Games

Trusted by the UK Gambling Commission

Is a reputable bingo company recognised by many

We have recommended it on our site, we vet out the best bingo sites first
Find a Bingo Game that suits your strategy, we pick out the various bingo games below…
Picking a Bingo Game
If you're adamant on using the strategies that we have suggested, then you may want to consider the duration of the game and the amount of balls. You can pick from 75 ball, 80 ball and 90 ball bingo. We have taken our time to find various bingo games and sift through the best bingo games. 
Each game has a different layout, theme and also comes with various prizes. Here are things to consider when picking a bingo game to win on:
If there are fewer players then your chances of winning increase, subsequently the amount that you can win is then reduced.

When opting for the Tippett Strategy, you will need to consider the duration of each game. The more bingo balls, the longer the game.

How many prizes are available on the game? Different themes and features vary, scope out the bingo game beforehand.

If you play busy games during busy times, then that also reduces your chances of winning, late night weekend bingo is popular with all bingo players.
Get Promos & Bonuses
A no-brainer tip for your bingo strategy is to use the various promos and bonuses on offer from the online gambling sites. This might be the most fun and most straightforward way to increase your winnings. Every single reputable online casino or gambling site will offer a welcome bonus to new account holders, which is credited directly into your account to give you a headstart.
Stay vigilant for promos offered daily, and any existing player bonuses. You can significantly increase your odds of a win, or get some extra cash. The more funds you have in your account, the more you can play and therefore the more fun and good luck you can enjoy.
Again, all licensed and legit gambling sites will have an impressive portfolio of bonuses. Take advantage of free games, free cash or a loyalty reward incentives. For example, you might find a reload bonus for making a deposit. This is seen a lot in the bingo world.
If you find this offer, make sure to review the terms and conditions. It's better to grab the additional funds and make money. Never waste a free bonus game that's been offered to you. You don't know when Lady Luck will visit you! If you have a loyalty to a particular site, an intelligent strategy to get more cash is to adopt their reward incentive for loyalty. It should be available to all clients.
You'll be able to find all upcoming and existing promos and bonuses on a dedicated page on the site. Before you begin playing, have a look around. See what's new, and what suits you best. You can usually subscribe to receive an email detailing promos, so you don't miss out on anything. There will always be an offer on, but it's up to you not to miss any additional value you might get. Stay at the front of the game!
Finally, but equally important. Be attentive to the terms and conditions of any bonus offer. Read them through carefully and assess if their fair and if the wagering requirements are OK for your budget. Don't miss an opportunity.
Managing your bankroll
No matter how much you think your strategy is successful, any strategy you adopt would be useless without the proper management of your bankroll. The majority of players think bankrolling is only for the hardcore bingo player who have expert experience of the game. This is an utter fallacy. No matter your experience, you should be careful.
Before indulging in any game, ensure you're clear on your plan about how you intend to place your bets. It doesn't ruin the fun of the game, and it's worth whilst in the end. The simple rules of managing a bankroll are easy. Firstly, stick to a budget.
If you're on a lower budget and need your money to go further for longer, make sure to purchase the cheaper bingo cards. Avoid the jackpot cards. What's really key is not letting the game get the better of you. If you lose and you're out of budget, you must walk away. Do not chase the game. Accept you're out of luck.
One example of managing your bankroll for a successful bingo strategy is to imagine you have 100 (of whichever currency belongs to the country you're planning from). You visualise yourself spending that 100 during one month of playing bingo. A bad strategy would be to buy 10 tickets for 1 [currency unit] for every game you wanted to play.
Diving in headfirst and throwing your money everywhere does not ensure a longer game or increased chances of winning. A more clever approach would be to buy a few cards for the 1[unit] games and enjoying the cheaper side of the site. If luck doesn't visit you, you'll not have lost a lot, but you'll probably have had a lot of fun playing.
A final word. If you don't start off successful in a game, and you end up losing a few bingo games in a row, don't deviate from your strategy. Don't start throwing your money away and buying more expensive cards in a wager to cover your loss. Continue playing with your strategy and at some point, you'll guarantee a win.
Use auto-daubing
Auto-daubing is a feature you'll see on most legitimate sites. It's really key for when you're playing with more than one card.
It can be argued that it removes some of the thrill of the game, as you're not marking off your own numbers, but you can be assured that no numbers are missed. If your goal is to win, you'll want to do this.
Switching on auto-daubing means your ticket will be marked automatically. You can be sure your cards are all managed.
Be Active in Chat Rooms
A fantastic feature of any good online bingo site, available to all players playing. Interact with your fellow players and don't miss out. Talk to them about what this article has discussed, see what advice they have and what they might divulge about their bingo strategy. You might learn something valuable from their insights and experience.
Lots of newbies aren't aware of of any special competitions or awards that happen inside the chat room. They're totally separated from the main bingo room. Some happen after or during the main game. They're usually free.
If you're not such a keen chatter, don't close the chat. Just watch. Keep an eye open for chat games and competitions that will be announced in the chat room by the moderator. There's a chance you might win some more big bucks.
Closing thoughts
As this began, it's imperative to say there is no way to successfully predict what numbers will be played at any time. A guaranteed method of winning that big jackpot simply doesn't exist. Or we'd all be doing it, and there'd be no point in playing.
Bingo really does entirely depend on luck. It doesn't matter how much money you spend or how many cards you buy. An intelligent bingo strategy can take you from being a mediocre bingo player to a more expert bingo player with increased odds of winning.
You should've learned that the best strategy is to pick the right bingo site for you, manage your bankroll sensibly and with control, take full advantage of promos, bonuses and any other loyalty schemes as well as keeping your eyes open for knowledge from other players, or offers happening in the chat rooms.
Learning is always good. Learning new things is, unavoidably, a life-long thing. Now you've read this, you have more wisdom than you started in order to create an above-average bingo strategy to use to your advantage from now. The method is yours now.
Never forget, bingo is supposed to be fun. First and foremost. Enjoy your gaming and best of luck!