Fancy taking some serious bingo fun for a spin? The Wheel of Slots network has been part of the online bingo scene since 2015, and in that time, it's really established itself as a leader in online gaming.
Have you seen how many sites there are on the Wheel of Slots Network in July 2020?
Best Wheel of Slots Bingo Sites
From our research, these are the best Wheel of Slots sites to play at.
Who are Wheel of Slots?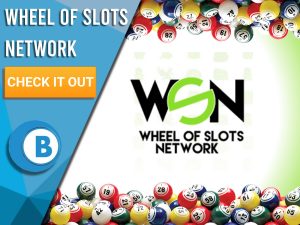 You may have seen one or two of their big sites listed and promoted before. Otherwise, you may have come across them before on your online travels. In any case, the sites offered up by the Wheel of Slots lead with tons of character and guaranteed fun.
Rest assured, all of the sites and games supported on this network are fully regulated, which means you will always have genuine chances to win some serious money.
We've made sure to list all of the sites in the Wheel of Slots network here for you to peruse and try in your own time. We think there are tons of great bingo events and other games lined up at these sites, which means we hugely recommend you sign up for the welcome deals and try some free games.
As with other lists, guides and reviews we host here at Boomtown Bingo, we will always come back to update our listings.
Wheel of Slots Bonuses and Vouchers
If you recognise some of the deals and layouts of the sites on the Wheel of Slots network, that's because they are powered by the leading Jumpman Gaming service, which is well-known for providing a variety of big games and bingo sites to the masses.
They are also well-known for their 'Mega Reel' bonus codes, which means new players will be able to claim freebies with a wheel spin on their first deposit. In fact, that's likely where the 'Wheel of Slots' name comes from!
Jumpman software is well-known for presenting slots and bingo sites in an interesting yet convenient way, meaning that you shouldn't ever find it tricky to locate games and bingo rooms on your first visit.
The wheel spin scheme will often award you free spins, as well as the chance to claim Amazon vouchers and more besides.
Online Bingo on this Network
While the name Wheel of Slots may suggest that the network is more focused on slots than bingo games, take a look at some of the sites listed under the brand. Many of them offer up bingo rooms as the main standard!
Bingo and slots fans, however, can pick and choose what they'd like to play, meaning that if you get tired of dabbing or spinning the reels, do feel free to switch around a little.
All of the fantastic white label sites listed here will give you tons of great slots games and varied bingo rooms to play through at your leisure. The Wheel of Slots network is all about offering up variety, and you'll certainly get that.
As a sister brand to the 15 Network, there should be even more incentive here for you to claim freebies and to start playing your way through a few bingo tickets.
Stick with Boomtown Bingo for the latest deals and the lowdown on the biggest and best sites around!