Age of the Gods: Mighty Midas Slot Machine
Ready to turn your pennies into serious gold?
Age of the Gods: Mighty Midas Slots is a 40 payline, 5 reel, Greek-themed slot powered by Playtech Slot Software. With free spins and amazing bonus features like Mighty Midas Free Spins and Midas Golden Wilds, Age of the Gods: Mighty Midas Slots is a great game for all players!
Age of the Gods Mighty Midas brings you 5 reels of slot game action across 40 paylines.
King Midas bestows golden wilds upon you as well as massive multipliers – and, of course, there are four progressive jackpots for you to take full advantage of, too! In this Age of the Gods Mighty Midas slot review, we'll show you everything you need to know about this fantastic game.
Best Age of the Gods: Mighty Midas Slot Sites
From our research, we have created a list of the Best Age of the Gods: Mighty Midas Slot Sites in May 2022:
About Age of the Gods Mighty Midas Slot Game
Age of the Gods Mighty Midas is a spinoff of the popular Age of the Gods series of slot games. As you might expect, this game centres around the legend of King Midas, who is able to turn everything he touches into gold! Could the same work for your slot winning chances? Possibly!
The Mighty Midas himself will appear to turn specific symbols into golden wilds, which he of course manages to do with the power of his fabled golden touch. Not only that, but there's also a brilliant bonus game feature here where you can win even more moolah through free spins.
The game really does fit in well with other Age of the Gods titles. As you'd expect, the online slot game offers golden colours and opulent touches, and features a host of characters who each have their own prizes to offer.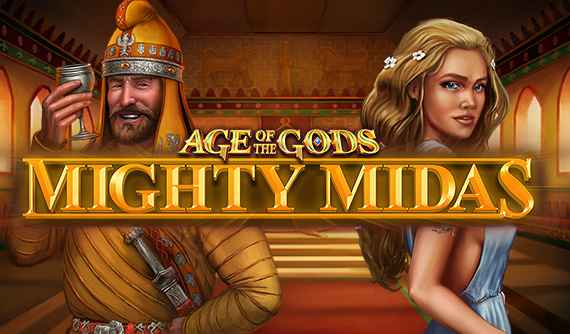 This is one of the more polished games in the Playtech Age of the Gods line, meaning it's probably going to be a great pick for players who already love the franchise and its software provider.
This is a game steeped deep in Greek Mythology thanks to the Ancient Greek legend of King Midas taking centre stage. It's another twist on the old Greek stories that line up some brilliant prizes and big free spin opportunities for new players and experienced slots fans.
How to Play Age of the Gods Mighty Midas Slots Online
Looking to play Age of the Gods Mighty Midas online? Take a look at the following few steps and get into the game and its free spin festival right now.
Take a look through the casinos and online slot sites we list in our catalogue, and find one that offers Age of the Gods Mighty Midas as a highlighted game.
Then, register and deposit at an online casino of your choice.
Search for Age of the Gods Mighty Midas in the game catalogue and launch it, whether you're playing from mobile or via your desktop.
Then, set your min bet or max bet, and how many paylines you'd like to put money on.
Then hit that spin button or set up autoplay and start the spins – and keep those fingers crossed for that big chance to unlock the bonus games.
Interactive Features
Age of the Gods Mighty Midas offers bonus features and progressive jackpots. Here's what you can expect when you play:
The Midas Touch: Midas Touch symbols help to create golden wild symbols. Appearing on reel 3, reel 4 and reel 5, any symbols to the left of these will go golden wild. These replace all symbols bar the scatter symbol.
Scatter Symbols: The scatter symbol in this game appears in reels 1 and 5. get both and you'll unlock a gem bonus. Spin again on reel 5 to unlock one of five bonus rounds.
Emerald Bonus: Get an instant win prize from reel 1 that's multiplied by the modifier in reel 5.
Amber Spins: Get 5 free spins with a guaranteed golden wild on each go, with the potential for a 3x multiplier max.
Ruby Spins: Get 7 free spins and stack up golden wilds with multipliers. You could win up to 30x your line bonus!
Amethyst Spins: Get 3 free spins with the added boost of Midas Touch stacks and wild multipliers.
Sapphire Spins: Boost your bonus funds with a set of 5 free spins and golden wild stacks in reels 2, 3 and 4. More golden wilds are added with each free spin!
Symbols: As with other games in the series, the symbols in this slot title pay tribute to various gods, deities and figures well known within Greek legend. You'll find picture symbols representing Dionysus, Marigold, Silenus, Lityerses – and various roses, wine goblets and more. This game is all about opulence!
Four Progressive Jackpots: As with other games in the Age of the Gods series, Mighty Midas brings you four progressive jackpots that you can launch into at any time. You just need to be lucky enough for them to spring into play! Once you enter the jackpot game you're guaranteed a prize.
Slot Info
| Age of the Gods: Mighty Midas Slots | Attributes |
| --- | --- |
| Casino Game: | Age of the Gods: Mighty Midas Slot Games |
| Paylines: | |
| Reels: | |
| Software: | |
| Minimum Bet: | £0.40 |
| Max Bet: | £20 |
| Variance: | |
| RTP: | 95.35% |
| Slot Theme:  | Greek |
| Bonus Features: | Mighty Midas Free Spins, Midas Golden Wilds, Multipliers, Progressive Jackpots |
| Max Win: | £250,000 |
| Free Spins: | Yes |
| Release Date: | 21st December 2018 |
What Symbol Triggers Age of the Gods Mighty Midas Slot Bonus Free Spins?
Mighty Midas himself is the scatter symbol, and you will need to line him up in reels one and five to access the free spins bonuses.
The exact nature of the spin bonuses you unlock will depend on what spins into view in reel 5. As mentioned, there are different colours and types of gems which will give you varying twists on the free spins freebies you could potentially unlock.
Simply get Midas into view on the reels and you are already halfway to scoring a wonderful chance of winning a big prize.
Paylines and Stakes
Mighty Midas is a 5 reel game with 40 paylines. You can play from at least 40p per spin.
The max bet per spin in this game is £2,000. This really does match the opulent feel of the game! It's great that high rollers can put a bit more than a few pennies into the game if they are feeling particularly lucky.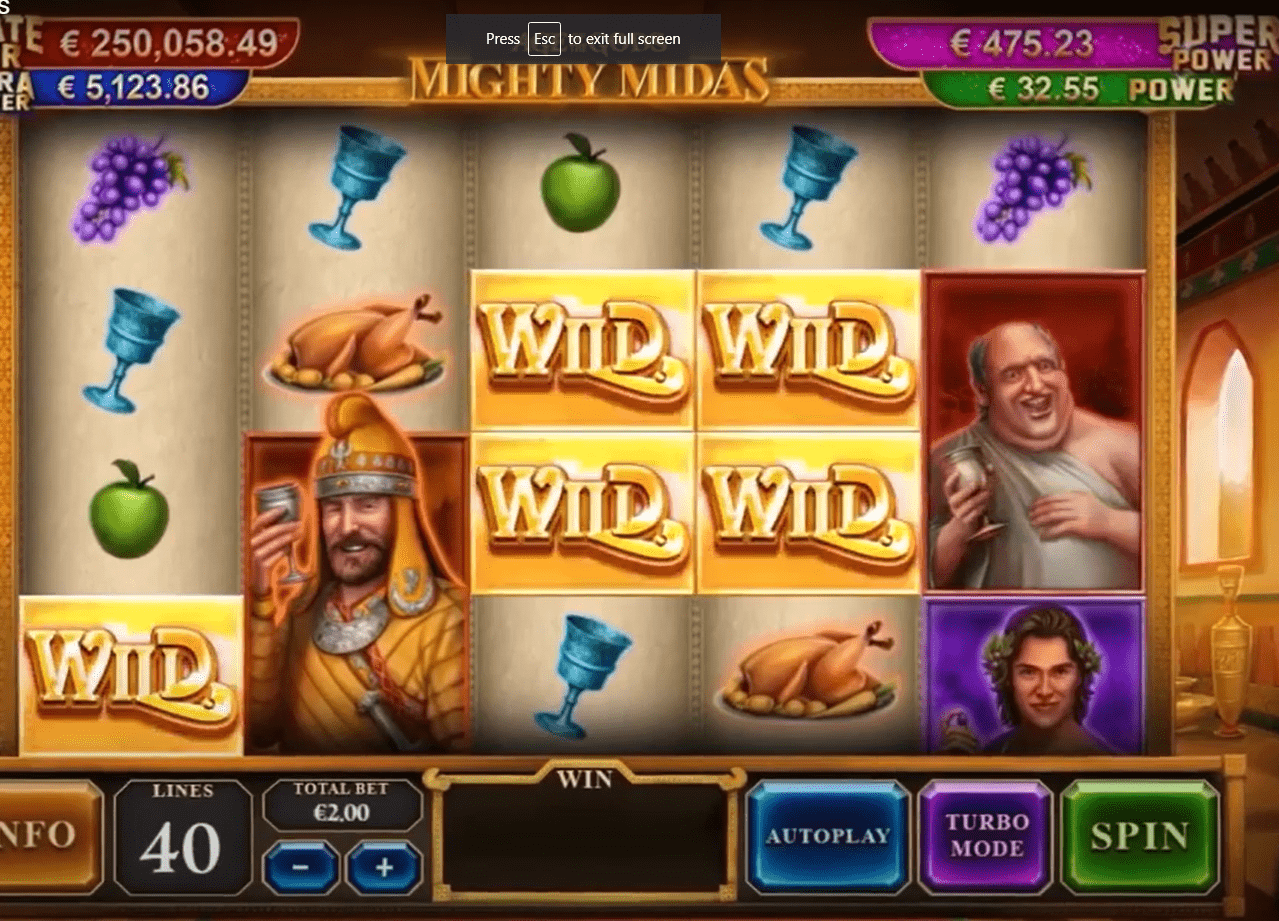 Of course, the higher the bet you place, the more chance you will have of claiming big free spin bonuses and prizes. What's more, the progressive jackpots in the jackpot game will increase in price, too. This means you simply need to play big money to win big money!
Age of the Gods Mighty Midas Slot Game Software
Age of the Gods Mighty Midas is designed and developed by Playtech.
Playtech is a reliable and well-loved games provider and developer, and they are also well-known for other games in the Age of the Gods series.
If you have played a few online slot games elsewhere, then you may also recognise Book of Dead, which is a Playtech staple.
It's not uncommon to see Playtech progressive jackpot games available to play at some of the biggest casinos online. We've compiled a guide and list on all of the best casinos offering their titles, including the brilliant Age of the Gods series.
What is Age of the Gods Mighty Midas Slots RTP?
The RTP for Age of the Gods Mighty Midas is 96.34%.
This is above average for most casino games. RTP, or return to player, advises you how much money a game is likely to pay out over its entire lifetime.
Therefore, on average, you can expect to win 96p in real money per £1 you spend. However, this does not always mean you are going to get the bonus round guaranteed, and it also doesn't mean the best symbol will always fall into play.
This RTP also means that you may get access to the bonus round occasionally, but getting those progressive jackpots really is going to take a lot of luck.
Slot Volatility
The slot volatility of Age of the Gods Mighty Midas is medium to high variance.
Medium to high variance or volatility tells us that this is a game likely to pay infrequently, but when it does give you a cash bonus or prize, it's likely to be a big one.
This doesn't really affect whether or not Midas is going to appear on reels 1 and 5 constantly. However, it might help some high rolling slots players make a firm decision on how much to bet on reaching that fantastic progressive jackpot game.
Summary
Age of the Gods Mighty Midas is a brilliant twist on the Gods range, and this particular slot game goes all out on sheer opulence.
A fantastic game to play via mobile and desktop, Mighty Midas brings back the jackpots range that so many players of Playtech titles have come to love. Just keep your eyes peeled and your fingers crossed for the right symbol to drop in.
When you play Age of the Gods Mighty Midas you may find that while some of the wins are infrequent, the prizes are big. Of course, your chance to win the biggest prizes will vary from day to day. It is all completely random!
Take a look at our guides to the best casinos offering Age of the Gods Mighty Midas right now and get your hands on free spins after free spins.
Do you have the Midas touch? Can you convert free spins in the bonus features into big prizes? Check out software provider Playtech's other big titles, and play Age of the Gods Mighty Midas for yourself to see how you get on. We love the Age of Gods range – regardless of whether or not we unlock those bonus spins!