Crown Jewels Slot Machine
Have you ever wished for riches beyond your wildest dreams?
Crown Jewels Slots is a 5-reel slot game with 10 paylines and 3 rows on each reel. This jewel-themed casino game by Barcrest has the Crown Jewels Wild and the Crown Jewels Cascading Reels that may reward the £62500 jackpot. It has a 95% return to player rate along with a medium variance range.
It would indeed be something to swim in a pool of gold coins, jewels, and means you can only dream of having. But what if that didn't have to stay a dream?
What if gaining all those riches was as simple as spinning the Crown Jewels slot machine game?
In this Crown Jewel Slot Review for June 2022, find out how you can gain those royal riches when you spin the online slot game and play to win all the crown jewels this casino slot has in store for you.
Best Crown Jewels Slot Sites
Play the game at the best casino sites. From our research, we have created a list of the Crown Jewels Slot Sites and casino sites in June 2022:
About Crown Jewels Slot Game
Only royals deserve to hold the Crown Jewel prizes.
Well, that was before.
Now, thanks to Barcrest, players can enjoy the riches of the crown by playing this five-reel, ten payline classic slot game.
No longer do players have to wait behind the glass walls of museums to see the jewels of the kingdom, for now, it can all be within arms reach, or instead, slots reach.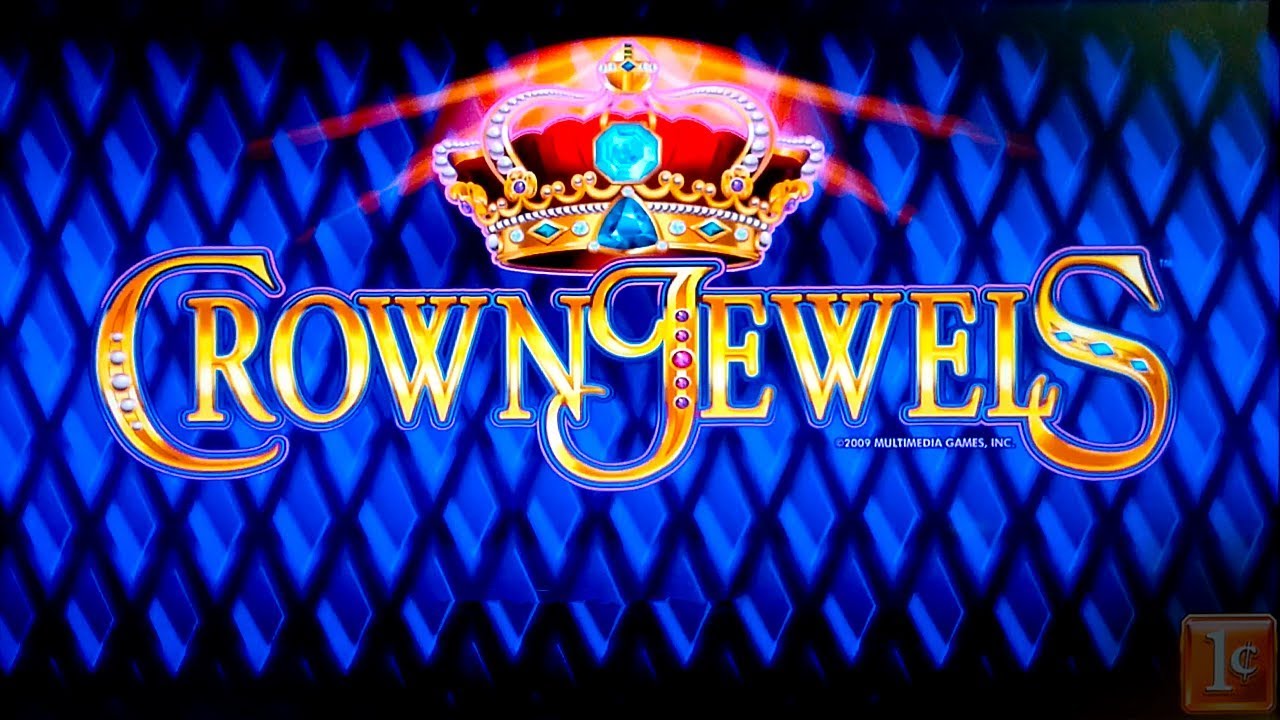 In this classic slot machine game, players will be able to see some lifelike depictions of sparkling diamonds, bright red rubies, dazzling emeralds, and bold sapphires worth more than any commoner's life.
This online slot game will plunge players back to the thick of classic online slot gaming, where the only thing to focus on is the slot machine and the slots prizes.
New players may find this blast to the past simple and straight to the point, so it is a perfect introduction to the slot machine world.
Its design is simple and reminiscent of the physical slot machines found in casinos.
And thankfully, this is one of Barcrest's games that can be easily played and understood.
It also has the all too familiar pings and clicks that old school, classic slot machines have, so you won't have to expect any extra or flashy graphics to distract you from the game.
There are no free spins, scatters, gambles, or any other bonus feature in this slot game apart from the wild.
This may not seem like much, but it does land often enough to give some pretty good win combinations.
So in this online slot machine game, players are set to enjoy the basics and all the easy win the reels have to give.
This can also be enjoyed when you play the game for free or when you play for real money.
Though, if you are new, you may want to navigate your way around the game by first playing it for free.
So, if you're ready to take your seat at court, then take this slot game for a spin and see how many jewelled prizes you can win when you play this slot machine from anywhere, at any time.
Slot Info
| Crown Jewels Slots | Attributes |
| --- | --- |
| Casino Game: | Crown Jewels Slot Game |
| Paylines: | |
| Reels: | |
| Software: | |
| Minimum Bet: | £0.01 |
| Max Bet: | £49 |
| Variance: | |
| RTP: | 95% |
| Slot Theme:  | Crown, Diamonds, Jewels |
| Bonus Features: | Crown Jewels Wild, Crown Jewels Cascading Reels |
| Max Win: | £62500 |
| Free Spins: | No |
| Release Date: | 14th of March 2010 |
How to Play Crown Jewel Slot Online
Before gaining the royal riches and crown jewels, here are a few steps to remember:
Go back to old slot machine gaming when you play these reels.
New players will find this the perfect introduction to slot gaming due to its direct and straightforward gaming experience.
To begin the game, players must first place the number of coins to wager as well as the number of paylines to play during each spin.
This can be changed or toggled after every spin.
Once you're happy with the amounts to bet, you can begin the spin by pressing the "Spin" button to enable one spin or the "Autoplay" button for an undisturbed round of spins.
Find out if you're next in line for the throne when you play this slot machine for free or for real money play on any PC/ Desktop device.
Interactive Features
Being a royal isn't the most straightforward job on the planet, so it comes as no surprise that this slot machine doesn't precisely coddle or take it easy on players on the bonus features front.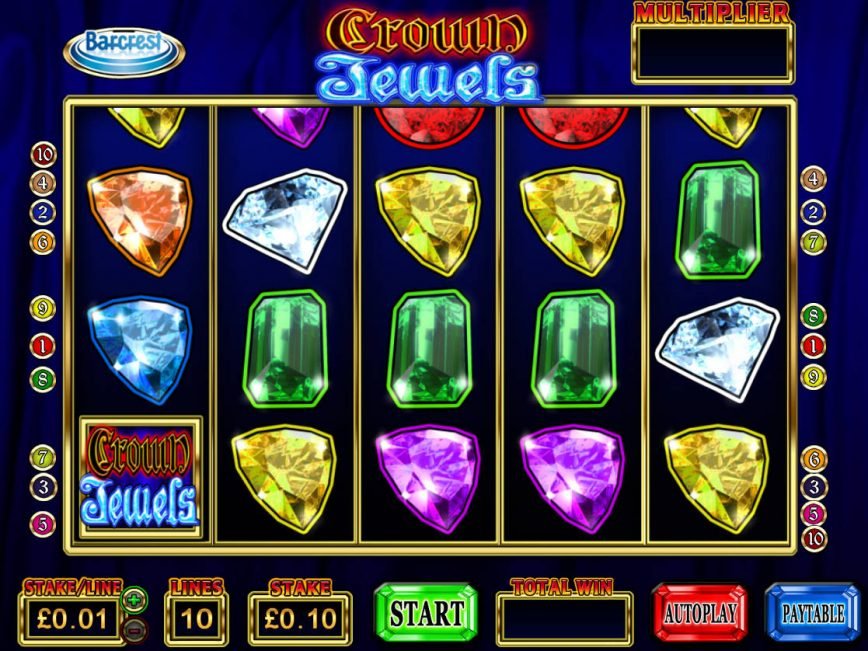 However, there are still the following bonuses that can make this games difficulty level easier to manage:
The games wild is represented by the games logo.
This can replace any other symbol on the reels at any time.
For this bonus, players can expect some symbols to cascade from the top of the reels.
This happens when winning combinations are made.
When this happens, the winning combination's symbols will disappear from the reels and be replaced by new symbols that cascade down from the top of the reels.
What Symbol Triggers Crown Jewels Slot Bonus Free Spins?
Since this is a pretty straightforward slots game, there are no other bonus features to be had apart from the games wild.
There are no free spins, scatters, or any other symbol that can trigger any free spins when you play this online slot machine game.
Paylines and Stakes
For 0.01 to 40 coins per spin, players can play this online slot machine game that allows anyone and everyone to win some royal prizes, whether it's played for free or for real money.
This slot brings back some classic gaming to anyone who can free up time and play this simple online slot.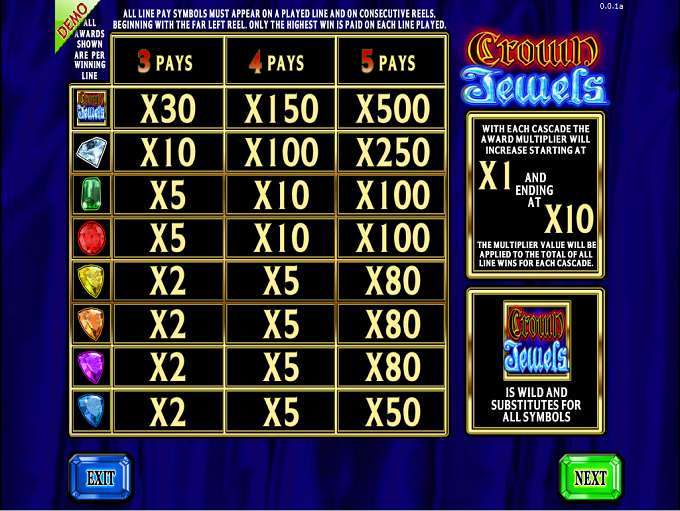 Now, since it's back to basic when you play these slots, players can win amounts that vary from 2x to 250x whenever 3 to 5 of a kind of the symbols land on the reels.
These symbols are pretty simple as all the different coloured jewels act as the paying symbols of the slot machine.
Crown Jewels Slot Game Software
Barcrest has all rights reserved for the Crown Jewels online casino game.
Barcrest was made possible by SG Gaming, which founded it in 1968.
They have then since become the leading name when it comes to terminals and content in the arcade and bingo industries.
To add to this, they have transitioned from classic gaming into a more digital scheme.
They are now offering multi-channel game content worldwide too, so several of their games and products are now available online as well as on mobile platforms!
What is Crown Jewel Slot RTP?
This slots game is one of Barcrests' non-progressive slots games that has an RTP of 95%.
On a good day, a slots payout percentage would be about 90%, but with these slots, players can expect a pretty good payout percentage given that it can provide players decent winning amounts throughout the game.
That means that each player who wagers £100 can expect to get a return average of £95.
Slot Volatility
This Crown Jewels game has a medium variance.
With this kind of variance level, players can expect to land some pretty decent amounts in a semi-frequent manner.
Summary
Who says you have to be a royal to get any regal riches?
Thanks to Barcrest, players can now access the crown's jewels for free in June 2022 as this classic slot can be played by anyone either for free or for real money.
Now, the gaming provider strips the slots back to basics and gives players a more simple and straight to the point game that anyone and everyone can enjoy.
This may not have many bonus features to go by, but that's part of what makes the game so enjoyable – it poses a good challenge to anyone who plays it.
So, whether you're a novice or an experienced player, this game will tickle your fancy with its straightforward and uncomplicated gaming experience.
Now, players who have had a bit more experience when it comes to spinning reels may find this a bit more on the casual side.
But for newbies, this serves as a perfect introduction to the slot gaming world as the wins and payouts land in a semi-frequent manner so no one will be left a pauper by the end of the game.
You May Also Like
We have researched and reviewed all other Barcrest Games you might also like: