Worms Reloaded Slot Machine
Worms Reloaded is a sought-after slot that is based on the famous video game series.
These militant worms are ready for war in this slot machine, it offers 5 reels and 20 paylines. The game is a Jackpot King Slot that provides the opportunity to change your life.
Worms Reloaded Slots is a 5-reel, 20 pay line battle themed online video slot game. This medium variance casino game has an RTP of 92.99% and you can expect to find Banana Bomb Wilds, Holy Hand Grenade, Teleport Mayhem and a Concrete Donkey.
This slot game has several bonus features, free spins, a progressive jackpot and has a cash trail. Land weapons, rockets, worms and bonus symbols during this base game.
We check out the entire game with Worms Reloaded Slot Review in June 2023 and talk you through the return to player, software and the bonus games.
Best Worms Reloaded Sites
From our research, we have created a list of the best Worms Reloaded sites:
Worms go to War
Worms is a classic video game and are now part of Blueprint Gaming Slot lineup. Worms Reloaded is one of the most captivating of all the Worms Slots.
It comes as part of the Jackpot King games, allowing huge real money wins that could potentially change your life for the better. If you are a fan of charismatic slots then check this one out, the worms are shouting, grenades are going off and you will also be able to land a number of bonus games.
The symbols include a gun, rocket, worm, punching glove and different bonus symbols on reel 5. As well as an interesting base game, you can also get an insight into various bonuses. We talk you through each bonus shortly, as each of them has different features and often go to a second screen.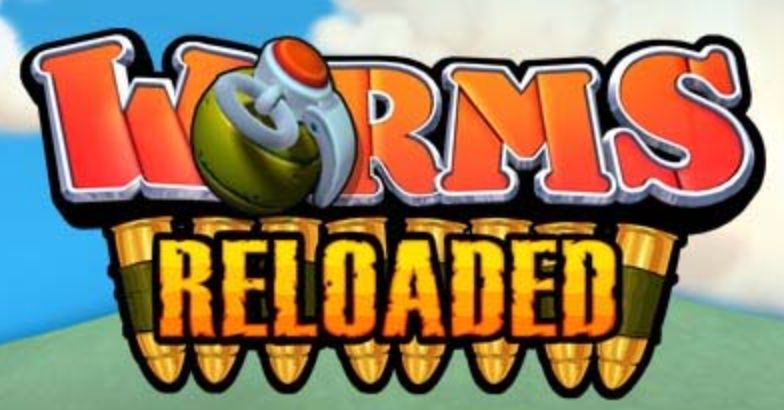 How to Play Worms Reloaded Slot
Playing Worms Reloaded is simple and like most other slot games. Set the stake before the spin and then press start.
The reels will spin and you will aim to match the symbols on winning lines. Also check to see how you can trigger the bonus features.
If you are unsure on how to play then take a look at the pay-table.
Each time you win or unlock the bonuses, the game will let you know. If you are unsure, then do not worry.
Here's how you play Worms Reloaded Slot:
Firstly, pick a site from this page and then search for the game.
Once it's loaded, set the stake. This can be changed prior to each spin.
Then press start and spin the reels.
Match the symbols and trigger the bonuses.
What Symbols Trigger the Worms Reloaded Slot Bonus Free Spins?
The bonus symbols are easy to spot, they have worms ready to go to war and have "BONUS" written across the symbol. Get one of them on reel 1 and 3, then land a decisive bonus symbol on reel 5.
There are different bonuses and the third scatter symbol decides what bonus you trigger.
The fifth reel is usually Battle Ground Bonus, Jetpack Bonus, Blitz Blast Bonus and Super Sheep Free Spins.
Slot Info
| Worms Reloaded Slots | Attributes |
| --- | --- |
| Casino Game: | Worms Reloaded Slot Game |
| Paylines: | |
| Reels: | |
| Software: | |
| Minimum Bet: | £0.20 |
| Max Bet: | £100 |
| Variance: | |
| RTP: | 92.66% |
| Slot Theme:  | Battle |
| Bonus Features: | Free Spins, Multipliers & Wilds |
| Max Win: | 10,000x |
| Free Spins: | Yes |
| Release Date: | 2016 |
Interactive Features
Worms Reloaded is full of features and surprises. Some pop up randomly when the grenade explodes. Other features are activated by the reels.
The random features can be activated at any stage are:
Banana Bomb Wilds– Worms will bomb the reels with bananas, giving you more wilds and a better chance of a win.
Holy Hand Grenade– More bonus symbols are added to the reels, this will give you a better chance of reaching the main bonus feature.
Teleport Mayhem– The symbols are rearranged to guarantee you a win. There are opportunities to have a repeat win.
Concrete Donkey– Concrete Donkeys will convert symbols to wilds.
Land the bonus scatter symbol on reels 1 and 3. You will then need to land one on the fifth reel, this will be a symbol of the particular bonus that you will be able to enjoy.
Battleground Bonus– Pick from the mines and reveal the cash prize or multiplier. If you unravel a "collect" then that ends the round and you will have to leave and take your winnings.
Jetpack Bonus– Pick UFO's and avoid the mines and dynamite. You will want to make it through the stage to the big money rounds.
Blitz Blast Free Spins– Advance up the trail and enjoy free spins. Once you reach the top and the end of the fuse, your go is over.
Super Sheep Free Spins– Sheeps will land on the reels. Enjoy your wilds and six free spins.
Paylines & Stakes
Paylines- 20
Grid- 5×5
Reels- 5
Features- Free Spins, Multipliers & Wilds
Min Bet- 0.20
Max Bet- 500
Jackpot- 500x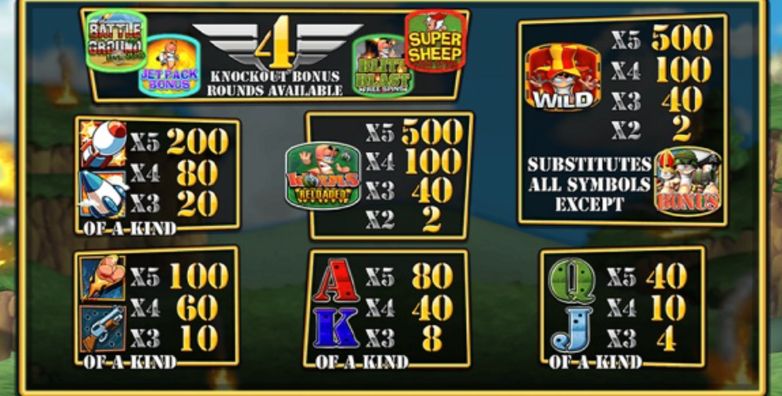 Worms Reloaded on Mobile Phone
All of this action and you can still play slots from your phone.
No need for a download, an app or any hassle. Instead, you can merely visit the site that you're playing on and it will convert for you. Whether you use an iOS or Android device, you can play whilst on the move.
Make the most of the game when you're on your commute or out and about. You can play from your phone or tablet. The site will automatically convert to a mobile version.
Slot Software
Worms Reloaded Slot is powered by the well-known Blueprint Gaming.
Thankfully, Worms Reloaded slot is a product of Blueprint Gaming. This software provider is well-known in the industry. They are constantly creating innovative slots that are popular and for that reason we had trust going into this game.
Despite the previous, it was only right to play the game and test the software. We were happy with the speed and concise design.
What is the Worms Reloaded RTP?
Worms Reloaded Slot has a 92.66% RTP.
The Return to Player gives you an idea of your chances of winning. The percentage provides you with how much a game pays out on average, over a number of spins. For instance, if you were to play Worms Reloaded Slot and spin 100x £1 then you'd expect at least £92.66 back on average.
We expect to have a payout percentage of around 95% and although this misses that amount, it still offers a range of bonus games and a huge progressive jackpot.
Also, be sure to check out the Best RTP Slots, we have pinpointed the best return slots.
Slot Volatility
Worms Reloaded has a medium variance.
This makes up for the relatively low RTP and this means that you can expect regular payouts of mid-size and still enjoy some big wins too.
The volatility of a slot game is important as it gives us an idea of the slot's behaviour. The game pays often but this middle ground allows some big wins too.
Find more medium variance slots with our top rated middle volatility slots.
What is Worms Reloaded Slot?
Worms Reloaded Slot is a video slot with 5 reels, 20 paylines and lots of bonus features.
Worms Reloaded Slot is a Worms themed slot game, it's based on the original Worms Reloaded is a classic PC or PlayStation game that caught traction since the 1990's.
This slot is an exciting slot machine is a classic video slot with lots of game features, bonus games and huge wins.
Worms Reloaded Big Win
Worms Reloaded Slot hs number of winning combinations that reach the big win. When you land a win usually over £10, the screen flashes up with "Big Win".
You can win huge amounts on this game with x500 being the max win.
Is There a Free Play Demo?
Yes, you can play this game for free using the demo version of Worms Reloaded Slot.
A demo version can be found for most online slots, check the casino for the free play version. Although you won't be able to win real money on this demo, you can try out the game and find out if it's for you.
Blueprint Gaming Ltd Games
Here is a list of the most popular Blueprint Gaming games online players love to play in June 2023:
This is a shortlist of the most popular games available from Blueprint Gaming Ltd and does not mean the best in the online gamers reviews.