Want to enjoy big wins and fun themes?
Andy Capp Slot is a slot machine with 5-reels, 20 win lines and a range of exciting bonus games. The comic-strip themed casino game has Lets Play Darts feature, Wild Dreams, Huge Ale and many other themed bonus features. It comes with free spins, wilds, colossal wilds and multipliers.
Despite being sceptical in the initial stages, we were taken back by the number of different bonus rounds, random features and free spins. This game comes with 5 reels and 20 pay lines- attempt to get Andy Capp of his sofa!
Head over to our best blueprint gaming sites page to find out more information on what we think are the best slots on the market.
Do you know how many sites in October 2023 offer Andy Capp Slots?
Best Andy Capp Slot Sites
From our research, we have created a list of the best Andy Capp slot sites:
Play Andy Capp Slots Online
Andy Capp is a familiar British face with a new twist, the classic comic strip is now a slot game, this 5-reel slot is a comic-themed slot. The well-known character has been introduced to some bonus features. Providing the timeless classic with a number of exciting facets, there's lots of big wins available and plenty of interactive features.
The jobless comic icon could win you huge cash prizes. The five-reel slot has lots of paylines, features and wilds.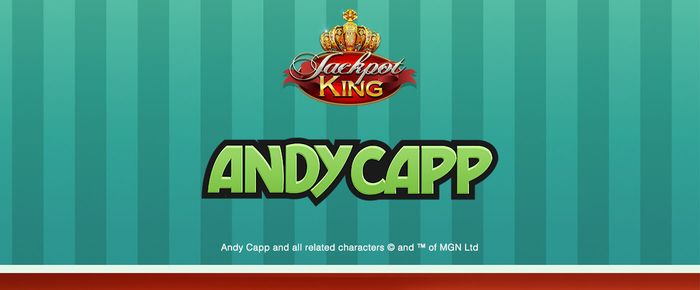 You may recognise the theme from a comic strip or the fruit machines in arcades, but now it's possible to enjoy Andy Capp slots online.
With growing popularity, it is now featured at all of the top casino sites. We have picked out the best casinos that offer Andy Capp online. Find your favourite slots and play from your device without hassle.
Simply click one of the links that we have inserted on this page and be sure to capitalise on any deals that you find.
If you are already a member of a casino and what to find this particular game, you should visit the slots category and search for this game.
How to Play Andy Capp Slots
It's a five-reel game with 20 paylines. In addition to the conventional winning lines, there are other ways to gain huge rewards.
The theme remains true, as a drunken Andy lounges on his sofa. All that's left to do, is to spin from his home.
There are lots of features and bonuses in this game. In fact, it's astounding to see such a variety of different wilds, bonuses and other features.
Whilst you spin the reels, he could dream up a feature at any given time. We explain more on those in the interactive features.
How to play Andy Capp slots?
First of all, use our links and find the game.
You can then choose the stake.
If you want to know more on how to win, then use the paytable.
Press the spin button, you can change the stake before any spin.
Look out for the wild symbols, they can act as any symbol, making it easier to win. For more detail on specific symbols.
Andy Capp Slot Free Spins
Get unlimited free spins when you activate the 'On Me Ead' Bonus. This bonus can be activated by landing three or more scatter symbols. Read on below for more details on the bonus rounds and features.
Interactive Features
Something that we love about this slot game is that it's inundated with various features and potential wins that all add to the base game. We love the free spins and the Jolly Riveter Super Bonus.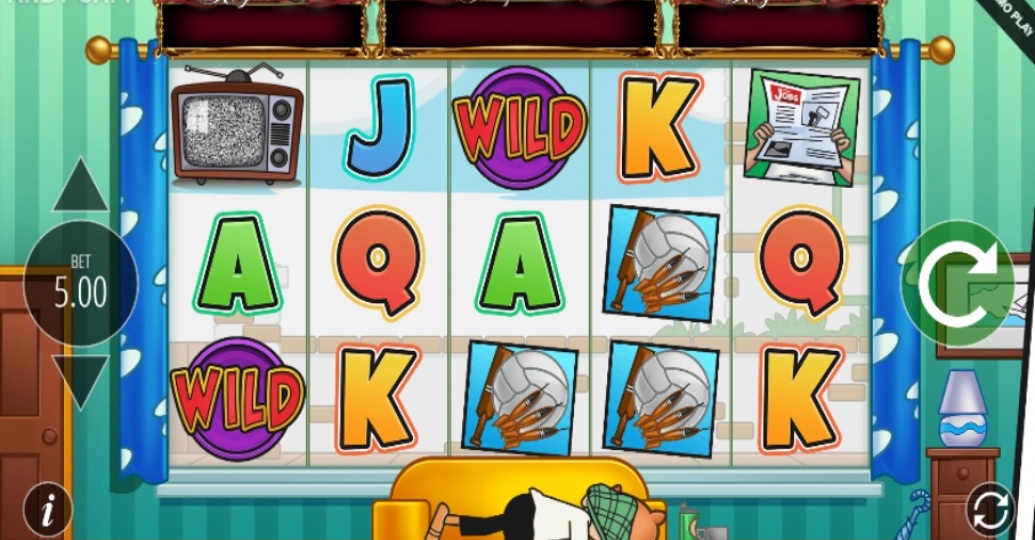 Find the Andy Capp slot features listed here, there are many to browse.
Dream Women- As discussed earlier, dream bubbles will appear as Andy dreams from his sofa. If he dreams of women, then he'll upgrade the symbols. If his wife pops up, then the feature ends.
Huge Ale- A giant 3×3 wild ale symbol will appear. This is added to the reels and offers an extra chance of winning.
Wild Dream- Andy's at it again, if he has his arms around two women, these symbols will be added to the reels offering big wins.
Jolly Riveter Super Bonus- This is a big bonus, where he gets a chance to visit the pub. Multiply wins and watches the wins come flying in.
Boozer Free Spin- Get 10 boozer free spins. Once they are done, you get a final super wild spin.
On Me 'Ead Free Spins- Andy plays football. You get unlimited free spins, for as long as he doesn't get a warning, yellow or red card. If he scores a header, then you are rewarded a sticky wild.
Bookies Bonus- The bookies' bonus is when you land three rosettes, pick one and reveal your multiply prize.
Let's Play Darts- Let him play darts, whatever number he gets in three throws will be the multiplied amount of your win. Get up to 180x multiplier.
As you can see, there is no shortage of features. You will be able to embrace a whole range of features and fun that goes on the slots. In addition to the different bonus features and bonus games, you also have the opportunity to land the generous progressive jackpot.
Paylines and Stakes
Aside from the multitude of amazing bonus features, the slot has a conventional base game. It has five reels, a 5×5 grid and 20-paylines. You can stake a range of amounts too, find your preferred amount.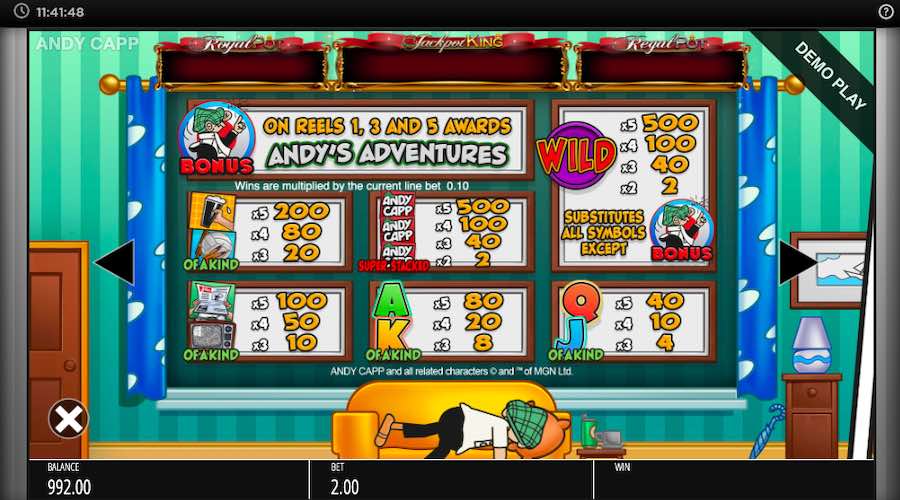 Paylines- 20
Grid- 5×5
Reels- 5
Features- Wild, Free Spins & Multipliers
Stake- 0.20- 200
Jackpot- Progressive
Andy Capp Slots on Mobile Phone
Play Andy Capp Slots from your mobile phone whilst on the move.
Whether you are an iPhone or Android user, you can play from your browser.
It has been designed with HTML-5 and can be powered via the Internet page, on mobile phones, tablets, computers and more. You don't need a mobile phone slots app, but if the site has one, feel free to download and play.
Andy Capp Slots Graphics Design
The graphics and overall themes are impressive. The game is set in Andy's living room as he sleeps off his hangover.
When he dreams, a bubble appears. You will see a mixture of colours, symbols and other graphics. It is one of the best slots available online when it comes to features and innovative graphics.
There are lots of symbols related to the local pub including a Colossal Ale symbol, Sticky Wilds and a Bonus Symbol.
About Andy Capp Slots
Andy Capp slots is a 5×5 slot game with 20-paylines and a huge catalogue of features. Find bonus rounds, chance to multiply your winnings and much more.
The game is based on the comic character. You will be able to enjoy this drunk and lazy personality as he dreams up a win for you.
If a dream bubble appears or enjoyable bonus features pop up, you're in luck. Play for big bonus features and jackpots.
Software
Andy Capp Slots is powered by Blueprint Gaming.
Regular gamers will know of Blueprint Gaming. The experts are responsible for many of the best slot games and casinos.
After trialling the game for ourselves, we were happy with what was on offer. It provides uninterrupted fun. The game is fast, seamless and easy to understand.
What Is Andy Capp Slots RTP Value?
Andy Capp Slots RTP is 92.7%.
The 92.7% Return To Player Value is good for online slot machine players.
Check out how Andy Capp's return to player value compares with all the other RTP slots percentages.
The RTP value is a representation of how much is likely to be returned to the person playing on the online slot game Andy Capp.
Slot Volatility
Andy Capp Slot has a medium to high variance.
This provides you details on how volatile the game is per spin. You'd expect nothing less from Andy, he's known for being volatile.
Enjoy the big payouts and play for huge real money wins.
Blueprint Gaming Ltd Games
Here is a list of the most popular Blueprint games online players love to play:
This is a shortlist of the most popular games available from Blueprint Gaming Ltd and does not mean the best in the online gamers reviews.