Do you want to play El Jackpotto in August 2020? Want the best bonuses available?
In this review, our team of experts take a good look at this slot game. Find out more on how to play, what software is used and where to find it.
Best El Jackpotto Sites
From our research, we have created a list of the best El Jackpotto sites:
Play El Jackpotto Slots Online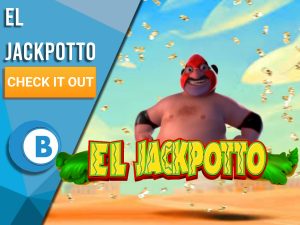 El Jackpotto is a five-reel slot game with 20 paylines. The game is a fusion of Mexican Wrestling, comedy and a jackpot, could we ask for anymore?
Blueprint Gaming present this game. It came onto our radar after the influx of great reviews recently. One of the best features is the jackpot that is up for grabs, you could win up to 10,000 times your stake.
Does that already sound appealing?
You won't have to look too far for this game. We've picked out the sites that offer the game and made them available here. Click onto them, join the site and activate the welcome promotions.
From there, you can then go on to play this particular game. Due to the popularity it is now available at most online casinos.
How to Play El Jackpotto Slots
The theme of this game will keep you locked in, it's hilarious. You can sit back and follow Senor Burrito. Become his number one fan, there are also options to activate the fart spin or spank that ass bonus.
Aside from activating some of the jackpots and bonus features, the game is super-simple.
All you need to do is:
Load the game and choose the stake before you spin. This can be done with the arrows.
Press spin and watch the reels land. If you win, the game will let you know.
Play for matching symbols and bonus features.
As well as matching symbols on the winning reels, you can play for the scatter symbols. They will unlock and activate free spin features. You can also cross your fingers for the appearance of Senor Burrito, the fart shuffle or stacked wilds.
For more details on the interactive features, read on.
El Jackpotto Slot Free Spins No Deposit
The joy of joining new casinos that you're yet to join, is that you have the potential to capitalise on deals. Almost every online casino has some kind of promotion aimed at new players.
The best promotions are free spins and no deposit bonuses for slots. If you see any no deposit bonuses, we recommend that you grab it. They are rare and they are the only free promotion, that really is free.
Although you don't necessarily lose out or pay anything for other free deals, the said promos do not need a deposit. If you find free spins or no deposit bonuses on this page, enjoy them as a free trial and chance to win on the casino sites.
Interactive Features
We always love to discover straightforward slot games that also boast exploratory features.
Spank That Ass- You can reveal prizes, you will then get an offer. You'll get cash prizes.
Pound for Pound- Step inside the wrestling ring and pick from different belts. You could even find a burrito and enter the big money stage.
El Jackpotto Rocket- This could appear randomly. If El Jackpotto turns up with a rocket, then he detonates five free spins.
Ready to Rumble- Fight different wrestlers, each time you defeat them you will get a bonus and prize of some kind. This could be free spins, shifting stacks and wilds. If you defeat all three characters, you will enter the big money bonus.
Big Money Bonus- With all the talk of the famous big money bonus, what is it? The aim is to get the Ultimate Luchador Champion Bonus symbols. There are big prizes, especially if you enter the Super Wheel, then you could get up to 10,000 your stake.
Paylines and Stakes
Paylines- 20
Grid- 5×5
Reels- 5
Features- Free Spins, Wilds, Jackpot
Stake- 0.20- 100
Jackpot- 500- 10,000
El Jackpotto Slots on Mobile Phone
Want to play the Mexican wrestling slot game from your phone?
Now you can, without the need to download an app. All you need to do is access the game on your browser. Whether you are an iPhone or Android owner, it is simple to load the browser and then play from there.
The HTML-5 design automatically converts to a mobile version.
El Jackpotto Slots Graphics Design
The graphics are fun, colourful and capture your attention. Just what you need when playing a Mexican wrestling slot. With many characters, symbols and types of bonuses, the extravagant graphics work well.
About El Jackpotto Slots
Compromising of Mexican wrestlers such as El Jackpotto, El Capitan and many others, you have plenty of the plot to embrace. It's also great to see many bonuses and other options added to this game.
If you access the Super Wheel, you could gain some amazing wins. Other than that, the jackpot still stands at a generous 500x your stake.
There's a lot of game to enjoy here. It's quite comical, as each character has its own personality and even the bonus names and features are funny. It's not just an entertainment sport, you can also enjoy prosperous returns from features and jackpots.
El Jackpotto Slots Software
None other than Blueprint Gaming are the providers behind this game. They always do a great job and that is why they are well-respected in the industry.
They're responsible for 100s of slot games and this is an entertaining one to say the least. After playing the game, we were happy with the performance, it's fast, effortless and easy to understand.
El Jackpotto Slots RTP Review
RTP is referring to the Return to Player, an indication of how likely a game is to payout per spin. We expect a 95% RTP for all slots and anything less is below the average.
Anything over, exceeds expectations. You will be glad to know that El Jackpotto slots RTP is 96%, putting it over the threshold and providing another reason to find a promotion and enjoy this stimulating slot.
Blueprint Gaming Ltd Games
Here is a list of the most popular Blueprint Gaming games online players love to play in August 2020:
This is a shortlist of the most popular games available from Blueprint Gaming Ltd and does not mean the best in the online gamers reviews.