Funky Monkey Slot Machine
Monkey see what monkey do, now spin the reels and see what monkey has in store for you!
Funky Monkey Slots is a 3-reel slot game with 1 payline and 3 rows. Playtech released this monkey-themed classic casino game with a £2500 jackpot with a high variance and a 95.7% RTP. This slot game has icons like the Bar Symbols, Monkey Symbols, Drum Symbols, and Hut Symbols.
Swing through vines and go through the forest to see what prizes lie in wait for you. In this Funky Monkey Slot Review, find out how monkeying around can lead to some winning payouts and even the jackpot prize!
Best Funky Monkey Slot Sites
From our research, we have created a list of the Best Funky Monkey Slot Sites in October 2022:
About Funky Monkey Slot Game
Monkey around with the funky monkey and you might just get yourself a few of his prized bananas. In this 3 reel, 1 pay-line classic slot game by Playtech Software, players can see their bets to go bananas as the reels spin.
Perfect for both young and old players alike, this fresh and colourful new take on a classic slot game entices players to play on and gather as many wins as this 1 pay-line slot can possibly give. Although this game does not have any additional bonus features, it pays out in high amounts.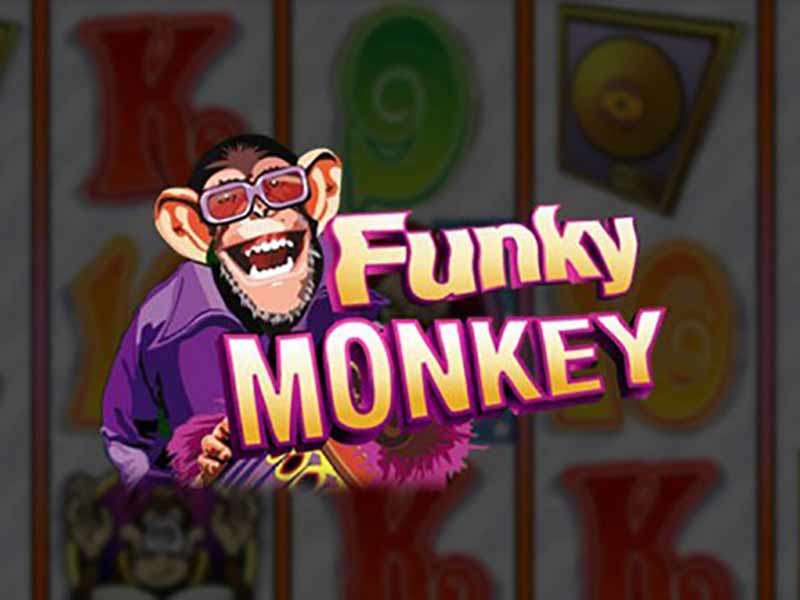 This funky game of slots brings together some old and new aspects of slot gaming. It is a classic slot game but the illustrations and graphics are quite modern, giving it a fresher and more appealing look to new players. The burst of colour, with purples and yellows filling the reels, along with the funky music that plays whenever a win is made makes it all the more funky and worth playing.
Along with the lack of bonus features, there is also a lack of background music to accompany players throughout the game.
The sounds focus more on the classic ping of the reels whenever a spin starts, and a lively funky tune plays when a win is made.
This game is interestingly simple – worth exploring and worth playing.
Slot Info
| Funky Monkey Slots | Attributes |
| --- | --- |
| Casino Game: | Funky Monkey Slot Game |
| Paylines: | |
| Reels: | 3 |
| Software: | Playtech |
| Minimum Bet: | £0.01 |
| Max Bet: | £15 |
| Variance: | |
| RTP: | 95.9% |
| Slot Theme:  | Monkeys |
| Bonus Features: | Bar Symbols, Monkey Symbols, Drum Symbols, Hut Symbols |
| Max Win: | £2500 |
| Free Spins: | No |
| Release Date: | 29th of October 2013 |
How to Play Funky Monkey Slot Game
Go bananas with the Funky Monkey with these simple steps:
You can monkey around the reels by first clicking the Line Bet (+/-) section to set the coin size. When you're happy with the amounts to wager, you can click the Spin button when you are ready to begin the game. Alternatively, you can press the Auto Play button for some uninterrupted gameplay or you can press the Turbo Spin button to spin the reels faster.
Learn how to be as funky as any monkey by playing on any PC device. This is not yet available for mobile gaming, but stay tuned!
Interactive Features
For all the players who are craving some old-school gaming, this is the one to try out. It brings back the challenge and simplicity of classic gaming.
Now, as this is a classic slot game, it does not have any bonus or interactive features.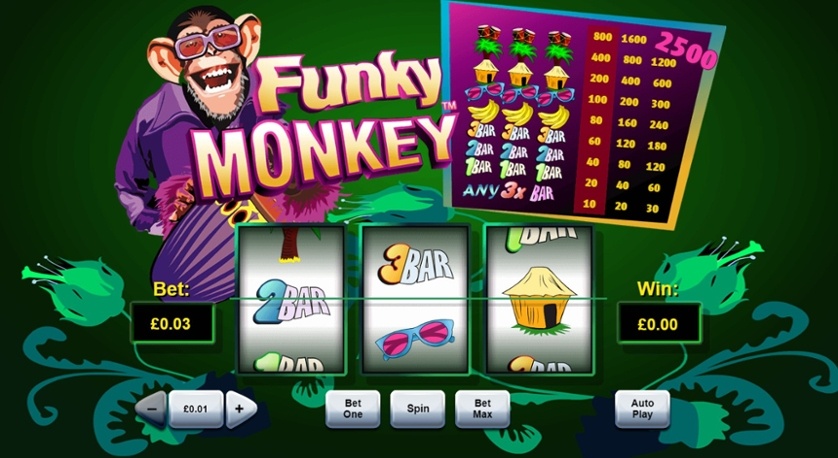 Although, Playtech makes up for this by giving players several chances to win as well as giving players a 2500x multiplier payout.
Paylines and Stakes
With a jackpot prize of 2,500, you'd definitely need the help of the playful monkeys to get it. And for a price of 0.01 to 5 coins per spin, players can also get some payouts from the bongos, palm trees, nipa huts, sunglasses, bananas, and bars.
By landing 1 to 3 of a kind of these on the reels, players can gain coin wins that range from 10 coins to 2,500 coins.
Funky Monkey Slots Game Software
The Funky Monkey classic slot game is powered by Playtech Software.
Playtech is at the forefront of the gambling and financial trade industry. They offer players innovative designs and an exciting and seamless gaming experience by providing games that can be played anytime, anywhere. They have also transitioned on to the mobile gaming platform.
What is Funky Monkey Slots RTP?
The RTP for Funky Monkey Slots is 95.9%
This non-progressive online casino game has a fair payout percentage with 95.9%. So, players who wager £100 can expect to get a return average of £95. This is a pretty good payout percentage, so when you spin this slot, you can enjoy gaining more as the payouts land more frequently.
Slot Volatility
This video slot game has a medium to high volatility level.
With this kind of variance, the Funky Monkey casino slot can offer fair payouts that land in a semi-frequent manner. This means that players will get to earn pretty decent sized wins throughout the game as the pays land often enough to make substantial amounts by the end.
Summary
This is a blend of classic and modern slot gaming. It is quite a fun and challenging experience that is best for any kind of player, and, given everything mentioned here in this Funky Monkey Slot Review, this game comes in as highly recommended.
Patience is key in this game as it might take a minute before the wins come. But when it does, you'll be glad to have waited for it for this game has some colossal wins in its bag. This is by n means a casual game, but the challenge level isn't too difficult so it is easy enough to nab some good amounts, even though it may take longer to do so.
Now, players who have more experience may find more joy in this challenging game than those who are fairly new to it as there are no helpful bonus features that can help land wins. This game leaves it all up to a player's skill when landing any wins, so be cautious when placing down any bet.
You May Also Like
Check out our full list of playtech slot software games in October 2022: