Battle Royal Slot Machine
The battle for the crown is long and gruesome. Good thing you're just a spectator! Watch Henry VIII court his six wives with gold, jewels, and other riches as the game commences.
Battle Royal Slots is a slot game powered by Play 'N Go slots. This game has 20 paylines, 5 reels and loads of different ways to win. Befriend the ladies, and you may get a stray jewel, a royal gift, or even a jackpot prize just by knowing the King himself in this royal themed slot game.
Find out how to get yourself your share of the royal riches when you read this Battle Royal Slot Review, and you may end up as a royal yourself!
Battle Royal Slot Sites
From our research, we have created a list of Battle Royal Sites in June 2022:
About Battle Royal Slot Game
Imagine how much work it would be to have had six wives. Now, imagine being a royal, with royal duties, along with having that many spouses all vying for your title and your riches.
Will you be the 7th or will you be lucky enough to simply win his favour? In this five-reel, 20 pay-line video slot game, players may just lose their heads while collecting wins from the game's wilds, scatters, free spins, and other hilariously fun bonus games.
Divorced, beheaded, died; divorced, beheaded, survived – so were the fates of the past six wives of Henry the eighth.
Thankfully, this game won't be guillotining anyone except for Henry's wives in the game. Players, however, will lose their minds over the exceptional graphics and genius gameplay experience that Play n' GO has set up in this casino game.
It's historically accurate, involving each one of the King's wives but the stark difference between reality and fantasy here is that Henry lives to see all of his wives ghosts during the game. That is because the queens go from their mortal selves to their more spectral versions as the game progresses.
They act as the higher paying symbols, with the ghost version being the more valuable version. There're also some lower-paying symbols here such as the colourful and expensive-looking gem card symbols. Of course, these would be included for what is a king without his riches?
This video slot puts a fun twist to the bonus features that players have been accustomed to seeing such as the "pick me" feature and "gamble" feature. During the game, players will not only get to see beautifully illustrated images of the queens decked out in their royal regalia but also the King himself and his many jewels and coins.
Players will even get a chance to watch a thrilling game where the queens are beheaded one by one, and their ghost selves then replace their symbols. The King will also provide a mini-game wherein players will need to help him escape the wrath of his undead queens, all while collecting more treasure.
So, if you're up for a romp through the English Rainessance, then try out this video slot and see just how much royal treasure you can loot before losing your head!
How to Play Battle Royal Slot Online
Here are a few tips and tricks to remember when dealing with royal poltergeists:
Pick out the number and value of coins to wager by ticking the (+/-) sections. Then, to start the round, click the Spin or Autospin buttons.
Will you be next in line to inherit the throne's riches? Find out when you play the game from any mobile (Apple or Android), tablet, or PC/ Desktop device.
Interactive Features
Wilds. The wild symbol is Henry the Eighth himself. His symbol can substitute for any symbol except for the scatter symbol.
Scatters. The shield and swords represent the scatter symbol. When this lands on the reels, players will get a chance to play a "Pick Me" bonus game where the game lets players choose between a free spins game or a "Heads Will Roll" bonus game.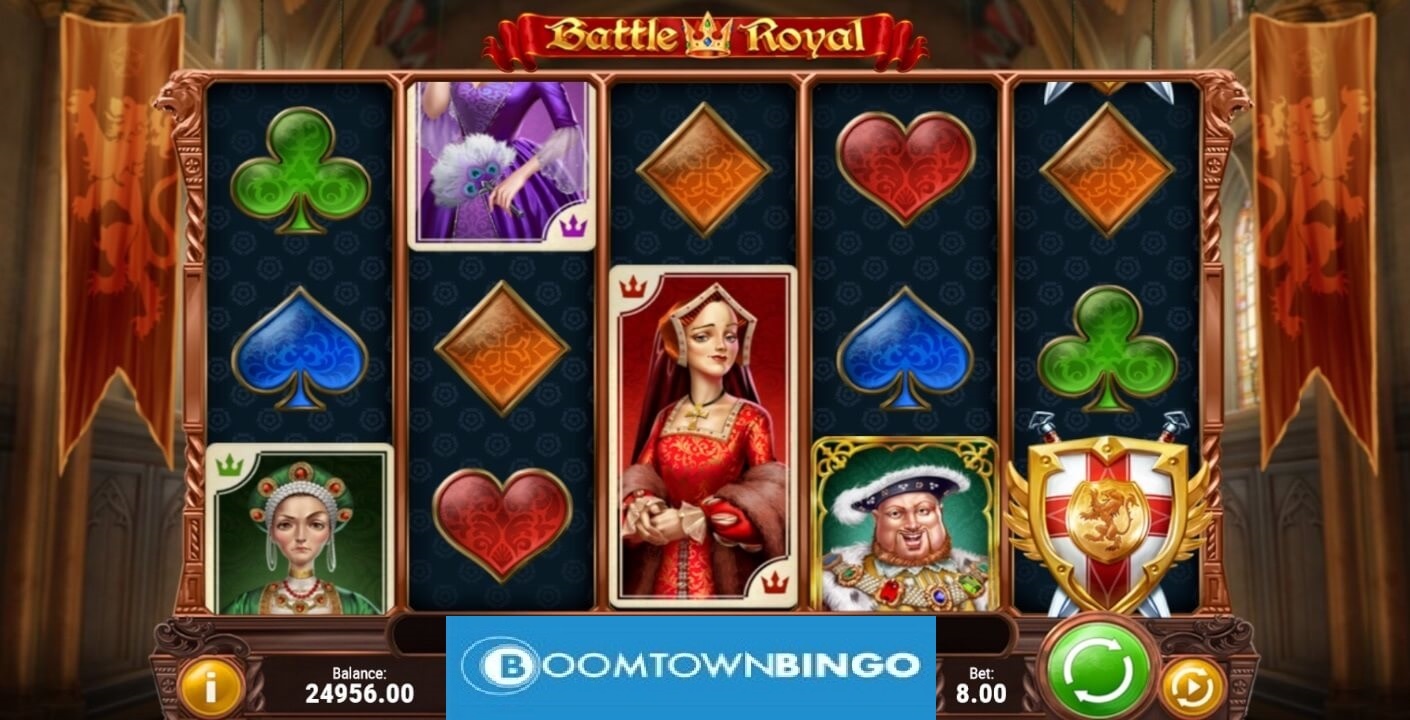 Stacked Wild. During this feature, King Henry becomes stacked, and he can be used on any pay-line.
Royal Flush. This feature is a randomly triggered bonus, and it will turn all low-value symbols into the same suit so it can make more winning combinations.
What Symbol Triggers Battle Royal Slot Bonus Free Spins?
To win some free spins, players must land the scatter symbol and pick the shield with the free spins option during the "pick me" feature. Now, the amount of free spins depends on how long it takes for all the wives to get beheaded.
Players can win additional prizes (such as spins, multipliers, or coin prizes) at the end of the round as well by simply picking the correct wife. If that wife survives the round of beheadings or free spins, then players will win the bonus prize.
Paylines and Stakes
The crown jewels and royal treasury's contents are just a spin away! For 0.20 to 100 coins per spin, players can get a chance to play with the royal wives and find out just how much they can steal from the King on your behalf. Players can win tons of royal treasure from the quirky bonus features as well as the high and low-symbol payouts.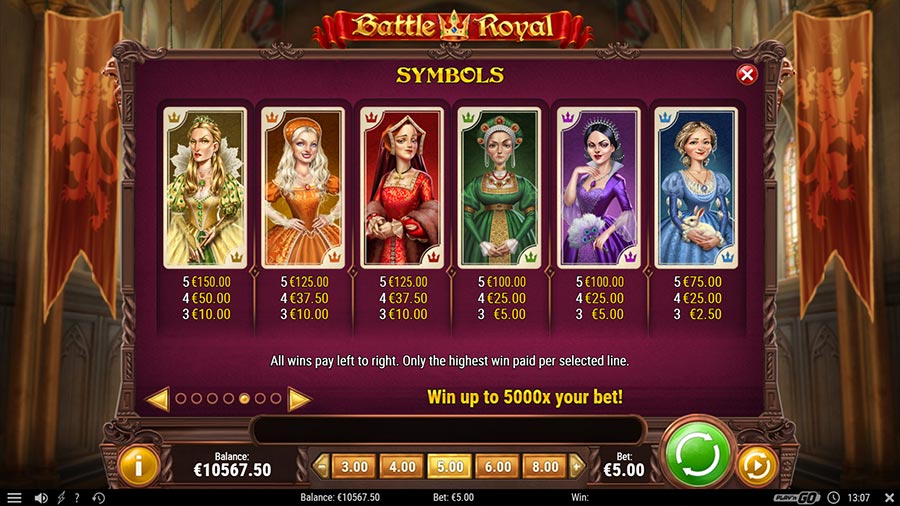 Now, the queens give off two amounts as they go from their live versions to their undead versions in the game. They all act as the higher paying symbols and can bring players anything from 1 to 60 coins whenever 3 to 5 of a kind land. Take note, though, that the undead versions of the queens award a little more than their live selves.
The lower-value symbols, on the other hand, can award players a minimum of 0.50 coins for landing 3 of a kind, and a maximum of 6 coins for landing 5 of a kind. You can gain these by landing the colourful card symbols – the spade, heart, diamond, and club.
Battle Royal Slot Game Software
Battle Royal is a slot game that was made possible by Play'n GO.
After two decades in the industry, the Play'n GO team is still churning out exciting and fun games which they are implementing more modern technology into their games to make better gaming solutions for the future.
What is Battle Royal Slot's RTP?
Battle Royal is a non-progressive slot game that has an RTP of 96.56%.
This fun game has a good Return to Player rate. This kind of payout percentage means that players can get a return average of about £96 for every £100 bet.
Slot Volatility
This game of Battle Royal Slot is a high variance game. That means the game provides players with pretty generous payouts, but, players must exercise caution when placing bets as the payouts only appear rarely.
Slot Info
| Battle Royal Slots | Attributes |
| --- | --- |
| Game: | Battle Royal Slots |
| Paylines: | |
| Reels: | |
| Software: | |
| Minimum Bet: | 20p |
| Max Bet: | £100 |
| Variance: | |
| RTP: | 96.56% |
| Slot Theme:  | Royal |
| Bonus Features: | "Heads will Roll" free spins round, "Long Live the King" bonus game |
| Max Win: | 600 |
| Free Spins: | Yes |
| Release Date: | 2018 |
Summary
This is one game that will surely entertain any level and age of the player. It's historically accurate with a few fun and hilarious twists. Henry VIII was indeed famous for his history-changing love affairs, but in this video slot game, he becomes plagued by the ghosts of his past wives. This game takes a hilarious spin on one of history's greatest stories and makes it possible for players to be in the thick of the incredible storyline themselves.
This slot is a high variance game so, as enjoyable as it is, it may be better suited for those players who have a bit more experience when it comes to playing this kind of casino game. Although, even those who are relatively new to the scene may still find this highly enjoyable simply because the bonus features are quite helpful so even if the payouts rarely land, the bonus games and features do prove to be helpful in landing some pretty good wins throughout the game.
You May Also Like
We have researched and reviewed all other Play'n GO Software games you might also like: