Viking Runecraft Slot Machine
The world is ending. But, where are the gods to help feeble mortals escape Ragnarok? Thor, Odin, Freya, and Heimdall are gearing up to battle the end of days. Get on their side as they fight to survive Ragnarok and gain glorious wins in the process. Not sure how you can benefit? Read this Viking Runecraft Slot Review and find out and you may even earn yourself the jackpot prize!
Viking Runecraft Slots is a 7-reel video slot game with 1 payline, 3 rows and a Nordic God theme. Powered by Play N Go, this casino game comes with multipliers, free spins feature and a bonus wheel. The game has a number of animals as symbols such as ancient necklaces, axes, and helmets. 
Viking Runecraft Slot Sites
From our research, we have created a list of Viking Runecraft Sites in June 2023:
About Viking Runecraft Slot Game
Step into the halls of Valhalla and take in the glory of this Nordic heaven. The game is designed beautifully and is made to make every player experience the glory of Odin's halls. But have you, a mere mortal, ever fancied yourself as a Norse god? Admit it. It would be amazing to be able to wield the power of thunder and lightning, or have superhuman strength, command armies, or foster the wisdom of the years?
Those were the kinds of powers only the gods had. They used it to help humanity grow and evolve, and eventually, they would have to use it to help humanity survive. Long ago, it was foretold that the world would come to an end when the waters rise and submerge all the lands, and a great battle will commence.
This battle is between great forces, and mortals are merely pawns in the game. So, what better way to survive the end of the world than by siding with a god? In this seven reel, all ways pay video slot game by Play'n Go, players will get to play a game of slots with four of the biggest Norse gods in history – Odin, Thor, Freya, and Heimdall.
Join the gods as they go through the reels collecting wilds, free spins, multipliers, cascading reels, and even a victorious 500,000 jackpot prize!
Watch as these mighty deities lead the way through some winning combinations all while presenting players with several helpful bonus features that go in line with the Nordic theme. These bonuses include the Fury of Fenrir, the Judgement of Jormungandr, the Scorching of Surtr, the Lure of Loki, and the Runes of Valhalla.
During the game, players will be dealing with very old-worldly images such as rune symbols, ancient necklaces, axes, and helmets. These, along with the image of the world being engulfed by the waves, fills the background.
Now, a great thing about this video slot is that it also showcases the gods' powers, and players will get to see each god showcasing their ability in levels. So, spin on to see just how many gods can help you gain winning combinations!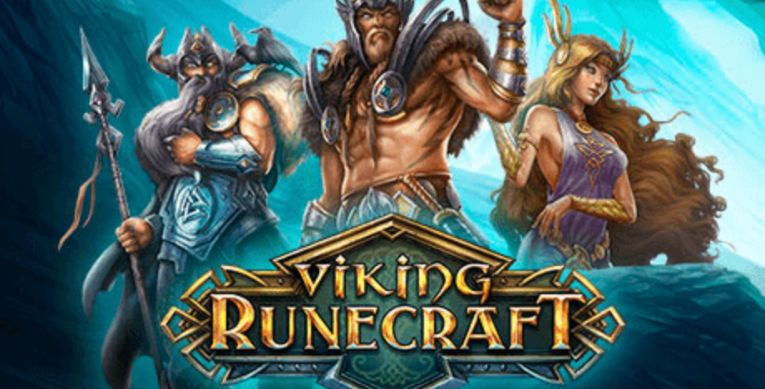 How to Play Viking Runecraft Slot Online
Learn how to get those godlike wins by following these simple steps:
Choose the number of coins and the value by toggling with the (+/-) sections. Then start spinning the reels by pressing either the Spin or Autospin buttons.
Beat the apocalypse by playing with the gods in this video slot from on any mobile (Apple or Android), tablet, or PC/ Desktop device.
Slot Info
| Viking Runecraft Slots | Attributes |
| --- | --- |
| Casino Game: | Viking Runecraft Slot Game |
| Paylines: | |
| Reels: | |
| Software: | |
| Minimum Bet: | £0.10 |
| Max Bet: | £100 |
| Variance: | |
| RTP: | 96.7% |
| Slot Theme:  | Nordic Gods |
| Bonus Features: | The bonus wheel, free spins, multipliers |
| Max Win: | 5000x |
| Free Spins: | Yes |
| Release Date: | 2017 |
Interactive Features
Gift of the Gods. This bonus feature, players will get to see all four gods, and they will help land some winning combinations using their superior power. But the gods appear in levels, and each will help bring in some wilds. To move from one level (or god) to the next, players will have to land the patterns on the grid found on the right side of the screen. When moving up a level, players will see a bonus wheel will show up. When this appears, the spaces will light up, and by hitting those lit spots, players can win an additional cash prize.
Thor. During Thor's round, he will produce lightning, and this will bring as many as nine wilds to the reels.
Odin. In this feature, players will see Odin instead of Thor. Odin will then produce as many four wilds are created in groups of 2
Freya. The goddess will replace Odin once players reach level 3. Freya can help create wilds that appear in a cluster of 4 and will keep happening until a win is made.
Heimdall. Heimdall appears on the fourth and final level. For this feature, the god will let one wild symbol land on each row.
Runes of Valhalla. This feature lets players collect five different rune symbols on each level. These can be seen on the upper left corner of the screen, above the shield. When all the five runes are collected, players can win a mini-game jackpot prize.
Charge of Destruction. During this feature, the shield on the left side of the screen lights up or gets charged whenever a win lands. By getting 20 symbol wins, players can trigger 1 of the four additional bonus features:
Fury of Fenrir. During this feature, the game chooses four lines – two are removed while the other two will all transform and have the same symbol.
Judgement of Jörmungandr. For this bonus, the game selects several symbols. These symbols will either be destroyed and be replaced by new ones or be transformed into like icons.
Scorching of Surtr. During this bonus, three random symbols will be chosen. All the symbols surrounding the chosen tiles will be destroyed and replaced with the same symbols as the chosen tiles.
Lure of Loki. This fun bonus feature involves Loki's naughty behaviour. So, during this game, two symbols will be randomly selected. One group of the chosen symbols will be destroyed, and the other will transform into the same symbol.
What Symbol Triggers Viking Runecraft Slot Bonus Free Spins?
The world may be spinning to an end, but at least players can benefit from it by getting some free spins. In this video slot game, players can expect to find some Ragnarok free spins. Now, whenever the free spin feature ends, a "Charge of Destruction" feature triggers. There are four charges to trigger, and once this has all been used, the free spins round will end.
Once the free spin feature ends, the Charge of Destruction wheel will give out multiplier wins that are valued at 2x to 15x multipliers.
Paylines and Stakes
To get the 500,000jackpot prize, players must first sacrifice a bet of 0.10 to 100 coins per spin. Doing so will allow players to get some symbol payouts from the high and low-paying symbols. So keep a watchful eye out for the hammer, helmet, axe, and necklace for these act as the higher-paying symbols of the lot.
Players who can land five or more of a kind of these can win amounts ranging from 2 coins to 2,000 coins. Keep in mind that 15 or more of a kind can win the 2,000 coin prize.
Landing 5 or more of the colourful stone runes, on the other hand, can bring players a minimum of 0.40 for landing 5 of a kind, and a maximum of 100 coins for landing 15 or more of a kind.

Viking Runecraft Slot Game Software
Viking Runecraft is a slot game that was made possible by Play'n GO.
After two decades in the industry, the Play'n GO team no signs of stopping. They are implementing more modern technology into their games, which is made for players by players, to make better gaming solutions for the future.
What is Viking Runecraft Slot's RTP?
Viking Runecraft is a non-progressive slot game that has an RTP of 96.7%.
The Return to Player rate of this game is pretty good because that means that players can get a return average of £96 for every £100 bet.
Slot Volatility
This game of slots is a medium to high variance video slot game. That means the game provides players with pretty fair to generous payouts that reward players in a semi-frequent manner.
Summary
Viking Runecraft is a compelling online slot machine by one of the world's best developers. The game is jam-packed with bonus features, meaning you'll never get bored! There's a bonus game, free spins round, a range of levels with different features, and a massive jackpot of 500,000 coins.
With so many different ways to win, it's easy to see why Viking Runecraft is fast becoming one of Play'n Go's most popular online slots. Try it out at your preferred online casino or mobile casino and explore the world of the Vikings as you hunt down that all-important jackpot.
You May Also Like
We have researched and reviewed all other Play'n GO Software games you might also like: