Phoenix Reborn Slot Machine
Rise and fall just like the glorious sun God, Totek. In the morning, you rise from the ashes, at noon, you grow old and wither, and come night, you burst into flames until you are nothing but ash once more.
Phoenix Reborn Slots is a 5-reel, 40 payline, online video slot game, developed by Play 'N Go. The high variance casino game has an RTP of 96.5% and has a Mythical theme. Bonus features, including Phoenix Wilds and Mask Scatters, could help you win up to 5,000x your stake. The minimum bet is £0.20.
This is the cycle of the sun, and so goes the life of the mighty phoenix. It rises and falls, burns up, and is reborn. In this Phoenix Reborn Slot Review, learn how you can soar through the reels just like the mighty bird, and revive your winning streaks whenever it turns to ash.
Phoenix Reborn Slot Sites
From our research, we have created a list of Phoenix Reborn Sites in June 2022:
About Phoenix Reborn Slot Game
Be immersed in an ancient battle as you step back to the olden times – a time when people engaged in warfare and celebrated triumphs. Revel in the gorgeous graphics that's realistic enough to make you think like you're back to the old Aztec age.
In ancient lore, our ancestors believed that was a symbol of hope – for, amidst the destruction of the fire and ash, it springs up and is renewed. It gives hope to mortals and makes one believe that nothing is lost or impossible.
It was also believed that all fierce warriors became birds once they have lived their lives and passed on. So, they are reincarnated into magnificent creatures. These beings fly through the earth, watching over their people, much like what happened to Totek, the Aztec god of the sun.
So in this video slot with five reels and 40 pay-lines, Play'n Go takes players back to the ancient time where the mighty Aztecs ruled – where their power was revered, and many adventurers sought their treasures.
Players can expect some wilds, scatters, and free spin bonus features to help create some winning streaks in the game. However, as this is modelled after the fierceness of the Aztec tribe, this game is pretty volatile so it would do well for players to exercise a little caution when playing this game.
It may not depict a war on the screen, but do not let its beauty deceive you – for like most explorers, you may find yourselves trapped and unable to escape the Aztec people's clutches if you aren't careful.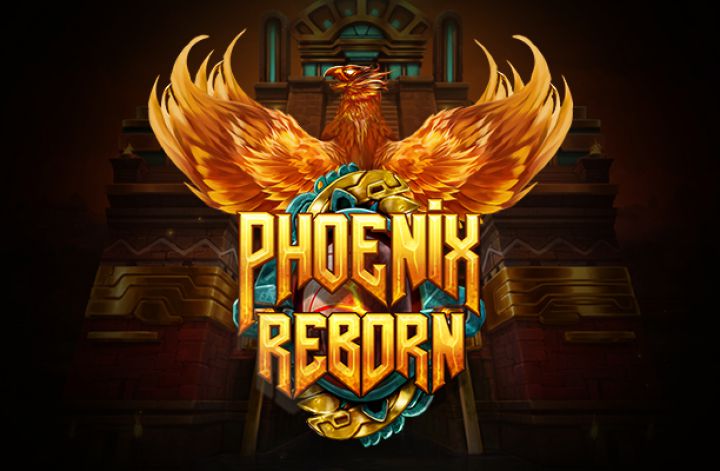 Set at the foot of a grand Aztec pyramid, the game involves some beautifully illustrated images of the Aztec temples and buildings. It's a perfect reconstruction of the beauty of this ancient civilization as the background is filled with golds, brick reds, bright yellows and oranges, and a stone wall that acts as the reels itself.
Toucans, snakes, jaguars, armoured gods and goddesses, and of course a blazing phoenix make up the symbols found on the reels, along with some stone symbols and the mask. The graphics are smooth and enthralling, going from calm to fiery in the blink of an eye, all while a lively, somewhat tribal tune plays in the background.
So, if you think you can survive this quest for the Aztec's gold, then spin on to see just how many wins the phoenix is inclined to give you.
Slot Info
| Phoenix Reborn Slots | Attributes |
| --- | --- |
| Casino Game: | Phoenix Reborn Slot Game |
| Paylines: | |
| Reels: | |
| Software: | |
| Minimum Bet: | £0.20 |
| Max Bet: | £100 |
| Variance: | |
| RTP: | 96.5% |
| Slot Theme:  | Mythical God |
| Bonus Features: | Phoenix Wilds, Mask Scatters |
| Max Win: | 5,000x |
| Free Spins: | Yes |
| Release Date: | 16th April 2019 |
How to Play Phoenix Reborn Slot Online
Before venturing into the Aztec's temples, here are a few helpful tips to remember:
Click the (+/-) buttons to set the number and value of coins to wager per spin. Then, you can begin the game by either clicking the Autospin, a button which gives you several uninterrupted spins, or the Spin button which provides you with one spin.
Set fire to the reels with the fiery phoenix by playing the game from any mobile (Apple or Android), tablet, or PC/ Desktop device.
Interactive Features
Phoenix Wilds. The phoenix represents the wild symbol. This symbol can substitute for any symbol on the reels except for the scatter symbol. This symbol can also expand and cover the entire reel. When this happens, the reels can create multiple wins on several different pay-lines at a time.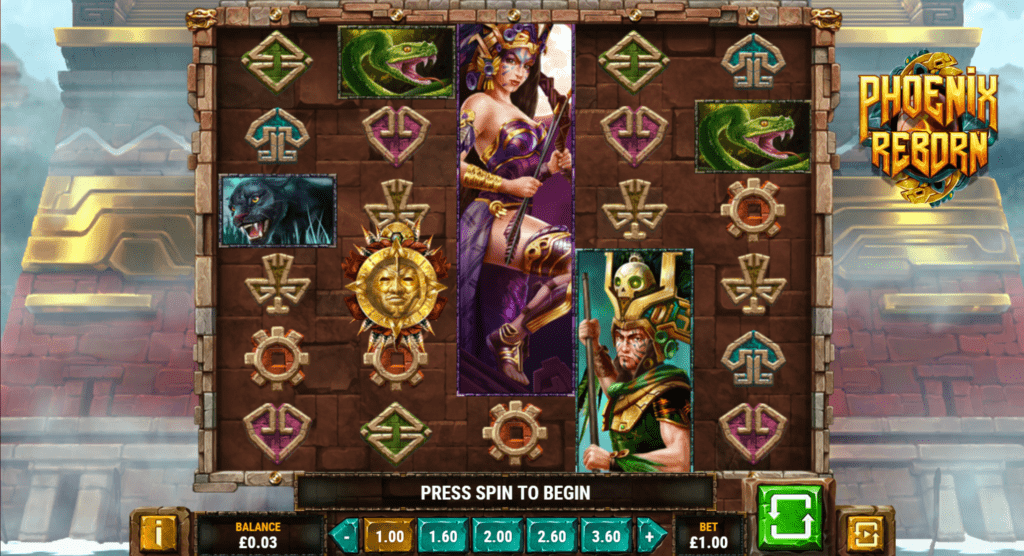 Scatters and Free Spins. The mask represents the scatter symbol. By landing three or more of these symbols on the reels, players can expect to win some free spins. On each free spin, there's a guaranteed wild symbol that will appear on the reels.
What Symbol Triggers Phoenix Reborn Slot Bonus Free Spins?
Although this game has to do with the phoenix, it is the mask symbol you should watch out for if you want to land any free spins. This feature can be triggered by landing 3 to 5 mask scatter symbols on the reels. This feature can also be retriggered, and when that happens, players can get over two expanding wilds. There's also a guaranteed wild that will appear on each free spin.
Three mask scatter symbols can award players with seven free spins.
Four mask scatter symbols can reward players with 12 free spins.
Five mask scatter symbols can award players with 20 free spins.
Paylines and Stakes
Much like the Aztec people, this game puts precedence on the deities. So, players can find that for 0.20 to 100 coins per spin, the goddess Coatlicue, and her son, Totek act as the higher-paying symbols that can give players anything from 0.10 to 20 coins. Players can get these amounts by landing 2 to 5 of a kind on the reels.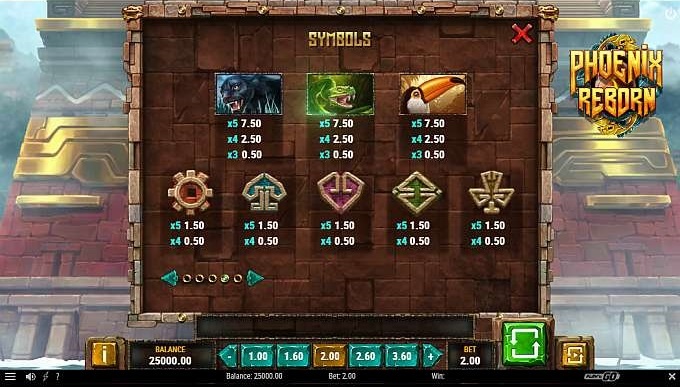 Meanwhile, the lower-paying symbols that can be found in the game are the jaguar, snake, and toucan. These animals, along with the stone symbols, can fetch players a minimum of 0.50 coins for landing 3 of a kind. It can also give out a maximum of 7.50 coins for landing 5 of a kind.
Phoenix Reborn Slot Game Software
Phoenix Reborn is a slot game that was made possible by Play'n GO.
Made for players by players, the Play'n GO team tailor their games to delight and entertain their players. After two decades in the industry, the Play'n GO team no signs of stopping. On the contrary, they are implementing more modern technology into their games to make better gaming solutions for the future.
What is Phoenix Reborn Slot's RTP?
The Phoenix Reborn game is a non-progressive slot game that has an RTP of 96.5%.
The Return to Player (RTP) is pretty good for a slot game as players can get a return average of £96 per £100 bet.
Slot Volatility
This game of Phoenix Reborn is a high variance slot.
With this kind of volatility, players can win large payouts that land less frequently.
Summary
This online casino slot is a beautifully made game that is both exciting and fun to play. It is visually stunning and quite generous in terms of payouts so players will undoubtedly be playing this game for hours on end. It may take players a little longer to land bigger wins, but the phoenix wild along with the other bonus features do help players land enough wins to collect a good amount by the end of the game.
Given the volatility level, this game is suitable for any level of players. However, more experienced players may find this less challenging than the players who are relatively new to the game.
You May Also Like
We have researched and reviewed all other Play'n GO Software games you might also like: