If you could meet the gods, would you take the chance? Their wrath may be mighty, but their generosity never fails to impress. In this Asgard slots game, players will get to see the Norse gods such as Odin, Thor, Freya, and the trickster, Loki.
Asgard Slots is a Norse Mythology themed slot game brought to you by Realtime Gaming. Released in 2016, This slot game has lots of bonus features to keep players busy, including bonus wild multipliers and free games that players can jump into and play. 
In the Asgard Slot, watch the gods show off their lightning aim when they help make some winning combinations. Travel through Asgard to find yourselves some wilds, scatters, and other bonus features that lie in wait on the reels. So read this Asgard Slot Review to find out how you can get help from the gods and land yourself the slots prizes and even the jackpot win!
Asgard Slot Sites
From our research, we have created a list of Asgard Sites in September 2023:
About Asgard Slot Game
Back in the day, people still believed in the gods, in the power of the supernatural bending nature and commanding the sun and moon to travel across the skies. They were the masters of time and the benders of lightning. People prayed to them for help, for strength, and riches.
When you play the Asgard slot by Pragmatic Play, you will feel the gods aiding you, just as they did back in the day. This is one of the online casinos game that lets players be close to Odin himself to gain the riches only he and his booming children can bring.
So in this five-reel, 243 payline video slot game, players will get to play alongside the gods themselves and see them in action on the screen as the reels roll. The game is set out in space, among the stars, with Asgard looming in the background.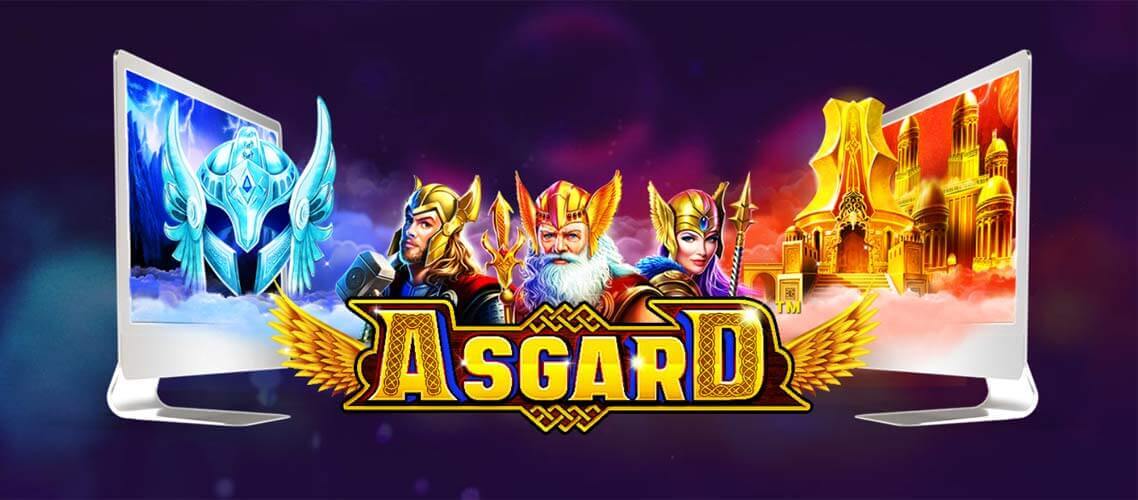 The game looks pretty dark, much like it must have been in the dark ages, but the reels themselves are surrounded by a bright silver metal frame that looks as intricate as any of the Asgard royal's crowns and armour. A soft, triumphant-sounding melody also plays as the slots progress.
During the game, players will come across helpful bonus features such as wilds, scatters, and several free spins. This slot review will aid players as they venture through the Asgard reels in search of winning combinations formed by these bonus features.
Players can win coin amounts as well as multiplier amounts in both the base game and bonus games so keep watch over these as they could disappear as quickly as lightning flashes.
Whether or not you believe in the gods, learn to call to the likes of Odin, Loki, Freya, and Thor, and they may bestow upon you countless blessings that only gods can do.
So, play Agard Slot today, and you may even find yourselves with the 7,500 jackpot win!
How to Play Asgard Slot Online
Before heading off to Asgard to meet the gods, it's best to know these tips and tricks:
When playing this Asgard slot game, players should first set the amount to bet. This can be managed by ticking the button found on the bottom part of the screen. If you aren't one to decide, you can always click the max bet button to place the max bet allowed per spin. Once you're satisfied with the amount to wager, you can either click the Spin button to play one spin or the Autospin button for uninterrupted gameplay.
Travel through the stars and gain prizes as quickly as lightning strikes when you play the game from any mobile (Apple or Android), tablet, or PC/ Desktop device.
Interactive Features
Wilds. The wild symbol in the Asguard slots is represented by gold letters that spell out "WILD". This symbol appears during the base game and during this feature, no scatters will appear on the reels. Also, players can expect the entire reel to go wild, which helps in landing more wins. So here, players not only get wilds but wild reels as well.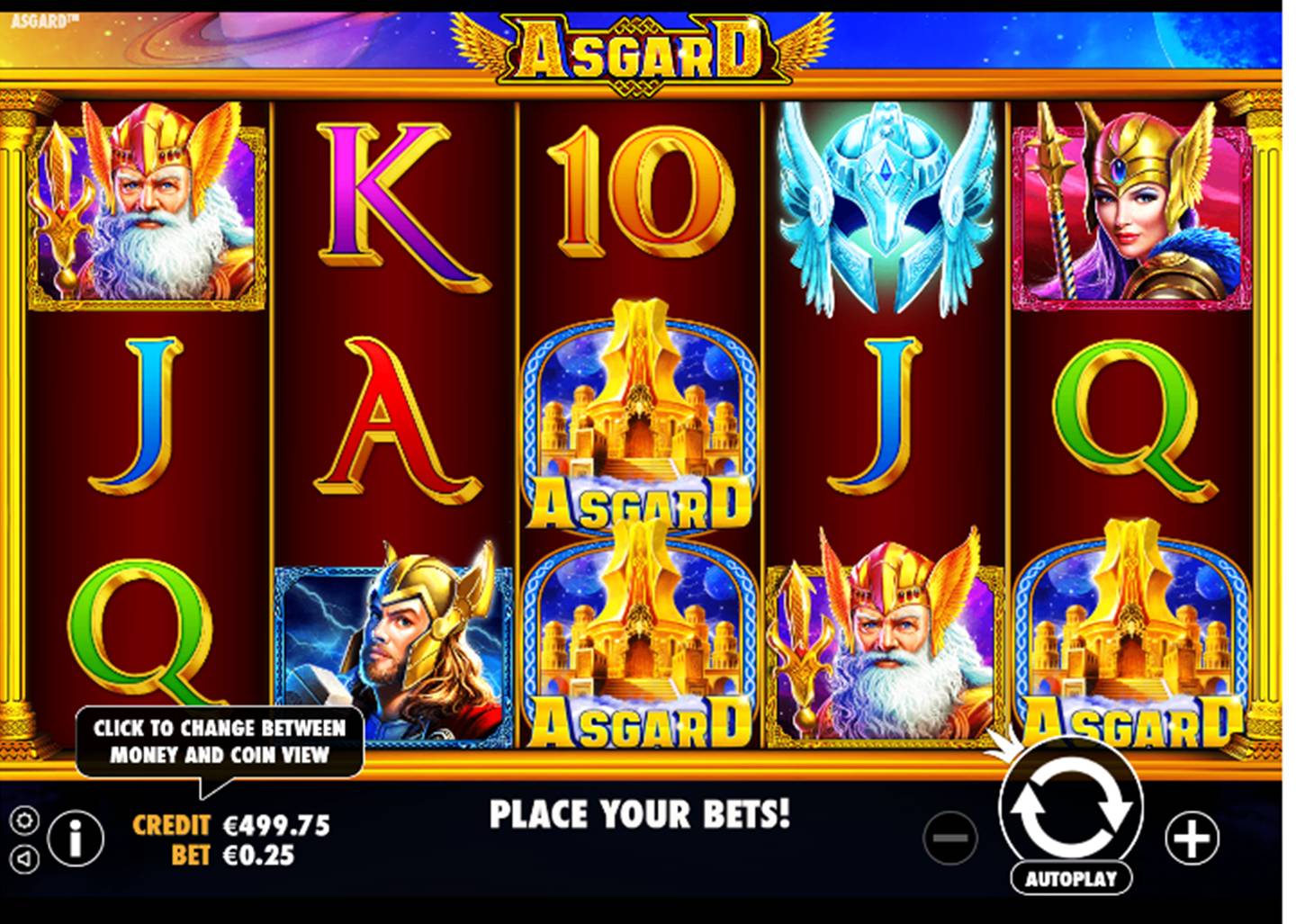 Scatters and Free Spins. When you play Asgard Slots, you'll be able to find a symbol with silver letters that spell out "Bonus", and this acts as the scatter symbol. Players who can land at least 5 of this can land some wins that get a 1,250x multiplier, and during the free spins round, players can get an additional 5x multipliers. In this game of slots, for as little as three free spins, players can trigger the free spins bonus feature.
What Symbol Triggers Asgard Slot Bonus Free Spins?
This slots game presents players with four types of free spins. This is separate from the base game, and each kind of free spins gives players different amounts of wilds, multipliers, and bonus symbols. The kinds consist of the following:
Goddess Free Spins. This free spins feature is activated by landing 3 of the bonus scatter symbols. During this bonus, players can get 15 free spins and a 3x multiplier.
Loki's Magic Free Spins. Loki's free spins feature gives players over 20 free spins and a wild that boosts wins whenever it appears on reel 3. Additionally, players can extra free spins by landing five additional bonus scatters on the reels which give out as many as four more spins.
Thunder God Free Spins. For this free spins feature, Thor gives players 25 free spins along with over 3x multipliers. But should a golden wild symbol appear on the reels during this round, players can get anything from 4x to 6x multipliers.
The Valhalla Free Spins. Players who can land over 15 of the bonus scatter symbols can trigger the prized spins feature of Asgard. In this free spins feature, players can get over 30 free spins along with morphing symbols. This bonus game can be retriggered when you play the game and land another five scatters.
Paylines and Stakes
To play this game with the Asgard gods, players must first wager amounts that vary between 0.30 to 30 per spin. After doing so, players can then venture on to play the Asgard game where Loki, Freya, Thor, and Odin wait to give out thunderous prizes.
When you play Asgard slot, players can win some prizes from the wilds, scatters, morphing objects, and Asgard worthy free spins. The slots are littered with wins just waiting to be collected. But apart from these bonus features, players can win some prizes from the paying symbols. When you play the game, you can expect some payouts from the high and low-value symbols of the slot.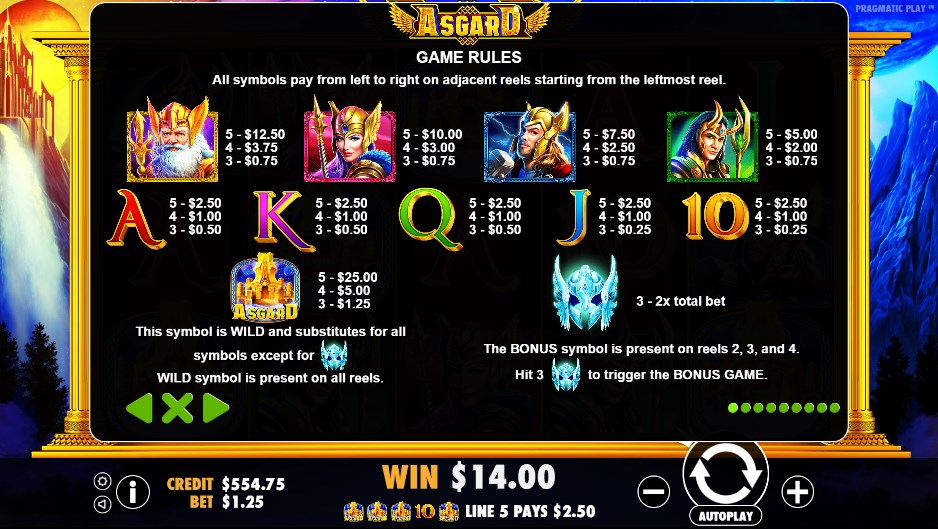 The higher-paying symbols of the slot consist of the four gods, the image of Agard, and Thor's hammer. Players who can get 3 to 5 of a kind on the reels can get a minimum of 15 and a maximum of 1,000 coins. You'll also get higher offers whenever you land wilds along with these symbols.
This casino slot game also has lower-value symbols that come in the form of silver icons such as the A, K, Q, J, 10, and 9 icons. These can fetch five coins whenever players land 3 of a kind, and as much as 150 whenever symbols land on the reels five times.
Asgard Slot Game Software
Asgard slots is one of the video slot games made possible by Pragmatic Play.
Pragmatic Play This gaming provider is known in the industry as being the lead content provider. They offer innovative, regulated, and mobile-focused multi-product portfolios to players because they aim to provide players with premium entertainment and seamless gaming experiences. They are also known for being accommodating as their games are available on mobile as well as desktop and pc platforms and they come in 31 different languages and all currencies.
What is Asgard Slot's RTP?
The Asgard slot game is a non-progressive slot that has an RTP of 96%.
This game has a fair Return to Player rate. So, that means that whenever you play the slots, players can expect to get a return average of £96 per £100 bet.
Slot Volatility
This Asgard slot is a high variance game. With this kind of variance level, players can expect to land some pretty generous wins throughout the game although, these amounts land in a rare manner.
All Slot Info
| Asgard Slots | Attributes |
| --- | --- |
| Game: | Asgard Slots |
| Paylines: | |
| Reels: | |
| Software: | |
| Minimum Bet: | 25p |
| Max Bet: | £7.50 |
| Variance: | |
| RTP: | 96% |
| Slot Theme:  | Norse Mythology |
| Bonus Features: | Bonus Wild Multipliers, Free Games |
| Max Win: | 200x |
| Free Spins: | Yes |
| Release Date: | 2016 |
Summary
Asgard seems lightyears away but thanks to Pragmatic Play, players don't have to venture into the unknown reaches of space to reach Asgard. Players merely have to play the slot or read this Asgard slot review to gain the multiple wins from the game's wild reels, free spins and wild multipliers that can be gained in the bonus game as well as the main game. This is such a joy to play not only because it involves such godlike wins, but also because it accommodates players of all experience levels. Sure, players with more experience may gain more from the free spins that the slots can give. So, if you're not one to veer away from these riches and if you think you think you're worthy of the gifts the gods can bestow.
You May Also Like
We have researched and reviewed all other Pragmatic Play Software games you might also like: