Vampires vs Wolves Slot Machine
Since the beginning of time, vampires and wolves have been mortal enemies, each designed to destroy the other. Through the years, their battles get fiercer – circling from a fight between vampires vs wolves to good vs evil, light vs dark, yet no one has come out as the victor.
Vampires vs Wolves Slots is a 5 reels slot game with 10 paylines and a horror theme. Powered by Pragmatic Play, this casino game comes with a wild, free spin feature and scatter symbols. You will find jewel-toned card symbols such as the spade, club, diamond, and hearts on the game. 
Amidst all the bloodshed are some prizes just waiting to be rescued from the battlefield. Will you be brave enough to go through these hunters and search for those wins? Find out how to when you read this Vampires vs Wolves Slot Review.
Vampires vs Wolves Slot Sites
From our research, we have created a list of Vampires vs Wolves Sites in May 2023:
About Vampires vs Wolves Slot Game
Sink your teeth into some gruesome wins in this thrilling video slot. The undead and supernatural themes may be a well-known theme, and yet there's something about the fight between werewolves and vampires that will forever get the interest of viewers of all ages and backgrounds.
It's the undead vs the morphing creatures in this video slot game, and it's up to players to pick a side to support.
There's no time for fear either, not when there're a handful of wilds (regular and sticky wilds), scatters, and free spins to be had as well as the payouts from the symbols. These do come in pretty handy too since there is no jackpot prize available on this Vampires vs Wolves slot.
In this five-reel, ten pay-line video slot, players will get to see some beautifully illustrated symbols and artwork as well as stunning graphics which help to add beauty to these already supernatural beings. Something is alluring about the mythical and surreal and Pragmatic Play brings players only the best of the best.
The game involves beautiful vampires, with alabaster skin and beauty only the undead can possess. The wolves, on the other hand, bear a beauty more like that of a majestic animal rather than a fang-bearing werewolf that we've all become accustomed to seeing.
Both so strangely alluring that it sucks players in to play this game between immortals even with the eerie music playing as the game progresses. The game is set in a little town after dark, this setting further adds to the mysterious and somewhat eerie nature of these supernatural beings.
Meanwhile, the reels are flanked with a silver frame, ornate and sleek, and it's filled with both wolf and vampire symbols alike.
These slots successfully mimic the fantasy genre. It incorporates a good blend of good vs evil and in this case, vampires vs wolves. It's exciting to watch the game as it plays along, and it's also generous enough to keep players spinning, especially when the free spins feature comes along.
Slots like these perfectly capture the fantasy genre, and they even help players make more by giving a handful of bonus features such as sticky wilds to make things even more exciting.
So, if you're a fan of the Twilight, The Immortals, or even the True Blood franchise, then this game will have you spinning for hours. It combines fantastic graphics, envigorating gaming experiences, and a fun spin around the reels while a battle ensues between the vampires vs wolves.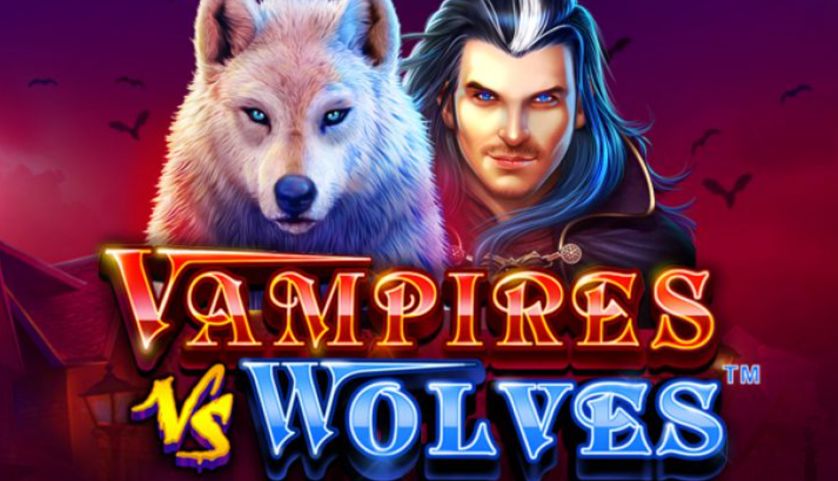 How To Play Vampires vs Wolves Slot Online
Venture into the dimly lit streets and find yourselves some wolves and vampires. But before doing so, you may want to remember these steps:
Before pressing the spin button, it's best to set the amount to bet first a well as the value of the coins bet. You can manage this on the bottom part of the screen. Once you're happy with your amounts, you can either click the Spin button to play one spin or the Autospin button for uninterrupted gameplay.
Skulk through the reels and look for the prizes left behind by the wolves and vamps when you play the game on any mobile (Apple or Android), tablet, or PC/ Desktop device.
Slot Info
| Vampires vs Wolves Slots | Attributes |
| --- | --- |
| Casino Game: | Vampires vs Wolves Slot Machine |
| Paylines: | |
| Reels: | |
| Software: | |
| Minimum Bet: | £0.10 |
| Max Bet: | £50 |
| Variance: | |
| RTP: | 96.49% |
| Slot Theme:  | Horror |
| Bonus Features: | Wild, Scatter, Free spins |
| Max Win: | 50,000 |
| Free Spins: | Yes |
| Release Date: | Aug 2019 |
Interactive Features
Wilds. The game's wild icon is the gold letters that spell out "WILD". This icon stands in for any other symbol apart from the scatter. Also, whenever 3 of these lands on the reels, players can expect to get more winning combinations.
Scatters and Free Spins. Pragmatic Play actually gave the game two scatter symbols: the howling wolf and the image of the castle. These icons can only appear on reels 1 and 5. Now, when these symbols completely cover reels 1 and 5, it can trigger the free spins feature.
What Symbol Triggers Vampires vs Wolves Slot Bonus Free Spins?
As this is a game that involves two different entities, Pragmatic Play gives players two different free spins to look forward to. This fight between vampires vs wolves, players get to benefit from the wolf free spins and the vampire free spins. Each of these spins can offer players different bonus features.
The wolf free spins can gift players with over 14 free spins as well as show players some humans transforming into werewolves. When this happens, the symbols will turn wild and substitute for any other symbol to form some winning combinations.
The vampire free spins, on the other hand, can give players over eight free spins and during this type of free spin, players will see humans transforming into vampires. When this happens, it will turn a random symbol wild, and it will remain wild until the end of the round. These are what's known as the sticky wilds.
So whether you get vampire free spins or wolf free spins, you won't be left wanting since either of the free spins features will leave you satisfied. It's helpful enough to bring some wins, but it also gives players some fun scenarios to watch out for.
Paylines and Stakes
Who knew witnessing a game between vampires and wolves would only cost about 0.10 to 50 coins per spin? In this game of video casino slots, players will be able to gain some wins from the wilds, the free spins feature, the high-value symbols, and the low-value symbols.
In this slot game, Pragmatic Play gives players countless opportunities to gain wins, and one of them comes by landing the wild symbol. Players who can land these can gain anything from 0.25 to 10 coins for landing 3 to 5 of these icons.
Now, the free spins feature can garner players a multitude of payouts as wilds do tend to land here and make more winning combinations. You'll really have to play on to discover how much the slots can spout out for you. And, as this is a game of vampires vs wolves, players can expect to gain payouts from those creatures.
So, those who can land the vampires and human versions of the werewolves can gain amounts varying between 0.10 to 8 coins whenever 3 to 5 of a kind of these land. These, as with most slots, act as the higher-paying symbols in the game. However, the vampire symbols do give off more than the wolf symbols.
The lower-paying symbols here, on the other hand, are made up of jewel-toned card symbols such as the spade, club, diamond, and hearts. These can fetch players as little as 0.05 for landing 3 of a kind, and as much as one coin for landing 5 of a kind.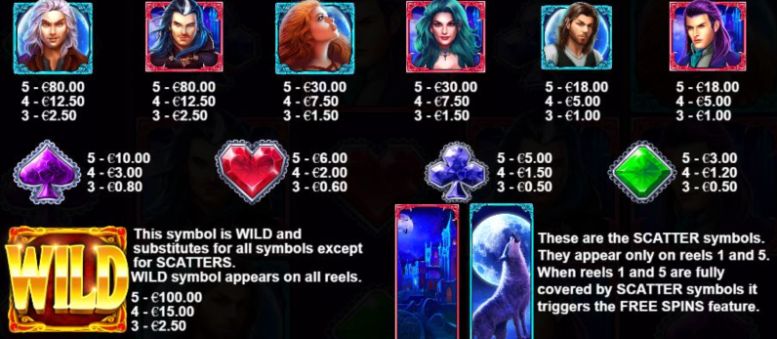 Vampires vs Wolves Slot Game Software
Vampires vs Wolves is a slot game that was made possible by Pragmatic Play.
Pragmatic Play is a gaming provider that is known in the industry as being the lead content provider. They offer innovative, regulated, and mobile-focused multi-product portfolios to players because they aim to provide players with premium entertainment and seamless gaming experiences.
What is Vampires vs Wolves Slots RTP?
Vampires vs Wolves is a non-progressive slot game that has an RTP of 96.49%.
This game has a fair Return to Player rate. So, that means that players can expect to get a return average of £95 per £100 bet.
Slot Volatility
This is one of those slots that has a medium volatility rating. With this kind of variance level, players can expect to land some pretty decent amounts in a semi-frequent manner.
Summary
Vampires vs Wolves is one of those games that easily attract players. It may be because of the theme, but it's also one of those games that will surprise anyone in terms of the payouts. More and more lately, this theme of vampires vs wolves has steadily become a go-to topic or trend when it comes to books, movies, or games. Yet, in this casino slot game, players can expect some fun new twists to the genre and the theme.
The Vampires vs Wolves is one game that you can play no matter what level of player you are. This game accommodates and encourages anyone to play as the volatility allows players to gain some payouts frequently enough. Pragmatic Play gives players a great gaming experience in this game of vampires vs wolves as it has fun graphics and more than enough bonus features to help land adequate amounts.
You May Also Like
We have researched and reviewed all other Pragmatic Play Software games you might also like: