Queen of Atlantis Slot Machine
Splash around in the depths of the seas with the Queen of Atlantis and her fishy subject. Dive down deep to find treasures and other riches buried by the waves when you play this casino slot game. With 1,024 ways to win, players have the chance to get the Queen of Atlantis' riches by collecting pearls, shells, wilds, scatters, bonus feature, and the jackpot prize. There are countless wins to be had.
Queen of Atlantis Slots is a 5-reel, 1,024 payline, online video slot game, developed by Pragmatic Play. The medium variance casino game has an RTP of 96.41% and a Mythical theme. Bonus features, alike to Whale's Tail Wilds and Golden Pearl Scatters, could help you win up to £250,000 in real money!
So, read this Queen of Atlantis Slot Review to find out how you can loot the underwater city of all its riches and maybe even win some real money yourselves!
Queen of Atlantis Slot Sites
From our research, we have created a list of Queen of Atlantis Sites in 2023:
About Queen of Atlantis Slot Game
Atlantis has long been known to be a thing of fiction – much like old wife's tales. It's a long-forgotten city that's sunk to the bottom of the sea. It has gone from being a home to humans to being the domain fo the Queen of Atlantis, a beautiful goddess of the sea who bestows the sea's bounty's on worthy mortals.
Thanks to Pragmatic Play, players get to win all these prizes by playing on this five reels, 1,024 payline video slot game. This is one of those online casino slots that give players over 1,024 ways to win some coins.
The games bonus feature is pretty helpful too. These come in the form of wilds, free spins, scatters, and more. It also has an array of icons that go with the underwater world theme.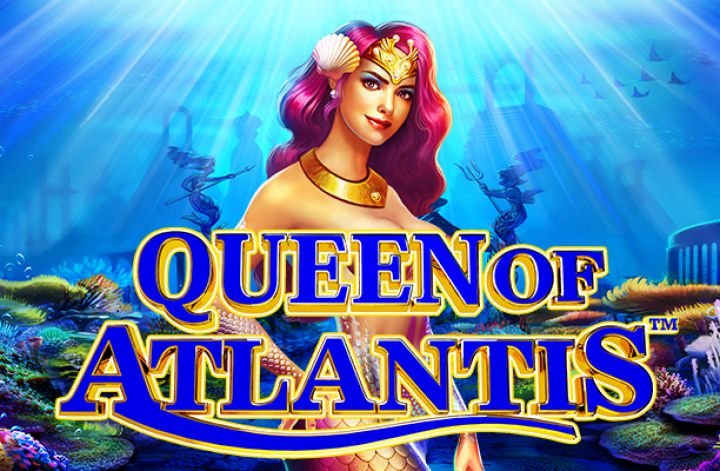 From the beginning, players are brought deep into the ocean floor where the sunken city resides. The game's background shows an underwater world filled with vibrant coloured shells and corals, while the reels themselves are encased in an intricate gold frame. A triumphant-sounding tune also plays as the game progresses, further spurring players to spin the reels.
Here, the icons of the game consist of jewel-toned card symbols, the queen of Atlantis, an octopus, dolphin, jellyfish, trident, ring, and helmet. These, along with the scatter symbol and wild symbol, make up the paying symbols of the slots.
The free spins here are also pretty incredible as it comes in two waves – the regular spin option and the super spin option which is something you wouldn't want to miss out on. Both present players with spins to benefit from as each spin is a spin closer to winning more significant and better coin wins.
So, dive down deep and seek the sunken city if you want to gain yourselves the long-forgotten treasure of Atlantis when you play the Queen of Atlantis slots game.
Slot Info
| Queen of Atlantis Slots | Attributes |
| --- | --- |
| Casino Game: | Queen of Atlantis Slot Game |
| Paylines: | |
| Reels: | |
| Software: | |
| Minimum Bet: | £0.50 |
| Max Bet: | £250 |
| Variance: | |
| RTP: | 96.41% |
| Slot Theme:  | Mythical Underwater |
| Bonus Features: | Whale's Tail Wild, Pearl Scatter, Golden Pearl Scatter, Second Chance Bonus |
| Max Win: | £250,000 |
| Free Spins: | Yes |
| Release Date: | 15th March 2017 |
How to Play Queen of Atlantis Slot Online
The slots are about to become waterlogged with the sea's bounty. Below are a few steps to guide you through the slot:
To begin these slots, one must first toggle with the coin amount and the coin value. This can be adjusted on the bottom part of the screen. Once you have settled the amount and value to wager, you can either tick the "Spin" icon to play a spin or the Autospin icon for uninterrupted gameplay.
Dive down deep for some underwater treasure when you play the game from any mobile (Apple or Android), tablet, or PC/ Desktop device.
Interactive Features
Wilds. The wild in this game is the image of the whale's tail. This symbol can substitute for any other symbol on the reels apart from the scatters. This bonus can also award players with as much as 3x multipliers during the free spins rounds.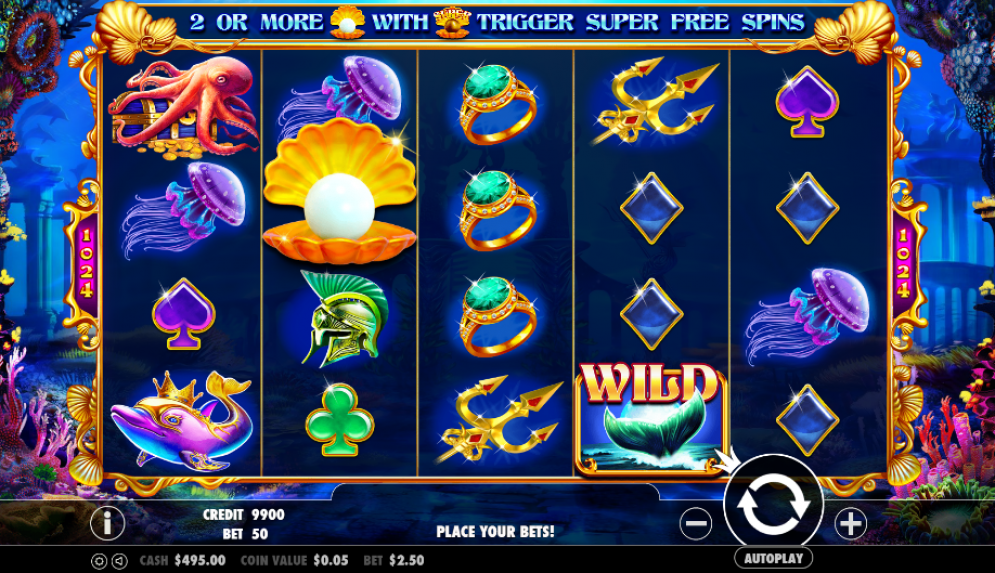 Scatters and Free Spins. The scatter here comes in the form of two icons – the pearl and the golden pearl. These can award players with some spins whenever two or more of them land on the reels.
Second Chance. The second chance bonus feature triggers a "Pick Me" game. This bonus is triggered y landing the regular scatter symbol twice, one on any of the first four reels, and the other on the 5th reel. The pick me game will allow players to choose 1 out of the three sunken ships shown on screen and each ship can reward either free spins super spins or nothing at all.
What Symbol Triggers Queen of Atlantis Slot Bonus Free Spins?
When you venture out to sea, you never really know what to expect from the experience. In this video slot game, players will not only be taken deep into the bottom of the ocean to discover the prizes Atlantis hides, but also the many free spins that the queen has to offer. Whether you're playing for real money or if you're playing for fun, there will be two kinds of free spins available: the regular free spins bonus and the super free spins bonus.
Regular Free Spin
 Three scatter symbols will give out eight free spins.
Four scatter symbols will award 15 free spins
Five scatter symbols will award 20 free spins.
Super Free Spin
Two regular scatter symbols on reels 1 to 4, and a gold scatter on reel five will give players eight super free spins.
Three standard scatter symbols on reels 1 to 4, and a gold scatter on reel five will provide players with 15 free spins.
Four regular scatter symbols on reels 1 to 4, and a gold scatter on reel five will give the players 25 free spins.
Paylines and Stakes
For amounts varying from 0.50 to 250 coins per spin, players can be welcomed into the underwater city where all the riches and treasures of the queen lay in wait. Apart from the bonus features, players can gain some coin wins from the high and low-symbol payouts.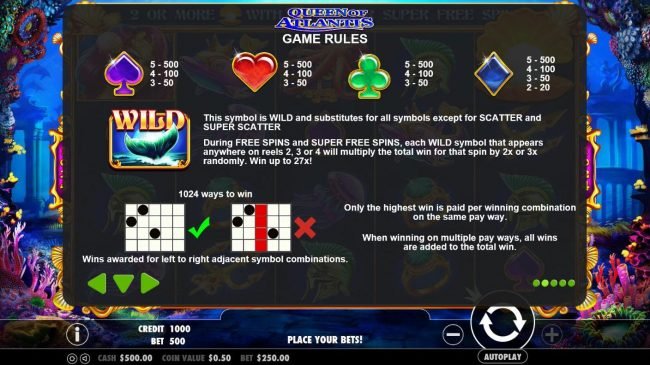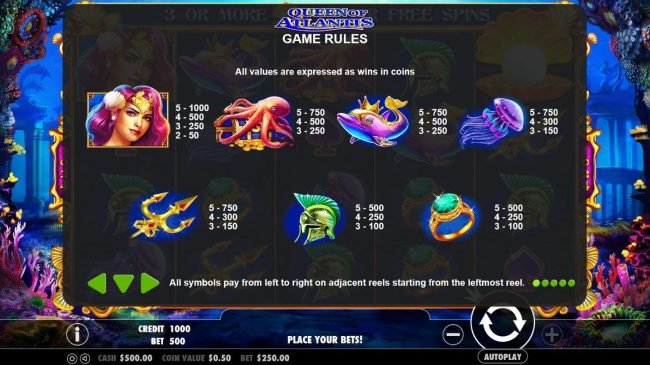 The higher-paying symbols consist of the queen herself, her marine subjects, her trident, her helmet, and her ring. These symbols can give our values ranging from 0.05 to 1 for landing 2 to 5 of a kind on the reels. On the other hand, the lower-paying symbols can give out a minimum of 0.02 and a maximum of 0.50 for landing 5 of a kind. These are made up of the jewelled spades, clubs, hearts, and diamonds.
Queen of Atlantis Slot Game Software
Queen of Atlantis is an online video slot game that was made possible by Pragmatic Play.
This gaming provider is known for being accommodating as their games are available on mobile as well as desktop and pc platforms, and they come in 31 different languages and all currencies.
What is Queen of Atlantis Slot RTP?
Queen of Atlantis is a non-progressive slot game that has an RTP of 96.41%.
This slot is one of those slot machine games that has a good Return to Player rate. This kind of RTP means that players can expect to get a return average of £96 per £100 bet.
Slot Volatility
This is a medium variance casino slot game. With this kind of variance level, players can expect to land some pretty decent amounts in a semi-frequent manner.
Summary
This is among one of the slot machine games that is honestly quite a joy to play. This is because it's not only immersive, entertaining, and challenging enough to keep a player's interest, but it also presents a game with beautiful graphics and illustrations. The two-dimensional images are made to look almost lifelike yet surreal so, it feels like players are brought into a world under the sea where treasures from shipwrecks and the like can be found.
The adventure and generosity of the game are quite enticing, so if you aren't afraid to hold your breath and explore the hidden city, then take this reel out for a spin and see if you can win the 100x jackpot prize!
You May Also Like
We have researched and reviewed all other Pragmatic Play Software games you might also like: