Betti the Yetti Slot Machine
Whenever we imagine Big Foot, we always imagine him to be this lone giant stalking through the woods. Little did we know that he actually had a girlfriend all along! Thanks to IGT Software, players of all ages can now meet Betti the Yetti – Big Foot's female counterpart.
But she is unlike the big, hairy brute Big Foot is known to be. Instead, she presents herself as a neatly dressed, sophisticated sasquatch wearing floral ornaments and bringing lots of bonus prize presents to whoever chances upon her forest domain.
Betti the Yetti slot is a fairy tale themed low variance slot game. The online casino game is powered by IGT with 30 paylines and 5 reels with a jackpot of £1000 and free spins! Betti the Yetti embraces colourful and clear graphics which allows players to take full advantage of the game and the features. 
So, if you're up for stalking the furry giants to get their supersized wins in the 30 paylines of this yetti slot machine, then read this Betti the Yetti Slot Review to find out how!
Betti the Yetti Slot Sites
From our research, we have created a list of Betty the Yetti Sites in June 2022:
About Betti the Yetti Slots Game
Not all giants are big, mean, and scary. Some come in friendlier, more feminine forms- like Betti the Yetti, who looks more like a 70s housewife in her floral ensemble than some beast out in the wilderness.
Now, she may sound like a scary giant, but this friendly beast comes with some pretty monster-sized prizes that come from a bonus game, the bonus features, the paying symbols, and of course, the fantastic 1000x jackpot prize!
Players who are interested to play this video slot game with Betti have IGT Software to thank. IGT brings new and old players alike a fun and exciting game with five reels and 30 paylines.
Within this game, anyone can gain wins from both the base game as well as the bonus game which enables some free games and multiplier wins when you play.
Now, if you're stuck at home, you don't need to worry about playing this in a casino, as this is already accessible on mobile and desktop devices. Betti The Yetti has a dozen wild symbol, bonus symbol, and a bonus round with free spins for you to try out in this online casino, each littered with prizes you can win as you play along. The free spins is also called the Adventure Bonus. Here you can win over 20 free spins worth of adventure win. The advanced symbols can allow you to activate the adventure win game!
With the help of IGT, Betti Yetti's video slot game has become a hugely successful land-based online casino, and it's mainly because this software provider aims to always provide players with interesting, engaging, and enjoyable games to play. They also allow for a good range of wagers to bet or deposit.
When you trek through Betti's wilderness, you get to chance upon massive multipliers the size of 1,000x to 3,000x multipliers. The moment you begin this slot machine, you will be welcomed by lush greens and vibrant yellows, reds, purples, and much more.
You will surely think and feel like you are in the wild whether you play this betti the yetti game for real money or just for fun, as this slot machine includes fruits you might find out in the forest such as oranges, apples, and different luscious-looking berries.
Betti the Yetti and her human friends will be with you as you spin along as they act as the higher paying symbols.

But watch out for the bonuses as they too can pack a monstrous punch like the wild symbol, which is seen as the game's logo! Landing a couple of these can earn you multipliers.
The games 2-dimensional cartoon design and overall aesthetic help make Betti sound and look more approachable and someone you'd want to play with in order to land her big winning values.
The game centers around a forest theme so of course you will see all kinds of trees and wildlife while playing this yetti slot machine.
When you choose how much to deposit, keep in mind that this amount can affect your payouts and win streak, and ultimately how much you will end up with in this casino game.
So, what are you waiting for? Put on some bug spray and pack your camping gear! Venture into the woods to play with Betti the Yetti, either for real money or just for fun and you might even win great casino bonuses as well as the grand bigfoot-sized prize!
How to Play Betti the Yetti Slots Online
Betti the Yetti is one Slot that is accessible on various platforms. You can either play for real money or simply for fun as the slots on the online casinos are playable on a desktop computer, on tablets, as well as on mobile phone devices.
To start playing the slot Betti the Yetti, all you have to do is set up the game using the following steps.
First thing first, you will have to choose the bet size worthy of Betti the yetti. You have the chance to go from the minimum bet value of casino credits, all the way to the maximum bet!
You can do so by using the set of + and – control buttons found on the panel. You can, of course, choose to place the maximum bet of casino credits per spin as well if you want to be daring.
After customizing the amount you wish to wager for the round, all you have to do next is spin the reels using the Spin button and begin the game.
Slot Info
Betti the Yetti Slots
Attributes

Casino Game:

Betti The Yetti Slot Game

Paylines:

Reels:

Software:

Minimum Bet:

£00.1

Max Bet:

£3.00

Variance:

RTP:

96.2

Slot Theme: 

Cartoon, Big Foot and Forest, Fairy Tale

Bonus Features:

Dozen wild symbol, bonus symbol and a bonus round with free spins known as the adventure bonus.

Jackpot:

£1000

Free Spins:

Yes

Slot Symbols:

Some of the regular symbols are the Yetti, Man with Red Cap, Red Haired Woman.

The wild symbol in the game is Betti the Yetti.
Interactive Features
Wilds Feature
The game's logo represents the wild symbol. This logo of Betti the yetti can stand in for any other symbol on the reels apart from the bonus sign. It also rewards a 3x multiplier whenever a wild combination is formed.
Now, getting a wild symbol combination on Betti The Yetti can highly enhance your wins as you can be awarded 3x the payout of that combination.
Scatters and Stepping Out Bonus Feature
The scatter symbol here is also the Stepping Out Bonus' symbol which is the "Advance" bonus icon. Those who can land 2 to 4 of these on the reels can gain anything from 4x multipliers to 100x multipliers max.
The Adventure bonus and stepping out bonus can gift players with multipliers to your total bet amount during the free spins round. The adventure bonus, however, starts you off with a 1x multiplier and gives you a max of 1,000x times the original wager. This feature's advance symbols allow anyone to win bigger multipliers with the stepping bonus.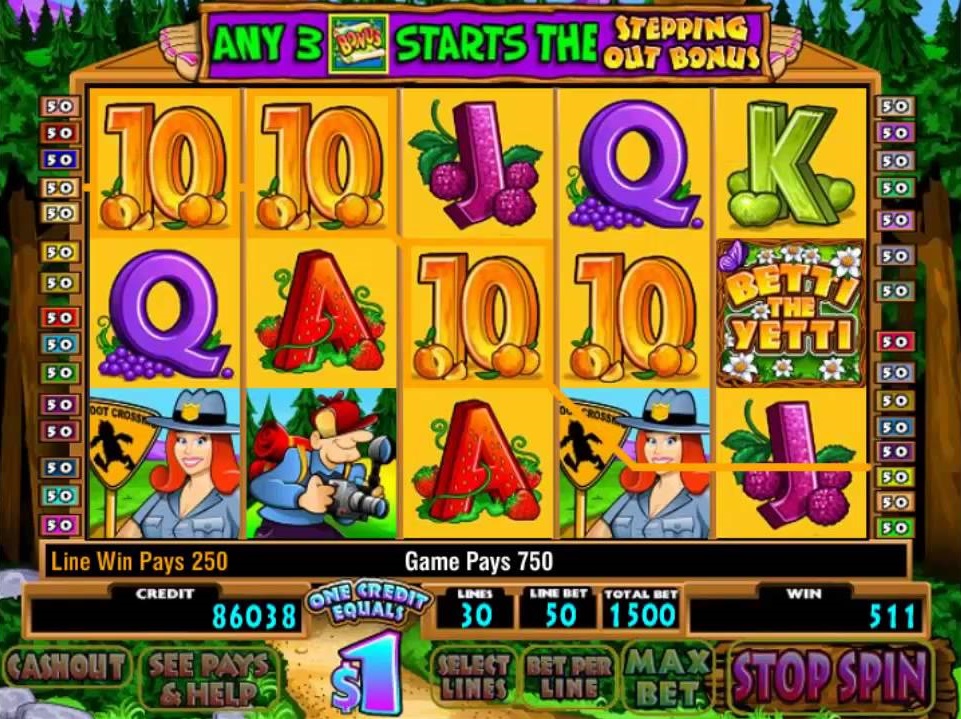 What Symbol Trigger the Betti the Yetti Slots Bonus Free Spins?
To trigger Betti the yetti free spins, all one has to do is land the "bonus" icon three or more times on the screen or the reels during a single spin. Doing so will push players to a bonus round. The amount of free spins here depends on the number of bonus symbols you can land during the spin.
Three bonus icons can give players ten free spins.
Four bonus icons can give you 15 free spins.
Five bonus symbols can give you as much as 20 free spins max.
This Betty the yetti bonus feature will only end when you run out of free spins. Any bonus prizes you win will be calculated by adding up the line, and the scatter payouts to any bonus credits you gain.
Paylines and Stakes
The Betti the yetti online slot has two different payout schemes – one for the base casino game and another for the bonus casino games. The jackpot, however, remains the same all throughout, bringing you a value over 1000x worth!
Now, when you play this casinos game, you can gain from the high-value and low-value symbols found on the reels. These consist of images of different vibrant card symbols like the A, K, Q, J, and ten icons. These act as the games lower-paying symbols.
Whereas Betti the yetti, the red-haired female officer, and the tourist with the red cap act as the more advance symbol or the higher-paying icons.
In this video online casinos, to win the prizes from these online casinos icons, you must place a bet per spin valued between 0.10 to a maximum of 3.00. Placing this deposit will allow you to win values between 5 to a max of 1,000 for landing 3 to 5 of a kind of these symbols on the reels.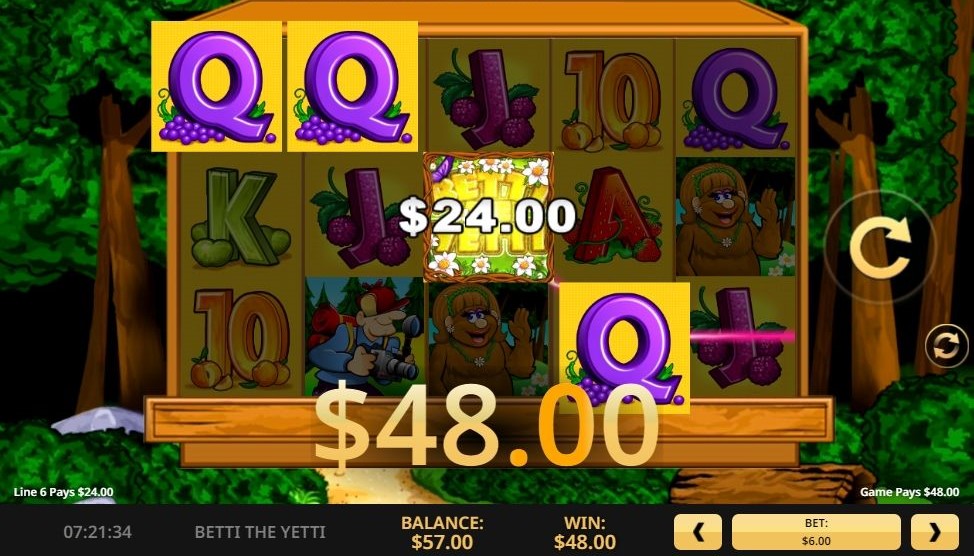 Betti the Yetti Slot Game Software
Betti the Yetti Slot was produced by the one and only IGT Software.
This software provider is a widely known company within the gaming community. They made their impact by putting their leading-edge technology in all their games so that players can have the best gaming experiences like that of the one with Betti the yetti.
What is the Betti the Yetti Slot RTP?
Betti the Yetti Slot has an RTP of 96.2%.
This rate is actually a pretty significant return to player rating compared to a lot of slot games available online. So, with this kind of payout percentage, anyone can win as much as £96 whenever £100 is wagered.
Slot Volatility
The Betti the Yetti game has a low variance.
This volatility level allows you to win frequently, albeit in smaller yetti slot denominations. This, however, is perfect for those who like to play with low deposit amounts as the prizes you gain will come often, and the amounts of the high and lower icons have minimal difference.
Popular Questions
Where can I play Betti The Yetti Slots for real money?
You can play Betti The Yetti Slots on various IGT online casinos!
When you see the amazing casinos that IGT has in store, you will find this incredible game that allows you to claim brilliant bonus funds.
Just choose your bet size and spin- you're really close to getting the bonus cash in real money!
Can I play Betti The Yetti for free?
You have the chance to play free games with Betti The Yetti online casino on the demo mode!
You will get to experience all the interactive bonus features, such as bonus symbols and bonus rounds.
Unfortunately, you will be unable to claim the real money in demo mode as a deposit bonus may be required.
Summary
Overall, this is one online slot game that we recommend any level of player to try out. Not only is the deposit amount low enough for those who like to spin on the safe side, but the bonuses available are plentiful and pretty generous as it gives payouts frequently.
It's one fun, thrilling, and enjoyable game no matter what age you are. The animations of Bigfoot and his girl are friendly and inviting without being distracting, so you can still concentrate on winning as many online casino wins as you can. So play Betti the yetti and see just how many free spins, multipliers, and yetti prizes you can gain in one sitting!
You May Also Like
We have researched and reviewed all other IGT Software games you might also like: