Ghostbusters 4d Slot Machine
When you hear something go bump in the night, who do you call? As kids, well all used to hide under blankets with just our flashlights on, making up scary stories about the abandoned house down the street. Little did we know that those stories of the spooky, creepy things were true!
Ghostbuster 4d Slots is a movie-themed 4×5-reel video slot game with 40 paylines. Powered by IGT, this 2012 release casino game has features like Ectoplasm Wilds, Ghostbuster Scatters, Free bonus Spins, Ghostbusters Bonus Wheel Feature, Ballroom Blaster Bonus Game, and Bonus Idle Mode.
In this Ghostbusters 4D Slot Review, relive all of these eerie but entertaining moments! Prepare your equipment and enjoy some reel action in the privacy of your own home! If you wanna learn more, who you gonna call?
Ghostbusters 4d Slots Sites
From our research, we have created a list of Ghostbusters 4d Slot machine Sites in October 2022:
About Ghostbusters 4D Slot Machine
They're on a mission to save the planet by ensuring that no spook, spectre, or haunt is left behind. The Ghostbusters are able to take on these nefarious phantoms and claim their slimy spoils.

Ghostbusters is a supernatural comedy film by the American company Columbia Pictures and it was originally released in the 1980s then later remade in 2016.
It chronicles the exploits of 3 eccentric parapsychologists who went ghost-hunting all over New York City.
Thanks to its tasteful mix of humour, action, and horror, the original was well-received by the public. Add in Bill Murray's outstanding performance as Peter Venkman, and you have a winning combination.
IGT Sofware (International Game Technology) presents Ghostbusters 4D which is a video slot game. It has a supernatural theme and a 4×5 reel setup of 40 paylines.
Various ghostbuster instruments, such as spook detectors, isolation boxes, and nuclear accelerators, are among the symbols. Venkman's photographic portraits, as well as those of Stantz, Spengler, and Zeddmore, are expected to appear on the reels.
The Ghostbuster 4D video slot machine from IGT can be found in any IGT land-based casino. You will play the game in glasses-free 4D with the actual machine. Ghostbuster 4D is also available to play online on Mac, Windows, and Linux computers. Even if the amazing true 4D effects aren't present, this slot machine is designed for mobile play.
During the base game, you can also use motions to cover the reels with colours, fire, or lightning.
Terror Dogs and Slimer can be summoned by lightning. When Slimer hides in the dark, you can use your finger as a torch to find him.
This slot machine game does not disappoint, and it remains true to its film inspiration by sometimes having the graphics show original clips from the 80s box office hit.
Slot Machine Info
Ghostbusters 4d Slots
Attributes

Casino Game:

Ghostbusters 4d Slot Game

Paylines:

Reels:

4×5 reel setup

Software:

IGT Software

Minimum Bet:

£1

Max Bet:

£1,000

Slot Theme: 

Ghostbusters, Movies

Bonus Features:

Ectoplasm Wilds, Ghostbuster Scatters, Free Spins, Ghostbusters 4D Bonus Wheel Feature, Ballroom Blaster Bonus Game, Bonus Idle Mode

Max Win:

£2500

Free Spins:

Yes

Symbols 

Big Green Splat of Ectoplasm

The Wilds symbol can stand in for all of the icons apart from the Ghostbusters Logo.
How to Play Ghostbusters 4D Slot Machine Online
To play IGT's Ghostbuster 4D video slots, you need to first follow these steps:
Start a new game by first selecting the online vegas casino machines amounts you want to deposit per spin in the slot machine game. Then, you can join the Ghostbusters on the reels by pressing the SPIN icon on the screen.
You can opt to play ghostbusters for free or for fun, or you can risk playing for the real money this movie pictures casinos bonuses can give you while playing.
Interactive Features
The Ghostbusters 4D slot machine offers unique features, including the following:
Wild Symbol
This casinos symbol is the big green splat of ectoplasm. The Wilds symbol can stand in for the game other icons except for the Ghostbusters logo. It can also come stacked on a reel. When it stacks, it becomes easier to form winning sign combinations.
Slimer, appears from time to time, will throw extra Wilds at you, as well as a lot of green goo. Up to three absolutely wild reels, as well as four random Wild symbols, are added to the version online at the end of each spin.
The Ghostbuster 4D Bonus Wheel Feature
There are five jackpot levels, credit wins, and three interactive bonus games in this feature. The bonus slot machine games make use of the game's 4D technology by allowing you to use hand movements to communicate with objects on the screen.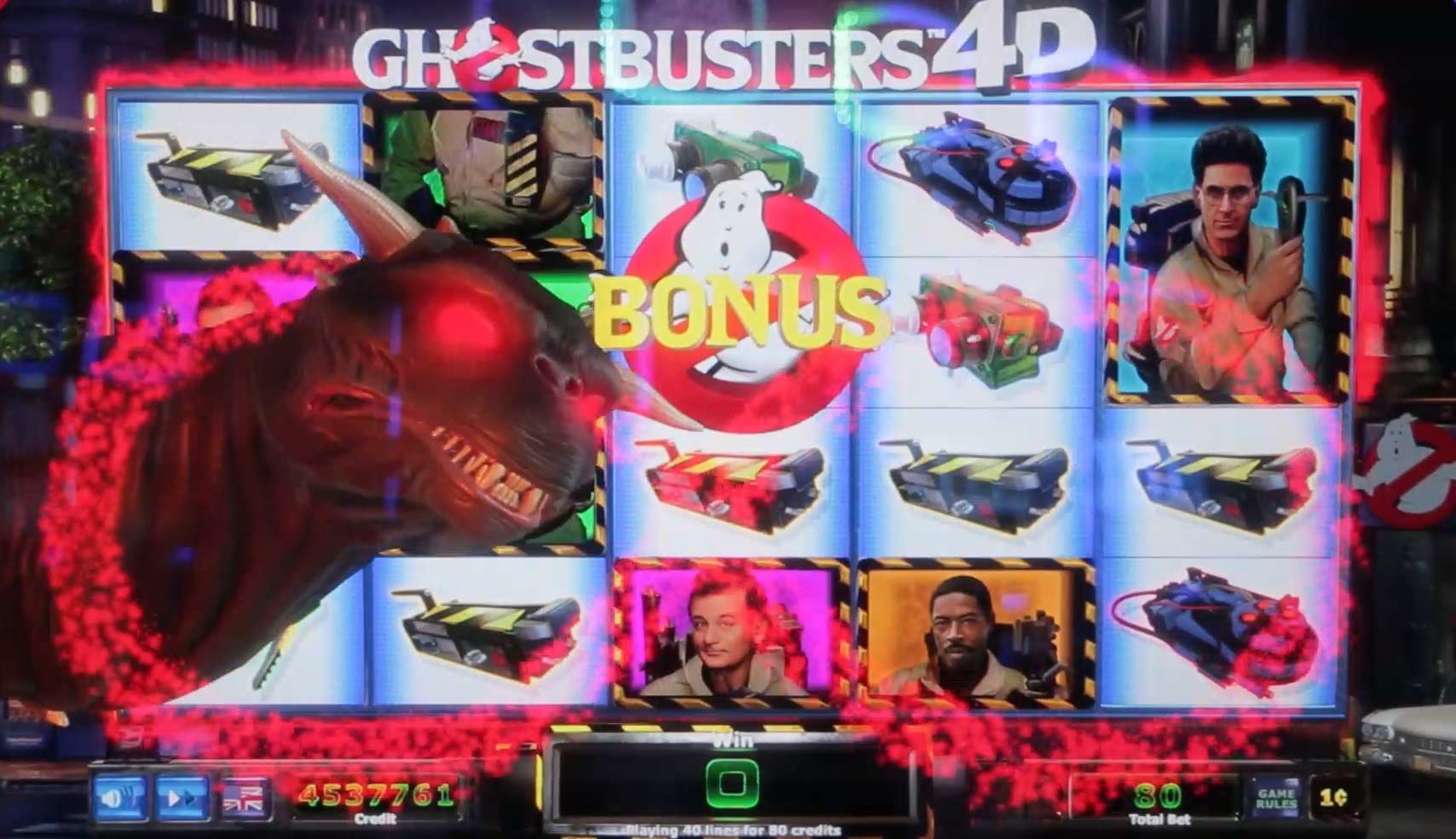 Ballroom Blaster Bonus Game
There are 5 jackpot levels, credit wins, and three interactive bonus games in the game features. The bonus games make use of the game's 4D technology by allowing you to use hand movements to communicate with objects on the screen.
Bonus Idle Mode
Passers-by will make faces at Slimer, whose mood and color will change, in the slot machine game's idle mode with the actual machine.
What Symbol Triggers the Ghostbusters 4D Slot Machine Bonus Spins?
Who knew a ghost or a house full of ghosts was the key to winning come coins? In this movie themed slot machine, you can land yourselves fun bonuses such as bonus spins which can help you earn more!
Smoke fills the screen when the Ghostbusters logo appears in at least three places at the same time.
When Slimer floats into view, this occurrence creates a dramatic effect. The big red button you'll press to toggle the bonus wheel is with him.
The bonus wheel includes the Stay Puft Free bonus Spins, among other exciting features. You must flick symbol positions and reveal new symbols in this feature.
Extra Wild icons in the form of burning marshmallows will also fall from the sky and remain on the reels for the duration of the free games.
An furious, fiery marshmallow monster shakes the reels against a New York City backdrop as the song 'Burn Baby Burn' plays in the background during this feature.
Payline and Stakes
There are 40 paylines and a 4×5 reel setup in the Ghostbusters 4D slot machine where players are allowed a maximum bet worth 400 per spin.
In the version online, cash prizes start at 50 times the coin value and can hit 1000 times the coin value. Win multipliers of up to 5x max are also available.
Ghostbusters 4D Slot Machine Game Software
Ghostbuster 4D is a slot machine developed and released by IGT Software.
IGT has a team of experienced leaders who work together to build a strong lottery and gaming business. To achieve their mission of generating value for their stakeholders, they are all committed to running their business with social, environmental, and economic responsibility.
What is the Ghostbusters 4D Slot Machine RTP?
The exact RTP of this video slots game has never been disclosed.
However, since the majority of IGT's slots have high RTPs, you should expect this game to have a higher RTP than the average.
Slot Machine Volatility
This game's slot variance is also unknown, though most of IGTs slot machine games provide quite a good volatility rating that's sure to give players some pretty fair credits or payouts.
Popular Questions
Where can I play Ghostbusters 4d slots for real money?
You can enjoy playing this amazing slot machine for real money on IGT online casinos.
When you play the slot machine on IGTonline casino, you will get the chance to play for and win bonus cash in real money!
Just place your bet and spin… you're so close to winning some amazing money prizes- you can play for free or real money.
Can I play this Ghostbuster 4d slot machine for free?
You can play the Ghostbuster 4d slot machine for free slots when you play the game through IGT online casino.
You can enjoy lots of fun, interactive features this way, such as free slots, ballroom bonus, slot games, free games, and so much more!
Unfortunately, you will be unable to play for real money when you play in the demo mode as this may require a deposit.
Summary
We hope you learned a trick or two after reading this Ghostbusters 4D video free slots game review.
IGT has packed a lot of fun and entertainment in Ghostbusters 4D! Even though some features are still unknown, the game is already promising with its helpful Wilds, generous multipliers, and fun side games.
There are features present in the actual machine that are not in the online version, but IGT has made sure that the level of fun is still the same by compensating the 4D feature with extra Wilds and stacked reels.
Despite not having a progressive jackpot, Ghostbuster 4D is nonetheless highly recommended for players who are looking for some worthwhile casino games, both on land and online.
You May Also Like
We have researched and reviewed all other IGT Games you might also like: