Super Times Pay Slot Machine
Do you have a lucky feeling? This is one game you should not miss if you like to gamble big in order to win big. After all, as the partygoers claim, those who work hard get to play hard.
Super Times Pay Slots is a 3-reel, 20 payline, online video slot game, powered by IGT. The medium variance casino game has an RTP of 94.72% and a Retro theme. Bonus features, such as Mega Symbol Wilds and Casino Chip Wild Multipliers, could help you win up to a maximum of £25,000,000 in real money!
Return to the days of old-fashioned slot machines for big payouts and a fun challenge. Find out how to multiply your winnings without breaking a sweat in this Super Times Pay Slot Review.
Super Times Pay Slot Sites
From our research, we have created a list of the Super Times Pay Slot in September 2023:
About Super Times Pay Hot Roll Slot Machine
If you've missed playing the classic slot machine game, then fret not. This time around, IGT is bringing the game to you, so you can play anytime from anywhere.
Whether you're in the mood to bet big or practice your slot skills, this is definitely the perfect time to play.
After all, everyone's lives have been put on hold during this pandemic season. This is true for all. So, if the casinos are closed, what is a gamer to do? Now you don't have to be concerned because the casino is coming to you. Players can even partake in casino gaming without ever leaving their sofa!
This understated and old-fashioned video slot by IGT Software might not be as flashy as those with moving graphics or movie-themed slots, but it will not disappoint even if it may look like a classic slot.
It takes players straight to a computer that looks like a slot machine in a casino, so it's pretty straightforward right away.
But don't be fooled by this retro-styled online slot. In this 3 reels, 5 paylines slots, there's more than meets the eye. Anyone can be reminded of a Las Vegas casino by the all-too-familiar casino slot pinging sounds.
Multipliers, free spins, and what can only be identified as wilds abound in this straightforward game. All of these things will help a player win the 2,000 coin jackpot.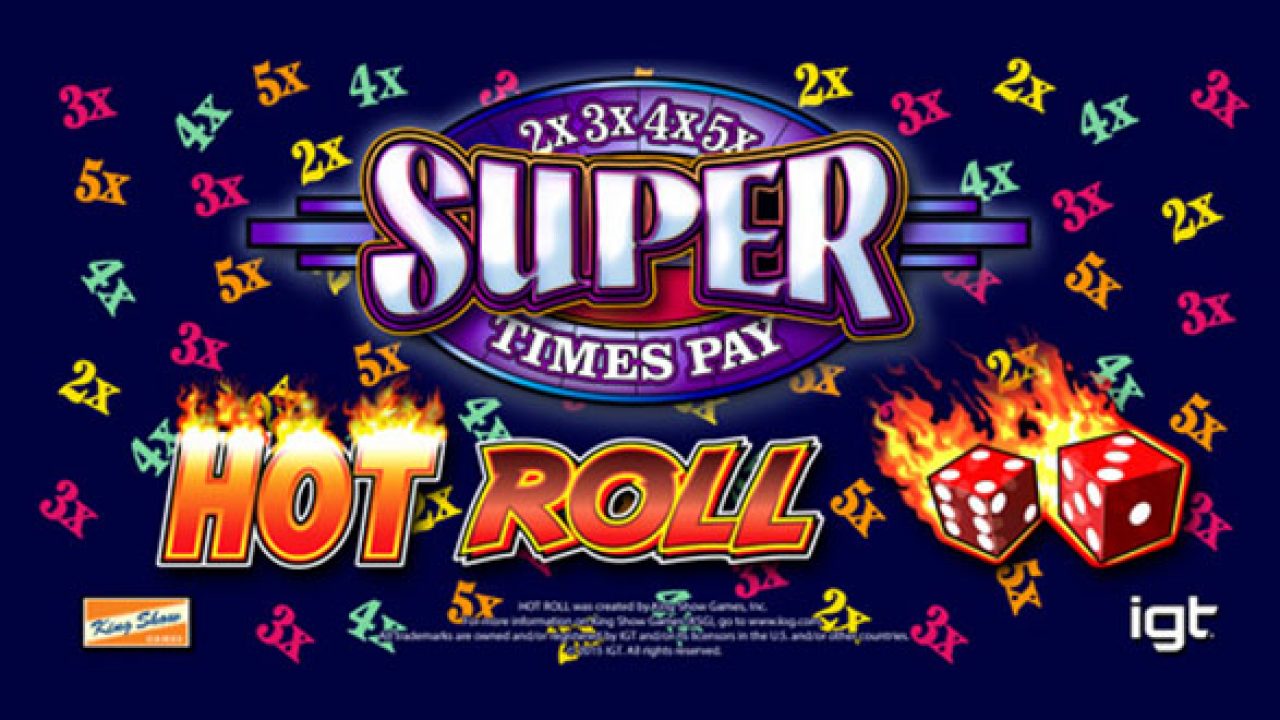 Unlike other vintage looking slot games, this video slot is jazzed up and more alluring to players with its brightly coloured symbols, bold red and gold backdrops, and the promise of some super payouts. So, if you're not afraid of a little risk, then take this slot out for a spin.
It may be an oldie, but this revamped slots game is definitely (still) a goodie.
Slot Info
| Super Times Pay Slots | Attributes |
| --- | --- |
| Casino Game: | Super Times Pay Slot Game |
| Paylines: | |
| Reels: | |
| Software: | |
| Minimum Bet: | £25 |
| Max Bet: | £5,000 |
| Variance: | |
| RTP: | 94.72% |
| Slot Theme:  | Retro |
| Bonus Features: | Mega Symbol Wilds, Casino Chip Wild Multipliers |
| Max Win: | £25,000,000 |
| Free Spins: | No |
| Release Date: | 11th February 2016 |
How to Play Super Times Pay Slot Online
Who says technology is only for kids? This updated classic can now be played on any smartphone (iOS or Android), tablet, or PC/Desktop computer. Here are a few pointers to keep in mind when putting your money on the line:
To change the number of coins to bet, click the (+/-) icons. Toggle between the coin values of the min deposit or max bet to wager by clicking the Choose Coin section. After that, press the SPIN button to begin spinning the slot.
Interactive Features
Wilds
The wild symbol is represented by the "mega symbols." The purple and red sevens with the "super" banner on them, as well as the green bar sign with the "super" banner on it, fall into this category.
The purple and red sevens, as well as the standard green bar symbol, can be replaced by these wild symbols. However, each of these symbols can only appear on one reel:
Purple seven wilds can appear only on reel 1.
Green bar symbol wilds can appear only on reel 2.
Red seven wilds can appear only on reel 3.
Wild Multiplier
Casino chips sporting different colours represent the wild multipliers. There are a certain number of multipliers on each chip. During this bonus, you can get multipliers ranging from 2x to 5x, and these symbols can take the place of standard sevens and bars.
What Symbol Triggers Super Times Pay Hot Roll Slot Bonus Free Spins?
Due to the lack of a scatter function in this game, players must keep an eye on the super symbols. If you get three of these, you'll get free spins and a multiplier.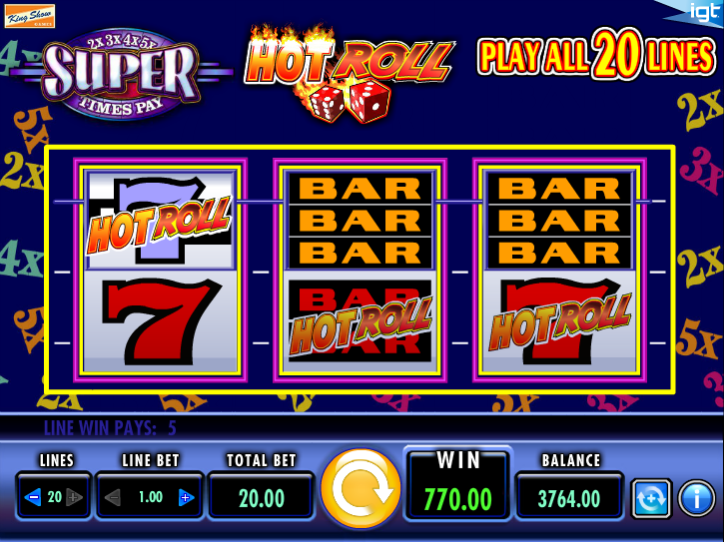 Players must try to land all of the super symbols on any reel to win these prizes. Players can get up to 10 free spins and a 2x multiplier with this bonus. The free spins can be retriggered up to 999 times, giving players a total of 999 free spins.
Players should also expect all wins to get a 2 times pay for free during the free spins rounds. This does not refer to the symbol combination of 2x, 5x, and 2x. Instead of a 5,000x multiplier, landing this kind of combo would reward players with a 5,000x multiplier.
Paylines and Stakes
Combinations are the name of the game, and in order to start making them, players must first place a bet of 25 to 50 coins per spin.
While the price is high, this game is jam-packed with good combos that are just waiting to pay off.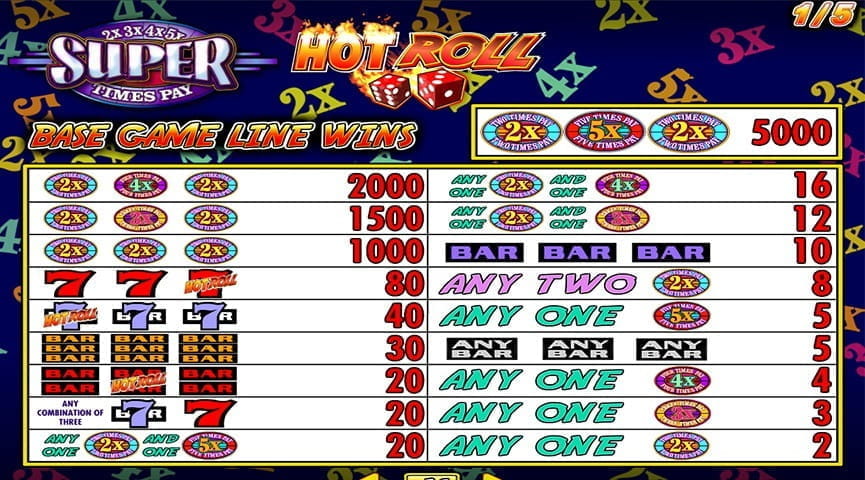 In this game, there are no high-paying or low-paying symbols. Instead, players should expect to see traditional red and purple sevens, as well as purple, red, and green bar symbols, and casino chips.
The chips come first. Players will earn anywhere from 1,000 to 2,000 coins by landing a 2x,4x,2x; 2x,3x,2x; or 2x,2x,2x combination. Landing any 2x & 5x, 2x & 4x, or 2x & 3x combination will get players anywhere from 12 to 20 coins.
Of course, players can land either two or any one of these chips, netting them anywhere from two to eight coins.
The bright 7s are up next. This is where things get a little complicated. Players will win 50 coins if they land three red 7s, and 40 coins if they land three purple 7s with purple bars. In addition, landing a combination of either red seven and purple seven with the purple bar will earn players over 20 coins.
Finally, there are the bar symbols to consider. As well as the black and white "any bar" symbols, there are red, purple, and green lines. Players will win a minimum of 5 coins and a maximum of 30 coins by landing three of a kind on the reels.
Remember that red is the highest paying color of 7s because it is the color of luck. As a result, landing the red 7s would net players more than 50 coins.
Super Times Pay Hot Roll Slot Game Software
Super Times Pay is a old school slot game made possible by IGT Software.
IGT software is a gaming company that is well-known for offering a variety of gaming options to players across all platforms and demographics. Their premium content is designed to provide players with cutting-edge technology and in-depth customer intelligence.
What is Super Times Pay Slot's RTP?
The Super Times Pay game has an RTP of 94.72%.
Non-progressive video slots such as this game have a pretty fair payout percentage that allows players to gain over £94 by those who wager as much as £100 per game.
Slot Volatility
This Super Times Pay online casino slot has a medium variance rating.
A volatility rating like this means the game provides players with good payouts, but the win pays only land in a semi-frequent manner.
Popular Questions
Where can I play Super Times Pay slots for real money?
You can play Super Times Pay slots for real money when you play through IGT online casinos.
When you play through IGT on the Super Times Pay Hot Roll online slot game, you will get the chance to play for real money and will cash bonuses!
Just place your bet and spin… the real money can be yours in an instant!
Can I play the Super Times Pay Hot Roll online slot for free?
You will be able to play on the Super Times Pay Hot Roll slot machine for free when you play in the demo mode!
When you play in the demo mode, you can experience interactive features, such as a bonus round, the chance of free slots and free games, classic symbols, multiplier symbols, and so much more!
Unfortunately, you will not be able to play for real money in the demo mode as this will require a deposit.
Summary
This game is worth a try if you're a seasoned veteran or just someone who enjoys a straightforward game.
Players with more experience will find this game more enjoyable due to the level of challenge it poses. This is a high-stakes, high-reward game, so proceed with caution when placing bets.
Despite the lack of additional bonus features, players can enjoy and benefit from this game. So, if you're trying to put your talents to the test or if you're a major spender, give this game a try.
The UK gambling commission now requires age verification, preventing underage gambling.
You May Also Like
We have researched and reviewed all other IGT games you might also like: